Interview & Report

Takayuki Chino (CINOH)
TOKYO FASHION AWARD 2019, Winning Designer
Mar. 2003 Graduated from Bunka Fashion College Fashion Engineering Specialized Course Apparel Design Course
March 2004 Completed Bunka Fashion Business School (currently Bunka Fashion Graduate University)
2007 MOULD founded
2008 Launched predecessor brand from 2008-09A / W
In 2014, the brand name was changed to "CINOH" from the 14S / S collection.
2014 Established Mold Co., Ltd.
"CINOH", while showing influences from street fashion, music and youth culture, has established a unique position by offering real clothes to mature adults with their use of high-quality materials and elegant styling. Starting their men's collection from the 2018 S/S season, and gaining a certain level of valuation for their exhibit at Paris which they went to through the opportunity of being awarded the TOKYO FASHION AWARD 2019, they are rapidly extending their span of activities in recent years. We spoke to Mr. Takayuki Chino, the designer leading the brand, on the background behind starting the brand, particularities in making clothes, and future aspiration.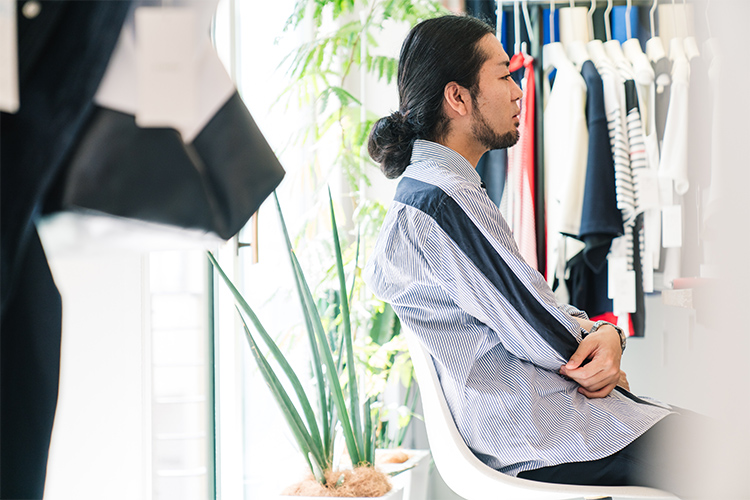 Please tell us the background behind your starting up your own brand.
I had been interested in fashion since around junior high school, and I used to travel from my hometown Nagano all the way to Tokyo just to shop for clothing. And when I was a freshman in high school, I was thoroughly shocked by a Raf Simons collection I saw in the media, and that made me want to become a designer. After graduating from Bunka Fashion College, I worked part-time jobs for a while to save up money, and started a predecessor brand in 2007. I continued it for six years as a man-ish style lady's brand centered around shirts and pants, but sales were just enough for me alone to survive on.
What made you start-up CINOH after that?
The name of the first brand was a made-up word mixing English and French, and I was often told people can't read it, and that was simply the reason (laugh). But also, in continuing the brand, I realized there needed to be a mixture of clothing I wanted to make and clothing I needed to make to sell, but I had gotten to a point where I wasn't sure what I wanted to do. In the end, I realized that pieces which sell tend to be influenced by the trend of the moment and/or mood of buyers, so at the timing of changing the brand name, I decided to drastically shave off such parts. I sort of broke through my mind set and decided I'm only going to make what I really want to, and if that doesn't work, I'll simply quit. But as a result, this turned out to be the right direction, and orders began to double.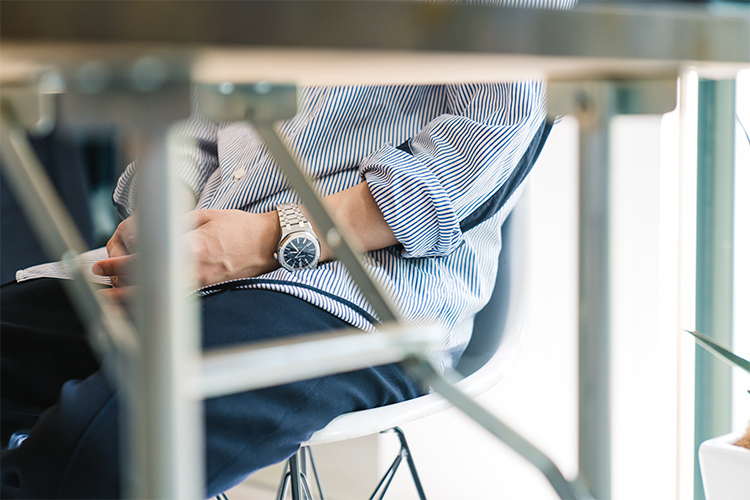 According to sources, we've heard that CINOH's brand concept is "based on the streets of Tokyo, born from free inspiration". What is your image of Tokyo street?
When one considers the cultural background, compared to fashion in Europe where fashion according to TPO is demanded of, there are less rules or bindings in Japanese fashion, and I've always thought this was one of our strengths. Furthermore, I've always thought that truly cool people are always in the streets, so it is my intention to make clothes that can be worn in town, rather than clothes to wear to only a party, and that's why I use the word, streets of Tokyo.
Please tell us your process in how you create your seasonal collections.
First, I establish a seasonal theme, but this is usually derived at by thorough discussion with the people around me. For example, in the case of the theme "grunge" which I chose for the theme of my 2019-20 A/W season which I presented in the Tokyo runway show, no matter what I make, recently there was a tendency of people telling me I make pretty clothing, so I was interested in what would happen if I purposely went for grunge, which is the complete opposite of "pretty". When expressing "grunge" as fashion, I thought, simply replicating musician styles is meaningless, so I interpreted grunge in my own way, and was conscious about sublimating it into a clean, elegant style befitting the brand.
CINOH 2019 A/W collection runway show (At Hikarie Hall A)
In this collection, you combined checks and leopard patterns often seen in grunge style with elegant materials with soft textures. From this, you seem to have a strong particularity towards materials also.
I have the wish to constantly use materials with new moods, so I often make original materials. As for shirts, I start from choosing the raw materials, and I intend to surely convey how good these raw materials are too.
You've started your men's collection in 2018. Is there a difference in how you create your lady's and men's?
Basically, there is no difference. The reason I started with a lady's collection is that, if I did men's, I thought I would probably only make clothes which I wanted to wear. In other words, T-shirts, shirts and slacks (laugh). On the other hand, in lady's, I can establish an image figure completely different from myself, and there is a wider variety of items which can be worn. For those reasons I had continued to make lady's, but I felt now, I think I can imagine a different figure than myself for designing the men's too, so I decided to start it.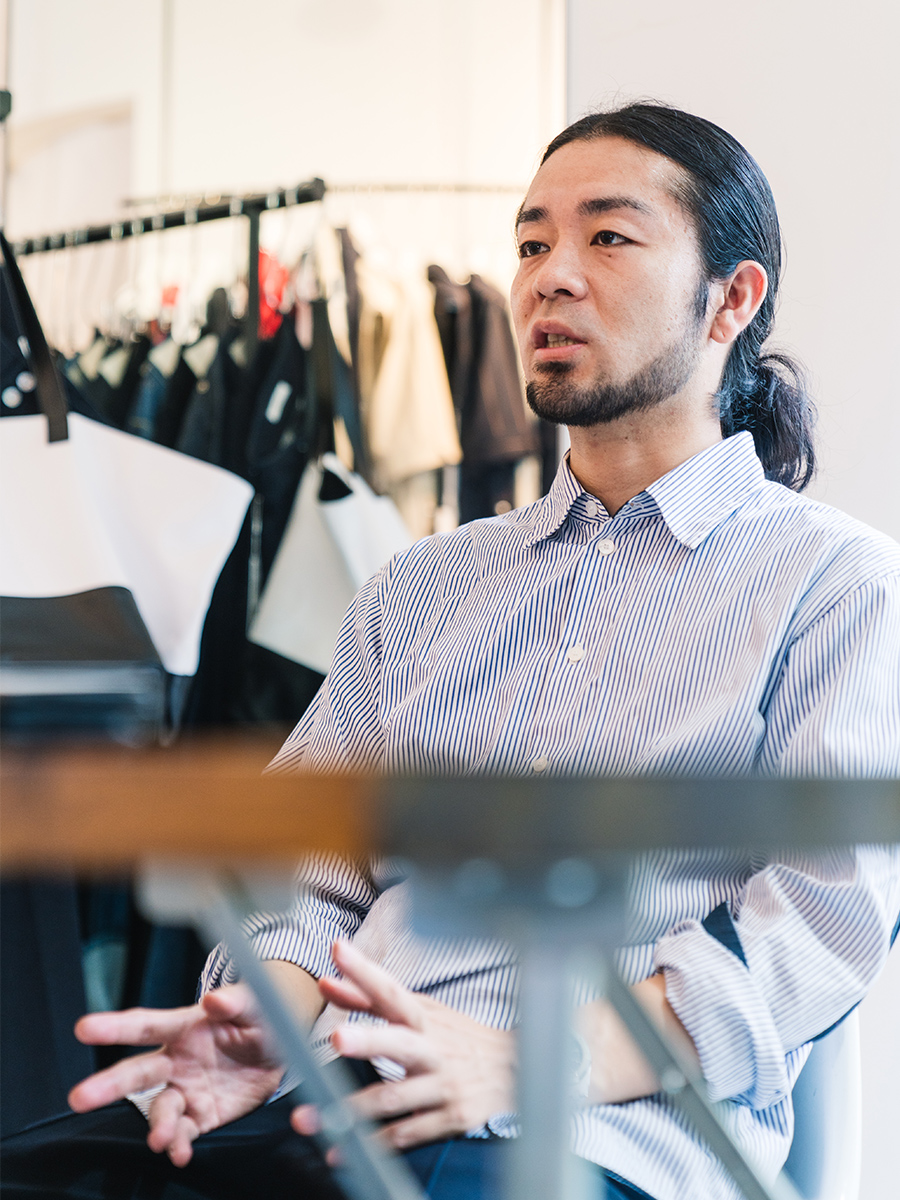 Having been awarded the TOKYO FASHION AWARD 2019, having completed overseas exhibits and show in Japan, it seems the brand has entered a new phase. Please tell us your future aspirations.
Up to now in the Japanese market, I think our position was a brand at which well designed, high-quality clothes can be purchased at a price range lower than luxury brands, but in overseas, we can't help our prices becoming high. Under such conditions, I feel it is imperative to more strongly express our authentic mood and individual character, more than ever. Moreover, in order to become a brand which sells well in overseas, persistence is most important above all, so I intend to continue doing overseas presentations for a certain length of time. On the other hand, in Japan, we will be opening a directly operated shop at Shibuya Parco in November. Unlike in wholesale, this will enable us not only to grasp a particular image figure of our customers, but also allow us to present our line-up the whole year round, so I think it will be a good place to convey our world view.
Interview by Yuki Harada
Translation by Aiko Osaki
Photography by Yohey Goto(interview)