Interview & Report

Takeo Kikuchi
"TAKEO KIKUCHI" Designer
1939 : Born in Chiyoda ward, Tokyo
1961 : Graduate art course of Bunka Academy
1962 : Graduate Nobuko Hara Academy
1964 : Start producing haute couture
1970 : Established BIGI Co., Ltd. with friend, after his resdence in Paris
1984 : Transferred to WORLD Co., Ltd. Announced TAKEO KIKUCHI.
2002 : Participate in Tokyo Collection for the first time in 6 years.
2005 : Start 40CARATS&525, the brand which directed by himself.
2012 : Reappointed to the creative director of TAKEO KIKUCHI.
Last year was the 30th anniversary of TAKEO KIKUCHI, the brand that was launched in 1984 during the DC brand boom, instigated by "BIGI" and "MEN'S BIGI," two brands launched in the 70's by designer Takeo Kikuchi and his friend. Takeo Kikuchi was briefly absent from mainstream fashion after 2000, but returned in 2012 as a creative director, embarking upon a new path with the opening of a flagship store on Meiji-dori in Shibuya. Takeo Kikuchi will be producing a show for the first time in 13 years during Mercedes-Benz Fashion Week TOKYO 2015-16 A/W. We sat down with him to talk about his current state of mind and the show.
Could you tell us what prompted you to produce a show after a 13 year absence?
In 1984 I joined World Co., Ltd. and launched "TAKEO KIKUCHI." For the next eight years that followed, I would hold a show twice a year without fail. These shows were immensely expensive and I started questioning what the point was. I continued to put on shows on an irregular basis while pondering the meaning of holding shows, but in time I just stopped altogether. Of course, during my absence fashion weeks all over the world went on without me and I came to the realization that the act of putting on a show itself is more important than contemplating the significance of the actual show. That was the largest motivator.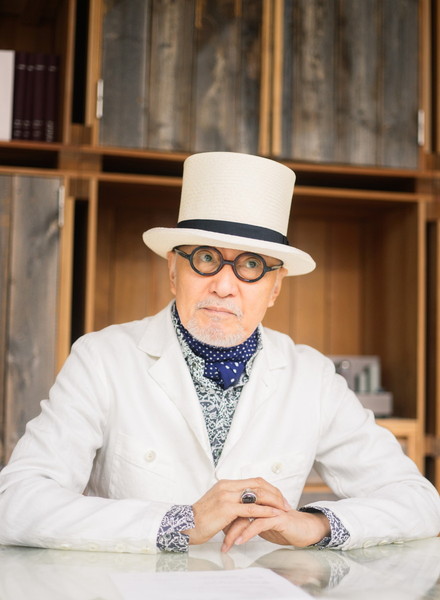 Your show will be held on the night of Monday, March 16, the first night of MBFWT 2015-16 A/W. What will it be like?
The exhibition "RETURN OF THE RUDEBOY," which was held at Somerset House in London last year, will be held in Japan this year. The exhibition includes photographs, clothes and living spaces that depict the revival of the "Rudeboy" culture that was created by Caribbean immigrants that came to England after World War II. My show will be a collaboration with the people involved with this exhibit. One of the more impressive shows that I did in the past was put on in cooperation with London stylist, Ray Petri, who was the head of "Buffalo." So, it's very exciting for me to put on a show about London culture that is similar to that one in terms of the concept. It has become main-stream over recent years to put on rather simplistic shows where the models just walk the runway over and over again, but my show is going to take advantage of the individual personalities of each of the models.
What do shows mean to you?
This is just my personal opinion, but I believe shows should create a fantasy world. Of course, since this is a business there should be some connection to the real world, but I believe that even if what we present is not accepted immediately, a time will come in the future when it will be accepted. So, I think it's important that shows present a degree of freshness through unrealistic "deformed" shapes. I also believe that we shouldn't just show clothing, but also the environment and lifestyles of the people who wear the clothes.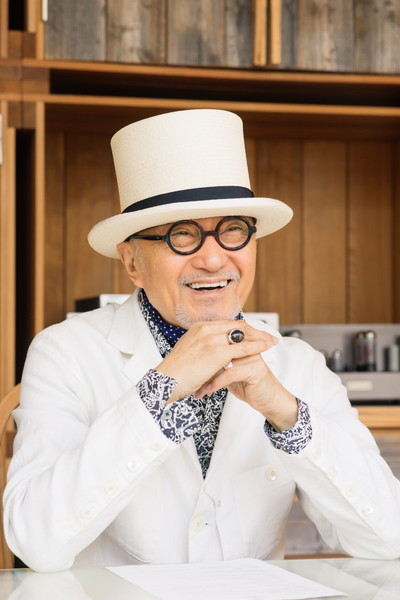 Have you always had an interest in fashion?
Immediately following World War II, military officers from the U.S. Army were living in my house. Although they eventually returned to their home country, they left behind American clothing and luxury items, such as jeans and vinyl records, in my house. I had a blast putting on these clothes and playing. When I got into junior high, while everyone else was wearing cotton pants with sweaters, I loved unconventional fashion. I would walk around in extra high geta (wooden sandals) with a hand towel wrapped around my neck. I liked conventional fashion, but I didn't like how the magazines served as a kind of manual for instructing people on how to wear the fashions. I always loved clothing, so becoming a fashion designer was a natural choice as a profession. I didn't consider it to be something special, it was just the only thing that I could do and I naturally started design work.
How do you think current fashion industry situation differs when compared to the launch of "BIGI" in the 70's, which spurred the DC brand movement?
When I started "BIGI" there were hardly any other brands. Of course, there were no other companies that could serve as a role model, so I had to depend on my senses, which meant that I made clothes that I wanted to wear. At the time there wasn't a lot of information and a general lack of fashion in Japan, so there were a lot of people who would just wing it without a lot of knowledge. This caused a lot of demand as a result, but now fashion has diversified to the point where there is nothing you can't find, so being successful comes down to the details. People who know what to look for can tell the difference between different types of clothing, so if you can use those details to make a distinction between your brand and other brands, then you will always have a loyal fan base. And, if for example you could get 1000 people to like your brand in Japan, then that number could turn into 10,000 or 100,000 if you launched the brand overseas. I believe that if you stay true to expressing yourself then there'll always be people who like your brand.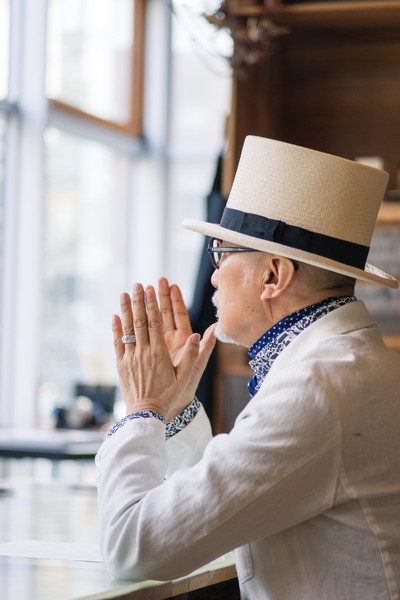 What do you think about fast fashion, which has become a trend in Japan in the last 10 years?
I think it's appealing because it's reasonable and it fulfills certain required elements within a certain scope. Compared with the past, I think there are more people that don't really want to impose their sense of style on the people around them. I think that fast fashion sufficiently satisfies the desires of these people. On the other hand, there are still many people that cannot be satisfied by fast fashion. I believe it's our job to offer an alternative to these people, and I think it's important that we accurately target these people within our diversified society. In the past, we knew that clothes would sell if we had a plan, but times have changed. It's true that the majority of the market is now controlled by people who succeeded in the past, but I think that's boring. You may be thinking that I'm one of those people. However, that's exactly why I believe it's necessary for me to show that I am not one of those people. The reason why I returned to work as a creative director was so that I could once again convey my identity.
Now we understand why you've decided to put on a show after so many years. What is the significance for you of holding a show in Tokyo?
Tokyo has become like Paris, London, or Milan in the sense that it has a thriving culture. I believe that if you've established your own style, it really doesn't matter where you hold the show. But, I also believe that this is a good opportunity due to the worldwide attention that Tokyo has drawn recently. The rest of the world is becoming more and more interested with Tokyo, not only in fashion, but also food and culture in general. Japan is no longer the country of "geisha, samurai, and sushi." People are now starting to look past that to the heart of Japan. The fact that Japan is a safe country is not its only merit, and I think it's important that we take steps to retain our back-street culture that is destined to fade if we let it. The bad thing about the Japanese people is that we tend to quickly come to a consensus as a nation. An example of this is the Olympics. I believe that it's more valuable to have a plethora of various good things remaining in a dispersed fashion, and to look at not only the present, but also the past and the future. A culture cannot take root if you don't do this.
Lastly, could you tell us about something you would like to try in the future?
There are a lot of things I would like to do, an overwhelming majority of which I have never been able to do before. To go back to what I was just saying, I don't believe that Japanese culture is very good at preserving "the old," so I would like to do something that allows the good parts of old culture and old ways of thinking to resonate with modern senses. I think the Japanese are realists that have a tendency to move forward while only looking at new things. However, that's exactly why we should set aside a part of ourselves to be aware of the depth of culture. I would like to provide an opportunity for us to re-examine "the old" so that we can accomplish this.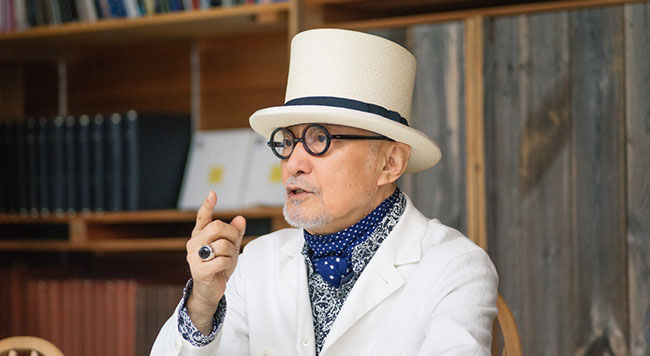 Interview by Yuki Harada
Photography by Yohey Goto