Interview & Report

TANAKA
TANAKA Designer
SAYORI TANAKA - Designer/ Founder
Former Womens design director of UNIQLO global design team at Tokyo, Shanghai and NYC. Former knit designer of Yohji Yamamoto Femme, Homme and Y's for Men.
TANAKA's father is an oil painter / Japanese Kimono textile designer and the grandfather was a Japanese landscape gardener, which is the original creative background.

AKIRA KUBOSHITA- Creative Director
Head of design at HUMAN MADE. Former Mens design director of UNIQLO global design team at Tokyo, Shanghai and NYC.
Creating under the concept of "clothes that weave together the past 100 years and the nest 100 years", TANAKA is a fashion brand growing rapidly both nationally and internationally. Established in 2017 based in N.Y., the memory of TANAKA's very first runway show in Tokyo last March, and how it gathered grave attention is still fresh. They presently have close to 100 accounts nationally and internationally, constantly presenting world-class creations. We interviewed their designer, Ms. Tanaka, and creative director, Mr. Kuboshita, on the brand's road up to now, and its future.
Please tell us how you came to start the brand.
MS. TANAKA) I had always hoped to do my own brand, but by being transferred to N.Y. through my former workplace, the things I wanted to do that only existed in separate points connected into a line, and the embodiment of the brand image turned into the opportunity to start my own brand. N.Y. is a town in which a variety of races live, a town with no borders. My experiences up to then connected with the inspirations I gained from N.Y., and because the timing matched that of my career, I started TANAKA in 2017.
MR. KUBOSHITA) I joined TANAKA from spring, 2020. The brand is based in N.Y., but production is done mainly in Japan, so I feel communication with production managers or factories have improved by my joining.
MS. TANAKA) We separate our titles as designer and creative director, but basically, we both put out ideas in the creative process.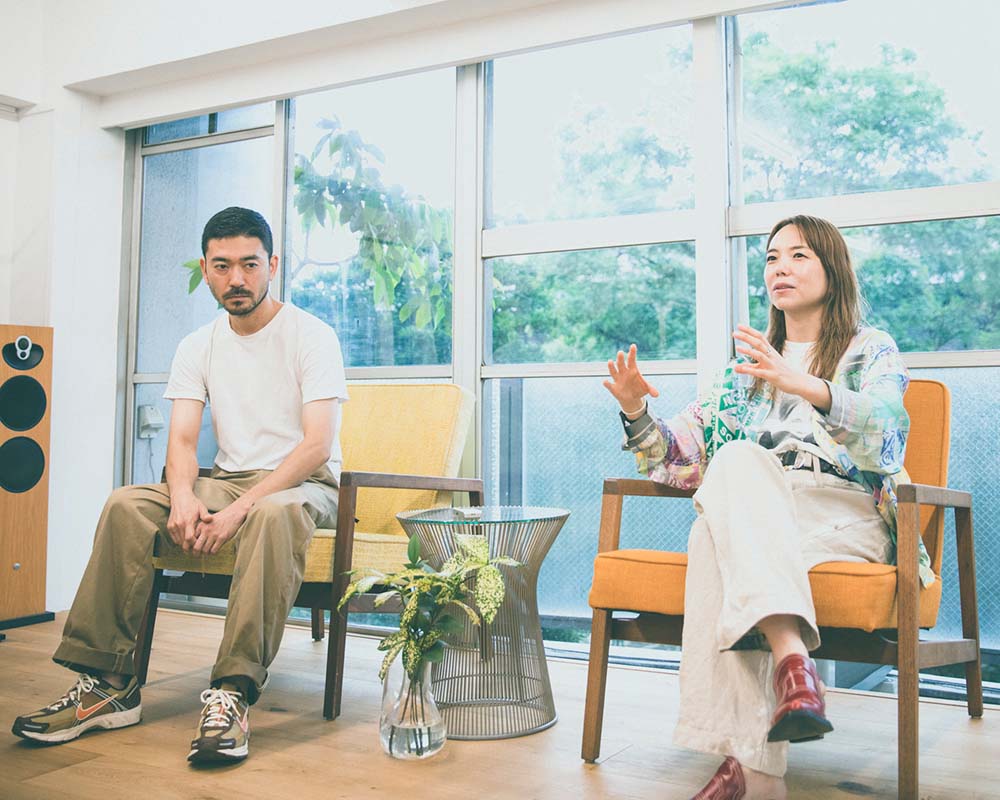 As a brand based in N.Y. how do you perceive the fashion scene in Japan?
MS. TANAKA) In the Japanese market, I think there are fixed preferences in a good sense, such as not picking up body lines, or being pretty-ish. From a design aspect, because TANAKA places denim as its main axis, there may come a time when we do not fit the Japanese market. However, in quality aspects such as sewing or processing, we have a carefulness, cleanness, high quality unique to Japan, so for example, I feel our signature item, THE JEAN TROUSERS, which are dress-pants that can be worn like denim pants, are points of agreement between the Japanese market and TANAKA. On the other hand, we wish to deliver fresh ideas born from being based in N.Y.
What is it that you hold dear in your creations?
MS. TANAKA) As the brand concept we hold up "clothes that weave together the past 100 years and the next 100 years to come", and we feel it is the job of TANAKA to renovate the wonderful clothes such as working wear, uniforms that our predecessors have left us towards the next 100 years. In addition, recently we are also putting strength into being inventive and innovative.
MR. KUBOSHITA) The meaning of inventive that we are speaking of here is to give birth to new products that match potential demand, like Levi's had done by giving birth to denim in a time when the concept did not yet exist. Rather than being a transitory design that will go on sale in the next season, we aim to be a brand that gives birth to the kind of garments that will exist as the next denim, T-shirt, a brand that carries out production which will remain for 100 years, as a brand that stays alive for 100 years to come.
MS. TANAKA) We hope to be a brand which can suggest styles that will be the pulling force of the era. For example, like the hip-hung denim and tight-fitting T-shirts of the 90's were styles that symbolize the time, we hope to be a brand who's denim symbolizes the time, suggest styles of the time, or timeless styles, and hope to globally transmit the worldview of the brand while placing denim as our main axis.
Does denim have a special meaning to TANAKA?
MR. KUBOSHITA) Denim is one of the few items that can be said is both genderless and generation-less, which works well with the TANAKA format, which I think it works as our forte.
MS. TANAKA) There were always a pair of jeans in my wardrobe. It has always been a style constant to me, so much so that I even went to my job interview as a newly graduated designer in jeans. Being able to construct relationships with people in the denim industry, background factors in my previous job, also played a large role. Like Marilyn Monroe, Kate Moss or Jane Parkin, when you look back at the muses or artists of the time, cool cultures, denim is always a part of the scene. This is another reason why I like denim. Plus, after all, to me, denims are the wings of freedom, a symbol of being free.
Please tell us your present business situation.
MR. KUBOSHITA) Number of accounts wise, as of the 24SS season, we will have more domestic accounts than overseas accounts. We have had a contract with an overseas showroom for some time now, so originally, we had more overseas accounts than domestic accounts, counting approximately 40 accounts, but from next season, our domestic accounts count has become approximately 50 accounts. The majority of our overseas accounts are shops around Italy, and because we tied a contract with an American showroom in 22FW, our American accounts are also increasing.
MS. TANAKA) Thanks to being awarded the TOKYO FASHION AWARD, and being able to participate in the Paris showroom, there has been an increase in contact from Asian regions. Japanese brands are gathering attention in Asian regions, and because this timing overlays with the ending of the corona pandemic, we are predicting further increase.
How is TANAKA being perceived from overseas markets?
MS. TANAKA) Although we are based in N.Y., TANAKA is recognized as a Japanese brand. Stores seem to want to carry us because of our clean beauty unique to Japan. Japanese denim is highly reputed for being reliable and are very popular. Not only is the high quality of Japanese brands being praised, but there is also a feel that Japanese brands are gaining attention overseas because so many unique new brands are arising, and I feel, being a Japanese brand is working as a tail wind for us now.
MR. KUBOSHITA) Whether it is in Japan or overseas, the way we are selling is basically the same. If you look closely, there is a difference in choice of colors, but denim occupies approximately half of our sales. At overseas, we have a wide array of shops carrying our items, from large-scale women's stores to niche men's stores. It is our read that this is because TANAKA products are easy to edit into the taste of each store.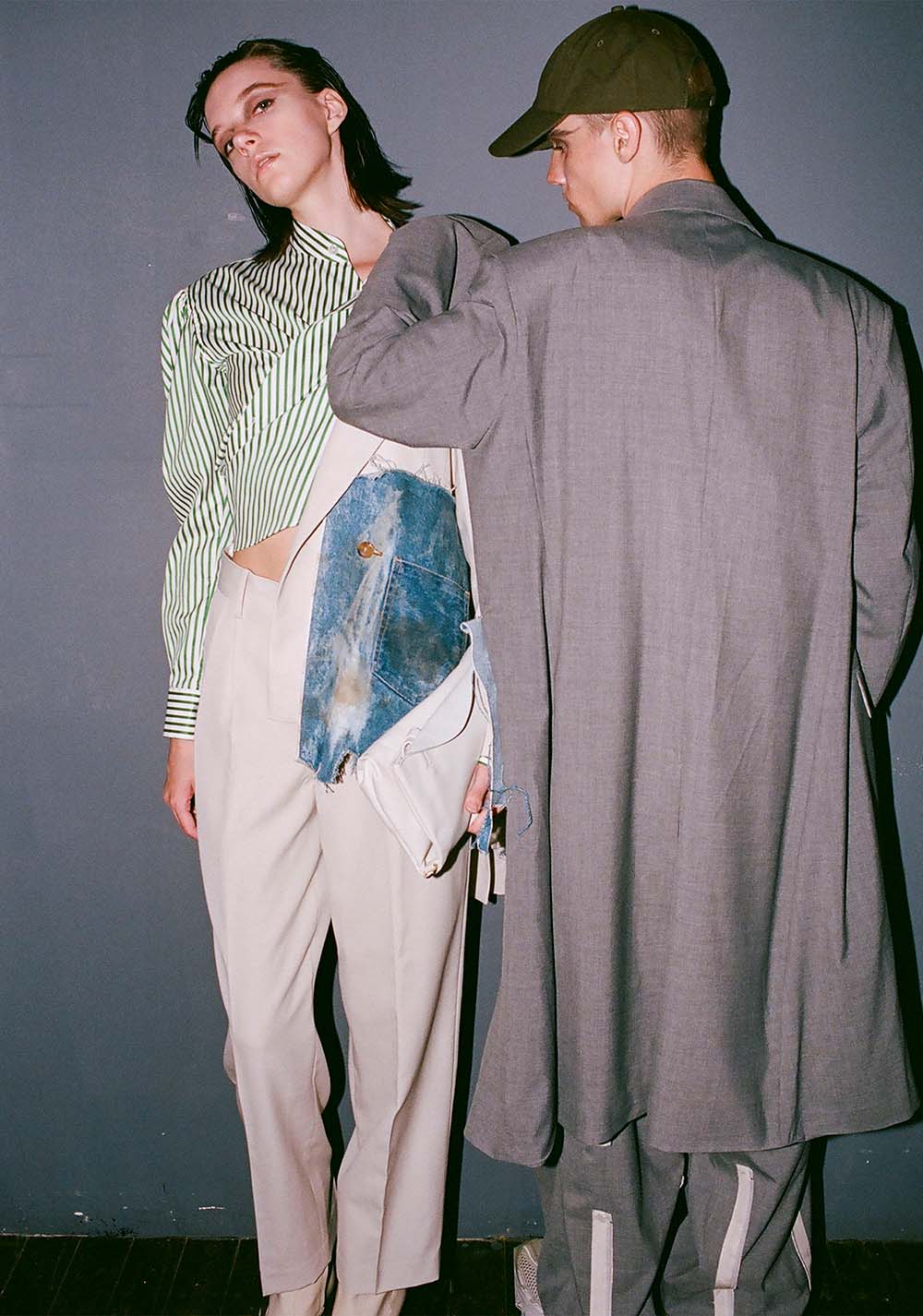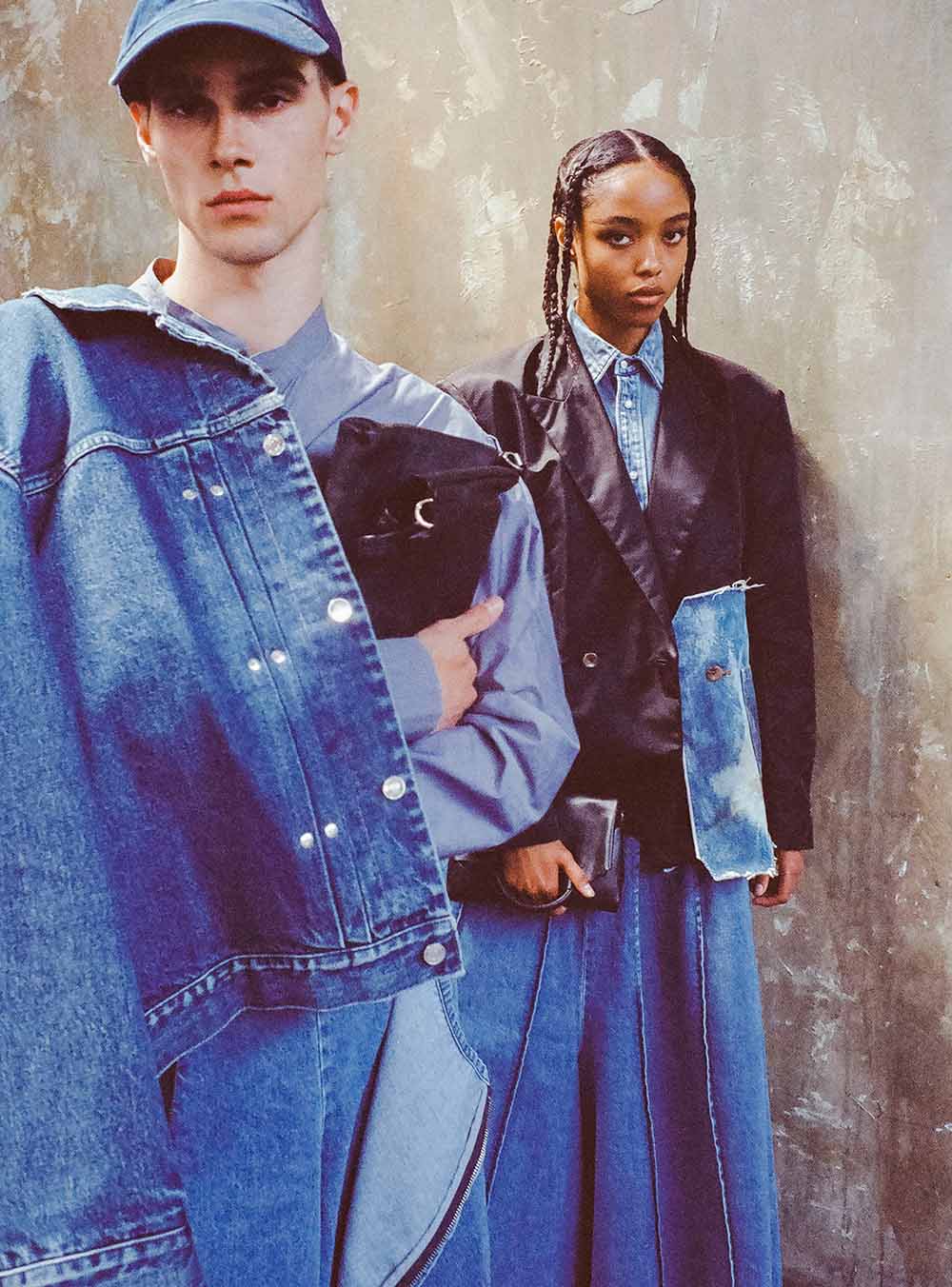 Photo by JIRO KONAMI
What do you think is the reason why you are growing so much in domestic markets?
MR. KUBOSHITA) All products are unisex, with an assortment of different sizes, so when we first started domestic developments, people were perplexed at how to edit it into their selection. But on the other hand, once one grasps how to handle our products, it seems we become an easier choice to select in buying. The number of domestic accounts are increasing, but the buying amount of each account is also increasing, showing an increase of approximately 10 times more in the two and a half years up to 24SS. The major reason for this is because we have organized a working team in Japan for sales, press, etc. Furthermore, being awarded the TFA as led to a rise in our level of acknowledgement, from the opportunity of seeing our show in Tokyo, there are many accounts that we have started business with from 24SS.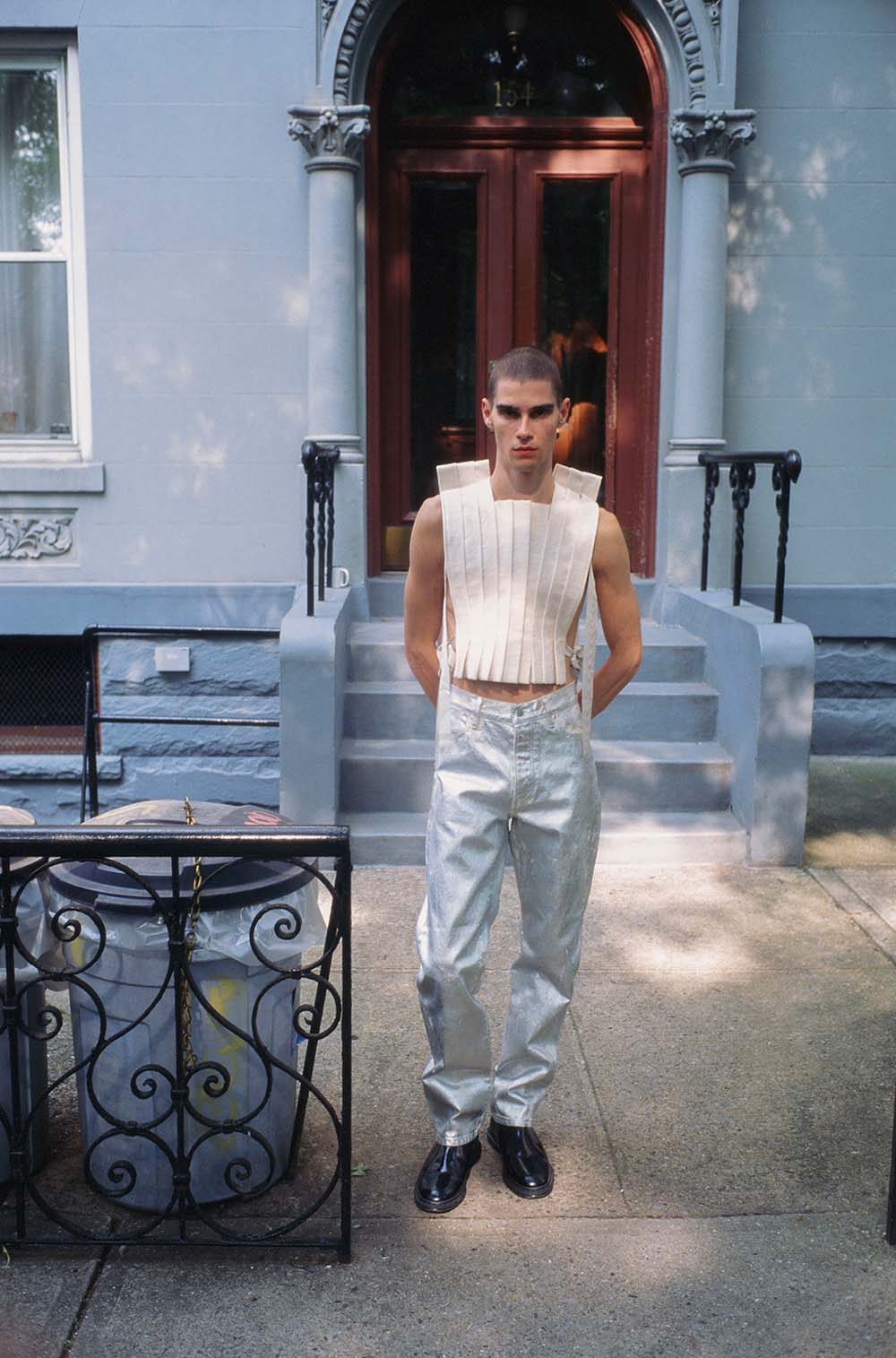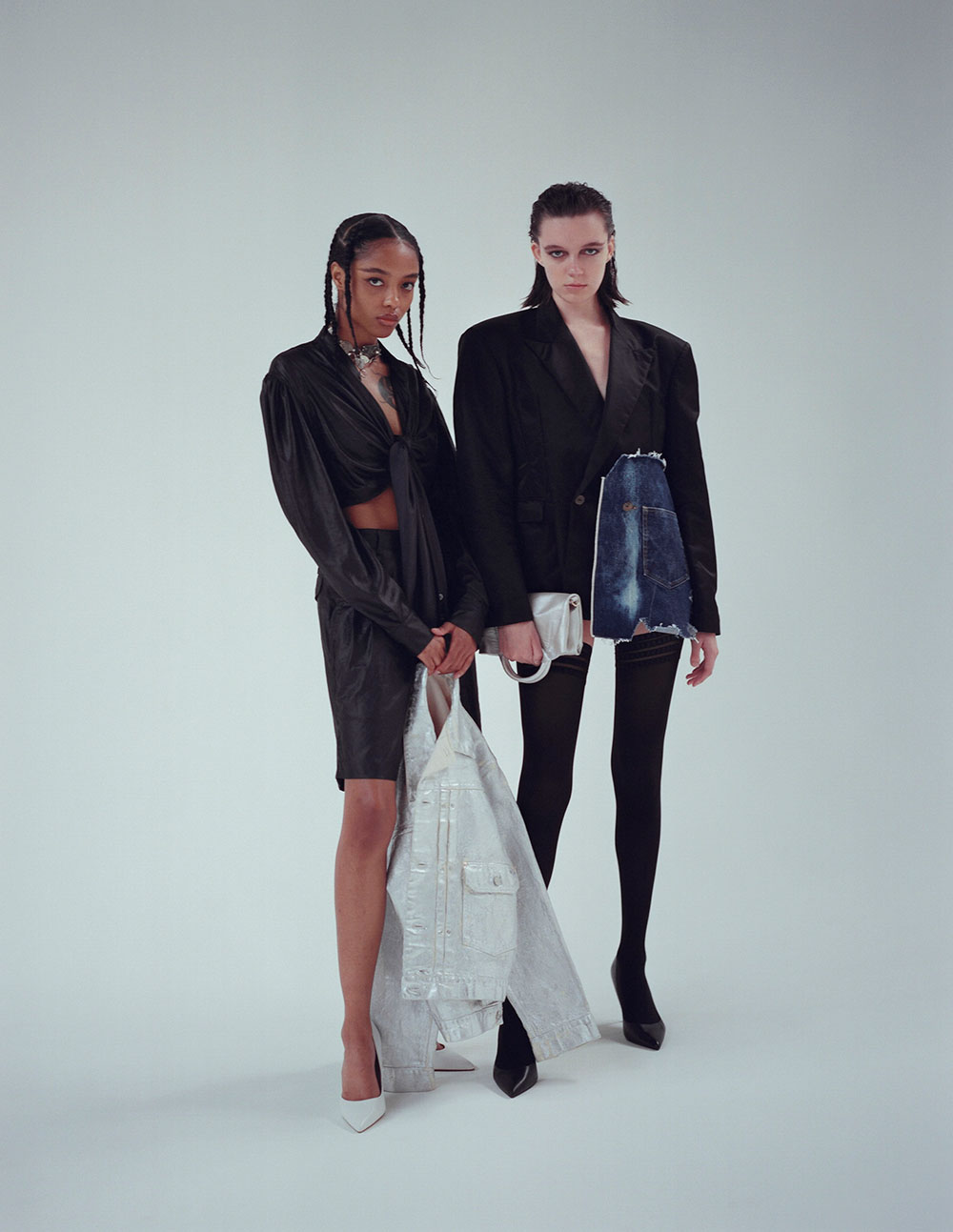 Photo by JIRO KONAMI
Please tell about your future prospects for the brand.
MS. TANAKA) To become the first Japanese brand to globally transmit its styles or worldviews, with Japanese denim as the main axis. And also, that that connects to being a brand that lives on for 100 years. The whole world knows how wonderful Japanese denim is, but despite that, I feel there are no Japanese brands that represent that. For example, like HELMUT LANG, Calvin Klien, Acne, Diesel, etc. in the US and Europe. They do not just sell jeans as a singular item. Rather, they each have their own style and attitude, along with a visual image that everyone can recall in an instant. I am determined that, with Japanese denim as an anchor, TANAKA will lead the world with such styles or worldview that will remain for years to come. First, we will become a brand representing the 2020's, and then continue on for 100 years. For that, we must increase the number of our team members. As a maison brands do, I hope to form and steady the base of a long living brand with members who hold the same aspirations, as soon as possible.
MR. KUBOSHITA) I have a view of creating a piece that will be a permanent part of MOMA. I wish to give birth to a piece that is complete also as an item. A piece that anybody and everybody can not only wear, but wear in their own style.
Is there anything you each would like to challenge as a designer or creative director?
MS. TANAKA) One of the reasons why I named the brand with my last name is because of my wish to succeed in my family legacy, and of course, I have in mind that the TANAKA name will live on after I am gone. I hope to find a successor and live out my life to the fullest as the chairperson, until immediately before my life ends (laugh). Also, because "TANAKA" is a popular surname in Japan, by our brand going out into the world, I hope that many, many people will realize that there is a cool brand from Japan.
MR. KUBOSHITA) I am presently concentrating solely on TANAKA, but I have a vision of the future to do work related to clothes/food/living, so as the next step, it would be great if I could offer my experiences in a hotel or dwelling spaces.
Interview by Tomoko Kawasaki
Photography by Kenji Kaido