Interview & Report

TOMO KOIZUMI
RakutenFWT 2020 S/S JFW Invited Designer
Started his career as a designer while studying at the university and established his own brand for costume design. In February 2019, his first show was introduced in NY thanks to the world-famous Katie Grand, Mark Jacobs and KCD Public Relations, Inc. His MADE TO ORDER collection with bright colors and bold silhouettes is supported by many celebrities and creators from all over the world.

TOMO KOIZUMIgathered global attention with his 2019 A/W show held in N.Y. Starting his career while still studying as the university student and having created the stage costumes for many popular artists, this cutting edge designer whose skill has been praised from early on his career, presented his first show for the first time in Japan at Rakuten Fashion Week TOKYO 2020 S/S, by invitation from JFW. Captivating the audience with his creative expression utilizing colorful frills, we had an interview with Mr. Tomo Koizumi about his show in Tokyo and his path up to now, etc.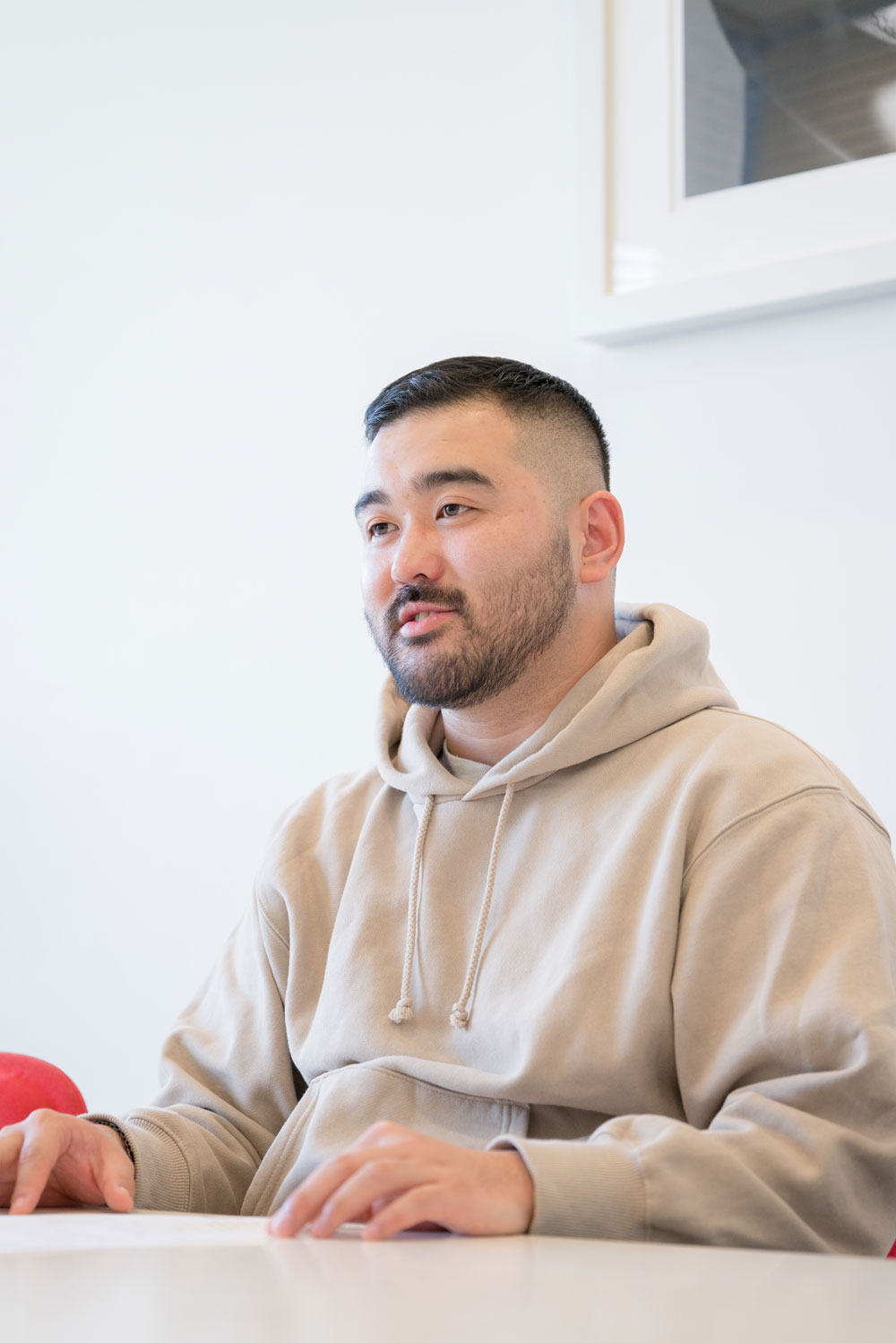 Please tell us how you came to do a show at Tokyo fashion week this time.
I was first approached in August, but at that moment, I was busy preparing a show scheduled for the following month, so at first, I thought through whether to accept or not. But I figured, this would be a good chance for me to present my clothes in Tokyo, which are not presented in exhibitions nor sold in shops there, and with the cooperation of the people around me, I decided to present the collection of 7 pieces I previously presented in N.Y., along with 3 new pieces.
In presenting your first show in Tokyo, what were you conscious of?
Upon doing the past 2 shows in N.Y., compared to other countries, I could not feel the direct reaction from Japan because of time lag. My activities are based in Tokyo and I have the wish to enliven the country or city I reside at by doing something fun. I was also conscious about transmitting out my work to the world from Tokyo, so this time, I decided to use only Asian models, including Japanese models, and transmit a powerful visual image. The show in N.Y. was in performance form in which a single model went on changing costumes on stage, but this time, I mainly focused on that each piece carefully tells its characteristics and its story within organized show atmosphere.
How was the reaction of the people around you?
I was very happy to have all sorts of people, my friends of course, but also Japanese editors and writers from domestic and international magazines whom I often communicate and work with, saw my collection. Also, at first, I wasn't sure how widely this show was seen in overseas, but I received many reaction through SNS, making me realize once again that, if I transmitted a powerful visual image, the message would spread, regardless of where it was transmitted from.
It was also through SNS that your work began to gather attention from overseas, right?
That's right. I received a message from the stylist, Ms. Katie Grand, who saw the Instagram in which I had been uploading the visual images of my works, and communicating with her for 20~30 minutes or so through the direct message led me decided to do my show.
This show was probably a huge turning point for you, and what kind of mindset did you face it?
The schedule was very tight and I only had less than a month to prepare. For half of the collection, I gathered my past works as many as I can by borrowing costumes I made for my artist friends, while making new items for the other half, and I always kept in mind wanting to make an introduction of myself, by proving that I can make a sort of things.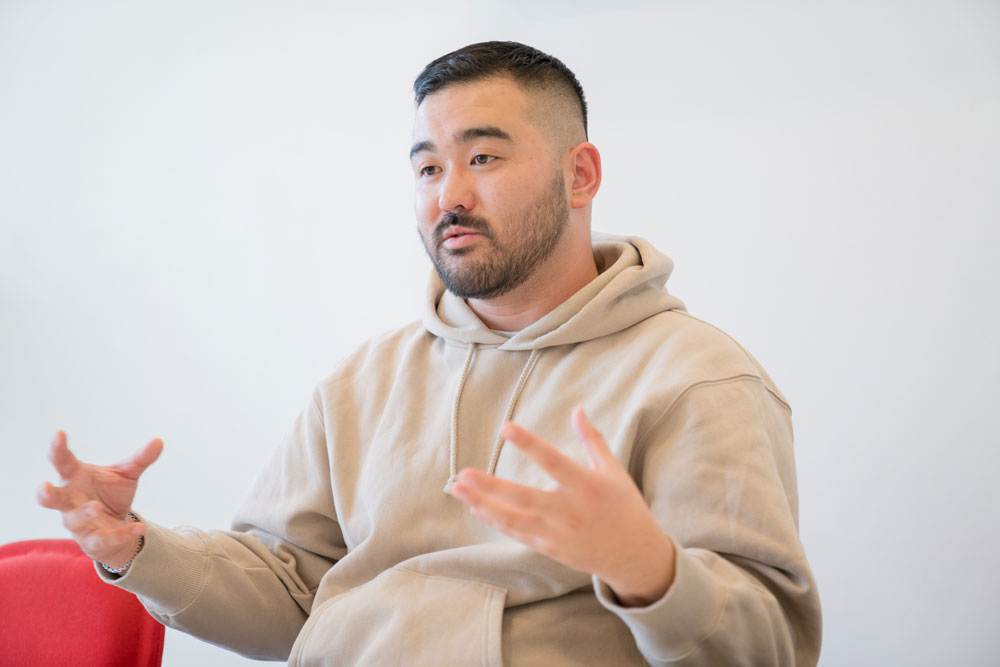 Having actually done it, how was it?
At first, I was planning to go sightseeing in N.Y. after the show. I wasn't thinking about anything else than showing my clothes, but after the show; I received many requests to lease my pieces, and contact from buyers, so I hastily rented a showroom for 1 day only, and met with all sorts of people, including buyers from famous shops. I didn't have a production line prepared yet, I ended up reluctantly having to turn down all the offers , but thanks to this reaction, I gained confidence. To tell you the truth, at first there was also talk of doing a show in London, but because there are many avant-garde and edgy young designers in London, I think it is too early for me to challenge it there. I feel, having done my first show in N.Y. where there are many powerful medias, was, as a result, very good.
You've been doing costume design work from before, but when did you start having interest in fashion work?
When I was a junior high school student, I was greatly impressed with the photos of the Dior haute-couture collection by John Galliano, and thought, I wanted to be involved in a workplace which I could make things like these.I taught myself how to make clothe in my 2nd year in junior high, and a friend wearing clothes I made as a university student got his photo taken at a club, which was seen by Mr. Motohashi, the owner of "XANADU TOKYO", a multi-brand store in Harajuku, who called me saying he wanted to carry my clothes at his shop. At that time, I ended up starting-up my brand out of need, and through introduction from Mr. Motohashi, I started doing costume work, which I had been interested in doing from before.
What is the attraction of costume design?
When I see artists on stage performing live wearing the clothes I made, and fans enjoying the stage, I gain a sense of reality or fulfilment, of being a part of the performance, as if I myself were one of the elements supporting it. I'm also happy of creating a costume through close communication with the person wearing it and receiving direct reaction from them. Furthermore, I simply enjoy making large objects, so I feel even more joy when a costume is completed after spending time and efforts.
Earlier you mentioned John Galliano, but is there anyone or anything else that has influenced you in your creations?
In my childhood, I've always enjoyed origami, but rather than folding and making objects, I enjoyed laying it out like a color pallet to create a sort of color harmony. I also liked creating my own colors during an art class, so it seems, what I'm doing now is not far different from what I was doing back then. Furthermore, at the university, I was art major, and I think my experience of learning general basics broadly became the basis of my creation now.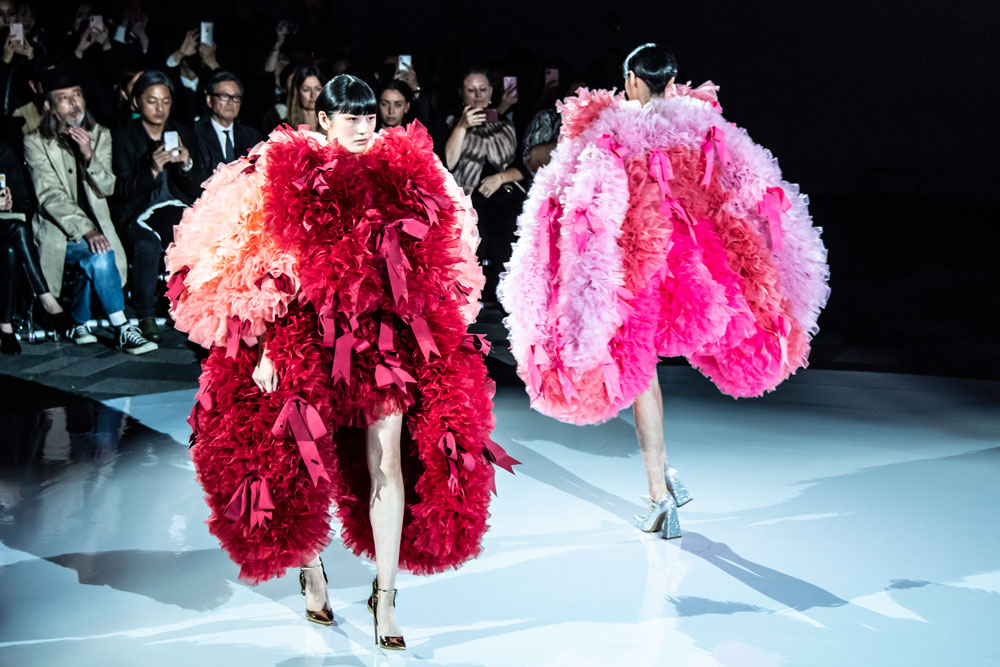 Colorful frilled dresses are the importance feature of TOMOKOIZUMI, and how was this expression born?
I use polyester organdie for the frills, and I found this material at the textile town in Nippori. I was looking for a way to make something interesting within a limited budget, and because this material was made in a wide variety of color, this material was perfect. From there, I gradually gained my skill to fully maximize usage of this material and began using it in its present form from 2 years ago. Japanese synthetics are such high quality, they are easy to handle. I'm interested in remaking such materials into something fun. Besides, I've become paying attention to native Japanese culture, such as kabuki costumes or junihitoe kimonos (twelve-layered ceremonial kimono), kiku-ningyou (dolls decorated with chrysanthemum flowers), which I had naturally come in contact with in my childhood through anime. In transmitting out to the world from hereon, I'm feeling that it is necessary to reexamine and edit my identity as a Japanese, but when I take a second look at Japanese culture from such a stance, I realize my creation and native Japanese culture have many things in common.
Finally, please tell us your plans for the future.
There's not much that's already decided upon at this point (laugh). I'm thinking of creating something I can sell, but it makes me sad when I think about my clothes being sold at a bargain sale, so it will be within a scope in which I can control and do without straining myself. As for shows, I'm not sure about the frequency, but I would like to continue doing it as a place to present my works. Also, without being too particular about location, I'd like to actively go out to places where I think I can have fun and interesting experiences.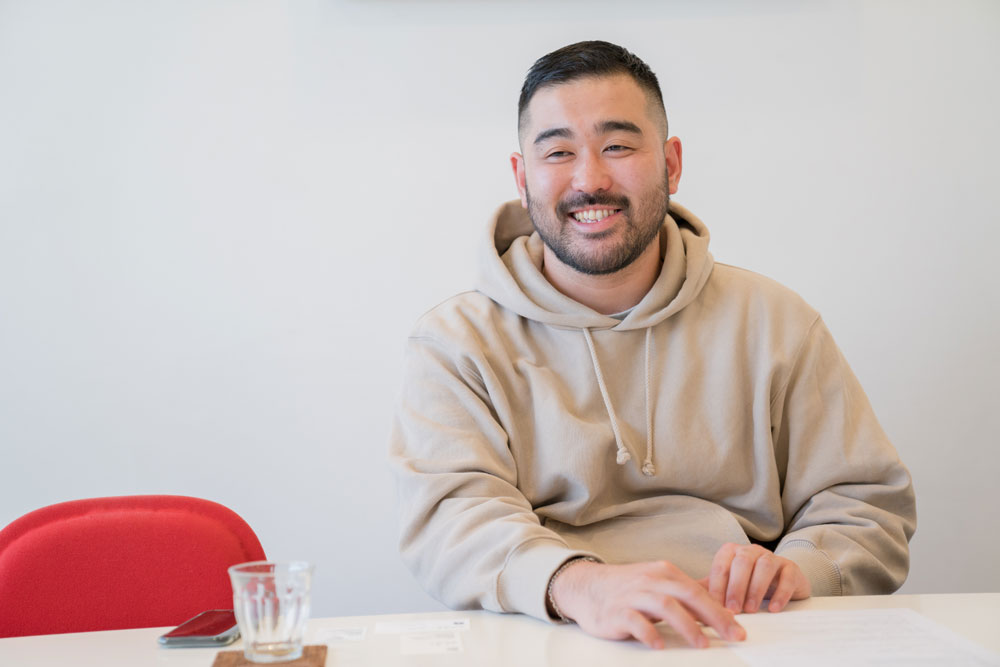 Interview by Yuki Harada
Photography by Yohey Goto (Interview shoot)
Translation by Aiko Osaki