Interview & Report

Umit Benan
AmazonFWT 2017 S/S SPECIAL PROGRAMS
Umit Benan was born to Turkish parents in Germany in 1980, and raised in Istanbul. As a child in the 80s, he was bombarded with the assertive fashions and powerful masculine visions of the time, thanks to his clothing manufacturer father. As a teen in the 90s, he absorbed the contrasts and layering of the decade while growing up away from home at boarding school and university, in Switzerland and the US. His utterly personal point of view stems from these roots. He moved to Boston to study marketing and public relations at college. During his time in the United States he decided to become a fashion designer and spent summers in Milan taking drawing lessons. Umit Benan moved to Milan to study fashion at Marangoni Institute. Over the next years, he alternated between styling courses at Central Saint Martin's College of Art and Design in London, and spent a year in Parsons The New School for Design in New York for pattern making and long periods in Istanbul learning textile techniques with his father. After his work experiences in womenswear at Marc Jacobs, Sophie Theallet and Rifat Ozbek, in 2009 he launched his eponymous menswear line and won the first men's edition of the Who's On Next competition by Alta Roma (in collaboration with Pitti Immagine and L'Uomo Vogue) with his second collection. Between the years 2011 and 2013 Umit Benan leaded the Creative Direction of the maison Trussardi, designing both menswear and womenswear ready to wear and accessories lines. In 2012, Umit Benan was chosen as best international menswear line in Japan. As a consequence in 2014 he opened his first UMIT BENAN flagship store in Tokyo and launched his casual line ONIKI made in Japan. He now presents his collections during Paris Fashion Week.
During the period of the Amazon Fashion Week TOKYO 2017 S/S, Umit Benan presented his first runway collection in Tokyo as a special program with the assistance of the Cabinet Secretariat, Secretariat of the Headquarters for Tokyo 2020 Olympic and Paralympic Games(*). Born to Turkish parents in Germany, Umit Benan studied fashion both in Europe and the United States. We've conducted an interview to this promising menswear designer who is considered to be a future icon of the menswear fashion scene with his originality in creation and his international and diverse background.
(*)The Tokyo Organising Committee of the Olympic and Paralympic Games, "Basic Plan for the Holding of the Games" and "anticipated national response to implement smooth preparations for the formulation of the basic plan" Project:
This project, commissioned by the Cabinet Secretariat, is being implemented as a part of the 2016 basic research plan for the Olympic and Paralympic Games. The aim is "to create momentum towards the Games throughout Japan through a variety of cultural events," as an important factor in preparation for a successful Games. Various cultural events are being held, from traditional art to modern performing arts, arts utilizing the latest in technology, design and contents of cool Japan, which have been gathering global attention.
Culinary and cultural events include those rich in locality, such as Japanese Sake and cuisine, festivals, fireworks, hand-crafts, etc. These events are positioned as trial/research projects to measure their global promotive abilities and effects for prior analysis of results in preparation of a successful Olympic and Paralympic Games.
You just had your first runway show in Tokyo. Please tell us about your overall impression on the Fashion Week in Tokyo?
I am very happy to have had a chance to present my collection in Tokyo. It has been a very exciting experience. It was less stressful compared to my previous shows in Europe because the fashion week in Tokyo was in a celebration mood.
What inspired you to decide this season's collection theme, "A Mexican Guy Living in Texas"?
These days I enjoy driving in the United States, especially around Texas and the Mexican border. I get inspired when I drive in those areas. There are many difficult political problems between the US and Mexico, especially around the border region, but this kind of issue is happening everywhere in the world, including Asia. With this year's UMIT BENAN collection I expressed my political message against those issues. But I am NOT doing my shows to give any message. All kinds of different things inspire me and naturally affect my design work, and as a result, my collection obtains a message.
Do you get inspired by traveling quite often?
I pick up whatever comes to my mind in daily lives but yes, I do get inspired while traveling. Over the last 5 or 6 years I've been feeling very good driving on the US highways, or driving in the desert where you rarely see people. I like it because my mind becomes very clear and fresh. I can have more time to think and more time to be inspired.
UMIT BENAN stands out with its hybrid-cultural mix. Does your international background affect your creation?
Yes, absolutely. Lately I've been inspired by the Latin cultures. My previous collections were inspired by Columbia, Cuba, Argentina, Brazil, Mexico and so on. I grew up with Latin people in my school days and I always love and feel close to the Latin people, as well as their music and cultures. Even though I was born in Germany, I do not usually feature European cultures in my collection. I'm more influenced by ethnic cultures such as Turkey, India or Mongolia. Italy is one of a very few exceptions as my creation is based on the traditional Menswear.
You probably also have the influence from the Turkish fashion culture. Can you tell us about the Turkish clothing? What kinds of characteristics does Turkish fashion have?
To give you a quick example the "sirwal" pants are originally from Turkey. We also have "kaftan" the traditional wear and "fez" the hat. They are both made of soft fabrics and have their unique pattern and silhouette. The Turkish traditional fashion has a long period of history and I have occasionally featured them in my collection. By the way, I always want to go back to Turkey but I just don't know when that will be.
One of your collections has been inspired by the Japanese karate costume. What kind of characteristics do you generally see in the Japanese fashion culture?
I always love traditional styles and costumes of many different countries. I especially like traditional styles of Japan as well. Japan has a long period of history and I get inspiration from the kimono texture quite often. When I come to Japan, I visit Kyoto to see the traditional culture there.
What's your impression on the Japanese modern fashion?
Japanese street fashion is known for its crazy style such as Harajuku street style. It's a bit too much for me. But I love it so much when I see Japanese men wearing British style suits together with denim. This level of good unique style cannot be seen anywhere in the world. I also like the American-influenced Japanese modern style.
Do you have any favorite Japanese fashion brands?
I love Yohji Yamamoto. Even though I do not usually wear Yohji Yamamoto and black clothes, I like him as a designer and as a brand. The fabrics, the pattern, and the silhouette of Yohji Yamamoto are all well balanced, not to mention his clothes are wearable in your everyday lives. COMME des GARÇONS also is such a great fashion company because of its great production and marketing strategies. I also like some younger Japanese brands such as sacai, kolor and visvim. They are all powerful brands and they make wonderful clothes.
You are currently based in Milan and Italy is considered to be a high-quality textile production region. What's your general impression of Japanese textile?
My father used to work in the textile industry; that's one of the reasons why I am a fashion designer now. Yes, it's true that the quality of the Italian textiles is good, but the quality of Japanese textiles is also very good. Interestingly enough, here in Japan people mix cashmere with some other materials. I find it very innovative because that doesn't usually happen in Italy. I am sure there are quite a lot of international designers who wish to use Japanese textile. The problem is that most of those designers cannot use Japanese textiles because of its high cost.
Can you talk a little bit about UMIT BENAN's future strategies for the Japanese market?
Japanese customers are well educated and sophisticated. It may be an exaggeration, but it seems to me that here in Japan the general consumers are as sophisticated and as passionate about fashion as professional buyers or professional designers. I would love to stay connected with those sophisticated customers in Japan. I would like to build exclusive relationships with a limited number of shops as well.
Excerpts from the standing interview
About the Japanese materials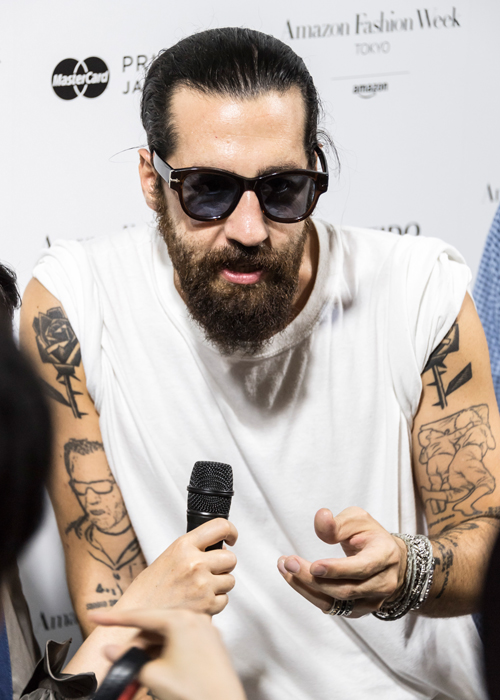 I always have a respect for the Japanese materials. Professionals can tell; Japanese fabrics are very delicate. If I touch the material I can easily tell if it's Japanese fabrics or not. For this year's collection I've used Japanese materials for our shirts and jeans. Italy has been producing traditional materials for a long time and the Italian cashmere and wool are probably the world's best quality. On the other hand, Japan is also advanced in material production. I know one Japanese company that mixes the first-class cashmere with artificial fibers to produce a totally new, hybrid material. While Japan is advanced in the material production, there are plenty of middleman companies in the industry and the price of the Japanese materials is generally too high. I am willing to contact directly to the local factories in Japan. I'd appreciate if you could introduce me some good Japanese material makers. Such information is valuable to designers, especially to designers like myself who only use good quality materials. Perhaps it's even more valuable and appreciated by foreign designers than providing them with a monetary assistance.
About the Fashion Week in Tokyo
To me, the Fashion Week in New York is where people "consume" fashion. As for the Fashion Week in Milan, there are not so many new things happening because it's kind of old-style. The Fashion Week in Paris is undoubtedly the best in the world, although it no longer gives me much excitement these days. The Fashion Week in Tokyo, however, is a place where we can express a new fashion. It's very exciting to see that people in the Japanese industry – stylists, PR people, producers, and buyers – generally have such a high level of fashion sense. It has been a great pleasure for me to showcase UMIT BENAN's collection here in Tokyo. Participation to the Fashion Week enhanced my creativity.
The making of UMIT BENAN 2017 S/S collection show in AmazonFWT
"Welcome dinner for Umit Benan"
A "Welcome Dinner for Mr. Umit Benan" took place at a French restaurant "ARGILE" in Ginza with the restaurant's cooperation, celebrating the talented designer's very first show in Tokyo. Mr. Benan, the staff members and supporters had drink together prior to the brand's runway collection date (Welcome Drink Cooperation: DASSAI, Asahi Shuzo Co., Ltd.).
【In cooperation with】
ARGILE
5-4-6 Royal Crystal Ginza 7F, Ginza, Chuo-ku, Tokyo
TEL 03-3575-5115
http://www.argiletokyo.com/