Interview & Report

Hiroaki Shitano "WHIZ LIMITED"
TOKYO FASHION AWARD 2016, Award Winning Designer
Born in Tokyo, 1976. Representative of LUMP co.,ltd. In addition to WHIZ LIMITED, also involved with A.W.A, whose concept is 'Finest Classics' (meaning, the finest standard items). In the past, he had been the designer for Marmot by WHIZ, a collaboration line with the outdoor brand, Marmot, and also the designer for BONFIRE by Felicity, a collaboration line with the snowboard wear brand, BONFIRE.
In the midst of the Ura-Harajuku (Harajuku backstreets) boom, WHIZ LIMITED was started in the year 2000.  In celebration of their 15th anniversary, they presented a show, mainly of past collections, at the Tokyo Fashion Week, in March last year.  In the autumn of the same year, they were awarded the TOKYO FASHION AWARD 2016, and since, have been exhibiting at the Paris showroom for two consecutive seasons, which was the first overseas exhibition for the brand.  Despite the brand has reached a turning point, their brand designer, Mr. Hiroaki Shitano, continues to strive forward relentlessly.  We've asked him of his present state of mind.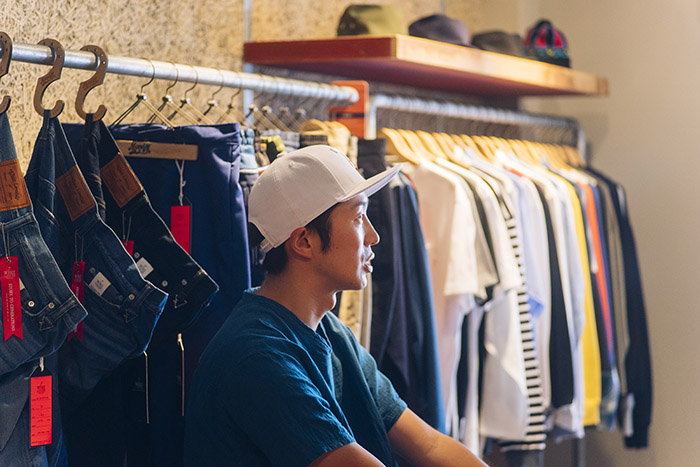 In your Tokyo show in March, you gathered attention by appointing models of various age groups from the streets.  What were your intentions behind this?
We did a show last March, in celebration of our 15th anniversary, and quite honestly, we didn't intend to do any shows for a while after that.  This time, I ended up doing the show as a TOKYO FASHION AWARD winner, but after much contemplation, instead of using professional models, I decided to present a show that would tell the story behind the brand, which are the streets of Harajuku.  To tell you the truth, we had imagined of such a show for our 15th anniversary also, but back then, there weren't enough people around me, with unique enough personalities to be in the show.  However, one year having passed since then, young people of various fields, like musicians, began to be active around me, and so I was able to realize this show.
Since the 2012 S/S season, your brand had continued to present shows in Tokyo for a while. What meaning do shows have for your brand?
What we learned from continuing doing shows for four seasons is that, in our case, shows do not have direct impact on our sales.  On the other hand, we learned that by expressing our clothing in such a way, we are able to appeal to the hearts of people, in one way or another.  But constantly continuing to present shows is a great burden, so we've come to think that we should do shows only at special times, like anniversaries for example, to present and appeal WHIZ LIMITED to our customers as a special thing.
Do shows have any influence on your creations?
I've been conscious rather, of not to be influenced by shows, as much as possible.  Unknowingly, I get the urge of making clothes that will make the show interesting, but most of time, clothes like that do not sell.  For example, in the 15th anniversary show we presented past archives, but normally, one would think there is no meaning in announcing past collections in a show, right?  But the way we see it, we tend to present the show towards fans and/or dealers, so our mind, or thinking towards shows may be a bit different from other brands.
The brand has celebrated its 15th anniversary last year.  Are there any specific directions you are thinking of or planning to do from here on?
Regarding future directions, well, to be honest, I've never really spent time on thinking about direction.  Not even six months into the future.  I tend to play it by ear.  I thought things would settle down a bit once we celebrated our 15th anniversary, but, winning the TOKYO FASHION AWARD and we've been given the opportunity to participate in the Paris showroom.  Thanks to all sorts of chances, I've been getting busier and busier, with no time to get board (laugh).  I can't even imagine what I'll be thinking in a year from now, but I hope that at least, I'll have different thoughts than from what I have now.
What is the driving force behind your unchanged creativity, that enables you to continue being creative for 15 years?
I simply love fashion, and my lust to wear cool clothing is unchanged even to today.  Plus, we have customers all over Japan, whose faces I know, and I strongly feel that I don't want to embarrass them.  The other day we celebrated the brand's birthday, and every year, at this shop (LUMP TOKYO), we offer a special item on our birthday, without any fore-notice.  Our fans knows this, so even if it is a work day, they take the day off to come to our shop from all areas of Japan, to get in line for this special item.  We've formed a really good relationship of trust, based on the customers and our pride in what we wear, and this relationship is a great motivator for me.
From the time you first started the brand up to today, have there been any changes in what the customers are looking for?
Not really, but I think their environment has changed, for example, customers don't look or follow magazines as a matter of fact part of daily life as they used to.  Now-a-days, we are no longer grouped as an "ura-hara style".  It may not be so in department stores, but at least, I feel that those customers that come to our store, come specifically to our store, and for good and for bad, I think customers are becoming more segmented.  Within such tendencies, now-a-days, communities are being formed on Instagram and SNS, with fans from around Japan sharing information on the brand and products, which to me, is very now.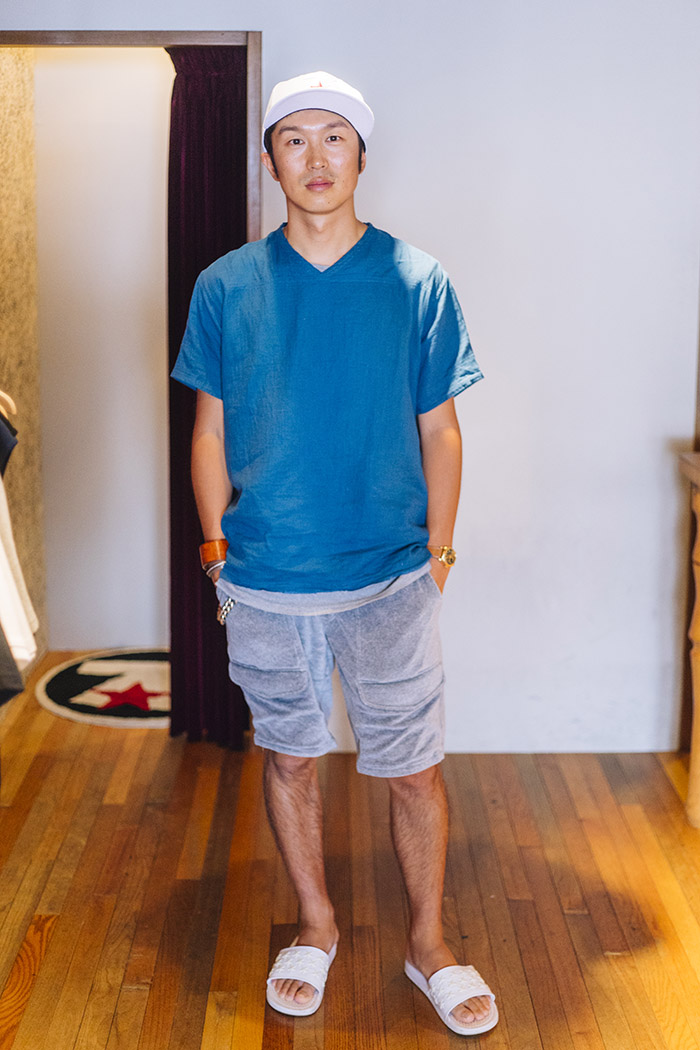 Is there any field you would like to challenge in the future, besides fashion?
I sometimes handle the interior of regional shops myself, and basically, I enjoy 'making things'.  In the first place, I never imagined I'd be designing clothes for 15 years, but I've continued doing it wholeheartedly, so I wouldn't have any regrets even if I had to quite tomorrow.  Since I've turned 40 and I'm all grown up (laugh), there are times that I feel like working under somebody.  For example, working at a bakery on Monday, a coffee shop on Tuesday, clothing shop on Wednesday, and so on.  A working style of working under somebody else every day, might be interesting.  It would be great if I could work like that, and do something to invigorate the area around me.
Interview by Yuki Harada
Photography by Yohey Goto