Interview & Report

Yoshikazu Yamagata / "writtenafterwards" "written by" designer
TOKYO FASHION AWARD 2015 Winner Designer
2005 Graduated fashion design course at Central Saint Martins college of art and design
    John Galliano Design assistant
    Three prizes of International Competition ITS#three in Italy
2007 Found writtenafterwards inc
2008 Start Tokyo Collection
2014 Launched "written by" the second line of writtenafterwards
    He won the special prize for Mainichi Fashion Award,and Tokyo Fashion Award.
2015 Nominated LVMH Prize as the first Japanese contestant
Yoshikazu Yamagata launched "writtenafterwards" in 2007 after studying fashion at Central Saint Martins, making a clear distinction between existing fashion brands and designers with unique activities. We sat down with Yoshikazu Yamagata to hear about how he continues to explore the possibilities of fashion as a communication tool, such as through his shows that draw attention each time with their conceptual approach and "coconogacco," an independent fashion school which continues to achieve success.
As a TOKYO FASHION AWARD (TFA) winning brand that held exhibitions in Paris for two seasons and held a triumphal show in Tokyo in March this year, please tell us about your motivations for applying for the award at this time.
We applied for the TFA as it was a time in which we were thinking of expanding the sales channels for the newly started "written by" brand. In the wake of the Paris exhibition this time around, we were able to have the opportunity to design the shop window of Colette in Paris, and it was a very good opportunity for finding new business partners. For the Tokyo announcement as well, we were able to receive a variety of reactions thanks to being able to make the presentation in the form of a show.
How was the reaction in Paris?
Being aware that we as Japanese are outsiders in Europe, we felt the necessity to compete in a different area from the sensibility of the European people. Now, clothing is something familiar to Japanese people, and it can be said that the way it is worn, such as the layering and flat feeling, as well as the behavior is an extension of the kimono culture. I feel that the unique view for details, such as flatness and material, will become a great weapon not only for Japan, but designers throughout all of Asia against the fashion culture of Europe which is mainly based on three-dimensional shapes, such as Haute Couture.
Have you felt any change since starting out in 2007 until now?
(Laughing) Although at the beginning I felt that we weren't understood very well from those around us, I feel that we are gaining support and fellows that understand us as a brand as the time goes by. At the base of my activities, I have a sense of discomfort for the system of mass production / mass consumption, and I feel that our activities are gradually being transmitted to those people out there who are feeling cramped with the existing fashion industry. People may be thinking, "I don't really understand it, but it's interesting," which I believe is the sort of sensation that is needed in fashion in any era.
"writtenafterwards" seems to be continuing its activities in a different manner from that of the existing fashion market. What do you think about the relationship of business and creation?
I don't think that selling clothing is the only role of the designer. Although I do believe that giving something to people through fashion is a top priority, as money is needed in order to continue to do this, I am always suffering trying to figure out a way to raise money. I believe that there are still a great many ways to accomplish a wide range of activities as an expressive person, and such movements have been gradually coming out recently from others surrounding me.
The fashion school started in 2008, "coconogacco," has produced many winners for overseas fashion contests, and seems to be enjoying great success.
The school at which I learned fashion was Central Saint Martins in London, and is responsible for producing designers such as Alexander McQueen and John Galliano. Designers from a slightly older generation have also been attracting attention, and I truly felt that it was a place at which you could feel excitement that something would be started here, and the budding feeling of success. "coconogacco" was started with the idea of wanting a place like that here in Japan. Having had an interest in what type of education backgrounds are creating new talent throughout the world since I was a student, I went to a variety of schools overseas to listen to their talks. Following the trends of fashion school students from around the world in real time, I thought that something I could do for the Japanese society was to create a place to be firmly aware of where you are in a global scale.
Is there anything positive for you, yourself, in continuing "coconogacco?"
I have been able to make many friends through "coconogacco," and I believe that people who understand what I'm trying to do have increased. In addition, I have been able to connect with various people outside the fashion industry, such as linguists, architects, and philosophers, and precisely because I'm on the side in which I have to teach as well, I developed a sense that I also have to learn eagerly as well. Of course, this must not cause "writtenafterwards" to be less active, but currently these two activities have become the main driving force.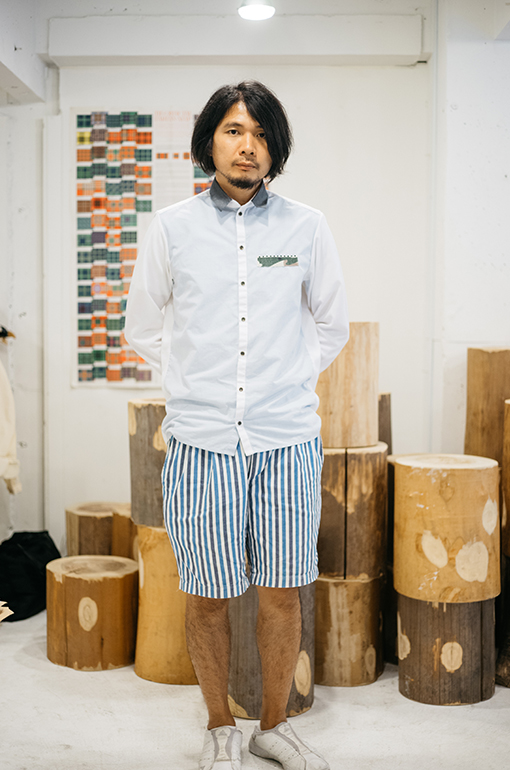 Please tell us about future prospects for the brand.
While we would like to continue with experimental creation in the future for "writtenafterwards," we would like to successfully link the newly launched "written by" with "writtenafterwards" to deliver wearable clothing to a wider market. In addition, at the exhibition this time in Paris, we realized the need for proposing clothing that can be dressed up in on special days, positioned somewhere in between "writtenafterwards" and "written by." We would also like to strengthen that area. For future plans, I'd like to develop a framework that will allow us to continue to make our announcements in Paris until I turn 40, so we are currently working on the creation of that foundation.
Interview by Yuki Harada
Photography by Yohey Goto