Interview & Report

Yohei Ohno (YOHEI OHNO)
TOKYO FASHION AWARD 2017 Winner
Born and raised at Komaki City, Aichi Prefecture. After studying at Bunka Fashion College and later at Bunka Fashion Graduate University, went on to study abroad at NOTTINGHAM TRENT UNIVERSITY in England. After returning to Japan, started up "YOHEI OHNO" in December 2014. Debuted with their 2015 AW collection. He expresses a new-sense luxury wear, through his characteristic use of materials and his minimal, constructive silhouettes.
YOHEI OHNO, a women's brand gathering attention for their unique creations, expressing futuristic textures and colors inspired by man-made objects such as industrial goods, upon a canvas of clothing. Having been chosen as the 2017 award winning designer of the TOKYO FASHION AWARD, experiencing exhibiting at the Paris showroom for two seasons and a runway show at Tokyo, all in a mere 2 years after starting up the brand, their designer, Mr. Yohei Ohno, is a cutting-edge anticipated newcomer, distinguishing himself rapidly. He maintains a unique standing point and awareness of issues towards fashion design. We interviewed this new generation designer, whom poses a philosopher-like ambience.
When did you begin aspiring to become a fashion designer?
I was born and raised in a small rural town in Aichi Prefecture, but when I got to high school, I realized that compared to the boys coming to school from the city, my fashion was so lame, so much so that many people pointed it out to me, and my girl-friend even took me shopping to Parco, saying my clothes were too uncool (laugh). So, my interest in fashion started out by such an inferiority complex, which gradually grew into a genuine interest, and because a very close friend of mine went on to study at Bunka Fashion College, I began to study fashion myself. My father is an art teacher, and my grandfather is a wagashi (traditional Japanese sweets) craftsman, so creative work is sort of a family tradition, and I think I always had a strong wish to become a creator myself.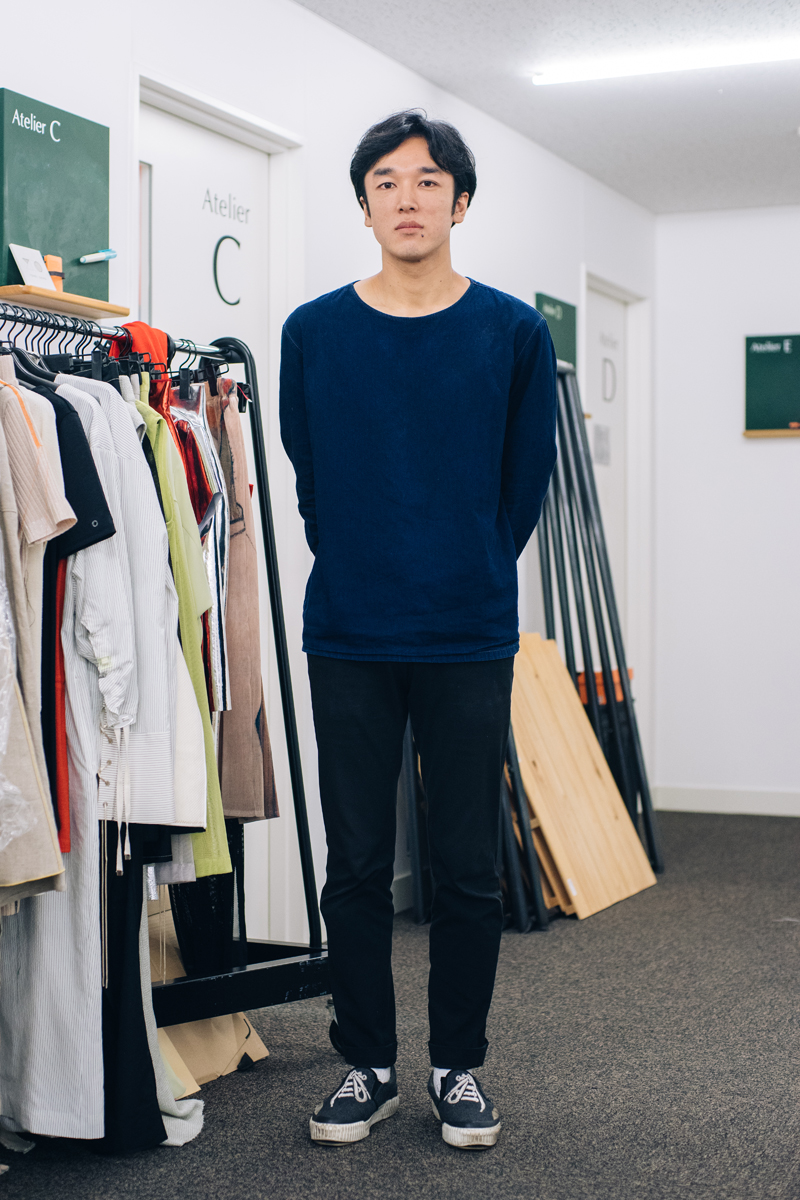 Please tell us the details behind how your brand came to be.
While studying at Bunka Fashion Graduate University, I won an award in a contest and studied abroad at England for a year. There, I was making product-like wear that doesn't require sewing, by laser cutting bonded textiles. I wanted to test the market's reaction, what would happen if I put this on the market, so I decided to start up my own brand. Because I started it with no specific plan, I returned to conventional clothes making almost immediately after that (laugh). After experiencing a few seasons, I realized that my theme and individuality is in creating wearable products, and from there, I gradually became able to see the direction of the brand objectively.
Are there any brands or designers you've been influenced by?
Before I began making clothing myself, because the premise was me wearing it, I liked brands such as UNDERCOVER and NUMBER (N)INE. As for women's designers, I've been influenced by Nicholas Ghesquiere. Around 2007, BALENCIAGA announced a SF-like collection with models appearing in metallic armor-like leggings, and I was astounded by that. Until I saw this, I had arbitrarily made up my mind that the Paris Collection was a glamorous world which I had no ties with, so I was astounded to see something a boy would like could appear in it (laugh). This got me interested in designing women's fashion.
What is the attraction of designing women's fashion?
I sort of have a bird's-eye view towards clothes making, and tackle it with a research-like stand point, rather than making clothes that I would like to wear myself. When making clothes for myself or clothes I would like women to wear, the evaluation criteria of good or bad is inevitably myself, but I am more interested in finding out how women would react to what I make. Even if a man makes clothes through thoroughly probing into rational and logic, it will not sell if women do not think it is 'kawaii (cute, pretty, lovely)', and for me, this is what make fashion interesting. In the world of fashion, there are star designers in each generation, seasonal trends, and sort-of-correct answers, but that's not all it is. It is impossible to verbalize a clear answer, and that's the attraction of fashion.
Where do you get your inspirations for your ideas in clothes making?
As many people look at nature and feel it is beautiful, I am attracted to man-made objects. For example, my eyes are naturally drawn towards the combination of tiles on subway walls, texture of concrete when the sun is shining on it, etc. Especially when I go overseas, I see buildings that are painted in all sorts of colors which, from a Japanese point of view, is unbelievable, but such things remain in my mind as a memory, and are often reflected in my collection. For example, in the 2018 Spring/Summer collection I had shown at the Paris showroom the other day, I focused on color and texture. I selected materials with careful consideration towards matching color and texture, with the hope to try to incorporate and coincide organic aspects while maintaining our characteristic as an industrial and futuristic brand.
In March this year, you also presented your first runway show in Tokyo as a TOKYO FASHION AWARD 2017 award winner, right?
Through experiencing doing a show for the first time, I realized that even if something is impossible to do alone, with the help of many people, including staff such as producers, stylists, and even student interns, it can be actualized. Furthermore, by doing the show I received all sorts of reactions from both Japan and overseas, and even gained new overseas customers. Recently, there seems to be an increase in people whom do not see positive potential in doing shows, but because the situation and circumstances surrounding each brand differs, I don't think this is entirely true. It is true that shows are very expensive to do, and may be negative from a cost effectiveness point of view. But at the same time, it is also true that we received a huge reaction from this show, and when I think about the positioning of the brand, I think now is the time to fortify our stand, so I would like to continue doing runway shows.
Interview by Yuki Harada / Translation by Aiko Osaki
Photography by Yohey Goto