Interview & Report

YOSHIKI
MBFWT 2016 S/S SPECIAL PROGRAM > YOSHIKIMONO FIRST COLLECTION
Mr. YOSHIKI is presently active as a song writer, drummer, and classic pianist. Among his various auspicious activities and achievements, he has written and produced Emperor Akihito's enthronement anniversary song, the official theme song of the Aichi World EXPO, theme songs of various Hollywood movies, the theme song for the world's foremost Golden Globe Awards, etc.. He is a great, world renowned musician, active on a global scale. X JAPAN, led by Mr. YOSHIKI, prides a total album/singles sales of over 30 million disks. This legendary band has a record of 18 sold-out concerts at Tokyo Dome, which houses 55,000 people.
In recent years, X-JAPAN performed a sold-out world tour around Northern America, Europe, Latin America, South-East Asia, along with a sold-out performance at Madison Square Garden, the New York holy land of music, in 2014. Furthermore, they have announced a concert at England's Wembley Arena, in 2016. With such successful performances around the world, X-JAPAN has become a world renown, legendary band.

[ About "YOSHIKIMONO" ]
The kimono brand, "YOSHIKIMONO", was created by the artist, Mr. YOSHIKI. Being born as the first son of a kimono fabric dealer shop, Mr. YOSHIKI has had a strong wish to introduce kimonos, one of Japan's beautiful traditional cultures, to the world. This strong will, and the meeting with Mr. Keigo Kano, of SCOPE COCO Co., Ltd., one of Kyoto's oldest and most prestigious kimono makers, lead to the realization of his own original kimono brand, "YOSHIKIMONO".
The brand was first introduced in March, 2011, at the "ASIA GIRLS EXPLOSION", Asia's largest music & fashion collaboration event, held at Yoyogi National Stadium. And, in October, 2015, the brand will realize a full scale collection debut, at the Mercedes-Benz Fashion Week Tokyo.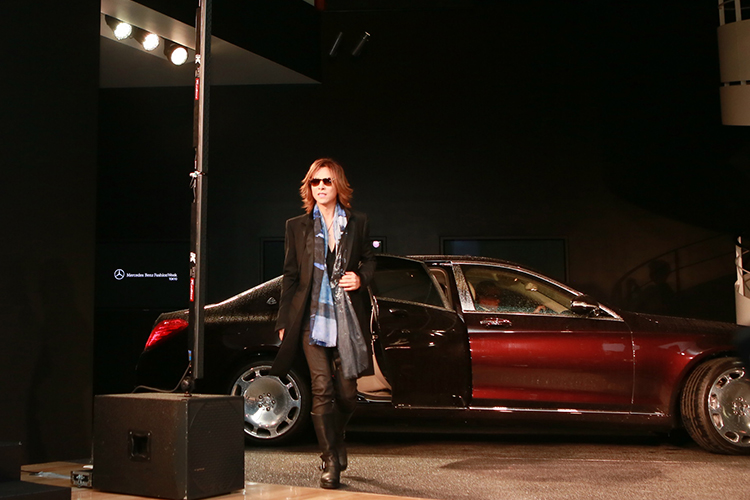 On the first day of MBFWT 2015-16 A/W, at the opening party held at Mercedes-Benz Connection.
Appeared in "Mercedes-Maybach" (March 16, 2015)
At this year's Mercedes-Benz Fashion Week TOKYO 2015-16 A/W opening reception held in March, artist YOSHIKI announced the participation of his own clothing brand, YOSHIKIMONO, in October's MBFWT 2016 S/S. With less than one week until the collection announcement, people are wondering what type of creations world-renowned artist YOSHIKI will reveal for the runway. We sat down with YOSHIKI just before the announcement collection to ask about his venture into fashion, including his own background of growing up as the eldest son of a kimono draper and commitments in his creations.
The collection of "YOSHIKIMONO," your kimono brand, will be announced at MBFWT 2016 S/S. What were your original impressions about Fashion Week?
As Fashion Week is held not only in Tokyo but also fashion cities around the world, I believe that it is a central event in the fashion world. I feel very honored to be allowed to announce the collection of by brand at such an event.
Please tell us about how "YOSHIKIMONO" came to be.
Although I was born as the eldest son of a kimono draper, with me choosing to go my own way with music, the family business was lost in my generation. With some sort of desire to bring it back, I had been sitting on the idea and plans from quite some time ago. The trigger came when I met Mr. Keigo Kano, who is in charge of a long-established kimono brand in Kyoto, through an acquaintance of mine. At that moment I decided to get serious about things.
What about kimonos is appealing to you?
Thanks in part to my childhood days in which my mother would wear a kimono every day, I have always felt a sense of familiarity with kimonos. Now, since I am living overseas, it feels extremely fresh to occasionally see a kimono being worn in such a far-off place from Japan, and I think to myself once again that kimonos represent a great part of culture that we can be proud of to the whole world. Although I also like traditional kimonos, with "YOSHIKIMONO," I would like to cherish the traditional aspects while continuing to express a diverging style. This can also be said for the musical activities I have continued up until now, but sometimes things that break out from the existing frame are accompanies by criticism. However, I think that is what is meant by original art.
Did you feel any similarities in music and clothing production?
Regardless of areas such as music and fashion, I believe that I have consistent preferences for art in general. Therefore, it is rare for me to get lost whether it be music or kimono design, and I am able to quickly decide on something when I feel that it is right. Also, I would like to create something that is capable of going back and forth between the reality and the world of dreams, no matter what the field be. Expressing only reality is not interesting, and there is no reality in creating only illusions; you can't touch the hearts of people. I always feel that the balance between these two is quite important .
The fusion of tradition and innovation also seems to be a consistent feature in your creations.
That's right. Although I have been continuing classical music from a long time ago, rock exists on the exact opposite end of the spectrum. I have always liked broad representations with a large degree of variation. As I mentioned earlier, I would like to achieve those types of expressions with "YOSHIKIMONO" as well.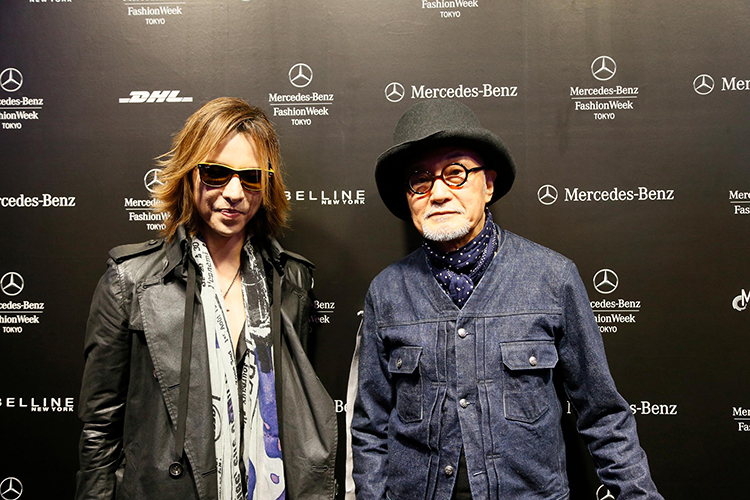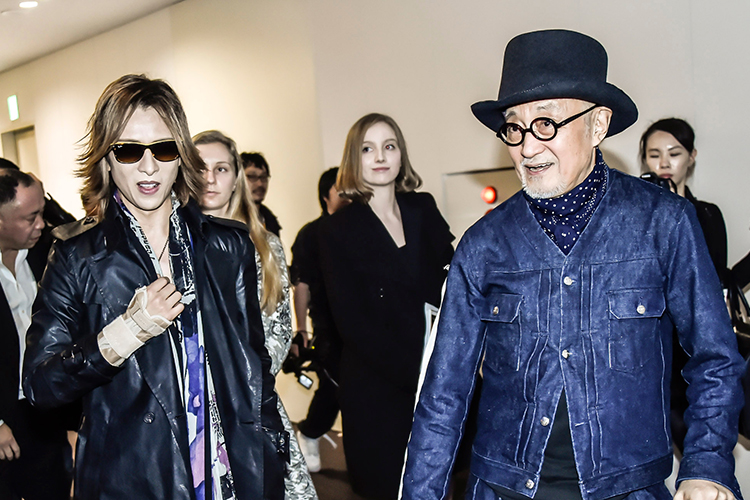 With "TAKEO KIKUCHI" designer Takeo Kikuchi (March 16, 2015)
Where is fashion positioned within your musical activities?
It's extremely important. When up on stage, various elements are grouped together to make a single thing, such as lighting and acoustics. Of those elements, I am especially particular about the clothing that we wear, and do whatever I can to make the clothing that we wear so that it shines on stage.
Please tell us about the fashion of musicians or fashion designers that you liked that impacted you thus far.
As for musicians, absolutely David Bowie. I had the opportunity to talk with him when he came to Japan before, and I was extremely impressed by him. I believe that he shaped himself in his own image thanks to his wacky fashion, and I'm sure that there are countless musicians out there that were affected by him. For a fashion designer, I absolutely love Alexander McQueen. His rebellious spirit is nothing more than punk, and I can definitely sympathize with his attitude for design to not have fear at all about destroying stereotypes. I myself have always acted with the sentiments of wanting to break what is textbook, and therefore, I always feel like I want to create a future classic that would defy the norm, even 200 years later.
What type of commitments do you have for private fashion?
I like a sort of style that goes all out, but at the same time leaves behind a feeling of looseness. Although I do think that self-assertion is better to have for fashion, I feel that being perfect from top to bottom is conversely not very cool, so I always try to maintain that exquisite line. Also, although I often wore the clothing of foreign brands in the past, recently I have been wearing a lot of Japanese brands, both in public and private. Even while up on stage, I have the desire to somehow express the point that I am Japanese, and with each passing day while living abroad, I become more and more proud of being Japanese.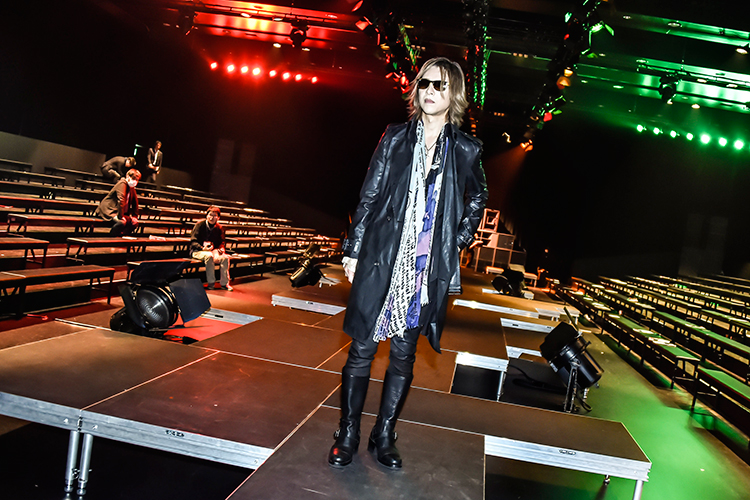 At Hikarie Hall A after the "TAKEO KIKUCHI" show (March 16, 2015)
What sort of image do you have of Japanese fashion brands and Tokyo street fashion?
Japanese designers are thought highly of, even in foreign countries. Perhaps it's true that it is being supported by a delicate sensibility and atmosphere unique to the East. On top of that, I believe that Tokyo's fashion is the most exciting in the world, and I don't think that another city exists that has this freedom of a sense of fashion.
There are many Japanese fashion brands expanding overseas. What kinds of things do you think is important when transitioning originating the brands globally?
I have an interesting story to tell. Around 2010, we were on a tour of seven North American cities. In the beginning, I had planned to play English versions of all of the songs. However, there was a request from the American audience to "also hear the Japanese lyrics." From that point on, I consciously made sure to put in Japanese versions as well little by little. Personally, I had thought that the English version would be better for a performance overseas, and therefore was very surprised with that sort of reaction from the local audience. Since then, I began to think of the importance of expressing something that only exists in Japan.
On the other hand, what are your thoughts on continuing to announce your work in a place such as Tokyo?
For me, being accepted in Tokyo was more important than anything else. Because of that, I believe that I am able to work abroad now while shouldering Japanese culture. When I relocated to America 20 years ago, it was not because I had wanted to become an American. Rather, I wanted to support Japan and Tokyo in my activities in America as a Japanese person. I am proud of that even now.
To close things off, please let us know if your collection to be announced next month has any sort of concept.
As I am an artist, to me music is indispensable in fashion. Therefore, I would like to perform music on the day of the show. Although I do have plans to prepare music for the show beforehand, I am also a fan of improvisation, and may decide to play along with the atmosphere of the venue.
Interview by YUKI HARADA