Interview & Report

Yu Haneishi (ANEI)
TOKYO FASHION AWARD 2019, Winning Designer
Born in 1985
Experience planning, pattern, production management with domestic brands
After compiling experience at global brands such as YOHJI YAMAMOTO and visvim, Mr. Yu Haneishi started up the unisex brand " ANEI " in the 2019 S/S season. His characteristic style of production such as his skillful use of materials and unique coloring nurtured by his rich experience, his pattern making which shows influences from Japanese clothing culture, has been highly praised. He was awarded the  TOKYO FASHION AWARD 2019 which he applied to right after presenting his debut collection, and quickly realized exhibits in Europe and a runway show at Tokyo. As aspirations towards this high-profile new designer rises, we interviewed their designer, Mr. Yu Haneishi.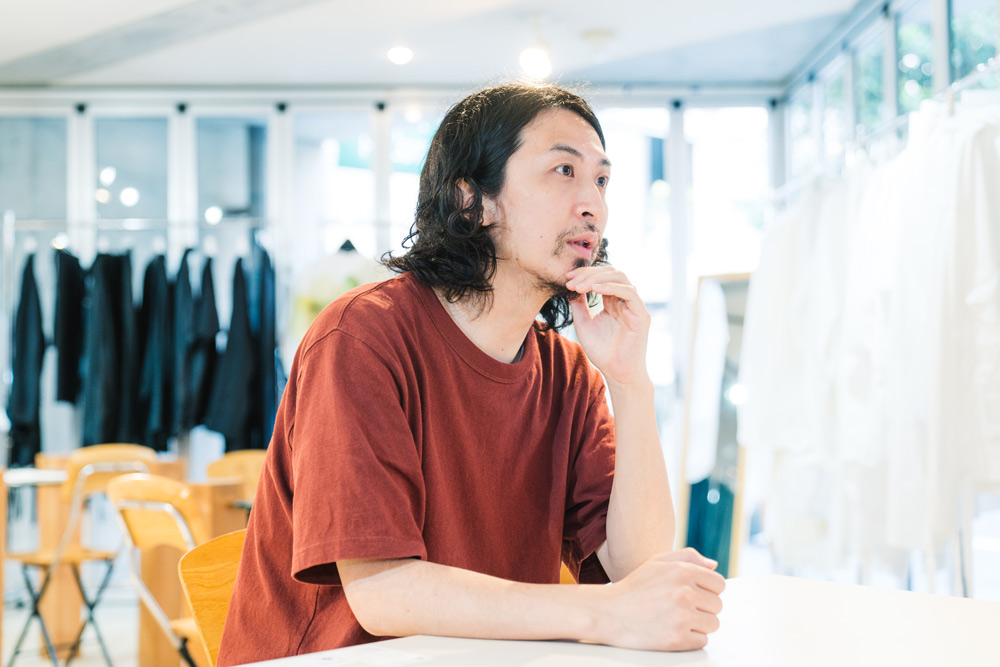 Around when did you start to dream about becoming a fashion designer?
I had an interest in fashion from around when I was a junior high school student, checking out brands such as UNDERCOVER or NUMBER (N)INE in magazines or buying and wearing them. Then I vaguely became interested in making clothes myself, but because my family used to own a kimono store until my grand-parents' generation, this may have been a natural flow of things. After studying at a fashion school, I joined YOHJI YAMAMOTO, and there, through my work, I quickly became infatuated by the joy of making clothes, and began to strongly wish to become a designer
Please tell us how you came to start up your own brand.
At YOHJI YAMAMOTO, I had been doing planning and pattern making work for 6 years, but thanks to being blessed with very good seniors, I learned everything from my attitude as a working person to clothes making, communicating with factories, etc., and every day was filled with excitement. At the same time, as I continued to do my work, I gradually began to think, if I were the designer, I would make such and such choices, and with an increase of such instances, I began to think, in order for me to put what I want to into shape 100%, I need to start my own brand. However, I wanted to study the production of other brands also, so I changed to the company which handles visvim because I had always liked the brand, worked there for 4 years, and at the timing of turning 30 plus, I decided to become independent.
How were you influenced by your experience at the 2 companies?
Both were globally active brands, which made me want to aim for the world also if I were to become independent. Each have completely different ways of clothes making, but both are extremely good brands created by a team that works well to create good products under the leadership of a charismatic designer. In the future, I'd like to create in that way, too.
As a brand, what kind of clothes do you wish to make?
While placing importance on silhouettes and/or sense of material, I'd like to create clothes that people feel relaxed wearing it. Furthermore, in our first collection which was the 2018 S/S season, I expressed a soft, tender mood using light pink and/or beige as base colors, but I'd like to become a brand which can win in colors. Colors which I think are good are being accumulated inside me every day in daily life, so I would be happy if people could feel that through my expressing that as a sense of air.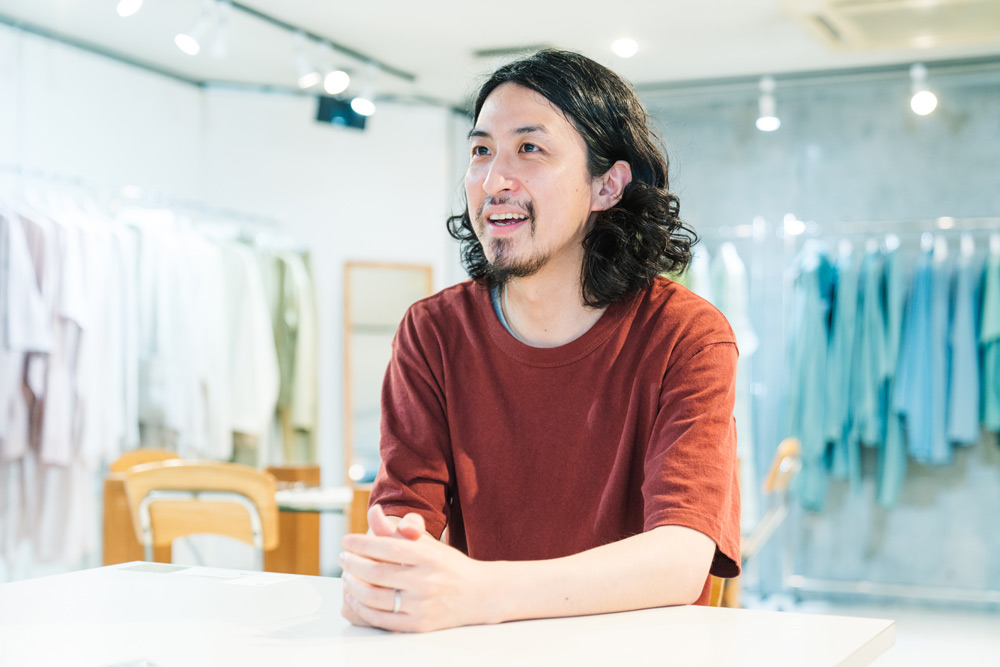 Through what kind of flow do you usually create your seasonal collections?
Usually, rather than deciding on a clear theme, I have a vague image or mood inside me of what kind of styling I want to make, and I think of items I need to make in order to realize this image. At the design stage, I'm always mixing, juggling designs inside my head, of what I wear or see daily, including the clothes my child born only last year wears.
How about materials?
Most of ANEI clothes have large-ish silhouettes, but I don't want our clothes to be tense, so I tend to use soft material such as rayon or linen, Tencel, or if I use polyester, something with a bit of a run-down feel. To that, I'm conscious of adding color which other brands rarely use. Also, in the future, I'd like to put strength into using kimono textiles or materials incorporating traditional Japanese culture or skills.
In your 2019 A/W season collection which you showed as your first runway show, there were some items which resembled patterns of kimonos.
Speaking structure wise, I'd like to continue suggesting fashion which is sort of in between Western clothes and Japanese wear. Due to the present scale of the brand, it is still very difficult to use high-class kimono textiles, but I intend to continue studying pattern wise, and by expressing a unique Japanese wear under my own interpretation, I'd like to be able to create things which will have an influence on overseas Western culture.
ANEI 2019 A/W collection runway show @Hikarie Hall B
Speaking of overseas, you were awarded the TOKYO FASHION AWARD right after your debut, and you've already experienced 2 seasons of exhibits at Paris, right?
We were blessed with an experience which first year brands could never experience on their own, and this boosted my capacity all at once. At the first exhibit at Paris, many buyers picked up our items, but it didn't connect to a single actual sale. I got extremely discouraged, but that's the reality of my present state, and I feel, finding what I was lacking in will become my guiding principle for the future. From here on, I intend to nurture the brand by establishing my own style and strengthening my fortes, and to accomplish this, I feel I need to break through my shell.
Interview by Yuki Harada
Translation by Aiko Osaki
Photography by Yohey Goto (interview)