Interview & Report

Yu Kobayashi / Yuji Abe
IRENISA Designer
BEFORE ESTABLISHING IRENISA AS A DESIGN DUO, YU KOBAYASHI SERVED AS AN EXPERIENCED PATTERNMAKER AT YOHJI YAMAMOTO WHILE
YUJI ABE WORKED ON PLANNING, DESIGN, AND PRODUCTION DEVELOPMENT FOR SUPPORT SURFACE.
IRENISA, continuously participating at Rakuten Fashion Week TOKYO since the 2022 SS season. In the 23 AW season, presented their very first runway show, which evoked a grave response due to their high degree of perfection and sophisticated expressionism. Their collection created by a designer duo who started out as pattern makers, has established a unique position within the men's fashion market, with high expectations to do well in the future. We spoke to this brand, preparing once again for another collection presentation at Tokyo in the upcoming 24 SS season, on the brand's present situation and future prospects.
Please tell us how the two of you came to start a brand together.
After we each worked as a pattern maker of a collection brand for 10 years, in 2018, we started a company that subcontracts pattern making and OEM production. After steadying the foundation of our business, we launched our own brand in 2020.
How was the brand name "IRENISA" born?
We decided on it with everybody involved in the creation process, but it took us about three months to decide. It is actually a word derived from the date the company was established, which is October 23rd. This was because we did not want the brand name to have a meaning, plus, rather than imagining our garments from the brand name, it was our wish to have people recall the brand name from our creations. In addition, we also placed importance on there not being any similar name even for foreigners, that it did not arouse a feeling of being out of place, and that it had a symbolic nature. We are also fond of the flowing, yet memorable sound of "IRENISA".
Please tell us what it is that you hold dear in your creations.
Because we used to be pattern makers, how our garments feel when worn is important to us. Beautiful when seen from the front, side, any angle, and comfortable to wear, are only minimum requirements, simply basic in making garments.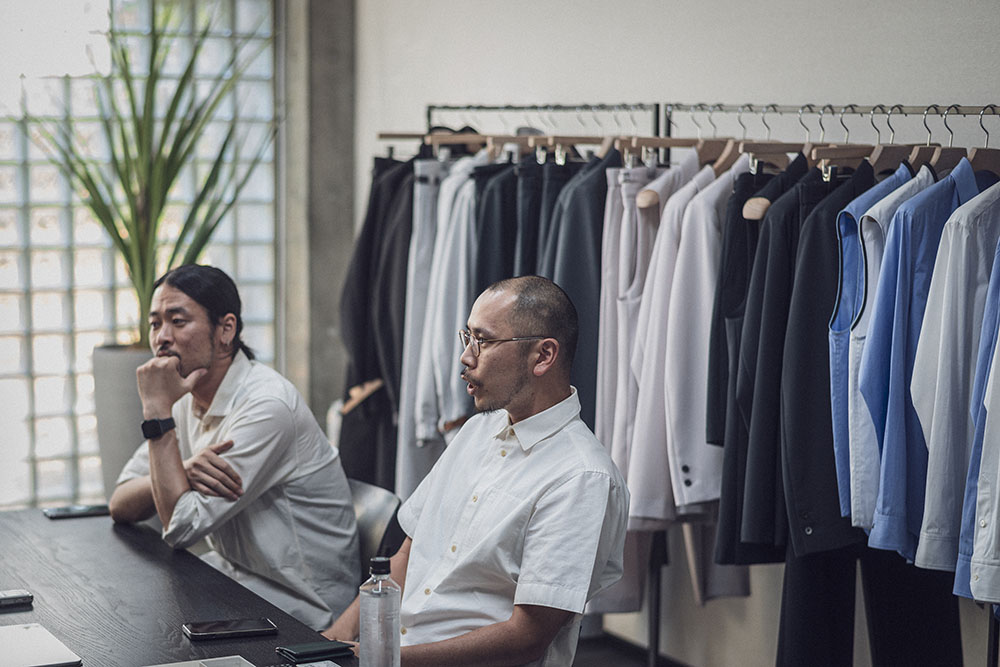 How do you proceed in creating a collection?
At IRENISA, we follow the pattern of starting by selecting materials. We usually do not draw rigid design drawings. The flow is rather that we decide on the design as we draw up the patterns. The whole staff is involved in the fitting, which is performed in earnest, so we always end up fighting! (laugh) Part of our staff are of younger generations, and we feel it is important to incorporate their opinions too as we proceed. This also sometimes makes us realize a new point of view. You can say, we create one style that everybody thinks is good, by listening to all sorts of people's opinions. We are not a brand that creates under a concept. It is as if we construct a collection by fleshing out our emotions on the garment as we make them.
What kind of customers do you mainly have?
I think, ours are not garments that are easily comprehended at first glance, but rather, garments that are understood, chosen by people after pondering on our skills or patterns, by trying out our garments, so our customers are a wide range of people, including those of high age groups who share and agree with our ways. People often purchase set-ups, and happily say that wearing our clothes gives them an amorous, moody atmosphere.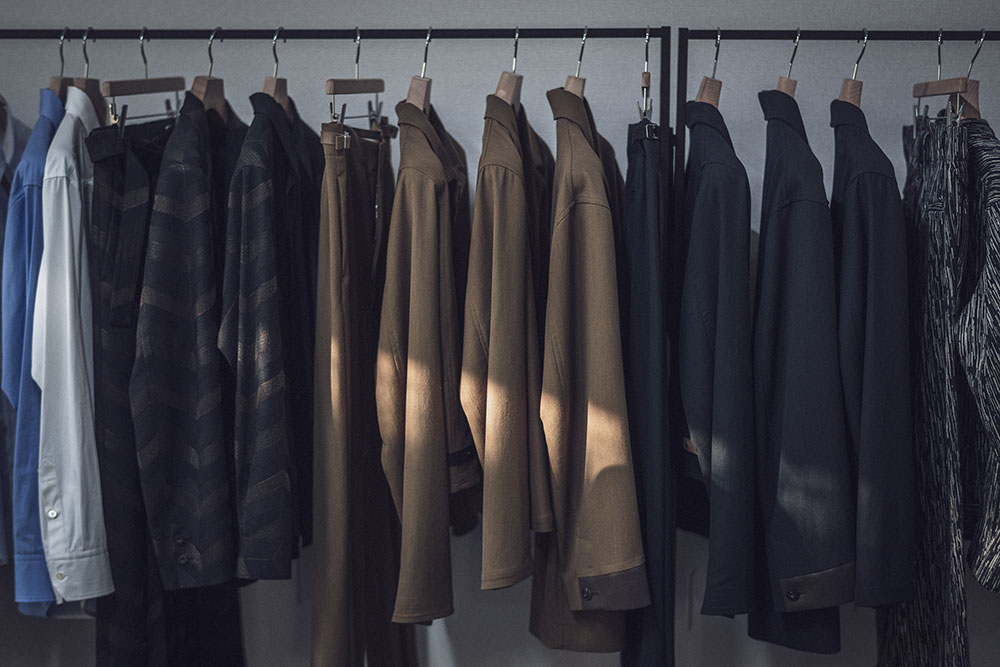 What prompted you to participate in Rakuten Fashion Week TOKYO?
We were thinking about applying to the TOKYO FASHION AWARD (hereinafter indicated as TFA), so as a preparatory phase before presenting a show, we decided to participate digitally. We felt, if we were to apply to TFA, it would have no meaning if we did not win, and naturally, that meant we would be presenting a show. Because we had both previously worked at collection brands that presented shows, we knew the difficulties of presenting a show in addition to creating a regular collection, so we felt the need to spend time on preparing for the show.
You have decided to participate in the 24 SS season again, digitally.
We feel it is important to continue presenting at Tokyo. Thanks to the support from TFA, we will be participating at the Paris showroom again, so we feel it is important to first continue presenting at Tokyo, to have people see us continuously, and build up our strength as a brand. We realize that there is also no meaning in doing a show unless we continue doing it, but the reality of the matter is that we need to surely fortify our stamina first.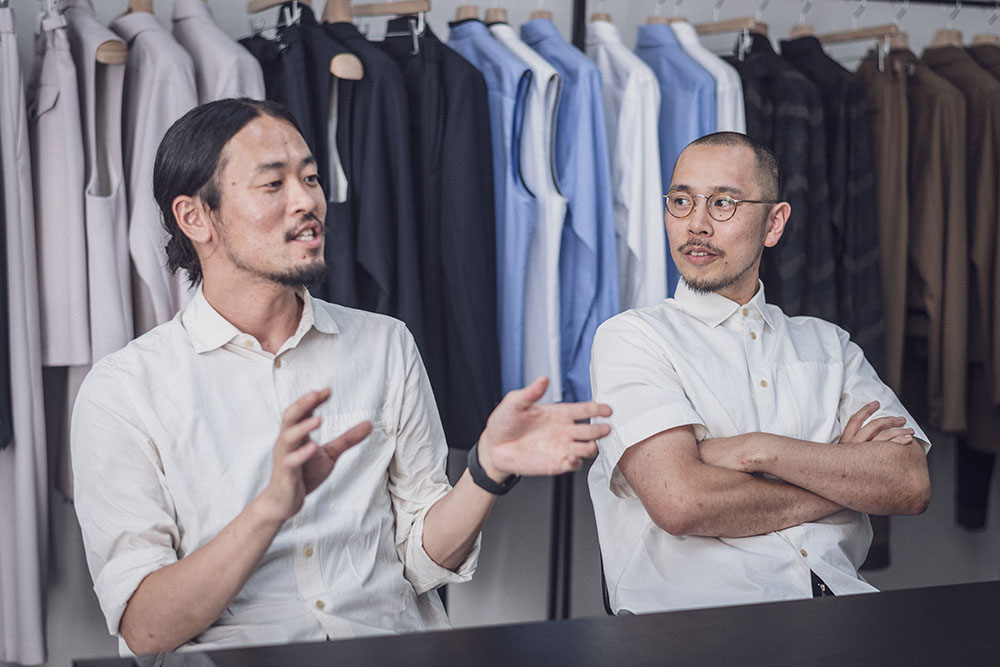 Please tell us your present business situation.
We have approximately 20-25 domestic accounts and 5 overseas accounts. Our very first exhibit was held amid the declaration of a state of emergency, and our business started along with the expansion of the pandemic, but despite the difficulties of the time, buyers came to visit our exhibit, and we were so very thankful to have our garments not only seen but touched and understood.
Please tell us your future prospects as a brand.
We have confidence in that our production is at a world-class level, so we intend to continue challenging all sorts of things. IRENISA has the ability to work with Japanese professionals, such as sewing factories, fabric companies, etc. so it is also our wish to convey the attractions of such as a brand. Furthermore, to raise global recognition, we intend to challenge various prizes or contests, such as the Woolmark Prize.
Is there anything the two of you would like to challenge as designers?
Mr. Abe) I would like to continue presenting shows. I would like to present them overseas to raise global recognition, but if we can get results at Tokyo, I want to do it at Tokyo as well. I am also interested in challenging forms of presentation not restricted to conventional runways. Our sense of challenge is not limited to shows. We are hoping for changes in production processes, distribution structures, and we intend to keep challenging necessary challenges in order to become a brand that can survive in the upcoming future.
Mr. Kobayashi) The reason to continue a brand is simply, to have customers wear and enjoy our garment, so we would like to have a directly run shop. I am hoping for a place at which many people can see our collection which we spend painstaking time creating. This also depends on the flow of things and timing, but we also intend to challenge wrestling in women's wear.
Interview by Tomoko Kawasaki
Photography by Daichi Saito