Interview & Report

Yujiro Komatsu
blackmeans Designer
"blackmeans", presenting their very first solo runway show at this up-coming Rakuten Fashion Week TOKYO 2022 A/W. Integrating aspects of all genres including punk, motorcycle, folklore, hardcore, mode, in their collections, their designs are not only titillating and avant-garde, but also encompass a "unique Japanism" overflowing with moods of traditional Japanese culture. This runway show will be carried out as a part of the "JAPAN CULTURAL EXPO" (*), aiming to bring about further future creativity by transmitting "Japanese beauty" continuing on from ancient times, both domestically and internationally, thereby handing down to the next generation. It can be said that "blackmeans" is a brand that fits this concept perfectly. We spoke to their designer / representative, Mr. Yujiro Komatsu, on their thoughts towards this up-coming runway show, their way of production, future aspects, etc.
(*)Sponsors: Agency for Cultural Affairs, the Japan Arts Council, the Japan Fashion Week Organization / Co-sponsors: Ministry of Economy, Trade and Industry, the National Art Center Tokyo, SHIBUYA TSUTAYA, Shibuya PARCO
This will be your first time to participate in Rakuten Fashion Week TOKYO, and the very first solo runway show as "blackmeans". How did you come to participate?
Previously, I had participated in a project called "LEATHER JAPAN", transmitting and promoting Japanese leather products overseas. This was 10 years ago, and in this project, we presented a joint show at N.Y. Rather than simply showing Japanese leather and/or fashion, we wanted to present a show in which we could convey Japanese culture in general, so we asked a band named TURTLE ISLAND who plays unique sounds, mixing Japanese or Asian essences to rock, punk influenced music, to participate. One of our objectives for presenting our leather with the music of TURTLE ISLAND as a set was to make it easier to convey Japanese leather and fashion. Ever since, I've been determined to one day reenact it at Tokyo, and when JFW came to talk to me, I thought it would be the perfect opportunity, so I decided to participate. Although the contents are completely different, to me, it is a continual of N.Y., and I feel it will be something which holds grave importance in the brand history of "blackmeans".
We've heard, this show will be held as a part of the "JAPAN CULTURAL EXPO". How do you feel about that?
The object of this project is to present fashion as a facet of Japanese culture, and I think this is the reason we have been chosen for the task. Originally, fashion was a thing imported into Japan from overseas, but in order to show that the Japanese have sublimated it into our unique Japanese culture through our expressiveness and technological capabilities, I want a stronger expression, not just our collection, and it is essential to again combine with the music of TURTLE ISLAND. In this show, we intend to show cultural aspects of clothing and music existing in Japan from olden times expressed in a modern-day interpretation.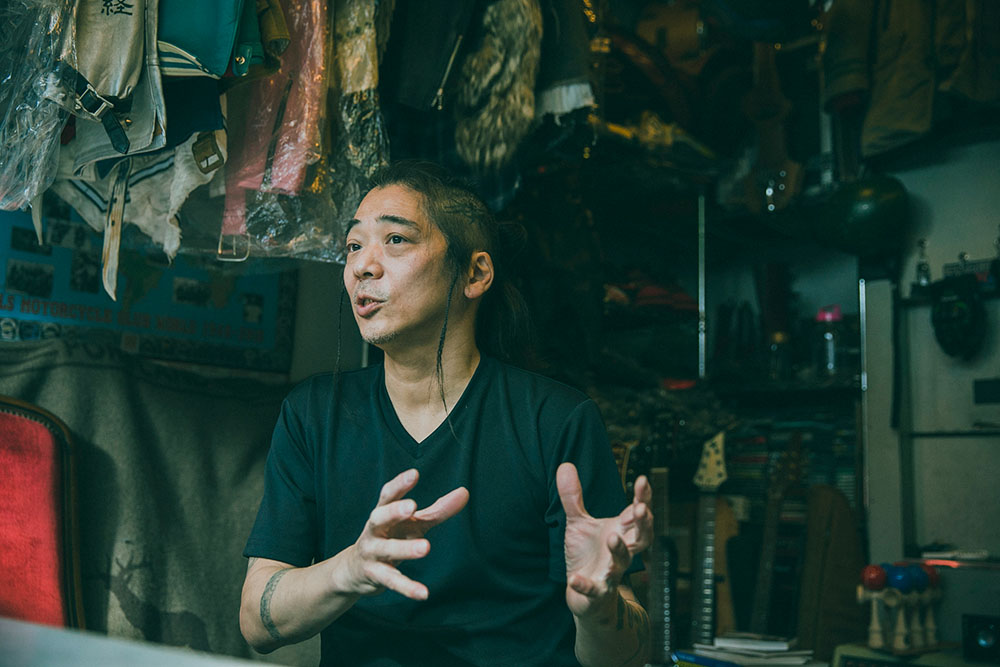 You usually present your collection in exhibition form, but this time will be in a runway show form. Is there anything you are especially conscious of in this difference?
Because the majority of our staff, including myself, grew up in collection brands, it is only natural for us to create clothing deviant from real clothes, so in this show, we simply plan to show an intensified version of what we usually do. Conventionally, "blackmeans" has been expressing Japanism by adding Japanese aspects to English rock, punk taste, such as designing collar or sleeves in kimono styles, attaching Japanese motif rivets, etc. In other words, it was mainly designs with straight expressions of Japanism. However, tin his season's collection (2022AW), we intend to express Japanese aspects in a different way.
We would like to ask you on your creative activities. What got you started in creating things in leather?
I've always been good in DIY or customizing, but what got me started in making leather clothing was thinking "I want to make a leather jacket", when I was working as a shop staff in a punk taste shop. I attended Bunka Fashion College to study clothing, and after graduating, accumulated experience working at "20471120" and "Undercover", in charge of leather. To tell you the truth, during that time, I had completely forgotten my wish of "I want to make a leather jacket", and the only reason I was in charge of leather was because I had knowledge of handling leather nurtured during my shop staff years, and because the handling of leather is often avoided due to the difficulties in production-management of leather, but I enjoyed doing it, so the role was sort of dropped on my lap (laugh).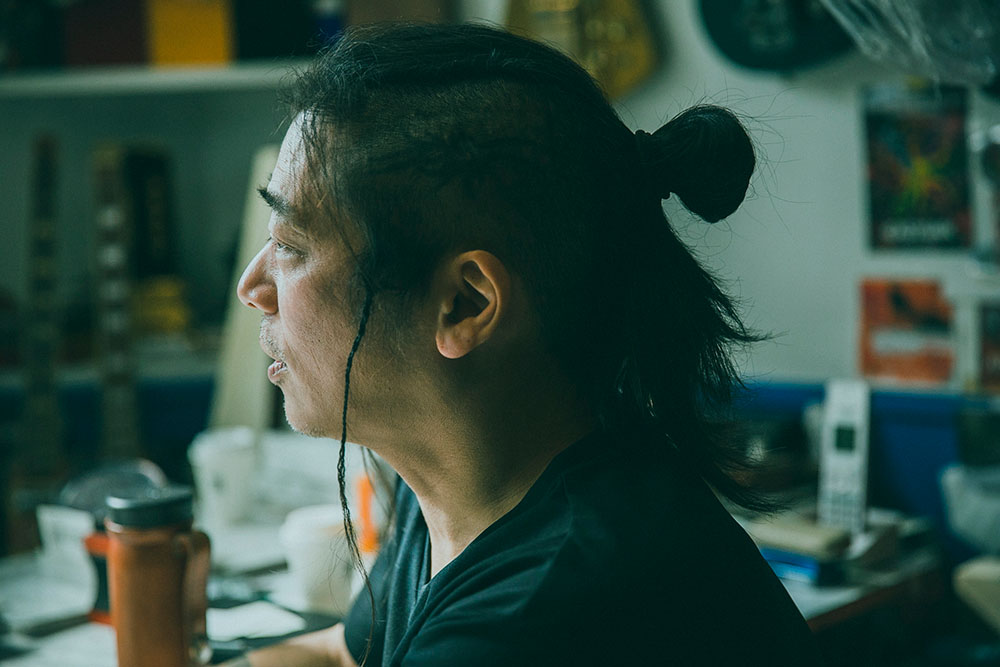 So, how did you come to start up "blackmeans" after that?
When the factory which "Undercover" had been consigning their leather goods to decide to establish a branch office in Tokyo, they asked me to join them. They are a sewing factory of leather clothing located at Gifu prefecture. Leather samples are needed as business tools, but items made through consignment cannot be displayed outside the company, so they needed to make their own business samples, and it seems, they came to me because I was accustomed to handling leather. Samples are used by designers as a reference in seeing what can be done, so in order to fully show the possibilities of leather, these samples must be made using an extreme abundance of technical processing in a wide variety of colors. And as an extension of creating these samples, the factory wished to start up their own factory brand. So, the Tokyo branch was established in 2005, and "blackmeans" was started up from the 2008 AW season as a factory brand.
From where do you get your source of inspiration? Also, how do you decide on your season themes?
I am a designer by profession, but I'm not very fashion savvy compared to people in other industries.. I think I enjoy the process of making rather than clothing themselves. I'm interested in things created by people's hands, such as instruments, and these are my source of inspiration. I don't consciously establish any season theme either, but in recent years, I'm working under a general theme of "sporty". By purposely adding aspects which seem far apart from the "blackmeans" brand image, I think allows me to add freshness or express a slight humor.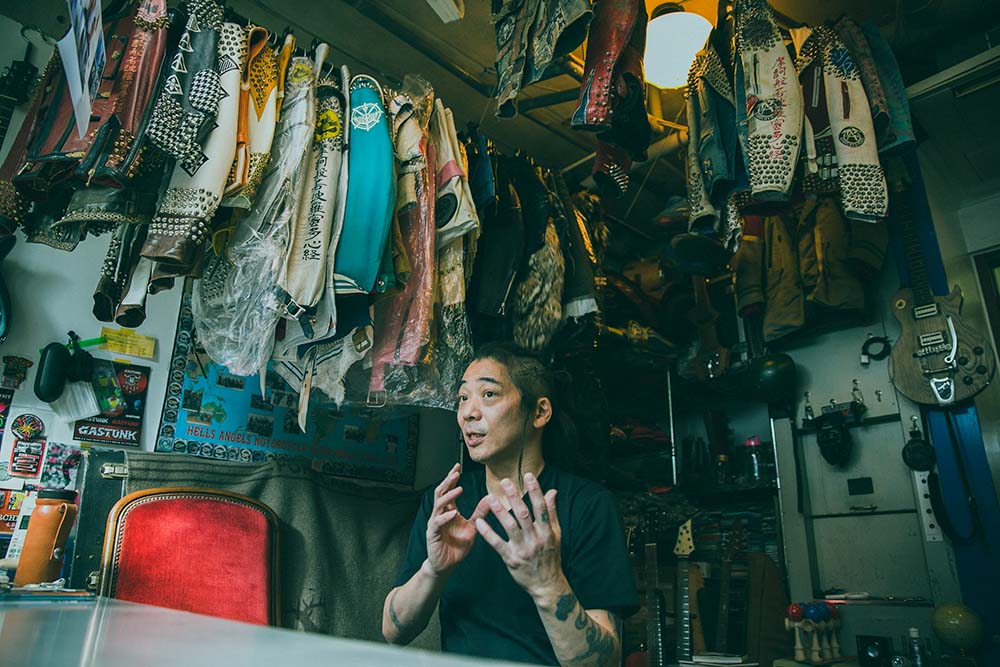 The fashion industry has been seeing an increase in corporations advocating SDGs, and also in Rakuten Fashion Week TOKYO, events or projects related to SDGs are being carried out. "blackmeans" is developing vegan leather products, but how is that going?
We've created vegan leather items as collaboration products. We feel it is still in its early stages of development. Actually, I have a vegan friend near me, but they keep it a secret because when a person declares they are a vegan, people around them tend to solicitous unnecessarily, and the vegan person feels bad when this happens. I am sure that in the future, the number of vegan people will definitely increase, so I think it is important for vegans and non-vegans to understand each other better. Presently, we are mainly dealing with leather products, but I don't think we need to limit ourselves to a "0 or 100" mentality, so I intend to contemplate production while deepening my understanding of vegan.
Please tell us about your aspirations for the future.
Up to now, we've done all sorts of collaborations, but from here, I would like to be involved in developing "one-of-a-kind" collaboration items. Because it is a collaboration, I do not limit myself to things usually made by our factory brand, and by adding aspects or ideas of other brands, I feel new, fresh products can be born. A good example is the collaboration with "th" that we conducted on a trial basis last year. If there ever comes a time when I feel, "I've completely made everything I like", I think it means I've been creating simply within the realm of "things I like". The creation of one-of-a-kind collaborations allows me to surpass my realm, which, I think will give me more liberation in my creation.