Interview & Report

"EN" Special Conversation vol.3
"EN" Special Conversation
Kimihiro Nakajima
executive vice-president of Nakaden Keori Co., Ltd.

Tomotaka Onozaki
ARTYZ designer
During the Mercedes-Benz Fashion Week TOKYO 2014-15 A/W session, the tradeshow/exhibition "EN," where Japanese technologies encounter creators, will be held on the 8F of Shibuya Hikarie. At the same time, our site is currently featuring a series of four interviews with local industry companies and fashion designers. For this interview, we talked with Mr. Kimihiro Nakajima, executive vice-president of Nakaden Keori Co., Ltd. , a company representing Bishu, famous worldwide as a wool-producing region; and designer Tomotaka Onozaki of ARTYZ, a brand which offers tailored jackets and leather shoes, etc., that are made in Japan; regarding the project that they are currently working on.
First, please tell us about your activities.
Nakajima: Nakaden Keori is a wool textile and knit company located in the Bishu region. Bishu, which is the largest among the many production regions in Japan, produces materials centered on wool. Meanwhile, for the "Tweed Run Tokyo" event held for the first time in October 2012, in which people wore tweed and rode bicycles through the city, we encouraged approximately many companies in Bishu to participate, and last year, we also held the "Tweed Run Nagoya." As production regions throughout Japan including Bishu are facing tough situations, we are always considering how we can draw attention to Japanese creations.
Onozaki: ARTYZ is a street brand that started in 2003 with T-shirts, and last year we celebrated our 10th anniversary. Initially we only offered T-shirts, but currently we also offer tailored jackets and shoes, etc. The word "tailored" often evokes images of tailoring using British fabrics, but I have become increasingly focused on using Japanese materials in recent years, so I think this opportunity came along at a great time.
Nakajima: Japanese technologies are already highly regarded overseas, and foreign luxury brands have also come to the Bishu region, and Japanese materials are actually being used worldwide. As for wool, it is a little known fact that in terms of the volume of production and recognition, Italy and the Bishu region in Japan are the two major production regions in the world. In terms of clothes, we cannot compete against Europe's long history, but Japanese people are not outdone when it comes to manufacturing. For instance, in Bishu there are factories for each process such as spinning, yarn twisting, yarn dyeing, weaving/knitting, finishing, and repair, etc., and these all work together to make a single piece of fabric. A production region with such division of labor is rare in the world, and I think it shows the temperament of Japanese people to fulfill their individual roles properly.
How are you communicating with each other for this project?
Nakajima: I sent Mr. Onozaki several samples of Melton fabric, which is often used as a material for pea coats, etc., and I had him select fabrics that he wanted to use.
Onozaki: Looking at the samples he sent me, I felt that the fabrics had a really good expression. After seeing these fabrics, I decided that I wanted to make a letterman jacket and opera pumps for use as room shoes, and I am currently working on making the patterns. I thought that using the materials as they are would not be that interesting, so for the letterman jacket, I am thinking of using German shrink leather of the German Perlinger company, which is also used for bags, etc., of long-established foreign brands, for the leather sleeves. Together with the Bishu wool, it will be a letterman jacket made of the best materials in the world.
Nakajima: It's true that the materials are at the very essence of the clothes. At Nakaden, we also make clothes under our company brand "originali" in order to convey the allure of the fabrics, and for instance, we are re-making the pea coats that were worn by the Navy on the deck of ships in Northern Europe using original fabrics made in Japan. As it was originally military clothing, we use sturdy, high-quality double-weight cloth, making the coat completely wind-proof, and it is extremely popular.
Onozaki: In the past, we never really made things by starting with the material and coming up with ideas, but for the opera pumps, I felt that the whole point in our work was to use the wool material. I don't think that there are many opera pumps made of wool, but I am thinking of using the Goodyear method to make them.
At ARTYZ, do you ever make original fabrics?
Onozaki: I've never made original wool fabrics. It is easy to determine whether a fabric is good or bad for shirt fabrics, etc., which come in direct contact with the skin, but I don't have much knowledge about wool, so to be honest, I don't really know what to do with it.
Nakajima: I think it will be much easier to make if you understand the functions of wool. People are often surprised to know that wool has been used for the inner wear of space suits, for instance. Wool originally evolved from sheep's skin, so it has anti-bacterial and deodorizing effects. In addition, wool itself breathes and regulates temperature, so people that go climbing up snowy mountains like the Alps wear woolen socks to prevent frostbite. Furthermore, wool fibers trap lots of air and therefore absorb and prevent moisture, so it is originally cooler than linen and is also suitable for summer. It absorbs dyes really well, so the colors come out great.
Onozaki: That's very informative. Just knowing these functions of wool will influence what I make from it.
As "EN" is going to be held during fashion week, I think many types of people will visit, from members of the general public to guests from abroad. What areas do you want to appeal to them?
Nakajima: I want to show them Japan's manufacturing power in materials and sewing. As we are also offering "Made in Japan" products, we have to make something that is decent, and I think that it is necessary to clearly show the difference between something that is "Made in Japan" and something that is not. In order to do so, it is important to show how seriously we take our creations, and at the same time, it is necessary to convey that they are safe, just like for food, etc.
Onozaki: I really think so, too. To be honest, I'm not really conscious about things from abroad. ARTYZ is focused on using Japanese materials and sewing, and I think it is akin to cheering for your local professional baseball team. Since there are such good things in Japan, I feel like I don't have to go out of my way to use foreign fabrics and sewing plants.
Nakajima: There was a large amount of exports from the Japanese sewing industry in the 1990s, but the price of clothing gradually decreased, and due to factors such as the strong yen and the rise of China, overseas trading gradually declined. However, recently the exchange rate has recovered and we have been receiving more offers from abroad, so I think that now is a good opportunity. I want to actively participate in overseas exhibitions, etc., so I really welcome this opportunity to have guests from abroad.
How is the trend in the domestic market?
Nakajima: I feel that it is gradually recovering. Recently, retailers such as department stores have been coming to visit the production region, in addition to apparel manufacturers. Perhaps their initial objective was to see the faces of the manufacturers, just like for vegetables, etc., but when they actually come to the production region, it seems like they discover many new things and often talks progress to the development of original fabrics, etc. Since production regions in Japan import raw materials, the high cost of raw materials in recent years and the rise in the cost of energy such as heavy oil and gas required for processing has admittedly been tough, but we have been brainstorming ways to keep costs down. We have been receiving more and more orders, so once our work is back on track, we may have more options.
Onozaki: In Tokyo, there are now convenient fabric stores and OEM companies that make anything for you and so I didn't have the opportunity to directly meet with people from the production regions, so I learned a lot today.
Nakajima: Rather than just having samples sent to Tokyo, I think that if you come visit the production region yourself, you will be sure to find some sort of hidden gem. If we can create a process where the creators come up with various ideas and expert craftsmen put these ideas into shape, I'm certain we can create something extremely interesting. I would really like designers to actively exploit this feature, and I welcome them to visit the production region.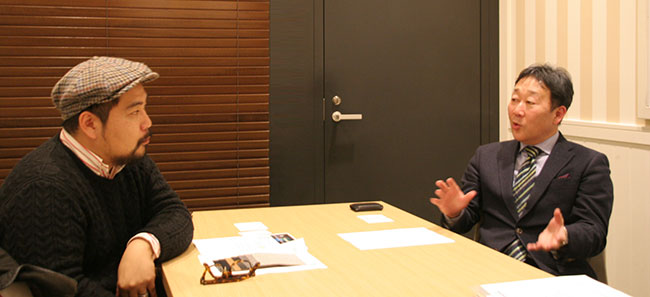 Text by Yuki Harada