Interview & Report

"EN" Special Conversation vol.2
"EN" Special Conversation
NAoki Ishibashi *photo left
Soejima Isao Shoten / the chief of a interior section

Isseki Todokoro *photo right
FUGAHUM / producer
[ URL ] Soejima Isao Shoten
[ URL ] FUGAHUM
During the Mercedes-Benz Fashion Week TOKYO 2014-15 A/W, the tradeshow/exhibition "EN," where Japanese technologies encounter creators, will be held on the 8th floor of Shibuya Hikarie.
Regional companies which create products utilizing traditional Japanese technologies and artisan skills are teaming up with fashion brands which are actively cooperating with other industries to create new products. Corresponding with this endeavor, we will start a series of four interviews on this site.
For this first interview, we talked with Mr. Naoki Ishibashi, head of the Interior Goods Department at Soejima Isao Shoten, which creates products using the traditional Japanese natural material Igusa among other things, and FUGAHUM producer Isseki Todokoro, who has worked on making products with Japanese craftsmen, about the concept of collaboration products and the production process, etc.
What did you think about when this collaboration was decided upon?
Todokoro: FUGAHUM's activities aim to design "memes," which are said to be cultural genes, and to leave them behind in society. In other words, we aim to create modern folk crafts and clothing born out of the lifestyle of the general public. In this sense, we deeply respect Soejima Isao Shoten, which uses Igusa, a traditional material, to create items in new fields such as interior goods, and we think that this is an extremely attractive opportunity for the brand FUGAHUM to be able to make something while interpreting Igusa material and the efforts of Soejima Isao Shoten.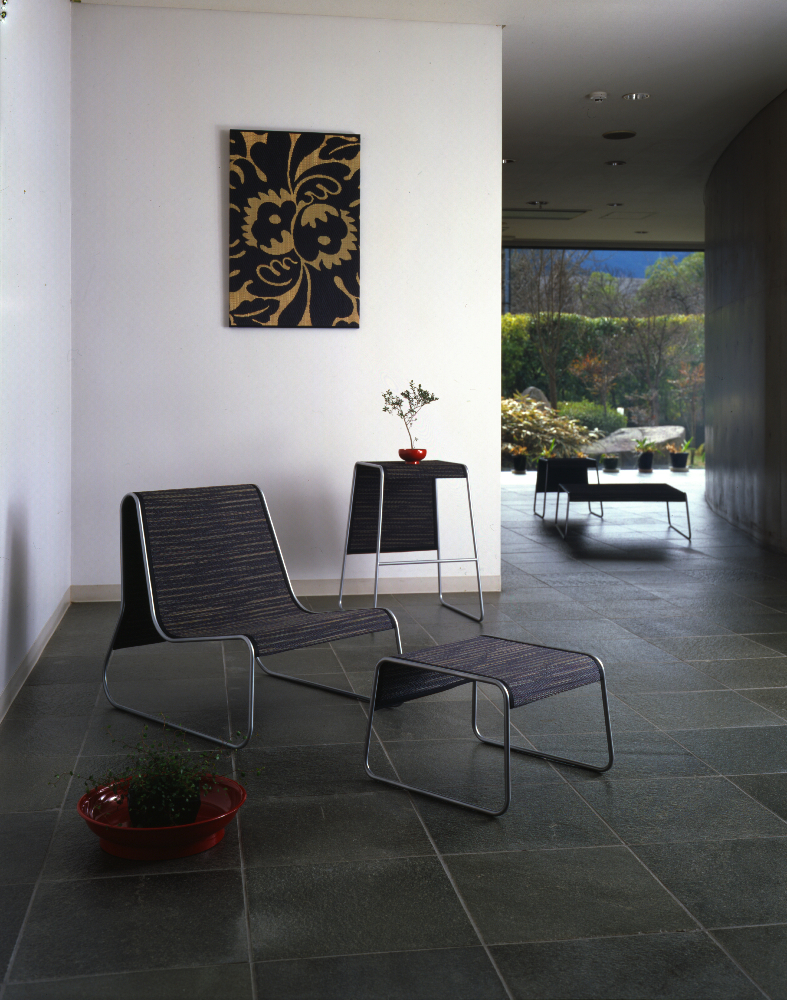 IGSA series Lounge Chair & Low Stool(Soejima Isao Shoten)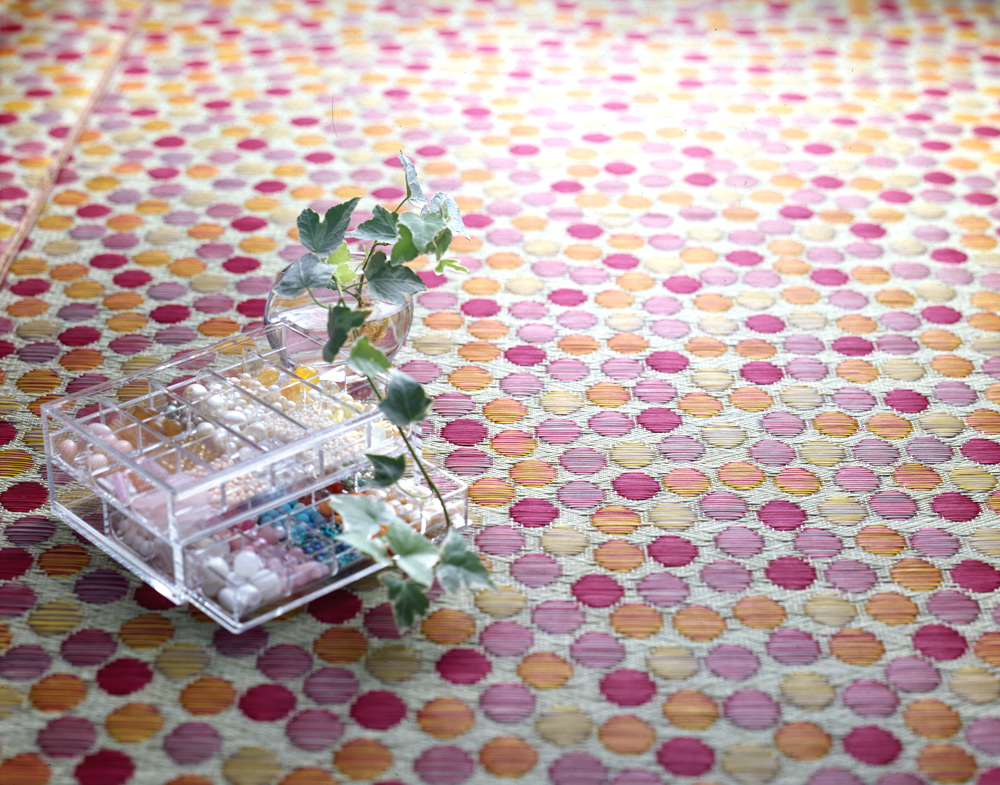 RUG COLORFUL(Soejima Isao Shoten)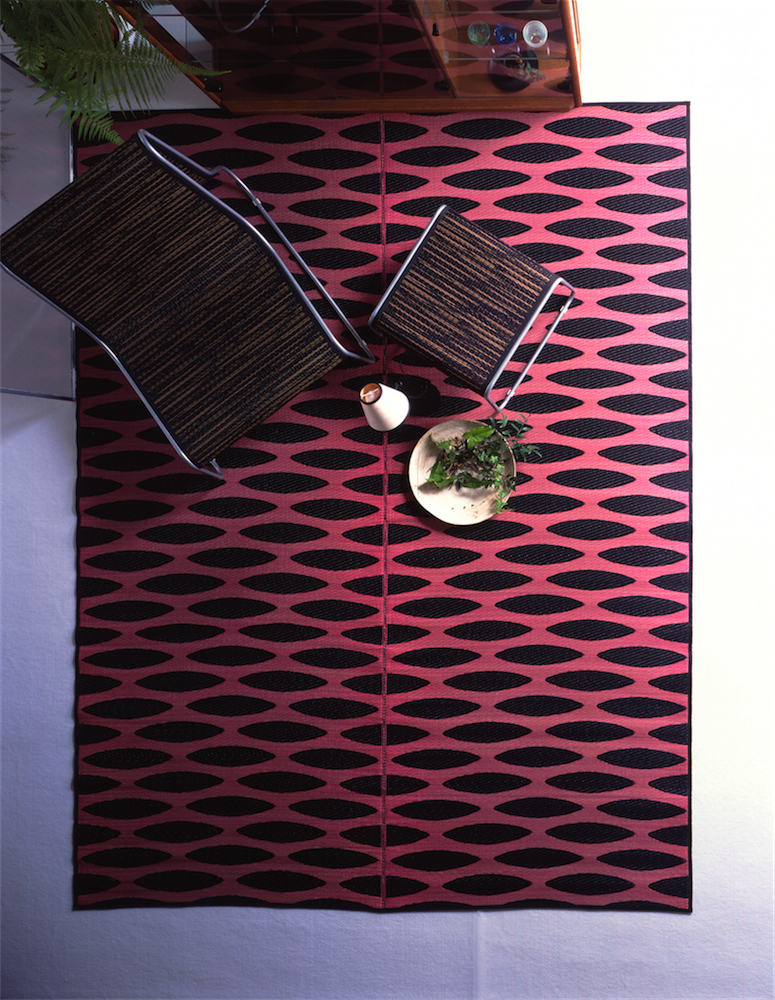 RUG DROP(Soejima Isao Shoten)
Ishibashi: I saw FUGAHUM's past activities, and I felt that their concept was extremely creative and that they really valued the basics. This relates to what was just mentioned about folk crafts, but I think that the customs of ethnic groups around the world and the designs born out of these customs have many things in common when you look at their roots. I felt that FUGAHUM is a brand that pursues this fundamental part. I am very excited about this collaboration as it will also be an opportunity to see the reactions of people who are not familiar with Igusa.
How are you carrying out your collaboration ?
Todokoro: Soejima-san is based in Fukuoka, so we started out by exchanging e-mails and phone calls, but I thought it was necessary to visit the actual site, so I went to see their factory. While touring their factory, during which I was surrounded by various types of tatami and filled with the aroma of Igusa, my thoughts on what I actually wanted to make changed greatly.
Ishibashi: Yes, our ideas were entirely generated on site. Igusa is a material with a distinct aroma, and when I take it to events, many young people and foreigners react to the smell; I am thankful for the fact that people visualize various things when smelling it. Recently, many Japanese people do not have tatami mats at home, but it seems that they remember their grandfather's house and feel nostalgic.
Todokoro: There was a lot of information that I obtained when visiting the site, but I was also surprised that when I came up with an idea, Ishibashi-san sent me many fashion-related visuals that would serve as reference. In this kind of case, often I would be the one coming up with many ideas, but Ishibashi-san also found fashion visuals featuring tatami and high heels together. I think that old-fashioned craftsmen would never allow high heels on tatami (laughs). Soejima-san is very accepting of new things, and I was reminded that such an attitude is required in order to advance one's own skills.
Ishibashi: A lot of the production centers of traditional materials including Igusa have a history of about 300 to 400 years, and that shows that many things were born during the Edo era. When you talk about traditional industries, people tend to focus on skills that were handed down from the olden days, but I think that people frequently tried innovative things in the Edo era, and that only the things that were easy to use and refined survived to the present day. Therefore, I think it is necessary to continually try many things in the present day as well, and we would like to pursue the possibilities of various materials, including this project.
Todokoro: This is the same concept as the "meme," which I talked about earlier. "Memes" are information that forms the culture, and just like copies of genes are passed down to descendants, memes are copied from one person's mind to another. Just like genes, they evolve through the process of duplication, transmission, and mutation. In the long term, it is natural for mutations to occur, but in our world, there is a strong tendency to be against change. Even for fashion brands, while people think that fashions should change each season, I feel like they are still tied down in some way. Meanwhile, I sense a strong power to change from Soejima-san, which has inherited a traditional industry.
What kind of product are you creating for this "EN"?
Todokoro: My first thought was to take this opportunity to propose something new that Soejima-san had not undertaken before. Therefore, we decided on a digital motif, which is at the polar opposite of tatami; we created a design evoking a classic shooting game, and planning to feature this on rug mats, etc. For this project, we wanted to take on the challenge of depicting something that everyone is familiar with in an emotional manner using Igusa, while still sticking to a digital motif. We aimed to create a harmony rather than a conflict between tatami and games, which are a part of Japan's culture.
Ishibashi: We hope that someone who sees this design can know what it is made out of by touching it directly. When the design was first made, I decided that it might be better to make it look three-dimensional. There are generally three types of machine weaving methods, and we chose a weaving method that uses a lot of warp thread in order to show the pattern clearly. We are currently looking into ways to make the design look even more three-dimensional.
Todokoro: Of course, we want people to buy the product that we make, but at the same time, we hope that other fashion brands that see our product will think "oh, it is possible to do this with Igusa" or "we would do this if we were making it." I believe that the power of fashion is not only in the product itself, but also in its impact and ability to stimulate, and that is the design of the "meme" that we are aiming for. Naturally, we have to pursue new things in order to do so, but I believe that it is more important to see something in front of us from a different perspective rather than to forcedly create something new, and we were strongly aware of this point for this project.
Ishibashi: Unlike the fashion industry, the stance in our industry is to continue to make something that will sell over the long term—10, 20 years; so I am really looking forward to seeing how people in the fashion industry will accept our product. I think that in recent years, there is increasing focus on lifestyle, including interior goods, in the field of fashion as well, and I would be happy if Igusa can be established as a related item. Going back to the production site, the situation is tough—domestic production of Igusa is decreasing each year, and there are problems such as the lack of successors. Therefore, I hope to transmit something that will be advantageous for the industry as a whole, no matter what form it takes. Even if one company alone was profitable, the area would not survive as a production area, so I think that there is a need to revitalize the industry as a whole.
Todokoro: The same can be said for fashion brands, and I think that it is no longer the time to do everything just by ourselves. It is important to try to spread things that we feel are interesting, and for instance, if this collaboration leads to something like a craze for Igusa products, that would be the best thing that could happen for our brand. In this sense, we wanted to create something that would allow people to conceive a broad range of uses and ideas, rather than creating a familiar fashion item such as a bag.
How much awareness did you have about transmitting your product overseas?
Todokoro: We always have an eye on the "world," rather than having a mindset of Japan/overseas. For instance, at FUGAHAM we use European fabrics as well, rather than being fixated on items made in Japan. However, maybe this is because we are Japanese, but a lot of the skills that amaze us tend to belong to Japanese craftsmen. Japanese craftsmen have a remarkably acute awareness of the important parts that cannot be streamlined, and I think this is something that must be passed on.
Ishibashi: When I go to events abroad, I find domestic textile manufactures making interesting fabrics, and often that is the first time I learn of their existence. In regard to the international perspective, I think it is important to consider how to make items that can be accepted in that country's lifestyle, and this is the same for our Igusa material as well. I think that it will be possible to go out into the world if we can create something that people abroad would feel happy using in their lives, rather than just forcing our culture upon them.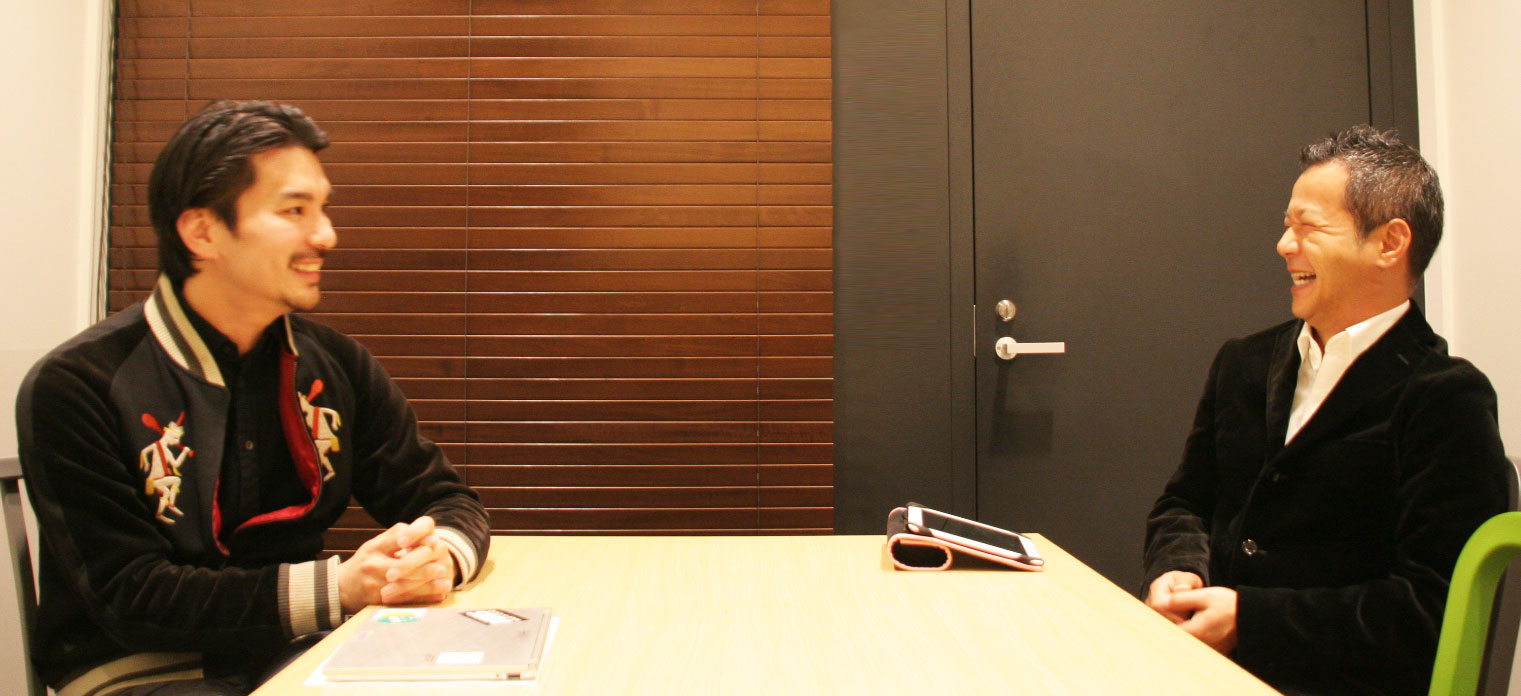 Text by Yuki Harada