Interview & Report

Haruna Kojima
TV personality / Fashion model / Actress
Haruna Kojima was born April 19, 1988 in Saitama. She is a Japanese model, TV personali-ty and was a member of idol group AKB48 since 2005.
Graduated from the group on April 19th, 2017. She started a new career as a producer of her own brand 「Her lip to」in 2018.
"Her lip to", a fashion brand started up in 2018 by Ms. Haruna Kojima, active as a TV personality and model. 1 year having passed since its start, the brand has grown into a popular brand which fans anxiously look forward to announcements of new items. A Limited Store of "Her lip to" will be opened on October 19th (Sat.) / 20th (Sun.), as a related event to Rakuten Fashion Week TOKYO 2020 S/S. "Her lip to", is a brand also gathering attention as a D2C brand specializing in sales in EC sites, fully utilizing SNS. We asked its Producer, Ms. Kojima, to speak on the background behind how she came to start-up the brand, her passion towards clothes making, and her enthusiasm towards this related event.
You started up your own brand last year, but were you interested in clothes making from before?
I've always had an interest in fashion, but I didn't think I'd be starting up my own brand. During my tenure in AKB48, I was blessed with the opportunity to appear in many medias, so after graduating, utilizing my experience, I felt I wanted to become a media myself, and be on the side of transmitting. I wanted to create a closed community in which I can share my lifestyle or interests with people with similar interests, and as a part of this, I made a few clothes with materials I like, which became my opportunity to start the brand.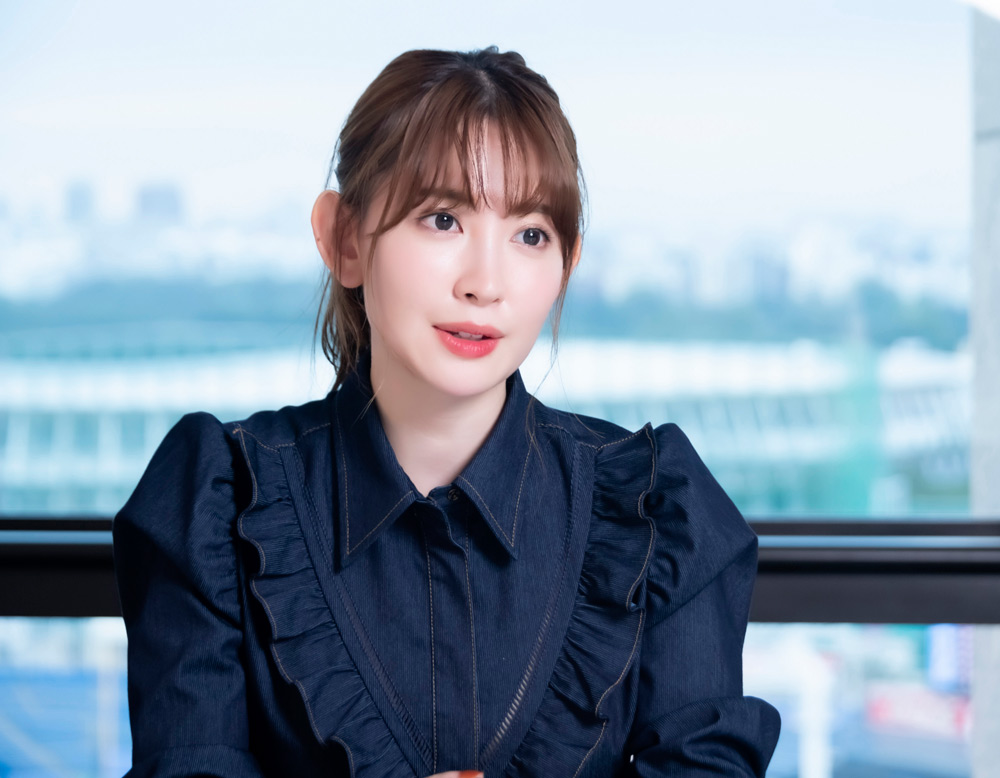 You've been expressing yourself as an idol and model, but are there any differ-ence in those activities and how you make clothes for your own brand?
Through my work as an idol or model, I was able to learn what kind of impression I can give to people through wearing clothes, and expressions on how to convey my feelings when I want to recommend clothes I like. It can be said that my brand is along an extension of this. But that's about the only thing in common, and I think what I'm doing now is quite different from what I used to do (laugh).
Please tell us points that Her lip to especially puts care into or is particular about
Rather than setting a seasonal theme, I'm conscious of making things I want to wear from moment to moment. For example, based on my experience of coming in contact with all sorts of items when shopping, I speak to factories about vague images I have in my mind, like, "I'd like to wear a dress like this to a beach resort", and put that image into shape.
It's already been a year since you started up your brand. Has anything changed during this time?
At first, I simply hoped to continue the brand even if it were in a small scale, but I received much more reaction than I predicted, so I've increased the number of items I make, and I'm very surprised that there are fans of the brand whom are not familiar with my past. Also, in the beginning, I used to make all sorts of items such as skirts or pants, but I realized that in on-line commerce, items with a bit of a special feel sell better than daily items, so from this spring, I've shifted to center the brand around one-pieces and dresses, which I've always liked. I'm hoping my customers will be able to spend their days with a bit more ex-citement than usual, by wearing Her lip to clothes.
You mentioned you received more reaction than predicted. What do you think is the reason for this?
Each and every item of Her lip to carries a story, my devotion, and I think perhaps I've been able to convey these well through SNS. As I continue the brand, I receive all sorts of re-quests such as "I'm looking for clothes I can wear to the office". But I feel, there are many other brands which offer such functionality, so in Her lip to, I'm conscious of and hold dear, creating clothes I like, clothes I can make, even if it is a niche item.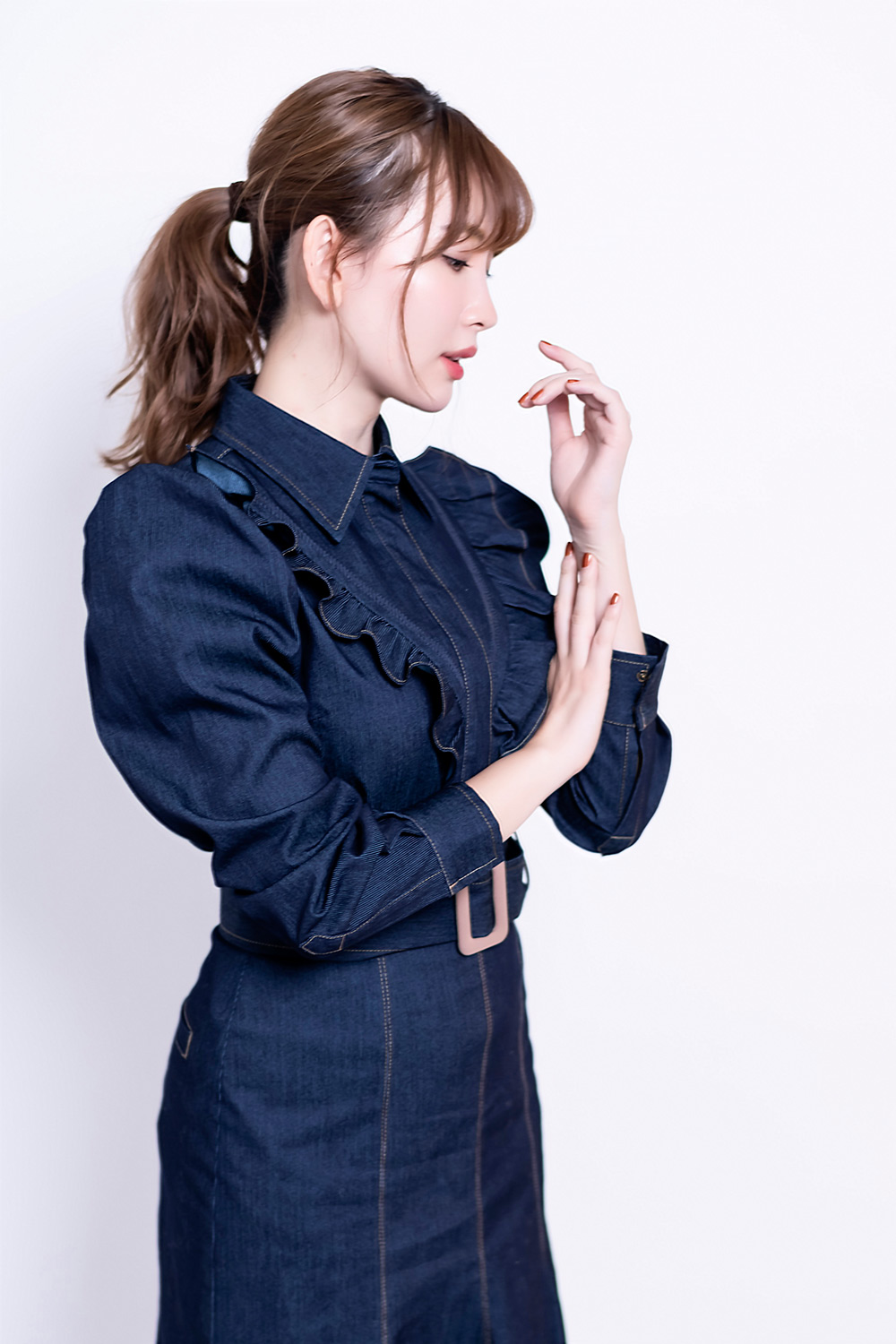 Up to now, you've probably been involved in fashion in all sorts of ways, but what is fashion to you?
It is something that lets me be the me I want to be, a tool which best enables me to fulfill my wish in how I want to be seen by others. On the other hand, fashion has an aspect of de-ciding a person's image, so for people like myself whom work in jobs of being seen by others, at times, I'm seriously troubled by the gap between the image people have of me and the clothes I want to wear (laugh). I'm always interested in challenging all sorts of things, not just fashion, but through my experience of continuing this brand for a year, I feel there are so many people whom are tied down by prejudice, such as "this shape or color doesn't fit my figure", "coordinating this and this doesn't work", etc. I think fashion is something that people can take more challenges, and I hope to continue suggesting it is something which can be enjoyed much more freely.
Please tell us about the Limited Store, which will be held as a related event of Rakuten Fashion Week TOKYO.
Her lip to holds POP-UP stores a few times a year, and because this is the only time cus-tomers can see our clothes up close, I feel this is a very precious opportunity. Sometimes, I stand at the store myself. I enjoy seeing how customers coordinate their clothes, and it also gives me hints on clothes making. Especially this time, because it is a Fashion Week related event, I'm hopeful that people unfamiliar with the brand will see the brand. I'm excited to see people's reactions on the one hand, and nervous on the other.
Have you ever visited Fashion Week in the past?
I've visited fashion weeks in Milan and Tokyo a few times. There is no other time or place in which so many fashionable people gather, and it's exciting just being at the venues. I think fashion shows are opportunities to come in touch with the extraordinary. I think it's close to coming in touch with works of art.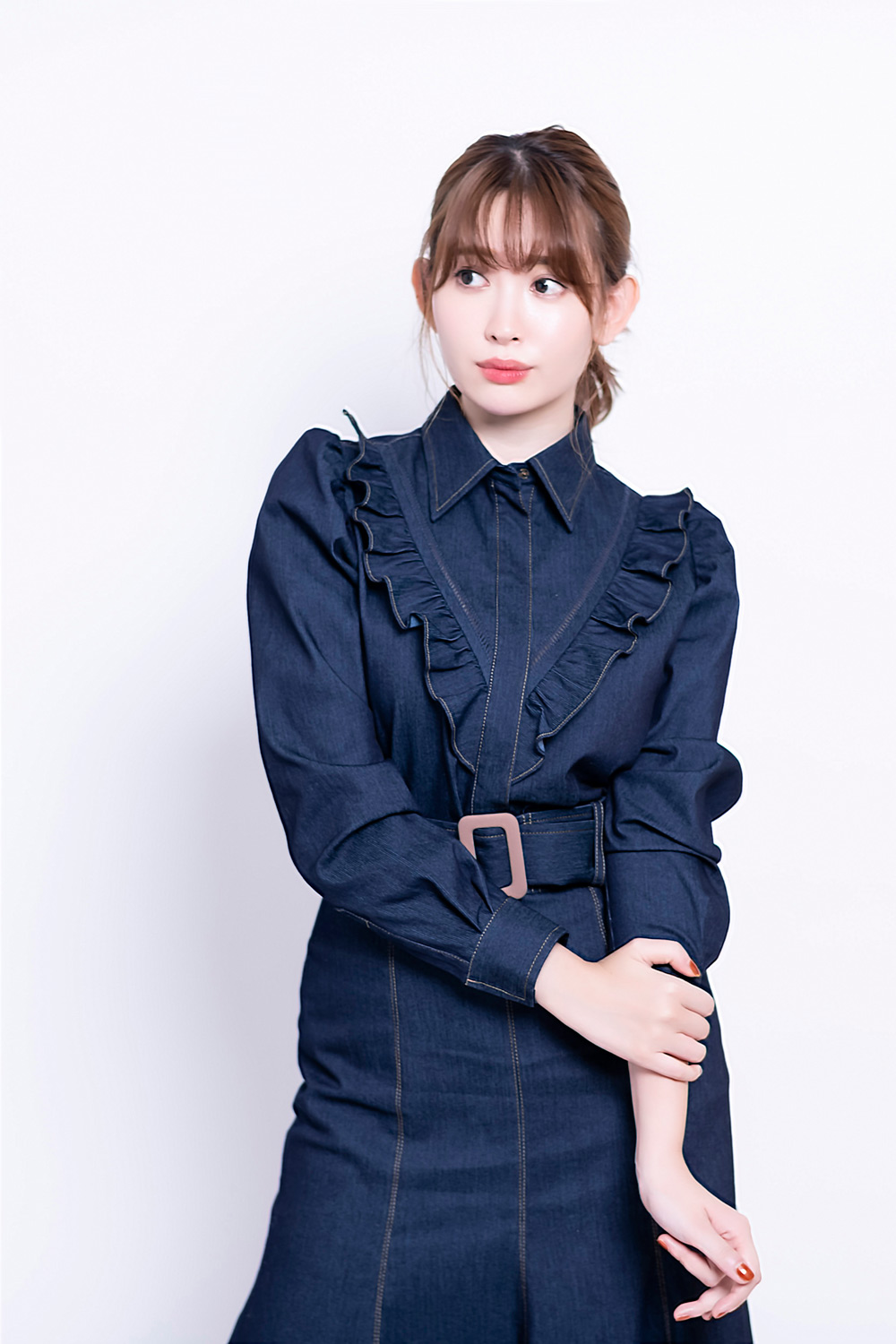 Do you wish to do a fashion show for your brand one day?
I don't have any experience using a show as an expression of fashion so I can't say for sure, but I'd like to challenge myself to it if I have the opportunity. If that time comes, my experience of publicly expressing myself may come alive, and I hope I can switch over well as a content maker.
Please tell us your future aspirations for your brand, and things you would like to challenge.
Because we usually only sell on-line, every time we do a POP-UP shop, I feel the attractions of a real store. But I'm always thinking about fun things we could do, not just stores, so as soon as I get a good idea I'd like to actively put that into shape, while continuing to absorb all sorts of things, and continuing all sorts of expressions, not limited to apparel. The brand is gradually growing, but I intend to continue offering things I like in forms I can accept, within the reach of my control.
Of your own future activities, where is operating your brand positioned?
Right now, about 80% of my time is spent on the brand. When I graduated from being an idol, I felt I completely fulfilled all I can do with regards to publicly expressing myself. Since then, I had been thinking I wanted to be on the creative side from now-on, so I intend to keep putting strength into producer activities.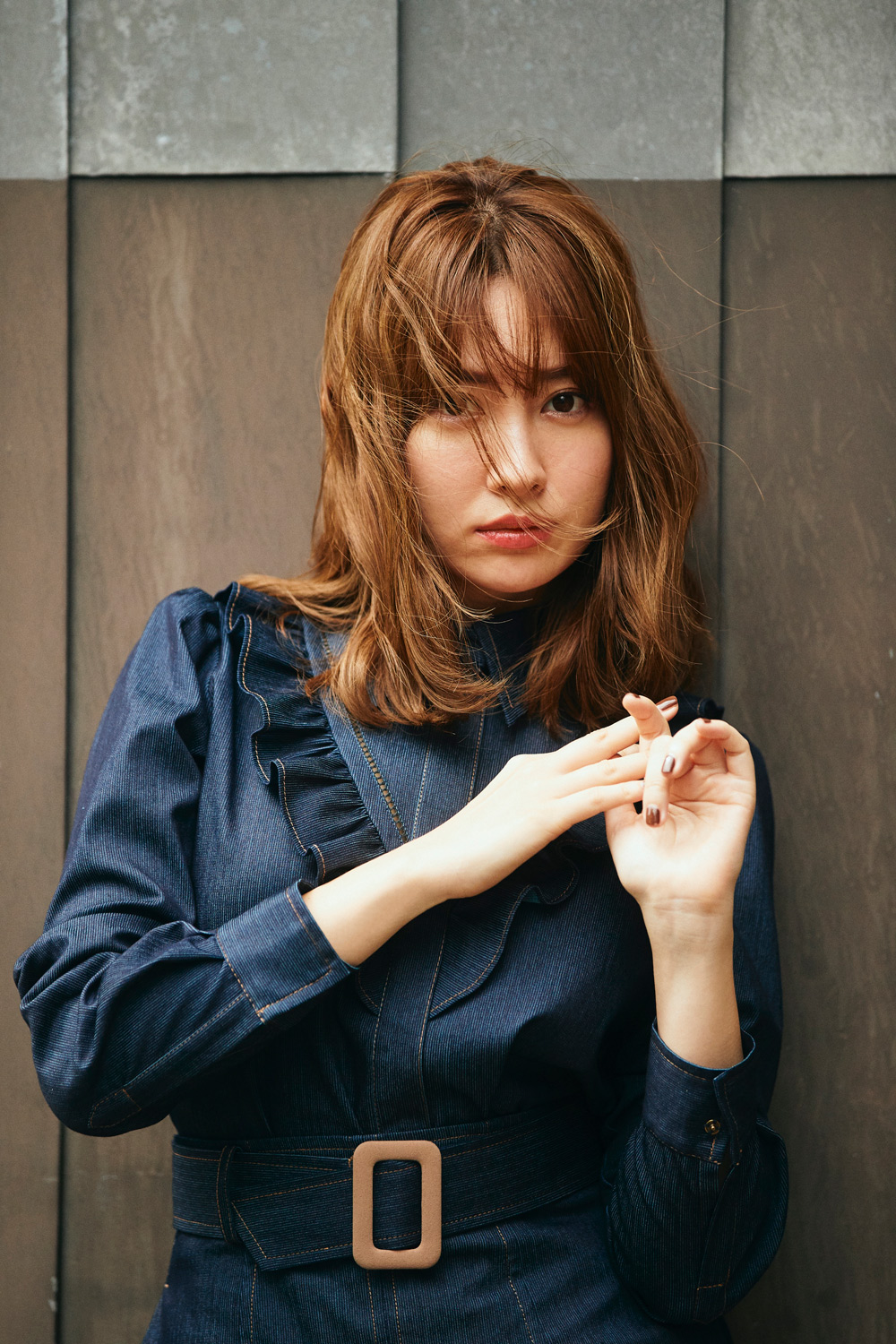 Ms. Kojima's "Her lip to" Autumn/Winter recommendation item no.1
"Wave Denim Two Piece"
"Despite being denim material, spreading the image from materials processed with a warm-looking nuance process, finished into an elegant set-up with details befitting Her lip to. A design which enables styling-up with it's beautiful rising fishtail line. An attractive item which can be coordinated in various ways, from individual use of the blouse and skirt, waist-in, blouse-out, etc." (comment by Ms. Kojima)
Ms. Kojima's "Her lip to" Autumn/Winter recommendation item no.2
"Cherry Pattern Cache-Coeur One-Piece"
"The Her lip to icon cherry dress in new autumn colors. Sensitive details such as puff-sleeves, cache-Coeur décolleté, waistline, etc. are what makes this so popular." (comment by Ms. Kojima)
Interview by Yuki Harada
Translation by Aiko Osaki
Photography by Daichi Saito (interview)