Interview & Report

HEAVY Selection (Thailand) Design Director / M.L Trichak Chitrabongs
MBFWT 2015 S/S invited guest interview vol. 2
"HEAVY Selection" owner Chalermchai Wajeetaweesin (right)
"HEAVY Selection" design director M.L Trichak Chitrabongs(left)
Chalermchai Wajeetaweesin, owner of the "HEAVY Selection" select shop located in Bangkok, Thailand came to Japan with design director M.L Trichak Chitrabongs in conjunction with Mercedes-Benz Fashion Week TOKYO 2015 S/S. This popular shop with four stores in Bangkok carries menswear from Japan and the United States with an emphasis on denim. We sat down with M.L Trichak Chitrabongs who handles design aspects of the store, including interior, etc., about men's fashion trends in Bangkok and his impression of fashion in Japan.
How often do you visit Japan?
I come about four times a year. But I'm usually just meeting with client brands so I'm grateful to JETRO for the invitation to have the opportunity to come in contact with new brands. We carry menswear so I hope to find brands that fit the concept of our store and also look into whether we can find some accessories in addition to our main denim products.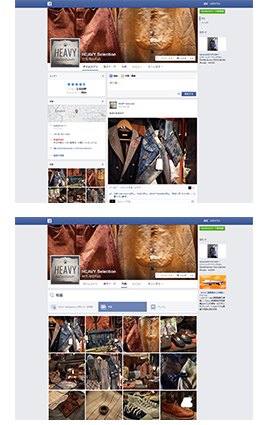 from HEAVY SelectionFacebook
Could you tell us about your professional history and about "HEAVY Selection" in Bangkok?
I started out in graphic design designing stationery, etc., and wanted to work with clothes, which I had always liked, which is how I ended up where I am now. HEAVY Selection is a chain of menswear select shops with over 200 stores all over Thailand that is owned by HEAVY, a long-established manufacturer of shoes. We currently have four stores in Bangkok. The concept of the stores is "NEW VINTAGE" and we carry denim brands from mostly Japan and the United States.
What type of clientele do you have?
Our customers are financially well off and range from around 25 to 45 years of age, and a lot of our customers work in the fashion industry. Also, like a lot of other Bangkok stores, our stores are located within large commercial complexes, but each story is visited by a different type of customer, so the products that each store carries targets the customers that visit the store. For example, we have a lot of wealthy elderly customers come into our Siam Paragon store, a lot of young customers to our Siam center store, and a lot of mainly Japanese and foreign customers come to our Emporium store, so each store has its own target.
What type of fashions do men in Bangkok like?
The typical Bangkok man does not have as much awareness about fashion compared to women, and there are few that pay attention to trends. They tend to coordinate around denim and the Japanese magazine "Free & Easy" is popular in Thailand. Also, whereas there are domestic men's brands they're quite behind compared with Japan, Europe, and United States, so at current time people with an interest in fashion tend to choose overseas brands.
Europeans, Americans, and Japanese tend to change their clothes in accordance with seasons, but Thailand tends to be hot and humid all year round. What type of fashions do you enjoy?
That's exactly right; Thailand is hot all year round so we don't have the opportunity to change our clothes in accordance with changing seasons. But, we tend to spend a lot of time inside air-conditioned buildings that aren't affected by the weather so people tend to choose clothes based on design.
HEAVY Selection carries many Japanese brands such as KAPITAL; what is your impression of Japanese brands?
The large appeal of Japanese brands is the high-quality and materials. I first came in contact with Japanese brands when I was in my late 20s, and at that time I was wearing a lot of clothes from the States, such as Levi's jeans, but when I looked solely at the quality of the materials and not the brand name I found that Japanese brands were better. There are a lot of old vintage American brands of good quality, but as the shift to mass production has been made that quality has been lacking. Meanwhile, there are a lot of Japanese brands that are developing products based on the good old days in America and the quality is quite high.
Have you had a chance to meet with Japanese craftsmen in person?
It depends on the brand but sometimes I do go to the factory and talk directly with them. There was a shoe brand that I met with the other day that employs a traditional method of dying that I found extremely appealing, and I hope to visit their factory one day. I feel that if you go to the factory you can really get a sense of the atmosphere of the brand and learn more about it.
What do you think of street fashion in Tokyo?
It seems like young people in Tokyo are able to freely wear what they like and express their personality. People in Thailand also wish to express their own personality, but they're fearful of criticism so they tend to choose more acceptable clothes. In that respect I feel that the Japanese are quite courageous and freethinking.
Do you have any particular place in Tokyo that you like the most?
I like and have many friends in the Daikanyama, Ebisu and Naka-Meguro areas. I visit many of the shops in these neighborhoods to get ideas for my own stores which I design. The shops in Tokyo are decorated very nicely and much attention is paid to detail. I have always liked Japanese wood work so I like simple, and chic interiors that uses these materials. You can really see how the Japanese cherish traditional culture and craftsmanship.
What do you think of the Japanese people?
I only know people through work in the fashion industry, but they are all very charming. After business is over we can go out for a drink and have fun like friends. Thai people are very liberal when it comes to being on time (laugh), but the Japanese are always on time; they are great business partners!
What's your impression of Tokyo Fashion Week?
There are a lot of people, it's very lively. I love brands and designers that offer something new that's never been done before, and there are a lot of people like that here.
Lastly, could you tell me about future plans for HEAVY Selection?
We will be opening a new store in February of next year and hope to open more thereafter. We also hope to contribute to the sales of brands that we carry, such as "KAPITAL", by promoting these brands in our neighbor countries while leveraging the strengths of Bangkok, Thailand as it is in the center of Southeast Asia and the people have a strong interest in fashion.