Interview & Report

bird (United States) Owner / Jennifer Mankins
MBFWT 2015 S/S invited guest interview vol. 1
bird (United States) Owner
Jennifer Mankins
Jennifer Mankins, owner of the "bird" select shop in New York, visited Japan during the Mercedes-Benz Fashion Week TOKYO 2015 S/S. In addition to local New York brands the store also carries many items from trendy designers all over the world, such as Europe and Japan. Jennifer has grown this popular store to the point where there are now three stores in Brooklyn and we sat down with her to talk about Tokyo fashion and local Brooklyn culture.
How many times have you been to Japan?
This is my fourth trip. The last time was about two and half years ago when I came on vacation. Being able to visit Japan during Fashion Week when designers reveal their collections is an invaluable experience and I'm very grateful to JETRO for inviting me. There are many Japanese designers who have already entered the European and American markets but my shop is always actively looking for new designers, so I think it's extremely important to actually come to Japan and find new young talent.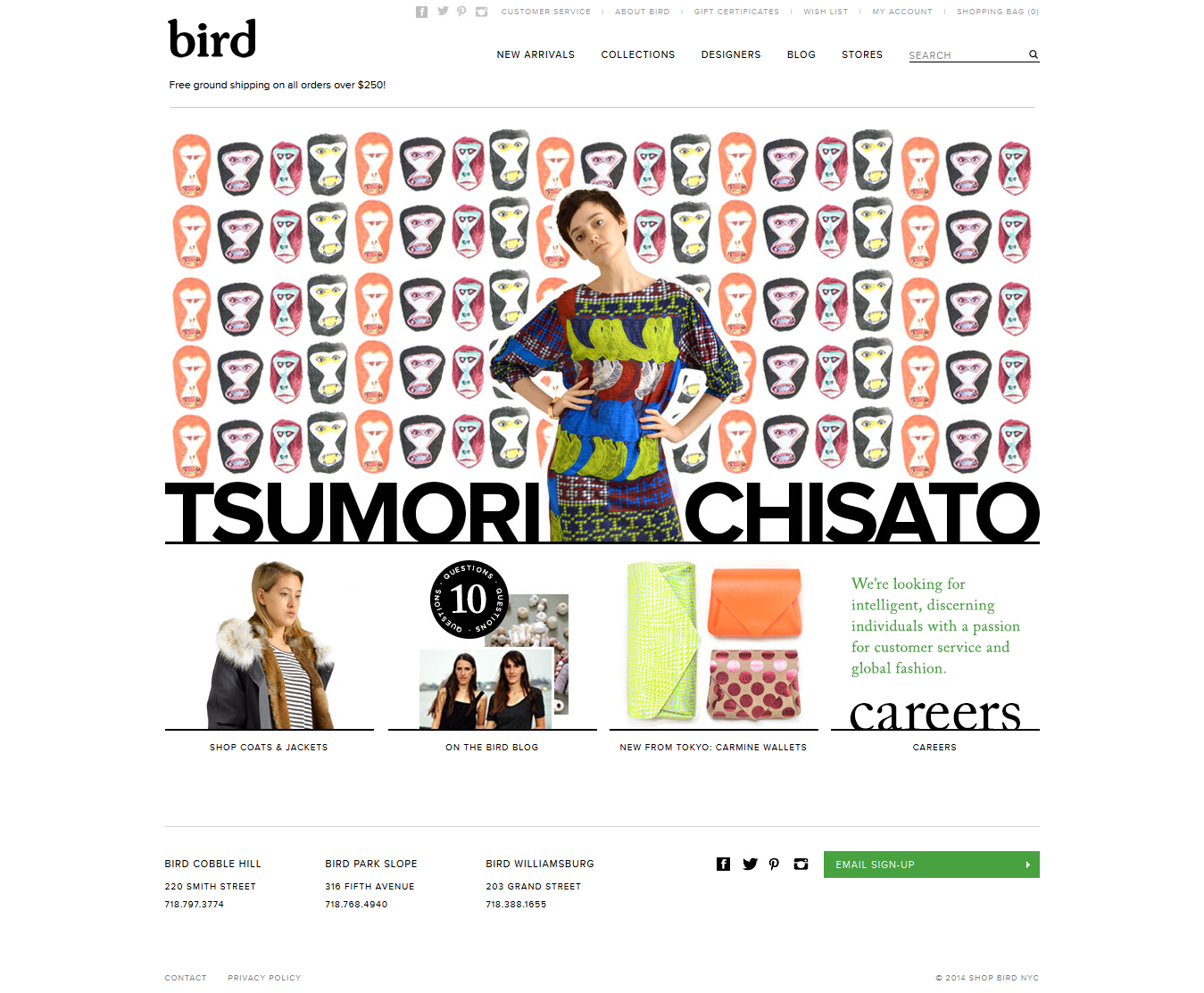 from http://shopbird.com/
Could you tell us a little bit about your professional background and how you came to create bird?
I started out in the fashion business about 15 years ago when I moved to New York from Texas and became assistant buyer at Barneys. After that I worked as a buyer for STEVAN ALAN and then opened up my own shop in Brooklyn. In the beginning we only carried brands that were based in New York but then we gradually started to look overseas. At the same time Brooklyn was really starting to grow so we were able to open a second store. Then several years later we opened up a large store in Williamsburg that carries menswear and accessories. At present time our select shops carry approximately 150 brands.
Who do you find are your primary customers?
People that have a strong interest in fashion and also like clothes that are creative and detailed. I believe that fashion is a tangible form of our expression, so I think it's important to carry a selection of clothes that enables our customers to express themselves without being influenced by temporary trends. I have seen a lot of clothes in my time but if something draws my attention and feels new to me, I would buy it believing that my customers will also feel that it's fresh. Another important thing in my selection process is whether or not the designer has paid attention to detail and whether or not the designer's feelings and skill are conveyed through the clothes. For example, sometimes you even find something like a simple T-shirt to which extreme attention has been paid to everything from material to cut and finishing; those are the discoveries that really blow me away.
I think that Brooklyn, where bird is located, has a different culture from Manhattan; what is it about Brooklyn that appeals to you the most?

bird ( Smith Street )
Brooklyn has more nature, and in contrast to Manhattan, has a lot more open space to use freely, so there are a lot of creative people, such as designers, artists, and musicians, that have moved there and created a unique community. There is also a sense of helping each other in the community so it's a very open-minded climate for those people who want to challenge themselves. Since everyone is trying to establish their own style they have a lot of interest in fashion and there are more and more new designers coming to live there. There is also a strong trend in Brooklyn leaning toward placing importance on the skill of private enterprises; a trend that is picking up speed all over the world now.
There is also a strong push in Japan to revive traditional skill and craftsmanship, but the lack of people to inherit these skills is a big problem. What's it like in the United States?
Well, it's not an exaggeration to say that compared to Japan the United States really has almost no history. However, as mechanization progresses we have lost the opportunities to create things with our own hands and people that feel a sense of crisis in regards to this are gradually moving out West, where there is a flourishing manufacturing industry, and preserving traditional culture and skills. It reminds me of one of the brands that we have at bird from Japan called "tamaki niime" whose designer (Niime Tamaki) moved to a small village famous for its woven fabric, became an apprentice to a master craftsman and then gradually started to create his own designs, which I think are wonderful.
What is your impression of Japanese brands?
I think there are a lot of brands that put a lot of importance on concept, such as Yohji Yamamoto and COMME des GARCONS, which are world famous. I think Japan has an environment that allows new creativity to be put into a tangible form, and because of this the world expects new things that defy existing conventions to be born here. For example, in northern Europe there are a lot of conservative designs that place a lot of importance on tradition, but Japanese brands on the other hand are offering something fresh in terms of design, color, and material, so I'm watching with great interest.
What you think of the street fashion in Tokyo?
I think it's very free. In the United States there's a trend to avoid original fashion but in Japan it seems like each individual is thoroughly expressing their own style. In the U.S. there aren't a lot of men that have a strong interest in fashion, but in Japan everyone is drawn to fashion regardless of gender, and just walking around town I see a lot of things that just bring a smile to my face.
Is there a difference between the shops you see here and the ones back in New York?
Japanese shops pay a lot of attention to not only product display and use of space, but also everything from customer interaction to packaging. Every time I return to the U.S. from Japan I always want to say to my employees, "Pay more attention to detail like the Japanese and make everything look great!" (laugh). Paying attention to detail and building upon that is something that I feel is unique to Japan.
I believe this is the first time that you participated in Tokyo fashion week, do you have any expectations?
I think Tokyo Fashion Week is trying various things and gradually getting larger and larger, and I feel a lot of young energy at the heart of that. I think Fashion Week provides an opportunity to experience the joy of fashion and I look forward to finding new and fresh fashion that conveys a sense of dream and hope.
Lastly, could you tell us about your dreams for the future and future plans for your shops?
Personally I'd like to someday launch my own brand as a designer. As far as the shop is concerned, I'd like to try something different such as maybe a home goods store or a store that has products made by craftsmen from all over the world. If I have the opportunity, I'd love to visit various workshops here in Japan and elsewhere and make a book about the processes involved in making a product. Right now I'm involved in discovering new designers and introducing those designers to my customers in an attempt to cultivate fashion, and I like to continue to grow in the future while enjoying each of these processes.