Interview & Report

Hiroyuki Fujita (JieDa)
TOKYO FASHION AWARD 2019, Winning Designer
The Japanese brand JieDa is founded by Hiroyuki Fujita.
Designer Hiroyuki Fujita was born in Shimane in 1979.
Having worked in the fashion industry experience almost 10years, Hiroyuki launched his own collection label JieDa in 2007.
He opened his own multiple selected shop 'KIKUNOBU' in Tokyo at the same time.
KIKUNOBU has been growing up and 3shops in Tokyo, Osaka and his hometown Shimane now.
Listed as Under The Radar | 6 Upcoming Brands to Check Out This Month by Highsnobiety in 2016.
2018 TOKYO FASHION AWARD was awarded

Fujita finds his inspiration in Japanese culture and physical world around him. His design based on Japanese street style.
MADE IN JAPAN to the highest standard with great attention to detail and finishing has a great importance in all collection.
The collection is available through a growing range of almost 40shops in Japan.
JieDa established by designer Hiroyuki Fujita in 2007, started with a select-shop MD-like point of view, expressing a unique world view with a background in youth culture and has been offering styles full of originality. Being awarded the TOKYO FASHION AWARD in 2018, they presented the brand's very first runway show in the 2019 A/W season and gathered much attention. We spoke to Mr. Fujita, whom is an owner for 3 select shops in Tokyo, Osaka and Shimane, and is always in chase of the future of fashion, about the brand's past and future.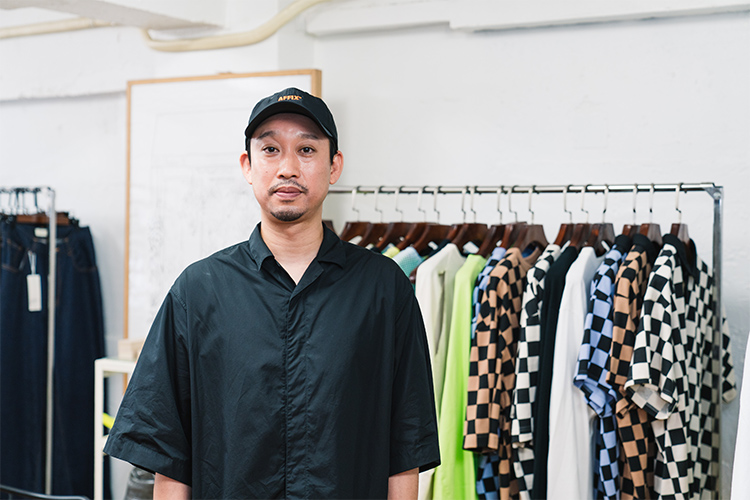 First, please tell us how you came to start up the brand.
In 2007, I started up JieDa at the same time as I started the select shop "Kikunobu" at my hometown of Shimane. Rather than designing as a fashion brand, it was a brand that started with 10 styles of T-shirts, slacks, jackets, etc. which I produced with a point of view of what would be good to have in the shop.
From the time you started up your brand up to now, has there been a turning point?
Around 2014, when domestic business saturated and I decided to aim towards overseas, may have been a turning point. 2014 was the year that Kikunobu opened its third store in Tokyo, following Shimane and Osaka, and for the company, sales were having difficulties. Because domestic business was suffering, in an effort to break through this situation, I decided that JieDa should aim towards overseas developments, so we welcomed new production staff and reevaluated our clothes making. By producing according to the Paris schedule rather than developing after seeing the Paris shows, I have been able to continue collection developments based purely on JieDa's forte of a unique sense of balance and silhouette, and with this, I feel both the brand's sales and recognition has risen.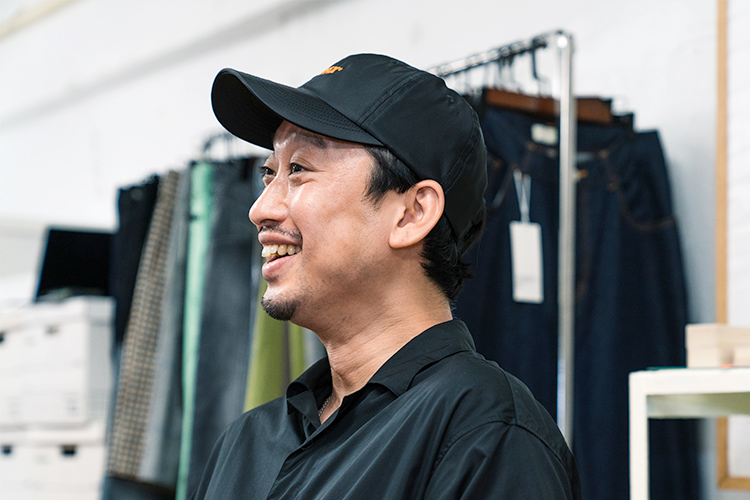 How do you decide on your seasonal theme?
The image of the process is that items are born from things I've experienced, things I have an interest in now, such as travelling or music, and my mood at the time, and those connect to form a theme.
As the award winner of the TOKYO FASHION AWARD 2019, your brand has moved on to the next step through experiencing exhibits at "PITTI UOMO", along with the Paris showroom for 2 consecutive seasons, and presenting a runway show at Tokyo. Please tell us your future aspirations.
In the current situation, overseas sales are merely 10% of the whole brand, but here-on, I hope to raise that to approximately half/half domestic and overseas sales. Presently, in overseas, we have 10 shops carrying our items in the Asian region, such as Hong Kong, Taiwan, Shanghai, but with support of the TOKYO FASHION AWARD showroom, and the individual showroom we've been working with since the 2018 A/W, we hope to acquire accounts in Europe. For this, I am thinking it is important to start by having our brand carried by key shops which are gathering attention from around the world.
Regarding the 2020 S/S collection you presented the other day, how was the reaction of overseas buyers?
For the 2020 S/S collection, under the theme "STONE", I purposely ignored marketing viewpoints and market sales trends, making only those things I want to wear, carrying out intuitive clothes making under the theme. There were items in which I used agate, a specialty of Shimane. As a brand, design wise it became sort of a return to my roots, but I think the reaction at the venue was good. Overseas buyers look for core items of the brand or icon-like powerful pieces, so my collection which was particular to color and use of color, was received well.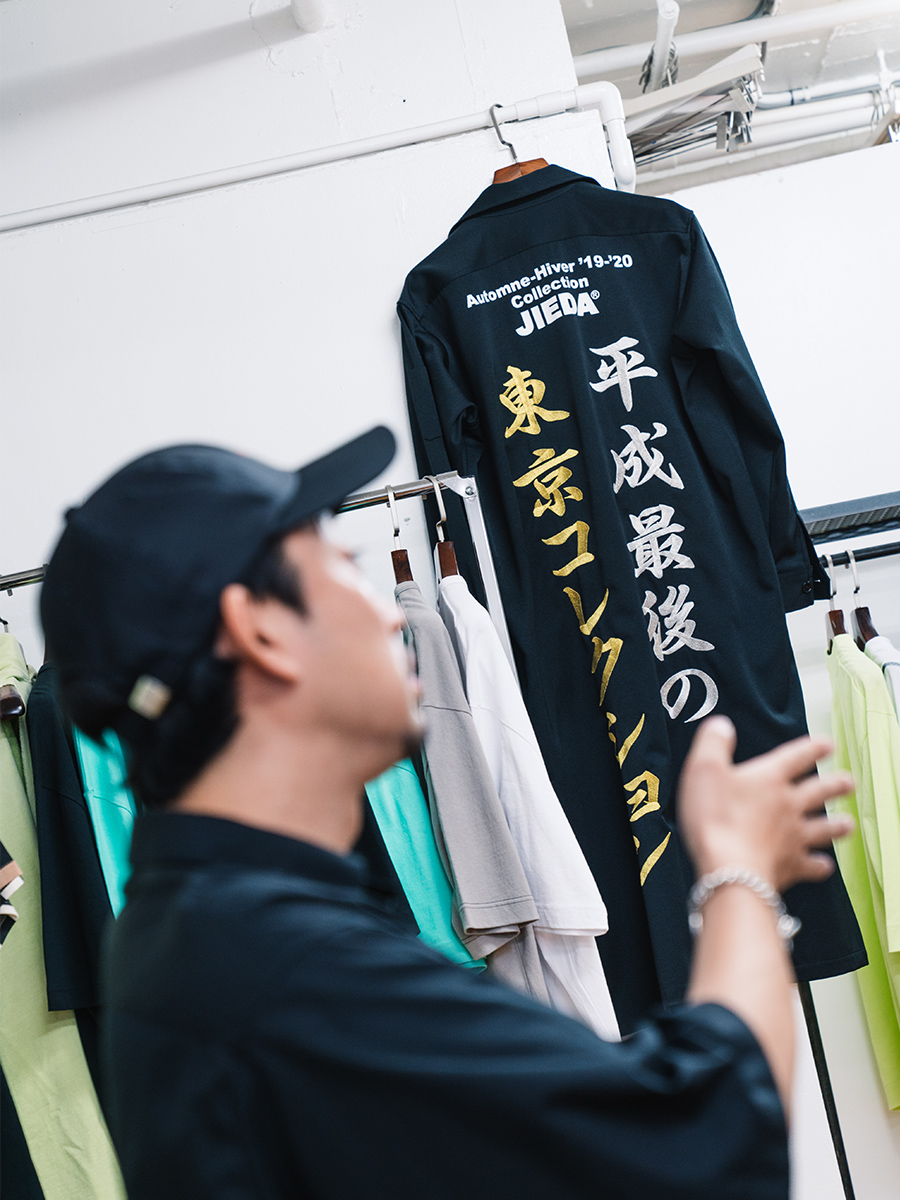 In the triumphant event of the TOKYO FASHION AWARD, your presentation was the grand finale, and the highlight of the event!
The triumphant event at Tokyo fashion week was the very first runway show for JieDa. Because it was held after the exhibit, I didn't do it with a business point of view of trying to acquire orders. It was a show in which I rather concentrated on "showing", and the reaction from guests, buyers, press alike were all extremely good, so I am really glad to have done it. Even before being awarded the TOKYO FASHION AWARD, I had intended to present my 2019 A/W collection in show form, and had already been preparing, but for a brand with only 2 staff, it was very difficult scheduling. But I felt extremely fulfilled from doing the show, and our level of global acknowledgment, especially in the Asian region has risen, with an increase in inquiries. Keeping in mind doing it overseas, we intend to consider continuing shows from hereon.
Interview by Tomoko Kawasaki
Translation by Aiko Osaki
Photography by Yohey Goto (interview)