Interview & Report

Jiyoung
MBFWT 2016 A/W Official Supporter
Actress / Singer
Born, January 18th, 1994, at the Republic of Korea.
Started activities as an actress, since 2014. Appeared in the Japanese TV drama, "Higanbana ~ Tokyo Metropolitan Police Department, 7th crime squad", aired on Nippon Television Network. Also appearing in the Japanese movie "Ansatsu Kyoshitsu, Sotsugyou-hen (Assassination Classroom, Graduation)", released on March 25th, and starring in the movie "Kataomoi Spiral (One-sided love Spiral)", to be released on July 2nd. In September, she is scheduled to star in her stage debut musical, "Sweet Charity". Her debut single as JY, "Saigono Sayonara (Last Farewell)", released from Sony Music Records, on March 16th. The all English lyrics "RADIO", also being released as a 3 song EP, to 47 countries around the world.
Miss Jiyoung, originally from the Republic of Korea, debuted in Japan in 2010, as a member of a girls group, and after creating a huge boom, she became an actress.  On March 16th, during the session of the Mercedes-Benz Fashion Week TOKYO 2016 A/W, she released a debut single, under the artist name "JY", which is being distributed to 47 countries around the world.  She has taken her first step towards becoming a globally active international singer.
Miss Jiyoung, who is drawing attention nationally and from abroad, attended the event on the first day, as the official supporter of MBFWT 2016 A/W.  We've asked her of her impression of the MBFWT, what she thinks of fashion in Japan and South Korea, and her own view of fashion.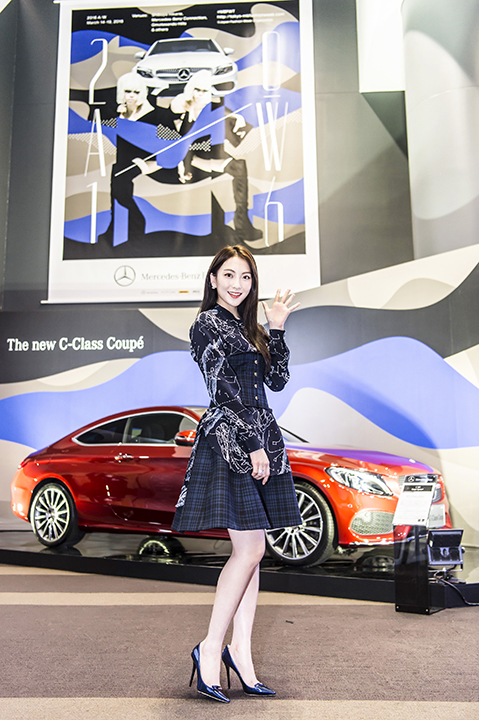 First of all, you've come to the MBFWT 2016 A/W as an official supporter.  How do you feel taking up the position of official supporter?
It's really an honor!  Fashion has no limits, and it allows me to express myself any way I please, so I love it.  But I'm not especially knowledgeable, so I was worried whether I was up to the task …
Seeing Fashion Week made me want to learn more about Japanese brands, and I think this is a wonderful opportunity to encounter new brands.  Until now, my schedule didn't allow my coming, despite the invitations, but from now on, I would like to see the shows as much as possible.
You've seen KEITA MARUYAMA's.  What did you think of it?

I've been to the Fashion Week in Seoul, but this was my first time in Tokyo, and of course my first time to see KEITA MARUYAMA's show.  Actually, I had an opportunity to wear KEITA MARUYAMA for the first time, as a costume, just a few days ago.  I'm wearing their latest collection right now, just announced in their show.  The constellation pattern is so cute.  I was watching the runway show thinking, "I want to wear that, and this".
What is your impression of your first Fashion Week TOKYO?
I noticed that the venue is filled with really fashionable people.  And not just their clothing, but also hairstyles and make-up.  I was thinking to myself, "wow!  Fashion-people all over the place" (laugh).  I have the impression that people who really love fashion gather here.
I haven't been to the Fashion Week in Seoul for a while, so I can't say for sure, but I think the one in Seoul is tamer.  But this may have changed, I don't know.
Do you have a favorite Japanese brand?
I like sacai.  I found out about it 4 years ago, after I had already starting activities in Japan.  I've liked it, ever since.  I've had a chance to meet the designer, Ms. Chitose Abe, and she has been inviting me to shows and exhibitions, ever since.  They held an event at a department store in Seoul, and I visited it.  If they have an opportunity to hold a show in Japan, I would love to see it.
What kind of differences and similarities do you see in street fashion, between Japan and South Korea??
I think the timing of certain items coming in trend, for example sneakers, wide pants, are the same.  When you look at the whole styling, including hair and make-up, I think Japan is definitely more original and fashionable, and fun to see.  I haven't been checking the latest in South Korean street fashion, but I still think it is a bit tamer and somewhat reserved than in Japan.
Where do you usually go to shop for fashion?
Mainly around Aoyama.  I've visited retail shops of my favorite brands, such as sacai, COMME des GARCONS, Thom Browne, only brands that I already know of.  I've never taken a chance to discover new brands.  But because of what I have experienced at this Fashion Week, I would like to visit new shops too, from now on.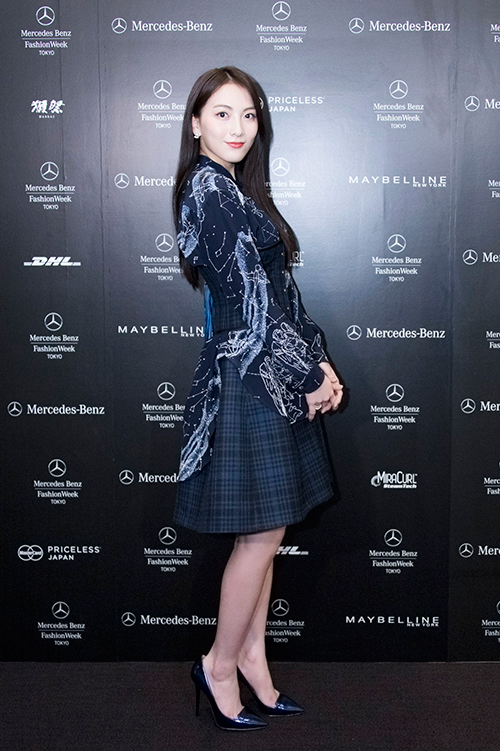 Mainly, what kind of clothes are in your closet?
Color-wise, mainly black.  I add colors and patterns as a diversion, every now-and-then, but my usual style is wearing a black jacket, over black pants.  I mainly wear hard casual styles, like rider's jacket.  My plain clothes probably doesn't coincide with my image (laugh).  I usually wear skirts as costumes, so maybe that's why I prefer pants for my plain clothes.  I don't dislike pastel colors, but I'm not too keen about lovely styles.
I like items that are black and subtle, but have one-point designs in them.  Sacai is exactly that way, they have a twist, and so I like them.
Do you have any special memory, related to fashion?
Ever since I was a little girl, I've always like clothes, but I was content with the clothes my mother bought for me, and hand-downs from my older sister.  I would find my favorite from among those, and keep wearing it over and over again.
But ever since my debut, I've had opportunities to wear fashionable costumes, and became surrounded by fashionable people.  Being in such an environment made me aware of being more fashionable.  Even my mother said to me, "why don't you take care of your fashion a bit more?" (laugh).  From there, I started to check fashion magazines more consciously, and studied the fashionable people around me.  After my first visit to Japan, I was stimulated by the original styles of Japanese fashion, and that opened my eyes to the wide world of fashion.
Is there any model or actress whom you look up to as a reference?
I like the simple and cool stylings of Alexa Chung and Miranda Kerr.  When I see them wearing an item that I like, I search for it on the internet.  Then I become interested in that brand, and imagine what kind of styling would look good for it.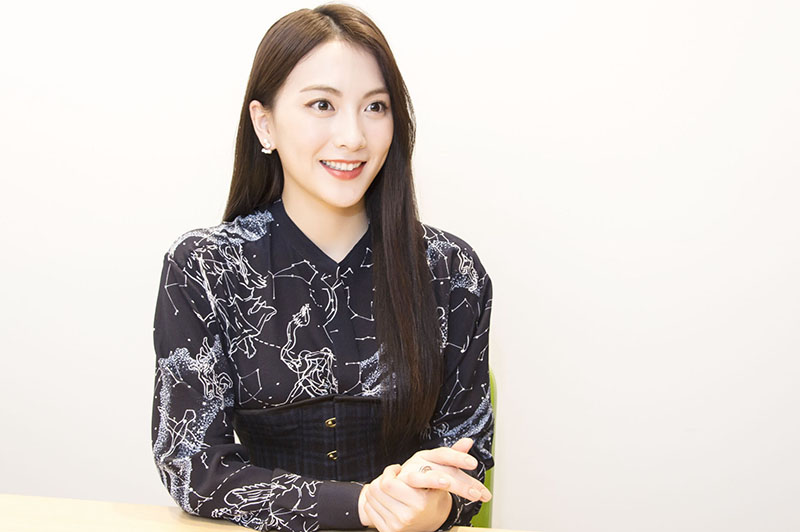 Finally, what is "fashion" to you?
Something that determines the mood of the day.
Sometimes, when I'm in a rush and choose my clothes in a hurry, I end up thinking "I don't like this …" and feel really disappointed.  This ruins my day.  It's fun to think of what to wear the next day, putting into account the people I am scheduled to see, the weather, and how I want to express myself.
*Costume: KEITA MARUYAMA (blouse, skirt and corset) / Swarovski Jewelry (Jewelry) / JIMMY CHOO (Shoes)