Interview & Report

2016A/W Collection Shikku, "Kagawa Gloves" Exhibition by Kagawa Gloves 1888 Lab
MBFWT 2016 A/W [RELATED EVENTS - Other]
In 2014, the Kagawa Gloves 1888 Lab was founded in Higashikagawa City, Kagawa Prefecture, one of the major production areas for gloves in Japan, as a platform to explore the possibilities and future of gloves. It has sharpened sensibility, conducted experimental activities, and constantly taken on the challenge of developing innovative products, based on technologies that have been nurtured throughout history. It is now unveiling results of its research to the world.
*Shikku : An experimental term. It indicates the future in which the lab aims to develop unique "made in KAGAWA" products. They feature existing yet more sophisticated and elaborately-arranged details, in line with the trends, but not really chic in the conventional sense.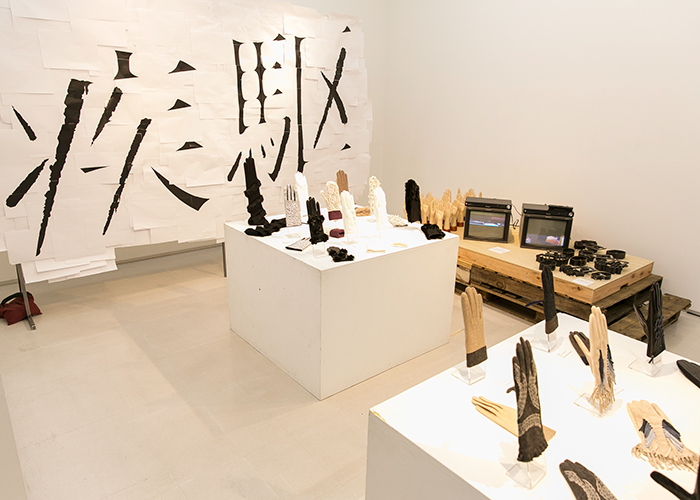 In 2014, "Kagawa Gloves" was founded as an experimental gloves brand of "1888 Gloves Lab", a group of willing glove manufacturers and gloves related companies located in the Higashikagawa City, Kagawa Prefecture area.  This, being their 3rd season, they held an exhibition, titled, "'Kagawa Gloves' Lab Exhibition 2016A/W Collection – Shikku (ride fast/dash) –", in connection with the Mercedes-Benz Fashion Week TOKYO 2016 A/W, at CUBE, on the 8th floor of Shibuya Hikarie.
This exhibition was an introductory report of their research towards the 2016 A/W season.  Here, is a report on the exhibition, along with an interview of Mr. Souta Yamaguchi, Creative Director of Kagawa Gloves, and other "1888 Gloves Lab" participating companies.
Higashikagawa City, Kagawa Prefecture, has been a major production center of gloves, since 1888.  Their delicate and superb manufacturing techniques, allows them to utilize any material, from leathers to knits to the latest in high-tech textiles, to create a wide range of products, from functional gloves such as for sports or fire fighters, to high quality luxury gloves.  The manufacturers of Higashikagawa City, pride themselves in having an approximately 90% share of domestic glove production.  As a platform to open up new possibilities for hands and gloves, "1888 Glove Lab" was established in 2014, with Mr. Souta Yamaguchi as the Creative Director.  And as a result, the glove brand, "Kagawa Gloves", was born.  Based on the knowhow and technology which only a production place with such long history possess, the participating companies of Higashikagawa City are challenging themselves in developing experimental and innovative new creations, through perfecting and/or reevaluating individual strong points, and trying out collaborations with different materials, different genres, in cooperation with creators from outside the area.
The theme of the "Kagawa Gloves" 2016 A/W collection is "Shikku (ride fast/dash)", pronounced the same way as 'chic'.  Despite the usual meaning of 'chic', which means simplifying basics, here they use it as a pun, to mean sophistication and radical arrangements of details, and to present their future vision, a will to create items that follow fashion trends but does not lose the "made in KAGAWA" way of creativity and creation.  At the exhibition, a total of 32 items with cutting-edge designs, made by the skills of the 14 participating companies of this season, were presented.
Companies that take pride in sports gloves, such as gloves for golf, baseball, ski, etc., worked on putting functional aspects, such as exactness and mobility, into fashion gloves.  On the other hand, companies that take pride in sensitive craftsmanship, presented items that challenges the limit of handy craft, such as gloves with elaborate patchworks and stitch-works.  Some also challenged in making highly artistic creations by incorporating skills of Japanese traditional regional crafts, such as the "Sanuki kagari threaded-ball embroidery" of the Chusan region of Kagawa Prefecture (mid-Kagawa), "Aomori Koginzashi embroidery" of the Tsugaru region of Aomori Prefecture, "Aizu lacquer work" of the Aizu region of Fukushima Prefecture, and ancient Japanese "Suminagashi dye (marbling print)".
At the exhibition, the excitingly active sounds of sewing machines and cutting machines as gloves are being made, filled the venue as background music.  Also, videos of production scenes and creative processes, such as experienced craftsmen using tweezers to skillfully sew gloves, were shown.
Although Higashikagawa City is the largest domestic glove production center, in recent years, they have been faced with problems such as overseas relocation of production bases, and the aging of technicians.  To resolve these problems, they have a vision to differentiate their products from overseas products, create products with high added-value in order to dig-up new demands, encourage young workers, and thereby invigorating local industry, through the platform of "1888 Glove Lab", established with the participation of glove makers belonging to the union.  On the "Kagawa Gloves" web-site, the latest on their study/research activities is open for public viewing.  Under the theme of "study of skills", they show glove craftsmen visiting craftsmen of different types of industries.  In a study to make gloves for prosthetic hands, a glove maker technician met with a robotics maker, to exchange opinions.  Entering their third season, participants have grown to 20 companies, and "Kagawa Gloves" continues to move on, with their eyes turned towards the future of gloves.
Interview
"Kagawa Gloves" Creative Director
Mr. Souta Yamaguchi
Stylist / Fashion director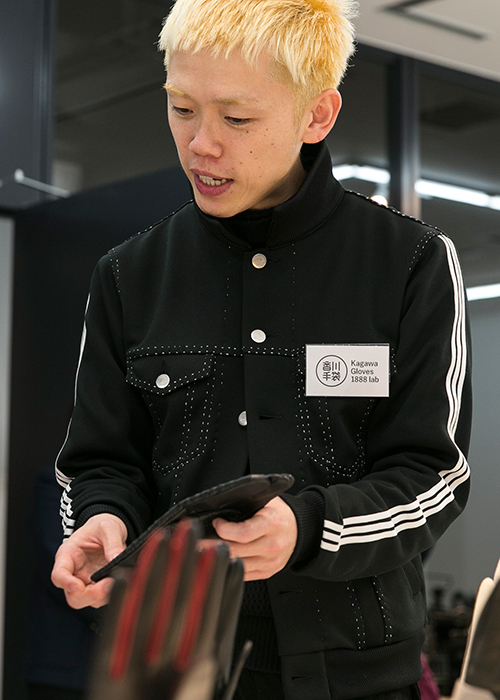 This season's theme, 'shikku (chic)' was chosen, to help bring out those aspects that the craftsmen and manufacturers feel to be their strong point, without having to rattle their brains.  Not the 'chic' that means minimalizing design, but rather, it was based on the idea of, what would happen, what kind of products will be born if craftsmen and manufacturers simply expressed their bare, fierce passion, normally hidden behind creation.  To express this feeling, although having the same pronunciation, we used the character "疾駆 (shikku)", instead of "シック (chic)".
To help each craftsman and manufacturer do what they do best, I visited Higashikagawa City once a month, going back-and-forth between skill and design, gradually putting ideas into shape.  The potential and skills nurtured by these regional production place companies over the years, is extremely high.  I help them by translating their abilities into fashionable aspects, thereby helping them expand the possibilities of hand and gloves.  Moreover, I would like to suggest aggressively spreading out their potential to fields outside of fashion, and making, for example gloves for prosthetics, gloves for outer-space.  By doing so, new skills and ideas will be gained, which can and should be reincorporated back into fashion wear.
Because expensive items made with much care and detail are selling well, I have an actual feel that customer's reactions are getting better each season.  For here on, I hope to extend developments of this project to overseas.
Mr. Seiji Tomokuni
Japan Gloves Industrial Association, Representative Director / TOMOKUNI Co., Ltd., President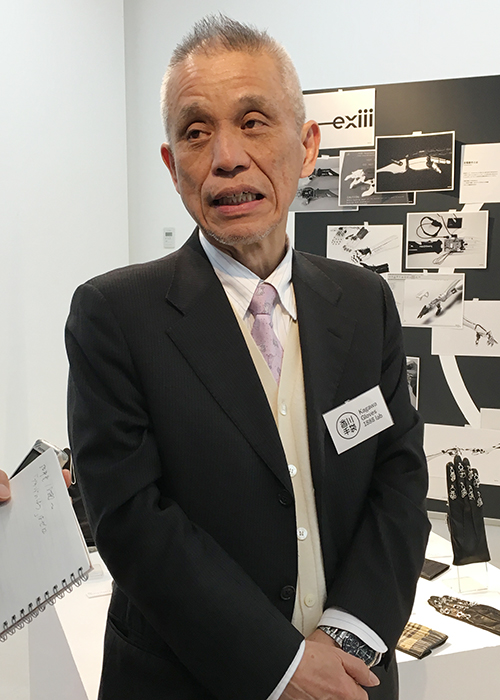 Way back in 1888, a local man, working at a knit glove manufacturer in Osaka, returned to Higashikagawa, his hometown, and began manufacturing gloves.  This was how Kagawa Gloves was born.  Since then, it has become one of the most prominent glove production places in the world, with a history of approximately 130 years.
Within its long history, many companies have arisen, nurturing high craftsmen skills.  I thought I knew how high those skills were, but through the new challenges faced through "1888 Gloves Lab", I have been blessed with a chance to witness the skills of our associate companies, and this has made me renew my understanding of how high the skills of Higashikagawa really are.  Concerned with the future as a production place, we have had extensive discussions about the branding of Kagawa gloves, and as a result, in 2014, we finally got started.  Mr. Yamaguchi, whom we asked to participate as a creative director, has a sense and imagination that people within the production place do not have, and I think the project is advancing amiably, with the skills of Higashikagawa blending well with his senses.
By seizing the opportunity with "Kagawa Gloves", we would like to increase the acknowledgement of Kagawa as a production place of gloves, so that we can attract young craftsmen.
"1888 Glove Lab" participating company
Mr. Tetsuya Hirata
Hirata Shoten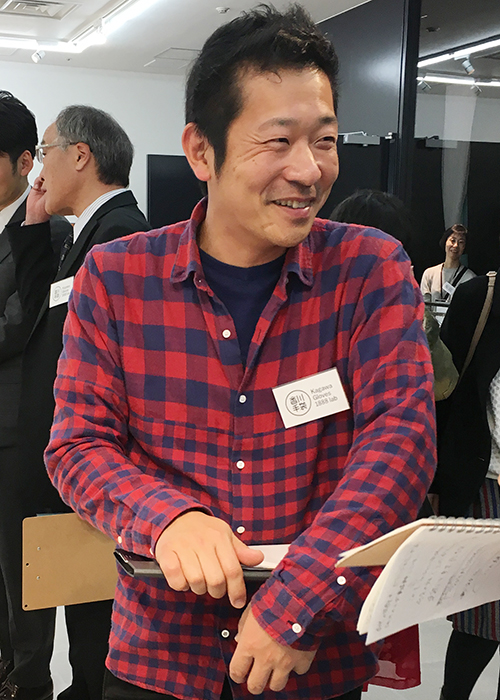 Our company specializes in leather gloves, and we handle all the processes involved, from purchasing the leather to sewing the glove.  This season we created 3 items, 'patchwork x sheep skin', 'corsage x sheep skin', 'handmade x crocodile'.  For the patchwork item, in accordance to the design gradation, we cut out over 300 pieces for just one hand, and sew them together, one-by-one.  It takes 3 days to make one hand, 6 for both hands, but it turned out to be quite unique, never seen before, and worth the trouble.  For the corsage item, we had not only sawn together each petal, but also inserted thin wires to make it three-dimensional.  We have never done this before, so we repeated numerous experimental challenges before going into production.  If this were an individual effort, even if such new items were created, it would be difficult to hold an exhibition individually.  But as a member of "1888 Glove Lab", it allows us to challenge ourselves, and also offers us such opportunities to present our creations.
Through "Kagawa Gloves", we would like to appeal widely that our hometown, Kagawa, is a production center for gloves, and aim to vitalize the glove industry as a whole.
"1888 Glove Lab" participating company
Ms. Miwa Onishi
ICHINA Co., Ltd., Merchandise division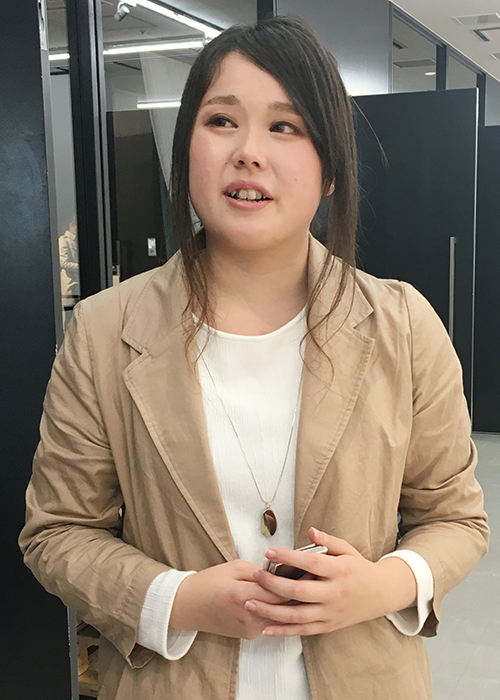 I am in charge of planning knit products, programming of the automated knitting machine, and sample production.  This time we produced 'aran x no seam', 'flower x no seam', 'dual structure x no seam'.  In daily production, we must consider productivity, and end up placing priority on low risk ways of production.  In reality, it is difficult to challenge experimental weaves or skills.  The "1888 Glove Lab" project, allowed us to pull out skills that we had accumulated as data, but never had a chance to try out, suggest material samples, and actual put it into shape.
In programing the knitting machine, a slight change in pattern makes the machine go into error, so the program must be changed largely, and in some cases, we made close to 100 trial samples.  This time too, I confined myself to the factory until one week before the exhibition, battling the machine.  I hope to continue digging up our stocked skills and materials in order to realize the concepts and ideas inside Mr. Yamaguchi's head.  I would also like to continue challenging and experimenting in developing new materials.