Interview & Report

Pascaline Smets
MBFWT 2016 A/W International Guest Interview vol.2
"Smets Premium Stores" Buyer / Creative Director
"Smets Premium Stores", were opened in 1986, in Luxemburg, by Catherine Smets, from Belgium. It is a store which carries items centered around the three fields of world fashion, design, and art. Starting with Brussels, they run 25 stores and an EC site. Today, her husband, Thierry, and her daughter, Pascaline, have joined the business.
【Main brands carried】
WOMEN'S: Alexander Mc Queen, Givenchy, Kenzo, Isabel Marant, Mary katrantzou, Stella McCartney, Christopher Kane, Tom Ford, Christian Louboutin, Gianvito Rossi, Jimmy Choo
MEN'S: Balenciaga, Dsquared, Balmain, Pierre Hardy, Saint Laurent
INTERIOR: Vitra, Moroso, Hay, Cappellini, Artemide, Ligne Roset, MDF Italia, Carl Hansen and Foscarini.
BEAUTY: In addition, Smets has joined forces with Cosmeticary to create a specialist beauty corner. Shoppers will find brands including Bobbi Brown, By Terry, Bumble and Bumble, Khiel's, Laura Mercier, Radical Skincare, Essie and Dermologica.
Based in Luxemburg, "Smets Premium Stores (Smets, hereafter)", carries items centered around the three fields of world fashion, design, and art. The buyer and Creative Director of Smets, Pascaline Smets, who is also the daughter of the owner/founder, Catherine Smets, visited Japan during the Mercedes-Benz Fashion Week TOKYO 2016 A/W.
Pascaline, being one of the people named in "BoF 500 (The Business of Fashion)", as one of the top globally active fashion industry people of today, we've asked her about Smets, of her impression of having visited Japan for the first time, Japanese fashion, and Fashion Week.
We hear this is your first visit to Japan. Could you please tell us what you think of Japan?
First, I'd like to explain why I can to Japan this time. I have opportunities to touch and order Japanese brand collections at exhibitions in Paris, but I felt the need to know the background and atmosphere in which these collections are made. I think it is important for buyers to actually visit the place where the designers are based.
Also, I've always liked Japanese culture, architecture, art, and I have an interest in Japanese philosophy, your spirit of 'omotenashi', and manners of the tea ceremony. I think these were also contributing factors in my decision to visit Japan this time. To be specific, I have great respect for Tadao Ando, Takashi Murakami, and Hiroshi Sugimoto. I feel that, a sense of beauty which is being lost in Europe these days, still remains in Japan. In addition, in fashion I feel strength, and think of Japan, as a country, plays an important role in fashion.
Smets Premium Stores website
www.smets.lu/
Could you please introduce Smets to our readers?
At Smets, we gather items that are high in creativity, regardless of genre, whether its art, food, fashion, etc., and present them in a way so that the individuality of each will be fully expressed in our shop. Our target is all those people around the world, who agree with our philosophy.
We mainly buy from Paris, but also go to London quite often. London is a must city to visit, to find new upcoming designers, and for market research.
You seem to be placing much value on EC also. Do you feel any changes in your customers lately?
Our EC customers are mainly from China and the United States. Especially in our Chinese customers, we have many VIPs, and these past few years, there numbers have increased prominently.
Recently, I feel that the demand for personal correspondence in EC is growing. Digital will most likely continue to evolve, but at the same time, a touch of humanity within digital is important, such as buying from somebody you know and trust, placing value on whom you buy from. In a way, I think the same kind of customer relationships as in real shops are being demanded.
My buying goes through a similar process. I receive approximately 600 newsletters daily, from showrooms around the world, but because of the tremendous amount, I cannot open all of them. However, when a brand is introduced to me through somebody who knows and understands my tastes, I make it a point to always check the information, and most of the time, I actually end up buying from there.
Did any brand catch your eye at the MBFWT 2016 A/W?
"Tokyo New Age" was quite impressive. I won't be ordering just yet, but I'm looking forward to their future developments. It was a joint show, so the presentation of each brand was short, but it was an exciting show, filled with a feeling of anticipation that something will arise from here.
In your opinion, what are the attractions, and weak-points of Japanese brands?
I think Japanese designers are unique in their high quality, high level of construction born from a sincerity towards making things, beautiful silhouettes, and these are very attractive aspects. But I think they lack a bit in their ability to appeal.
Especially when they are looking to expand into overseas markets, they should try to narrow down items that will be the 'face' of their brand, as much as possible, accentuate it, and convey an easily comprehensible message. This is very important. By keeping the message simple, it becomes a strong message. For example, even if a brand handles both textiles and knits, if they feel slightly more confident in knits, it might be a good idea to publicize visuals and concepts specialized on knits. It's a challenge, but worth a try. If you try to show your whole collection, the message gets blurred, and does not leave an impression to the buyers.
The same could be said for runway shows. In order to become an international brand, I think the brand will not sell unless you go out on a limb, as if to impress yourself among others as "This is a knit brand", with iconic items and identities. If you try to announce a whole variety of items with this and that in one show, you end-up overloading viewers with information. And in the end, at best, only 1 or 2 items leave an impression.
Can you name any brands that are apt in such ways of "presentation"?
In the show of "SIMONE ROCHA", which has been announcing in the Fashion Week in London, they announced 15 feminine dresses, all in different material and length variations, but they made it quite clear that "SIMONE ROCHA" is a brand that is confident in feminine dresses. If the brand's message is not conveyed clearly to us buyers, we are unable to convey it to our customers. Even if we feel that the design is beautiful, the quality is good, and mark it as a buying candidate, if the brand's message is weak, in the end, there is a chance that we might pass over it. That is how important a clear message is.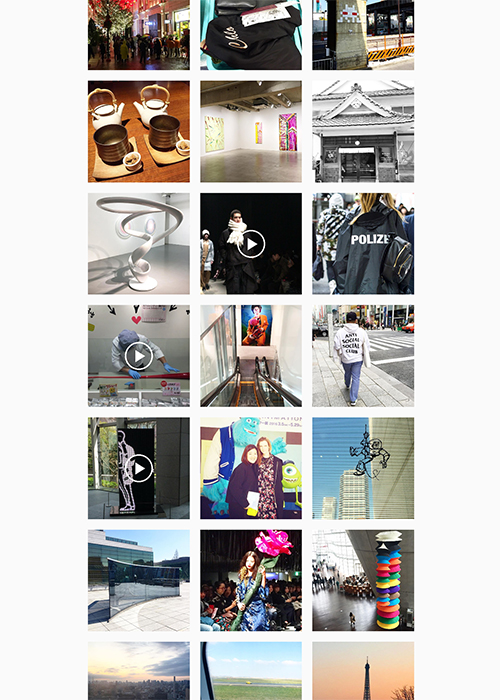 Instagram: pascalinesmets
www.instagram.com/pascalinesmets/?hl=ja
What do you think is needed to make it easier for overseas buyers to visit the Fashion Week in Tokyo?
In between shows, if you could schedule tours visiting exhibits, that would allow us to move around efficiently, within our limited time of stay. Especially, for foreigners, Tokyo is very difficult to go from one place to another, using public transportation. So if you could arrange transportation for buyers, that circulates between show/exhibition venues, designer's studios, etc., that would be extremely helpful.
In addition, I would also appreciate information on museums, art galleries, etc., that are favored by designers. I think this would help us understand the creative source of Japanese designers.
Are there any shops that were especially impressive, during this visit?
I visited GRS (Laforet HARAJUKU), the POOL aoyama (closed, March 21st, 2016), CITY SHOP, and they were all quite interesting. It might be a good idea, for example, to make a store-party the hub between overseas buyers and designers. It would give buyers an opportunity to see how items are actually displayed and sold. More importantly, it gives buyers a chance to meet with designers, which is a strong motive to want to come. Besides, a bit of alcohol makes it easier to speak (laugh).