Interview & Report

Masanobu Ando
Amazon Fashion Week TOKYO 2018 S/S Official Backstage Photographer
Born in Kanagawa Prefecture, on May 19th, 1975. Made a lead actor debut, in the 1996 movie "Kids Return", directed by Director Takeshi Kitano. Has been active as an actor ever since, mainly in films, appearing in many Chinese and Taiwan movies also.
Mr. Masanobu Ando, appearing in many attention gathering films as an actor, participated in Amazon Fashion Week TOKYO 2018 S/S as a photographer, in continuance from last season. With his beloved camera, a Canon EOS 80D in hand, he covered almost all runway shows and their backstage held at Shibuya Hikarie, the main venue of fashion week, and transmitted the photos in his newly opened Instagram account. We asked him of his impression of this term's shoots, episodes of this term, and his thoughts on fashion week.
This is your second experience shooting the fashion week, and having experienced last time, what were your thoughts on shooting this second time?
Having shot the last time, strengthened my feelings towards fashion week and Japanese fashion. Japanese fashion is supposedly the forefront of Asia, so I feel it should transmit more outward towards the world and become more invigorated. To me, this present state of the Japanese fashion industry seems similar to that of the Japanese film industry. The part where something is made from scratch, and the relationship between a glamorous front stage and supporting backstage, is also the same with movies, and because I can sympathize with such aspects, I'm really moved when I'm on the spot. In think, every moment spent in relation to the show is extremely precious to the designers and models, so I wanted to capture the time and mood flowing in the air, in a way that the viewers would cherish it.
This time you seemed to be shooting a lot of model portraits also, instead of make-up cuts, etc., which one would usually imagine when hearing backstage photos.
It's because I have a strong underlying need to shoot people. Of course, I want to take photos which are characteristic of a backstage bustling with people, but at the same time, I wanted to capture the moment of each person involved in the show, in good lighting. So, instead of a candid-like shooting, I tried to talk to each person as much as possible, tell them my feelings in doing this shoot, and then took the shot.
That sort of shooting must be difficult to do, right before the show.
True. It's difficult to communicate with models because they are all tense, but I feel I'm lucky to be given this opportunity to be there, so I told myself, I just must do it. I get shot by steel photographers during filming a movie, and before I started shooting myself, there were times I felt they were in the way, especially when I was tense. But ever since I've been given this opportunity to go backstage and shoot, I think I've become more considerate when I'm on the photographed side (laugh). I don't think there are many photographers whom can shoot with an understanding of both the photographer's side and the photographed side, so I was conscious of taking such photographs that only I can take.
What feelings did you have during the backstage shoot?
People's facial expressions are so different before and after the show, and I'm so moved every time I have the opportunity to witness the change. It's understandable that designers presenting a show for the first time are tense, but even veteran designers are on edge before the show, and you can really feel their tension. And, the backstage is prone to all sorts of unpredictable incidents, so it is always extremely dramatic. Also, because this was my second time, there were many more things I noticed this time which I didn't the first time, such as "guests are late in entering this show", or "the reaction of the press is really good", or "the start of this show is really late, I hope the show after this isn't hindered by this" (laugh), and quite often, I found myself feeling nervous as if I were part of the brand staff (laugh). Including such aspects, there's fun in experiencing things which you just can't from simply watching a beautiful runway show. I get to catch a glimpse of all sorts of emotions of the people involved in the show, and to me, this is the true pleasure in doing backstage shoots.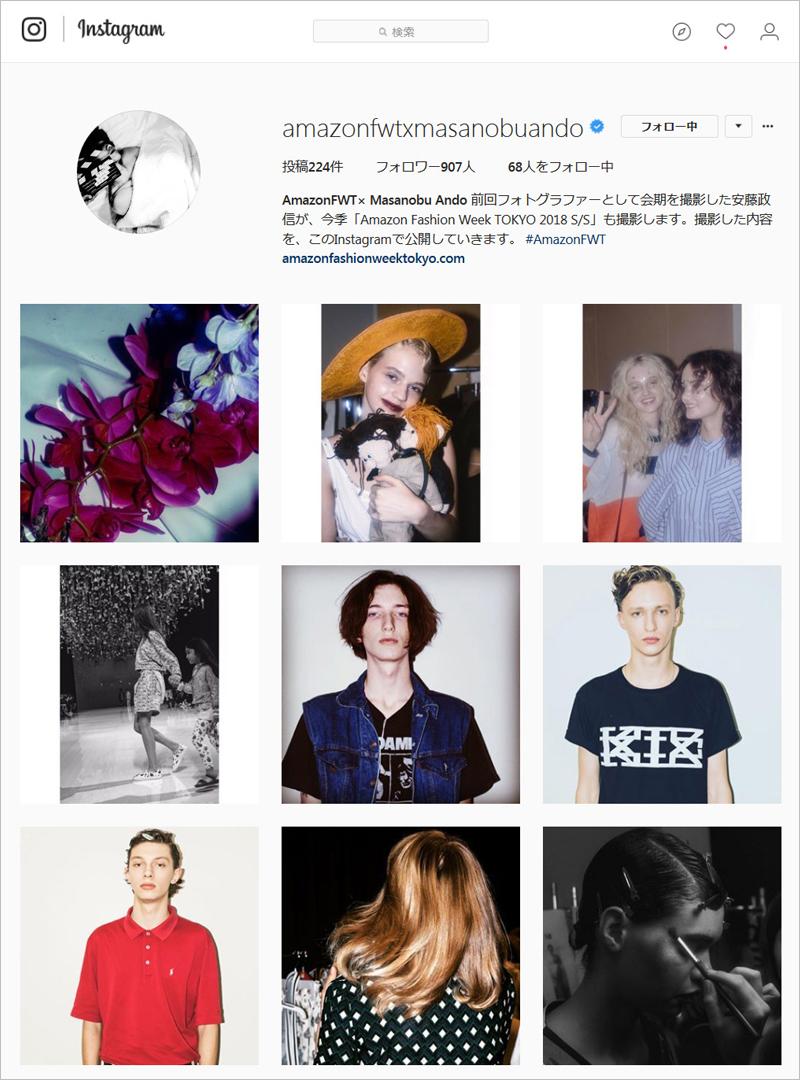 AmazonFWT × Masanobu Ando official account. Mainly AmazonFWT 2018 S/S backstage and show photographs are uploaded, along with some private works of Mr. Ando.
This time, an official Instagram account has been established, and you've selected and up loaded your photographs yourself. What are your thoughts on this?
We didn't put out a big notice or anything, but the number of followers had increased quite a bit by the end of the term. I had hoped that this fashion week would be an opportunity for me to be acknowledged as a photographer, so I was thankful for this. I was also happy when designers of brands I photographed reposted my photographs, and I received positive reactions from my actor and director friends.
In the last interview, you mentioned you've been doing private shoots with your actor friends as the object. I imagine there is a significant difference between such shoots and documentary photography like you've done this time.
Yes, definitely. The private shootings I've been doing basically has no strings attached, so I'm shooting based purely on my sense. On the other hand, in documentary photography like this, because it will be public, if I shoot just the way I want to, there is a possibility I might end up hurting somebody. I took such aspects into consideration, and rather than expressing my own sensitivity, I felt strongly towards capturing the air and time flowing in the show, made by the designers and models, beautifully.
Is there anything you would like to try out in the future as a photographer?
I'd like to shoot women's nude. It's difficult to find a person whom is willing to do this with me, or a place to do the shoot, but I do think women's nude is the most beautiful, and it never grows old. I admit, it's a contradiction, I've been given the chance to shoot scenes of expressing the latest in fashion, and here I am saying I want to shoot nude (laugh).
Photography by Masanobu Ando
Are you interested in continuing doing the fashion week shoot?
If I have the opportunity, I would love to continue doing it. This time, I did the shoot for the full week, so by the second half of the week, I was hurting all over and tired (laugh), but I can't give it up. On the last day, there was something that really moved me, and at the same time, I felt sad that it was ending. I enjoy watching people's emotions, so I would like to continue doing backstage shoots, and I feel that the more times I do this, the more it becomes my own work, so it's important to me and I will continue to value it. I've already spoken to movie and drama staff that I'd like to keep my schedule open during the next fashion week term (laugh).
Is there anything you would like to challenge in future fashion week shoots?
I'm hoping I will have an opportunity, at one point or other, to show that, rather than arriving here with a will to do it, it's been a result of continuing over the years. The designers too, have been doing shows every season, and are already working towards the next. I'm hoping that someday, I'll have a chance to announce my photographs shot at fashion week in print, but I feel I need to continue shooting for at least a few more years for that. I think my feelings towards the fashion week will become stronger as I continue, and I think photographs taken with a deeper love will definitely be better.
Interview by Yuki Harada
Translation by Aiko Osaki