Interview & Report

Miki Ehara / Model
AmazonFWT 2019 A/W Key Visual Model
Born in 1995. Only 3 months later from her model debut in January 2017, she was chosen as an exclusive model for Louis Vuitton show. Up to date, she has continued to walk major brands' collections including Christian Dior, Hermes and has become one of the regular models for fashion week. She has chosen as SHISEIDO 2019 global campaign muse.
Ms. Miki Ehara, chosen to appear in the key visual of Amazon Fashion Week TOKYO 2019 A/W. In the model selection process, the Creative Director/Art Direction of the key visual, Mr. Keiichiro Oshima had chosen Ms. Ehara, saying, "Up to now, in fashion related works, I tended to choose foreign models rather than Japanese models, but this time, I strongly felt there are some things only a Japanese could express or convey". Having physically expressed this season's catch-copy of "I, TOO, AM A CULTURE", we interviewed Ms. Ehara by e-mail on her impression of the key visual shooting, her career as a model, while she was busily flying around overseas to appear in fashion weeks and work in other shootings.
First, we would like to ask you about this season's key visual. Mr. Keiichiro Oshima, the Creative Director, probably gave you a rundown in advance, on the concept and/or costume of the key visual, but how did you feel having heard that?
I was told there would be a lot of action, like jumping wearing an objet, so I went to the shoot feeling a bit anxious. A lot of dynamic movements were required so it was a physically demanding shoot, but I like to exercise, and was able to overcome and enjoy the shoot to the end.
You probably saw the objet for the first time at the shoot. How was the shoot wearing this objet?
It was heavier than it looks (laugh).
We went through all sorts of trial and errors during the shoot, contemplating things like how can I jump while fixing my posture well. I joked around with the staff, pretending, for example, that the objet was a scallop, and it was a fun shoot. Also, because it was a very physically demanding shoot, the staff constantly showed concern for me, asking me if I were OK, which I was very thankful for, and made me feel very secure throughout the shoot.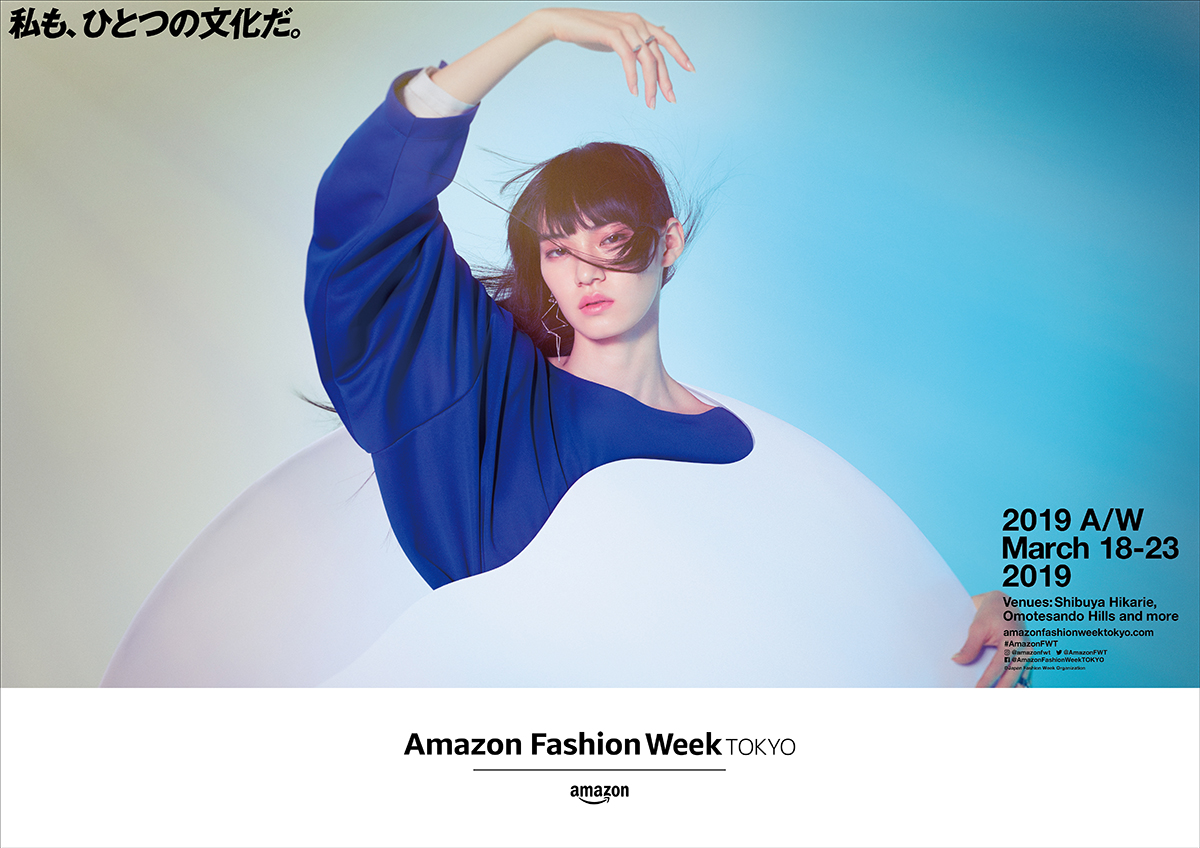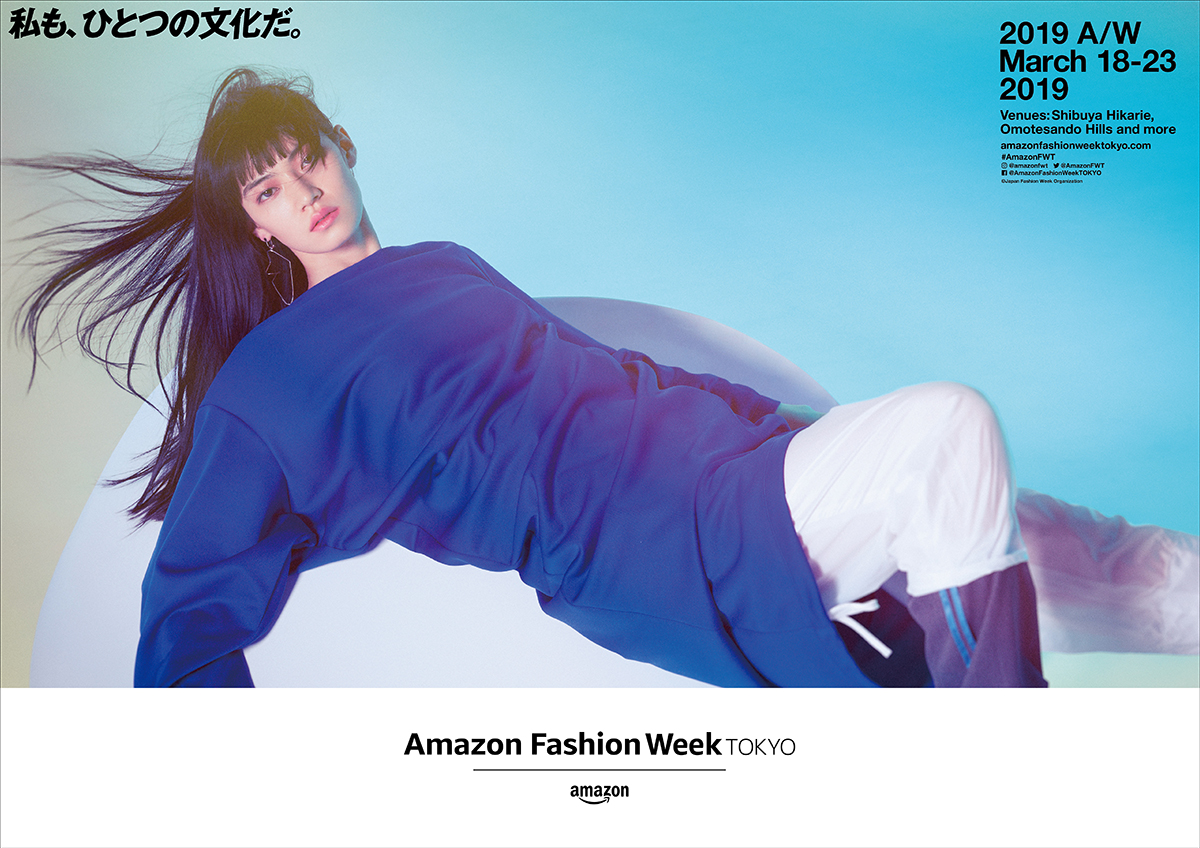 Amazon Fashion Week TOKYO 2019 A/W Key visual (other cuts)
During the shoot, what kind of instructions were you given, regarding movements or expressions?
Expression wise, I was directed to be powerful, and motion wise, I was told to"look like zero gravity, like I'm floating". At first, I had a hard time jumping while relaxing my body, looking straight at the camera and making a powerful expression all at the same time in mid-air, but with the support of the staff, I think I was able to express it well.
Usually, you probably do magazine or advertisement shoots, but was this shoot of the key visual different in any way from what you normally do?
Compared to other shoots, timing was extremely important in this one, including expression, flow of hair, body movement and how the objet looks, so it was a shoot in which I was more conscious of synchronizing more than usual with the staff.
Having seen the completed key visual, how did you feel?
Both the steel and the movie look really cool. I'm especially fond of the close-up shot. Speaking of all my works and not just this one, I feel very happy having many people see the works that the staff and I have worked hard on in its creation. I feel very honored having been involved in Amazon Fashion Week TOKYO in such a way.
We would like to ask you also about your private fashion. Do you have any personal preferences? Is there anything you are particular about?
I don't have a style which I stick to in particular, but in truth, I prefer cute items rather than cool ones. And not just cute-cute. I tend to be attracted to cute things with a twist. I especially like bags and shoes, so I am very particular when choosing. But as a result, I end up with things that look very much alike, which people often point out to me (laugh).
Is there anybody whom you were influenced by in fashion?
I don't have any style icon in particular, but in this job, I am constantly surrounded by fashionable people, so I am stimulated daily.
There are many brands I like, but I especially check-out sacai, every season.
You travel around fashion cities around the globe. Do you feel any differences or characteristics particular to each city? And among such cities, what do you think is the characteristic of Tokyo fashion and fashionistas?
I think there is a difference in fashion according to the mood and/or customs of each city. I have the impression that people of New York enjoy fashion freely, so I often wear comfortable and a bit casual clothing. In Paris, as one would expect from a town of couture, I have the impression that everyone is very fashionably dressed.
In Tokyo, I feel that hair & make-up is considered a part of fashion. I feel people are constantly sensitive to new trends, including hair style, hair color, contact lens color, and make-up.
We would like to ask you also about your work. By what chance did you become a fashion model?
I had always been interested in modeling, but not knowing what to begin with, I had been working part-time jobs. During such a time, a photographer whom offer to do a test shoot, introduced me to DONNA, the agency I'm with now, and I decided to belong.
You've been walking on overseas runways too. What is the difference between Tokyo fashion week and other overseas fashion weeks?
The distance between models and guests is close on the runways of Tokyo fashion week, so there is a different kind of tension than at overseas fashion weeks. I also have the impression that a wider group of guests, including students, have opportunities to view shows in Tokyo fashion week, so it seems more open than overseas collections.
Of your past works, was there a turning point or any work in particular that is especially memorable?
Being chosen to be in the Louis Vuitton show in my first challenge to the Paris collection was sensational. I remember it was a very stimulating time, everything was new to me, with new developments one-after-another which I couldn't believe was real and it all seemed like a dream. Louvre Museum was the venue for the show, which gave me an acute realization of the scale of the Paris collection.
Is there anything you would like to challenge in the near future, whether in private or in work?
If I could do work related to cars or anime characters as a model, that would make me very happy.
In private, I'm an indoors person, but I'd like to become more active and I hope to travel as much as I can. I'd like to first start with domestic trips.
Translation by Aiko Osakio