Interview & Report

Naomi Kurahashi
THE RERACS Designer
Designer Naomi Kurahashi Born in Shizuoka prefecture in 1981. After graduating from university, I work as a sales staff at a select shop. During her enrollment I learned pattern making and textiles and started brand activities as THE RERACS in March 2010. When I was in high school I was shocked by the creations of RAF SIMONS and Veronique Branquinho Antwerp system, leading to the establishment of a brand.

Naoyuki Kurahashi Experience launching new brand and marketing at apparel companies. I experienced merchandising and buyers with collection brand and SPA brand. In charge of the direction of THE RERACS from the Autumn / Winter season 2011.
"THE RERACS", started in 2010 by Ms. Naomi Kurahashi, to which her husband, Mr. Naoyuki joined later, and presently, the couple create cooperatively. The brand, which has been growing steadily under its concept of scrap & build, has been participating in Rakuten Fashion Week TOKYO digitally for the last consecutive 3 seasons. As a brand expected to do even better in the future, we spoke to Mr. and Mrs. Kurahashi on their state of mind having presented their collection, and future plans for the brand's development.
This was your 3rd participation to fashion week, so how was your presentation?
While basing on the reflection points of past times, we've participated digitally 3 times already. We position collection presentations as a means to appeal to the market by showing our clothing and having the clothing speak for themselves, therefor the presentation itself was done in the form of a runway. This form, with well-balanced music and movie, I believe, is the ideal form of presentation which can be done in Japan today. We thought about doing a physical show but were feeling the breaking point of our creation. Whether physical or digital, we feel it is important to decide the form of presentation properly according to the ever-changing situations of the time, as a means of promotion of the brand, along as a means which will bring profit not only to us but also to the factories that handle our production and business partners.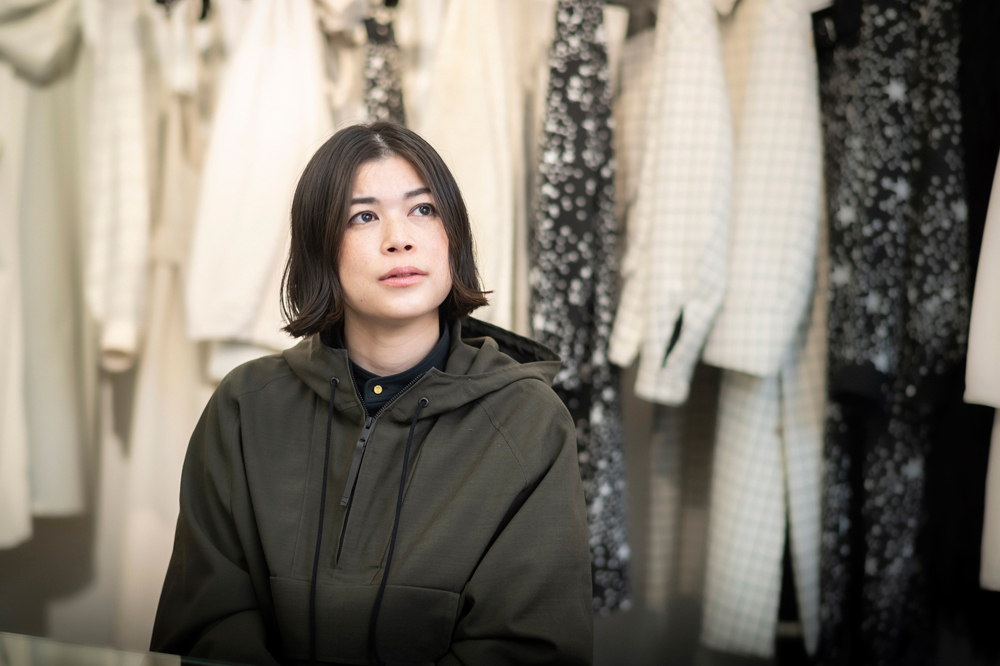 Please tell us the theme of your 21AW collection.
In both items and in the way of showing our movie, the theme this season was "impulse design". Without disrupting the precise and constructive image of the brand, we have added emotional and subjective aspects, such as impulsiveness or shock. In Japan, "design" and "designer" are words that have strong tendencies of meaning "artist", but as a sustainable brand, we are conscious of being an "architect" in our production.
How do you decide on your collection themes?
We often decide through sound mining. Of all the many sounds we come in contact with daily, there is a tendency to the sound we pick up, and there arises meaning. In many cases, we closely analyze these meaning, incorporate that into visual or design, thereby create our concept.
THE RERACS 2021 A/W Collection runway show
As a brand, have you been influenced by COVID-19 in any way?
No influence in design aspects, but the capacity of the production factory that cooperates with us deteriorated due to the pandemic, so while trying not to decrease sales itself, we had to change delivery, production processes, and adjust number of stock numbers. As for business, despite being under such situations, we are seeing an increase in sales of both women's and men's, with the men's ratio growing in the 21AW season, which, at this point is showing a 1.5 times growth.
While the sales of many brands are staggering, what do you think is the reason for your increase in sales?
Rather than increasing in new transactions, the digestibility of our existing customers is high, steadily connecting into next transactions, thereby a growth in sales. As for men's, the average purchasing amount of existing shops is increasing. In addition, the reaction to our movie has been great, with products introduced in movies uploaded on the WEB and SNS becoming sold-out on the day it was transmitted, reaching half a season's worth of our online store sales in a mere 3 weeks after release. I feel we are succeeding in appealing to our core customers.
Establishing a showrooming store, "THE RERACS FITTING HOUSE" in 2017, and this year, launching an order-made system to answer to customization, you are gathering attention, not only in your creation, but also in your business developments.
The fitting house is a place where our full collection can be seen, started with the hope to have customers see the whole image of the brand, its worldview, and with that, choose one or two styles. Despite being amidst the COVID-19 pandemic, the number of customers is growing, doing well also as a business model. Some customers order on the spot, some purchase online after returning home, and some purchase later from shops that carry our products. We started the order-made system to establish a sustainable relationship with our partners who bare our production background. The operation rate of Japan's production background is dropping, with an absence in craftspeople and managers occurring. We feel, unless we switch from the present small-volume production in great variety to an appropriate-lot production in small variety, continued production will become difficult, so we have positioned this as a model towards resolving this problem.
Please tell us of your present business situation.
Presently, as for number of accounts, we have business with 50 companies, all which understand us very well. As for overseas, in the past, we did an exhibit at Paris, and did business with a major account. The reaction to our exhibit was extremely positive, but due to difficulties such as delivery to overseas not matching Japan's production background schedule at all, strict conditions of local markets, along with considering our company's organization, presently we are limiting transaction to Asian markets, but we think THE RERACS is a brand which matches overseas markets extremely well, and we have been receiving many offers from overseas showrooms, so in the future, we plan to go out there again.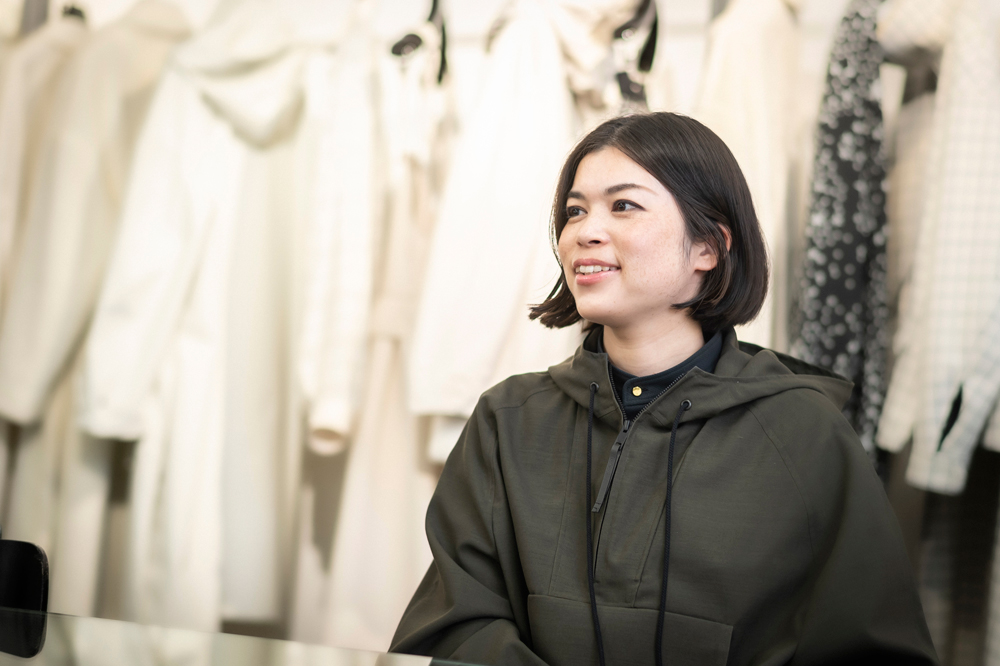 Please tell us your plans for the brand's future developments.
We wish to continue production in a way that the customers presently right in front of us, the business partners who cooperate with us, and the people of our production background, will all be happy. We are constantly hoping to be an architect that does not turn their eyes away from what they are seeing now and does not lie to their creation. Furthermore, we are aspiring to become a maison brand. Our present basic items and fashion is established upon the history of the West. The new-modern-classic which THE RERACS offers is a classic that only Japanese who made that history evolve can create, which we think is a fashion necessary to the world.