Interview & Report

Nicole Fujita
AmazonFWT 2018 A/W Official New Age Ambassador
Model / Talent / Designer
Born on February 20th, 1998, in Saitama Prefecture. Pisces. Blood type A.
An exclusive model belonging to the fashion magazine 'ViVi'. Appearing in over 330 TV programs in 2017, reaching the top 10 most appearing female talents. Her activities are wide in variety, also including CMs/event activities. In February 2018, started up the fashion brand 'NiCORON', which she produces.

Ms. Nicole Fujita was chosen to be the Official New-age Ambassador, to convey the attractions of Amazon Fashion Week TOKYO to younger generations. Starting her career as an exclusive model belonging to the high-teens magazine 'nicola', she is also active now as a TV personality, so popular that not a day goes by without seeing her on TV. Furthermore, this spring, she debuted her own brand, "NiCORON", demonstrating her talents as a designer. She says, she became interested in fashion from seeing the unique fashion of Japanese gals. The question is, how did AmazonFWT reflect in her eyes. We asked her of her impression of participating in AmazonFWT for the first time, her views on fashion, and others.
First, please tell us how you feel on being appointed as the AmazonFWT New-age Ambassador?
First, I wasn't sure I was up to the task, but when I twitted that I was appointed to be the (AmazonFWT New-age) Ambassador, I received hundreds of questions asking, "what's that?". I would be really happy if more girls in their teens and my generation could learn more about AmazonFWT and become more interested in fashion through my being involved.
How was it, participated in AmazonFWT for the first time?
Seeing a runway show for the first time, I got goose-bumps. For the DRESSEDUNDRESSED show, they let me go backstage to see rehearsals and the hair/make-up room, which was a really valuable experience. The live music performance in the show of BODYSONG. was really impressive, and I liked the music too. When I'm on-stage on a runway, it's of course important to show the clothing attractively, but there's also an aspect of confirming my popularity through the cheers I get, so quite honestly, I quickly realized the aim was different from when I'm on-stage. I thought, this truly the real thing (laugh).
What do you think is needed for AmazonFWT to spread among young people?
Utilizing smartphones, the most powerful tool of today, I'd like people to take a lot of pictures to keep as a record and look back at them later. I prefer Twitter over Instagram because it allows me to transmit words whenever something pops in mind, so I intend to tweet a lot more. I also think it would be fun if there were dressing rooms where people could try-on clothing which were announced on the runway and take pictures. People can check-out the designs and materials, so I think people would be interested in this.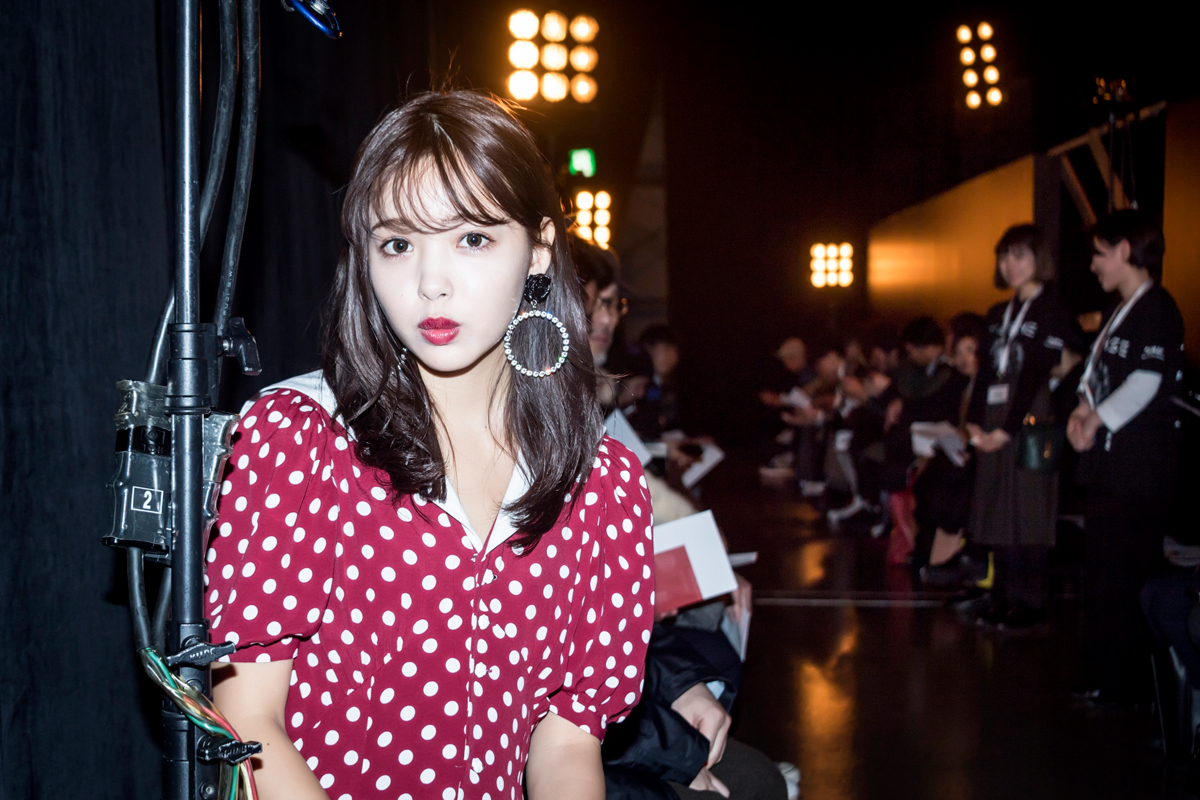 We'd like to ask you a few questions on your views of fashion. Is there anybody or anything you've been influenced by?
I've been influenced by gals, through the magazine 'Popteen'. There wasn't any one person whom I idolized, but I like those people of the Kumicky (Ms. Kumiko Funayama) generation, whom were models of 'Popteen' back then. Each gal with their own individuality were all shining, and made me think, "I want to be fashionable too!"
From a 'Popteen' model, you became an exclusive model belonging to 'ViVi' last year. Has there been any changes?
I wore just anything to 'Popteen' shoots and it didn't bother me at all, but at 'ViVi' shoots, fashionable members of the editorial staff are checking out my personal wardrobe (laugh), so I've become conscious of what to wear to the shooting.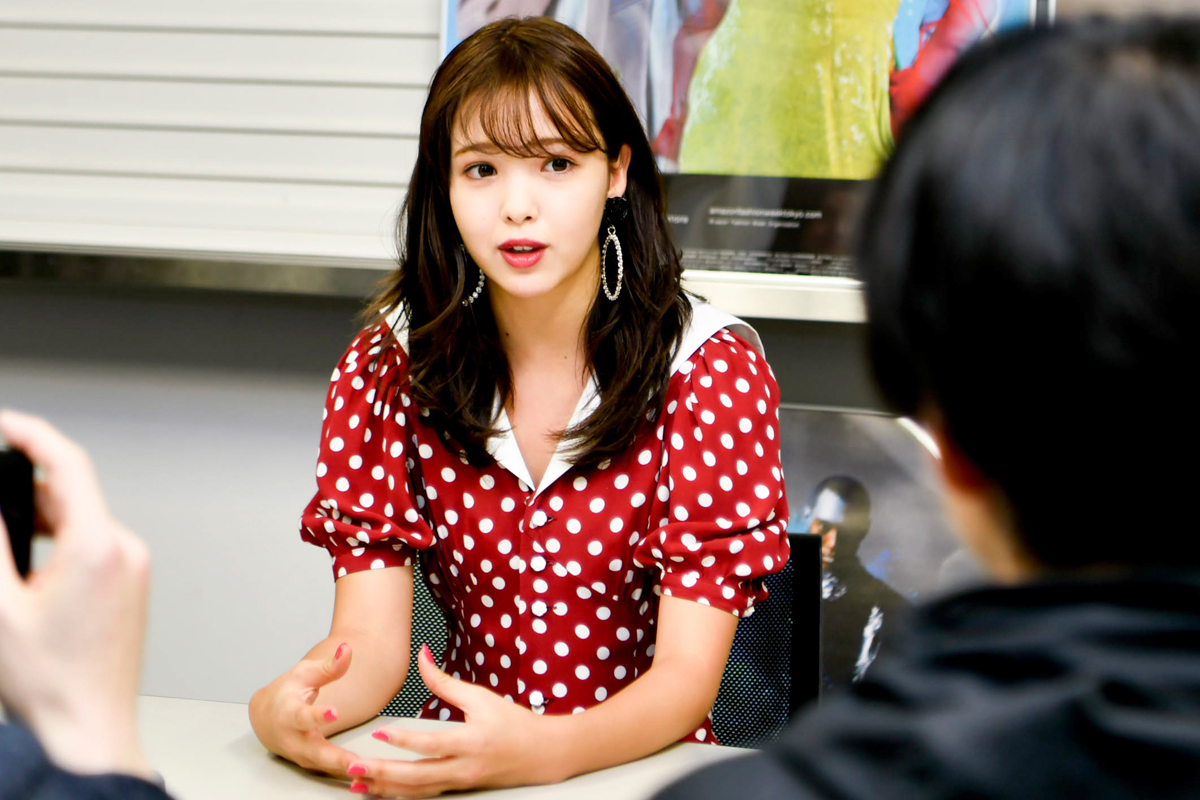 Do you have a favorite brand?
Usually, I like to find reasonably priced clothing at shops such as Lumine, and just jump into a shop when I find something cute, without limiting to brand. But G.V.G.V. which I'm wearing today, is one of my favorite, and I buy it as a sort of reward for myself. I couldn't see their show this time, but I had a chance to see their story, and it was filled with irresistible cute clothing.
How do you decide on your daily coordination?
I coordinate mainly with what comes to mind in the morning, but I like to add an eye-catcher in my coordination. When going to some place special, I tend to like wearing a skirt.
Is there any style you like in men's fashion?
In the show of KUON which I saw, there was a cute patchwork denim. If I had a boyfriend, I would love to see him wear that. I wear a lot of denim in private, so I'd like my partner to wear it too.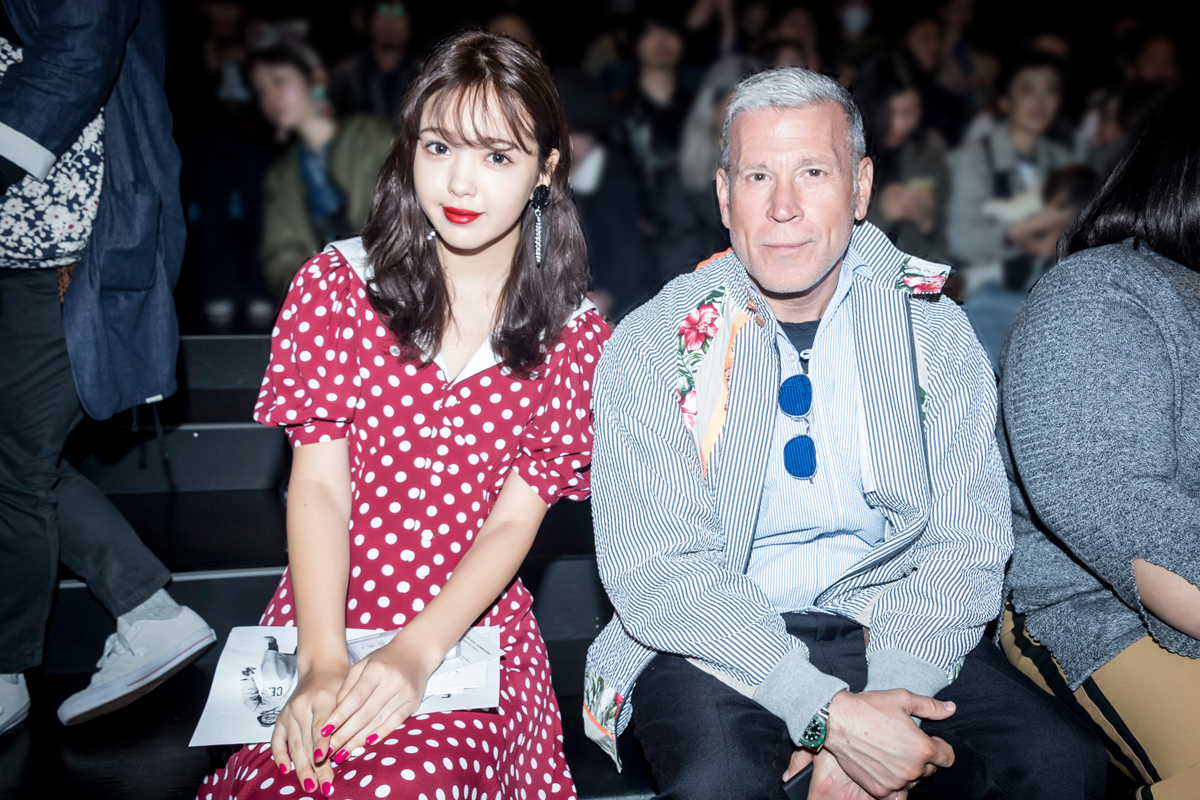 At the front of the show, Mr. Nick Wooster
INTERVIEW by Akane Fujioka
INTERPRETATION by Aiko Osaki