Interview & Report

Sarah Andelman
AmazonFWT 2018 A/W Overseas guest interview vol. 4
Founder of "JUST AN IDEA"
This season again, various leaders of the global fashion scene were invited to visit Japan as guests during the Amazon Fashion Week TOKYO 2018 A/W term. Among such auspicious guests is Ms. Sarah Andelman, former Creative Director of the Paris select shop "Colette", which closed at the end of last year, after 20 years of being loved by fashion industry people and fashionistas from around the world. This time, is came to Japan with her mother and founder of Colette, Ms. Colette Roussaux. On the day of the interview, she appeared in a stylish look, wearing a black BALENCIAGA hoody with the letters "Think Big" printed in the front and a long skirt. We've asked her about Colette, her present activities, her thoughts on TOKYO FASHION AWARD which she is a judge, etc.
We heard you are here with your mother this time. Do you often go on overseas business or private trips with your mother?
Yes, we often travel together. My mother enjoys it, and it gives us a chance to go out together.
Is there any shop or spot which excited you during this trip?
A friend recommended BEAMS JAPAN in Shinjuku and HIBIYA CENTRAL MARKET in the new Tokyo Midtown Hibiya, so although it wasn't a private showing date (this interview was carried out on March 24th, 2018), they allowed us a special visit. I liked how they focused on Japanese products, instead of carrying overseas items. I also visited "complex665", a gallery in Roppongi which was coincidentally just introduced in a French media. I also visited the Taka Ishii gallery, and the KAWS exhibition being held at PERROTIN TOKYO. I love visiting galleries.
When visiting Japan, how do you gather information? If there is any media which you recommend, please let us know.
I always do my information gathering right before leaving so I never have enough time, but in addition to the internet, I have a few friends whom are well informed about Japan, so they tell me the latest in Japan news. My friend, Ms. Julien David (Designer of Julien David) recommended going to BEAMS JAPAN to me. As for media, I frequently check Instagram.
You've been to Japan many times, and I think you are a well-informed person yourself, but do you have a favorite Japanese food?
I like everything. Especially anything based in maccha. I also love tonkatsu, and every time I come to Japan, I go to "Tonki" in Meguro. In Japan, even if I just walk into a restaurant or shop without knowing, the food is usually good, so I don't have any experience of failure regarding food here. Just earlier today, I didn't have much time in-between shows, so I bought my lunch in a hurry downstairs at Hikarie, but it was very good. Oh, I also like shaved ice. The other day when I went to Nakameguro, food wagons were lined up for cherry blossom viewing, so I thought I could get some shaved ice, but unfortunately, there wasn't any. I guess it's still a bit too early for that.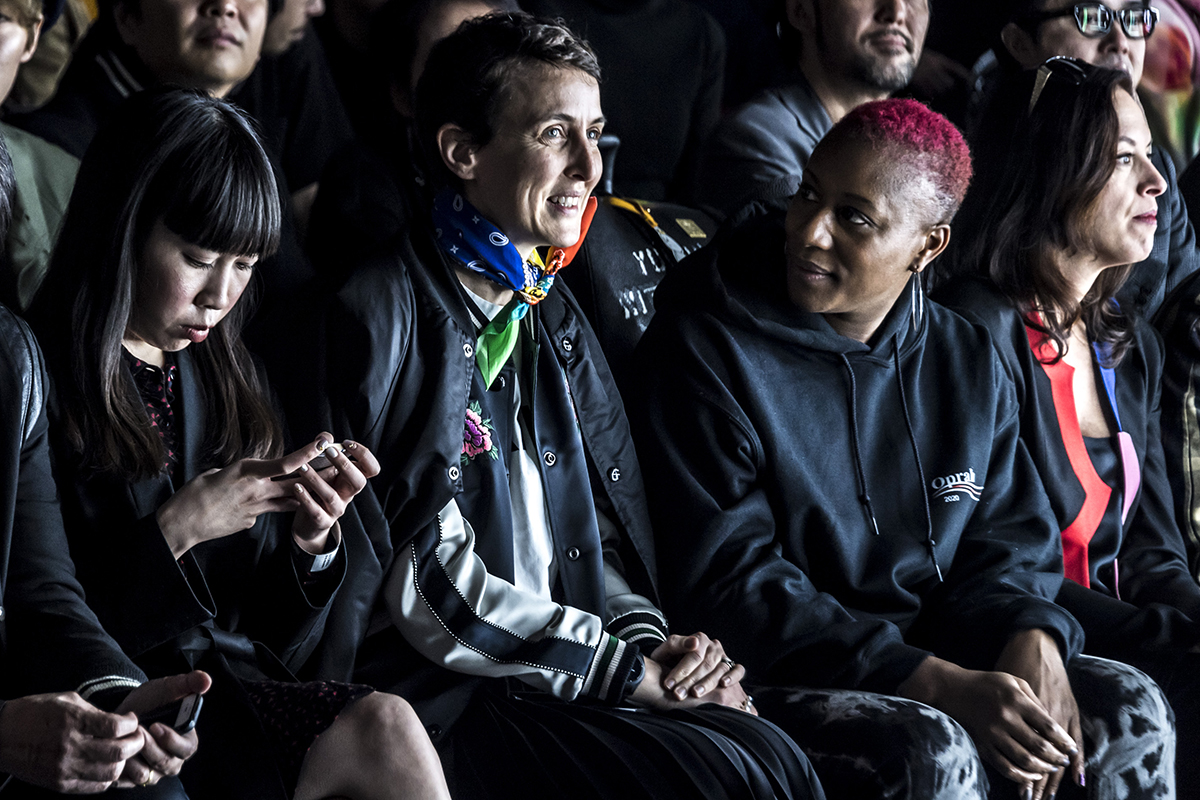 We'd like to ask you about fashion week. How is your impression of it as a whole?
Perhaps it is because participating brands themselves have fans, but I think there exists an amorous mood towards the whole fashion week. By the way, today (March 24th) I was surprised to see many people bringing little children or babies to the shows. I can't imagine what these little children, too young to understand what is going around them, feel by seeing a show (laugh). But this is something you would never see at the fashion week in Paris, so it was interesting. After all, it is a Saturday, so going out to see a fashion show with the whole family as a leisure may be nice.
Of the shows you've seen so far, is there any brand which caught your eye?
I liked BODYSONG.. The styling in BODYSONG. was interesting, the mix-and-match, the streetwear influence. And I loved the music band performance! I also liked the AMBUSH® show a lot, along with HYKE, TTT_MSW, JENNYFAX, KUON: all very strong and unique.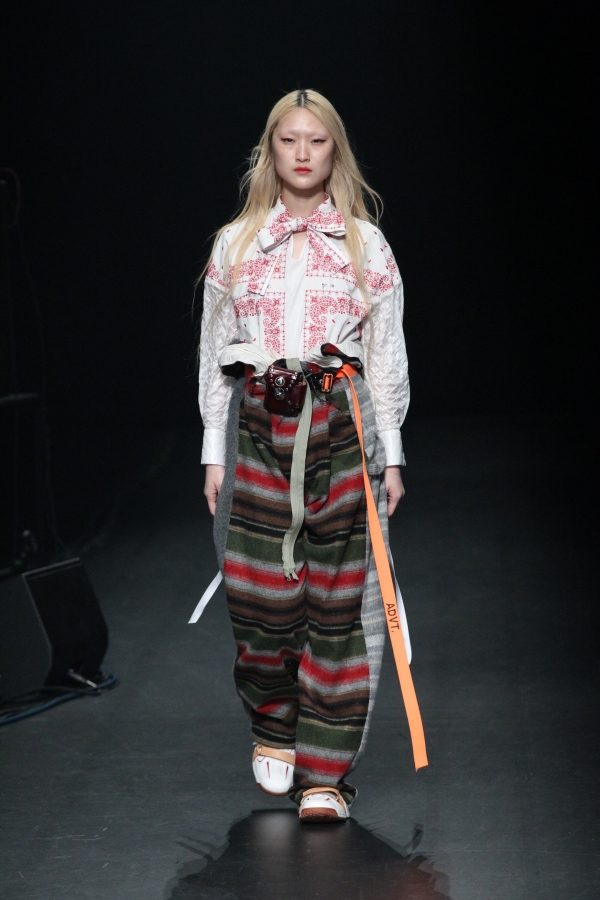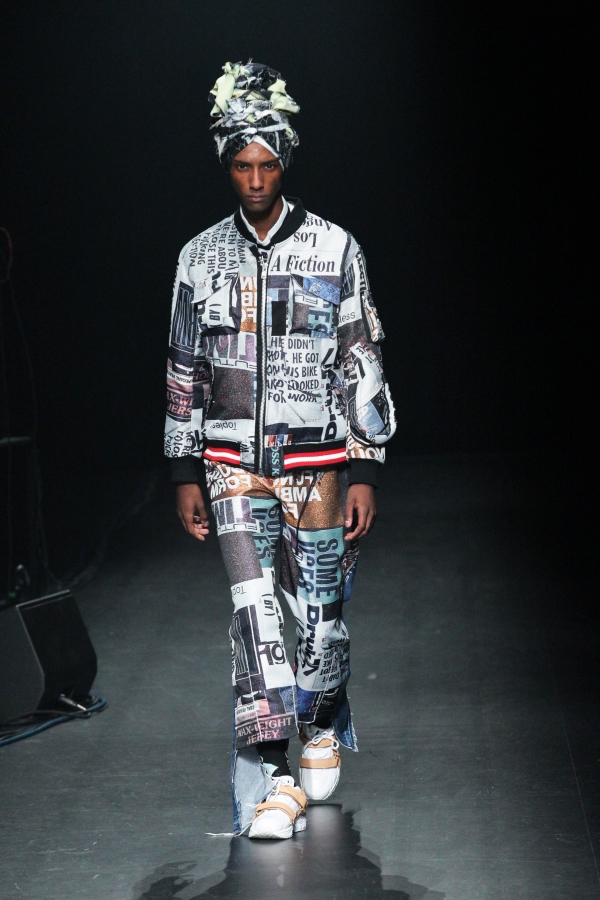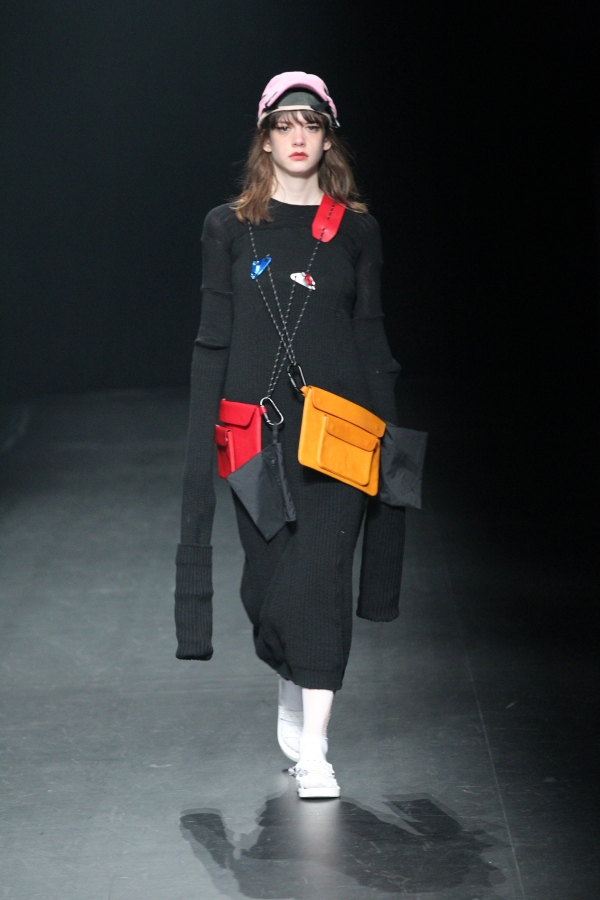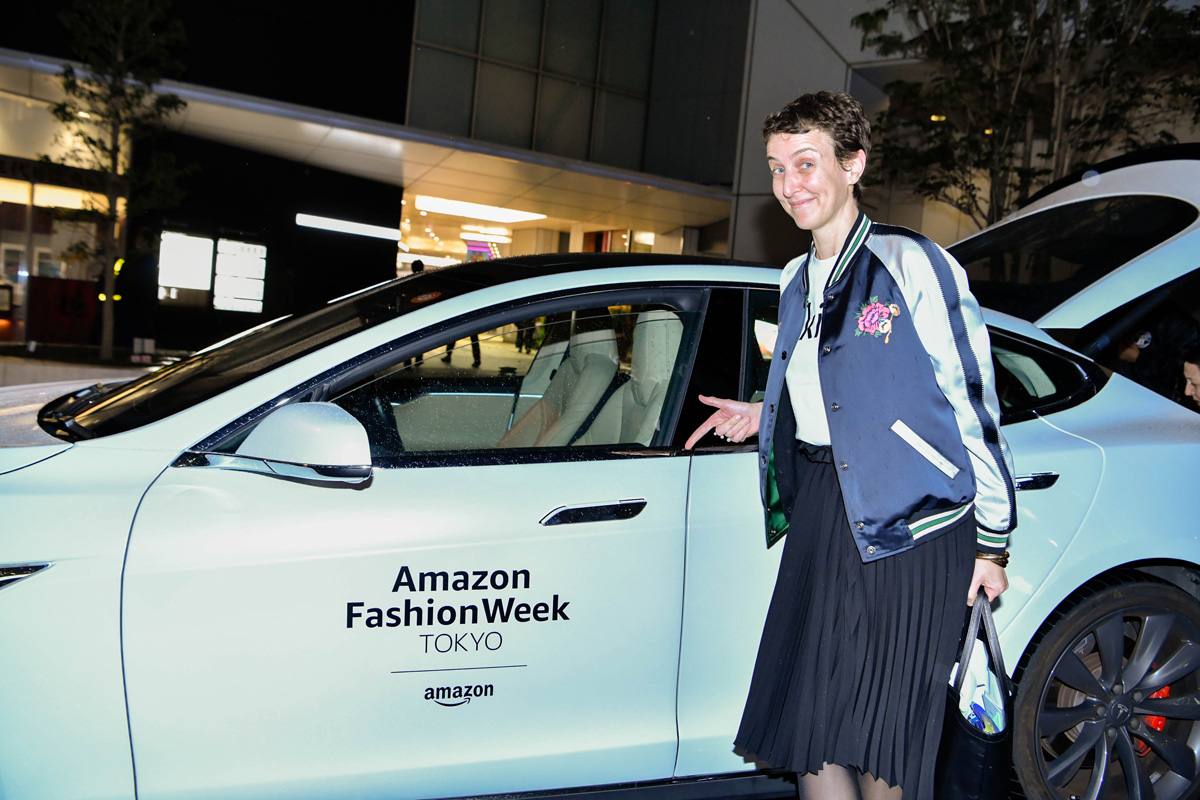 This is the 4th season since the title sponsor of Tokyo fashion week changed to Amazon Fashion in July 2016. Is there anything you feel has changed since?
I think Amazon Fashion "AT TOKYO" is a challenging and interesting project. The idea of serving food in an Amazon cardboard box-like bento-box in the AMBUSH® show was very good. I was surprised when they destroyed a TV monitor in the NEIGHBORHOOD show. I'm an Amazon user myself, and I conveniently use it daily, but I hope Japanese consumers don't forget to go out and enjoy shopping. I think, walking around town with carefully devised, cute shopping bags which are unique to each shop is a characteristic style and culture of Japan. Perhaps it is because I ran a shop myself that I feel this way all the more. Also, this is on the operation side, but the TESLA car provided for our coming and going was extremely comfortable, and the driver was a great veteran, very knowledgeable of Tokyo streets. It made my time spent here very comfortably. It was truly fabulous!
At the end of last year, you closed "Colette", the select shop your mother created, and you worked as the Creative Director. This was big news among fashionistas around the world, and I'm sure you received many voices sadness. Looking back at the 20 years Colette was in business, how do you feel?
It was a wonderful 20-year long adventure. The shop was renovated many times along the way, and I was happy to have worked with my mother. My mother decided it was time for her to retire, and without Colette, Colette just wouldn't be the same, so it inevitably came to an end, but at the same time, I was hoping for a little more time for myself, so the timing was just right. However, I enjoy the job of buying, so even though I may not open a physical shop, I intend to continue work along the extension of what I have been doing at Colette, such as collaborating with a brand, or making something.
Colette was famous for its show-windows collaborating with various brands. Is there any collaboration which is particularly memorable?
There are so many, it is hard to remember … but the one that immediately came to mind is the flower installation done with Mr. Makoto Azuma. The window was his second installation at Colette. He did an upside-down banzai long time ago. Then he proposed this idea with hundreds of small bottles and it was such hard work for his team, but such a beautiful sight! It was called "Flowers of Romance". For our last show window, we filled the windows with piles of TV monitors, and showed all our past show windows as an archive.
After closing Colette, you've started up "JUST AN IDEA". What sort of company is this, and where does this name come from?
Everything starts from my idea of "how about this?", so the name of the company, "JUST AN IDEA" is a direct reflection of this. As for activities, I'm thinking of doing all sorts of things, such as brand consulting, POP-UP project planning, etc. I can't give you specifics because at the moment I work behind the scene, but I'll be participating in a new project by the WEB media HYPEBEAST.
Could you please tell us your future aspirations for "JUST AN IDEA"?
I'm also interested in art and food, so I hope to extend my field of activities without limiting to genre. Furthermore, I would also like to challenge myself in all sorts of collaborations and new things.
Finally, is there anything you are presently keeping your eye on?
Presently, my main interest is in the environment, such as sustainable and ethical. This is an interest for everyone, and I hope to be a part of it in some way or another.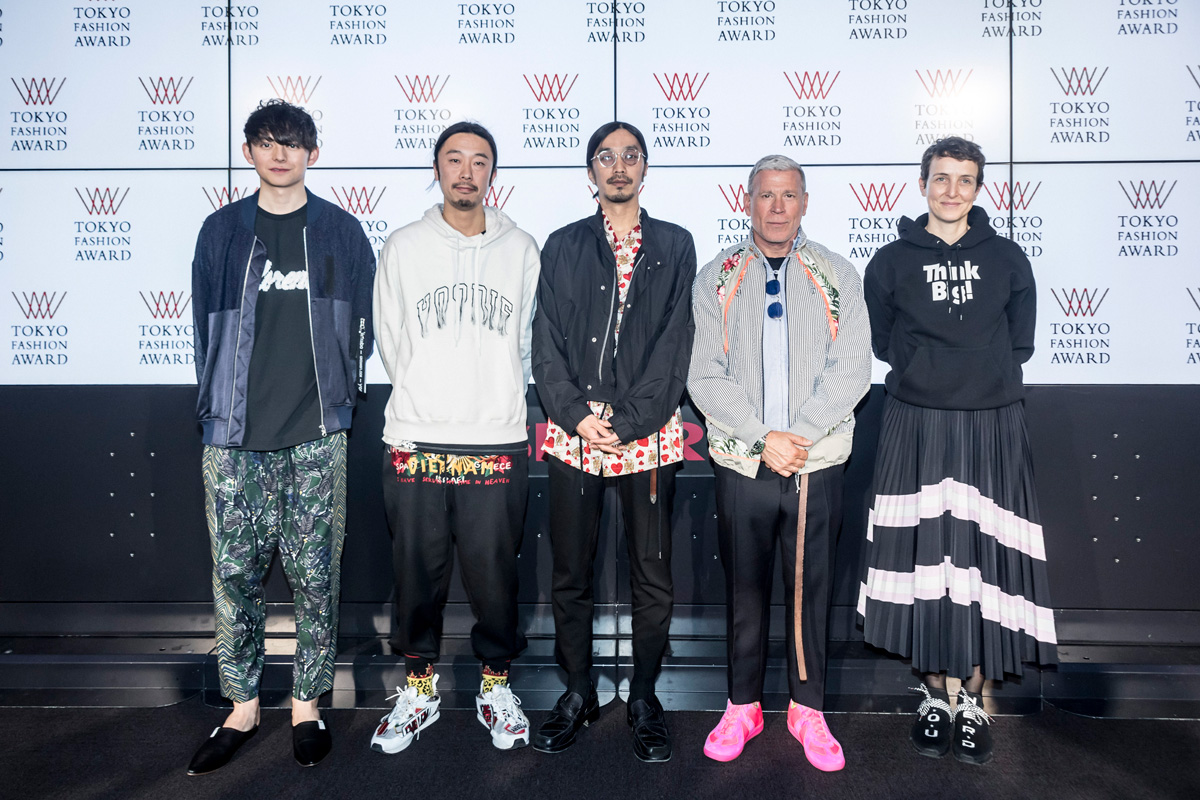 TOKYO FASHION AWARD WINNER'S DAY Press Conference on March 24, 2018. Left to right: Mr. Harry Sugiyama, whom acted as the MC, Mr. Masayuki Ino (designer of "doublet", award winner of the 3rd year), Mr. Shinpei Yamagishi (designer of "BED j.w. FORD", award winner of the 3rd year), Mr. Nick Wooster (overseas jury) and Ms. Sarah Andelman (overseas jury).
INTERVIEW by Akane Fujioka
INTERPRETATION by Aiko Osaki