Interview & Report

nishina
Artist
An aspiring new artist gathering attention, being selected in "RADAR:Early Noise", a support program by Spotify for next generation artists capturing their attention. Characteristic for her soft, fleeting, intoxicating voice sensitively weaving a unique sense of words. Her songs, gentle yet encompassing an inner madness, is infatuating the hearts of listeners.
Ms. Nishina, an aspiring new artist whose latest single, "Slow Motion", was chosen as the season theme song in the first-ever effort of creating a season promotion movie of Rakuten Fashion Week TOKYO 2022 A/W. We spoke to her on her impression of the promotion movie, things she holds dear in writing songs, preferences in her own fashion.
Rakuten Fashion Week TOKYO 2022 A/W Season Promotion Movie
Please tell us how you felt when you first heard that "Slow Motion" was appointed as the Rakuten Fashion Week TOKYO 2022 A/W season theme song.
I was purely extremely happy. I like clothes too, so as I enjoy fashion myself, I hope the viewers of the movie will enjoy fashion along with my song. I've heard that designers around the same age as me are participating in Rakuten Fashion Week TOKYO. As for myself, I just debuted recently with my music, at a position of just trying to do my best and give it my all. Since I've been blessed with this opportunity, so despite the difference in genre, I hope we can be a positive stimulus to each other.
Having seen the promotion movie depicted in animation, what is your impression of it?
I feel, in making the movie, they must have listened to Slow Motion repeatedly, and I was really excited how it would be expressed. In scenes which overlap with my MV of "Slow Motion", directed by Ms. UMMMI., an artist and film director, an animated me was depicted. This was very fresh, and I was happy to see it. There are all sorts of girls depicted in scenes of all sorts of towns which I felt overlap with myself, and I think it is a wonderful movie which many viewers can relate to.
I'm curious how my listeners will feel about the promotion movie once they see it, and at the same time, because it was made into an animation, I think people's understanding of my song will deepen.
In your lyrics, such as "flowers for the night I lost my correctness", we feel a sense of strength in your core of being yourself yet being able to see yourself objectively. It also feels like you are expressing the inner strength of young people living in an age of diversity. Are there times that you yourself are aware of diversity and/or strength?
Yes, there are. At times, music is written for the people who listen to it, but basically, music is not supplied to fulfill a demand, and I feel really blessed to be able to have people listen to the music I want to make. If and when this balance falls apart, I think I will loose my meaning for making music, so I hope to continue holding dear to my own characteristics and the things I wish to convey.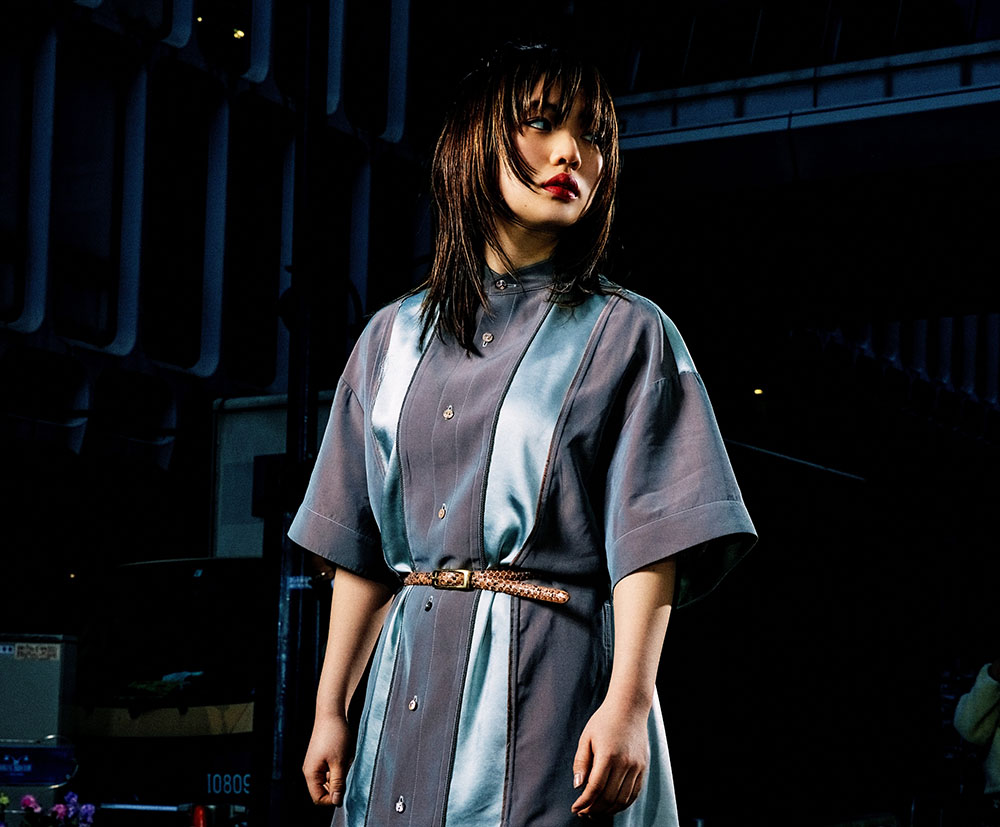 Is there anything you are especially particular about or hold dear in writing a song?
I am careful about maintaining a balance between my thoughts and senses. For examples, in "Slow Motion" there are lyrics that goes, "inorganic solitude, Em7". This "Em7" is a word I felt I wanted to use instinctively. But in writing a song, it must be written so people will understand. So, in order to maintain a balance, I tidied it up so the meaning will be perceived without being too explanatory.
The lyrics, "slow motion when in love" also feels like an out of place expression, in a good way.
This is also an expression I included instinctively. When you fall deeply in love and become head over heels for someone, waves of strong emotions are born. It's sort of like seeing a glass vase drop and shatter on the floor in slow motion, when in actuality, it is falling in high speed. I thought, being in love felt something like that.
Has there been any change for you amid this corona pandemic?
The way I create my music hasn't change largely. Just that, yes there are time I feel constructed and elusive because of the corona pandemic, but at the same time, I realize, everybody else is probably feeling the same way. The same when I'm depicting loneliness. I feel I'm not the only one and there exists a lot of loneliness in the world, and it's like being in a group of friends with the same interest. Maybe my way of capturing words is a bit different from others. I also feel I've learned about sense of values. I've written songs about falling into a bottomless abyss, but now, having looked at loneliness and solitude from a different angle, I'm thinking about writing songs with a bit of a more positive insight.
What is fashion to you?
For me, clothes are things which determine the mood of the whole day, and/or my stance of the day, so I choose depending on the kind of person I want to be, day-by-day. If I'm feeling, let's get my energy up!, the stronger I feel I tend to choose pop colors, but if I'm feeling, today I'm going to be myself!, I would choose to wear jerseys. I don't think I've ever been particular about genre or categories. Rather, I think I'm the type that can't narrow down to wearing only one genre. I also own a variety of bags, accessories, small items, too. This year, I'm thinking of challenging hats.
Finally, we asked Ms. Nishina for a message to the viewers of this first time ever season promotion movie of Rakuten Fashion Week TOKYO.
I think there is a limit to expressing oneself in words only. Because it is so difficult to convey one's feelings and thoughts by words only, I depict the feeling of "doing the same thing to others" in the song, "Slow Motion" also. I think, fashion is also a tool which expresses things which cannot be put into words, and so, I hope that I myself, designers, and all people enjoying fashion, may continue to express a self, befitting oneself.