Interview & Report

Norio Terada
YOKE Designer
After graduating from Bunka Fashion College with a major in design, she worked in design and production management at several domestic brands and select stores before going independent in 2016 and starting her own brand in 2018 AW.
"YOKE", the award-winning brand of the seventh "TOKYO FASHION AWARD 2022 (hereinafter indicated as TFA)". At Rakuten Fashion Week TOKYO 2022 A/W which they participated as a triumphant return event, portraying the venue as an "1 hour only museum", they expressed a unique worldview under the theme of Clyfford Still, the American painter. With models wearing the collection sitting on a bench appreciating artworks or stopping to look at a piece as if in a museum, this never-before unique style of walking gathered attention. Their designer, Mr. Norio Terada, who, while synchronizing with the worldview of artists, adds his own sense as a fresh taste and applies it to his collections. We spoke to him on how he establishes his seasonal themes, future aspirations, etc.
With your last collection, you experienced the brand's very first runway show. What were you feeling in challenging it?
I have been admiring runway shows since I was still a student, but I never dreamed I would one day be presenting one. To tell you the truth, being able to do a show was one of the reasons I applied to TFA. So, I was pretty psyched up. During our numerous discussions with the producer on directions of the show, it came up that since this is a YOKE show, it would be great if we could realize a museum-like production. And if we were going to do this, it would be unnatural to have models appear on stage twice like in regular shows, so we decided to have a different model for every look, with a variety of race and age. At a museum, people might sit on a bench, or stop and stand to view a painting, walk back to view paintings that especially caught their attention, etc. By straightforwardly expressing this, we felt we can create a memorable runway.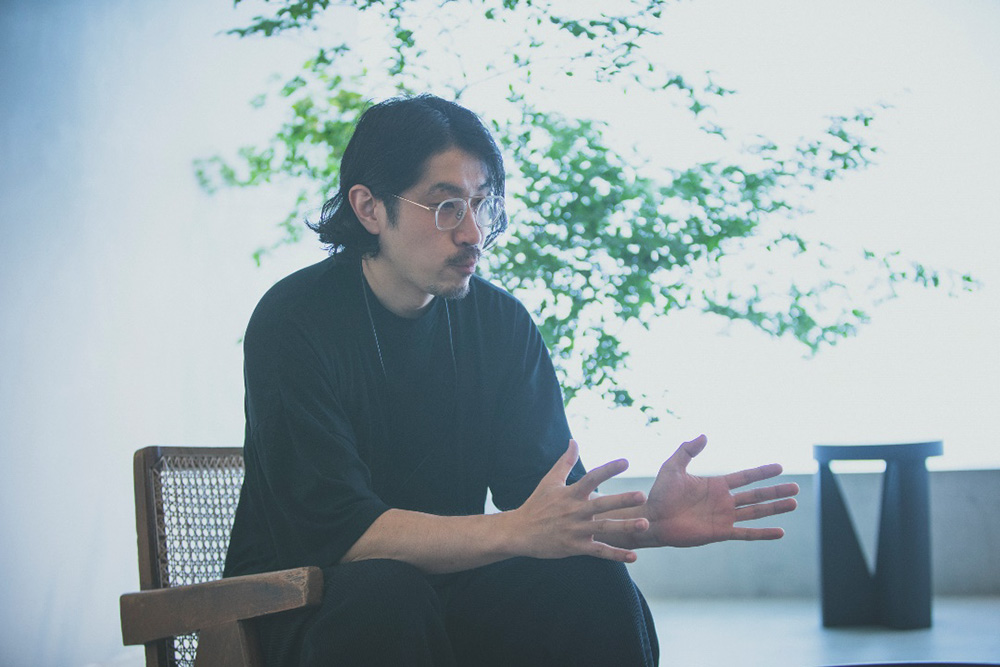 At the venue, works of artists who had a hand in forming the YOKE brand were also exhibited. And behind the brand name YOKE, there exists feelings of "connecting", "bond". Were these feelings behind your show also?
Yes. Up to now, many people have been involved with, and have helped us with the brand, including photographers of our looks, so utilizing this precious chance of presenting a show, we wanted to express such connections also. We spoke to everybody after we decided on the contents of the show, so it ended up being an extremely last-minute tight schedule, but everybody willing accepted the task, which made us happy. We are truly happy and thankful for being able to present a runway to the best of our present ability, with the help of all sorts of people.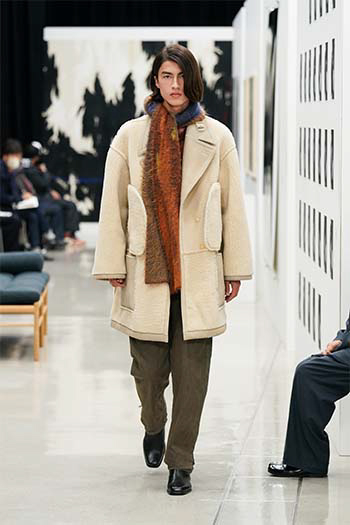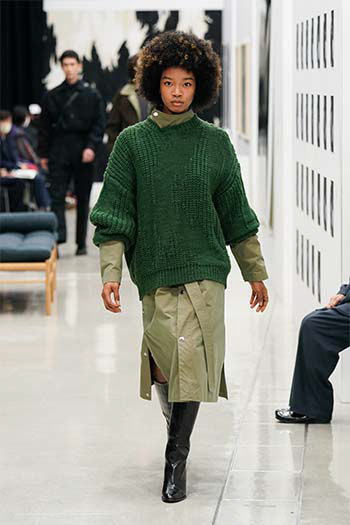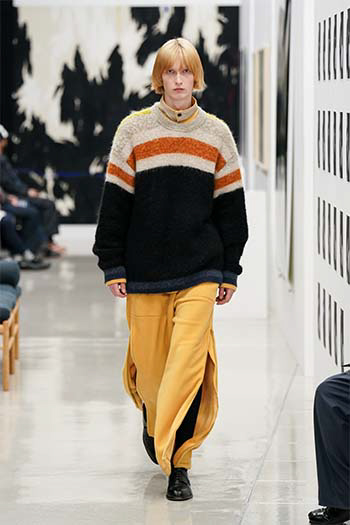 How do you decide on your themes every season?
The brand name carries the meaning of "connecting", and for some reason, everything has been linked to each other continuously. In our 2019 A/W collection, the theme was Anneliese Albers, the textile designer, and the next season, the theme was her husband, the artist, Josef Albers. As I was looking into related people, I bumped into his work which fit my mood at the time, and his colors seemed perfect for S/S. In this way, timing wise, I tend to choose people linked to the person before as the next theme. To give our clothes a meaning of being a piece in our artwork collection, all YOKE items are numbered with a serial number. I am hoping such characteristics will also link well with art.
Is there a reason for you often choosing painters as your theme?
Before entering Bunka Fashion College, I had been attending an Art University, and I favored painting since I was a child. As a student, I liked to paint myself, but it was after I started making clothes that I began to research into the artists themselves. When I was searching original ways to approach clothes-making, at one point I thought I could incorporate artists' styles or color tones in collections. I vaguely thought, I like this, this is me.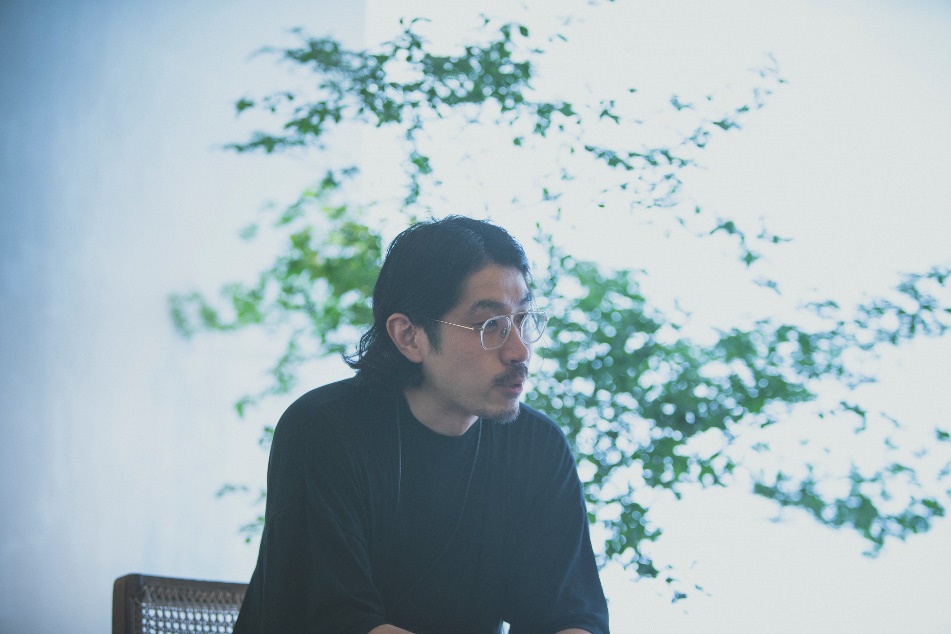 You started up YOKE after having experienced working at various brands. Are there any creators you have been influenced by in your production methods?
The designer of the company I had been working for immediately before starting my brand. I worked there for 5, 6 years, but their quality in production was much greater than others, and their particularity towards materials was outstanding. I learned that in men's clothing, it is important that it looks beautiful when seen hanging on a hanger, and has a beauty in itself. I also learned about being particular in choosing materials, and the importance of balance in design. At YOKE, I hope to continue making through my own approach method, while adding a touch of designing or some sense of fun to what I have learned.
Today, we are seeing an increase in number of brands actively involved in SDGs. What are YOKE's thoughts on SDGs?
Rather than assertively using sustainable materials, we value delivering necessary amounts to necessary people, so we don't end up with left over stock. I am conscious of sustainability as much as possible, but I don't want to force my hand so much so that my creativity and products seem fake. At the moment, I think it is important to use materials which exist nearby, that I think are really good, such as organic cotton. I am particular about the materials I use, but rather than using materials that need to be explained extensively for them to be understood, I choose good quality materials that by just touching, makes people think, I wonder what this is made of. It would be great if a natural flow of such materials being sustainable as a result becomes true.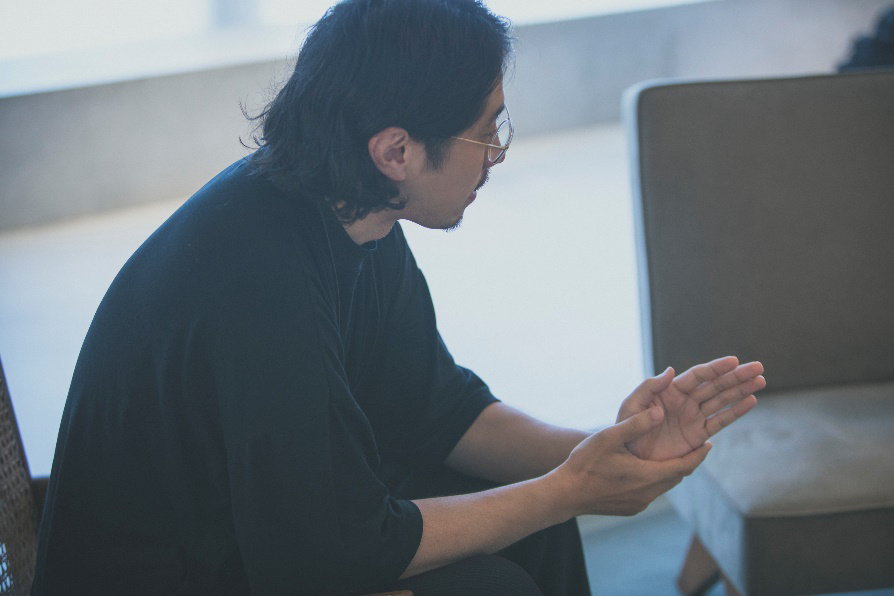 Finally, please tell us your future developments or aspirations for the brand.
Participating in TFA has enabled us to hold an exhibition at Paris and see the reactions of overseas people, so we are hoping for more overseas developments. In Japan, colors such as beige, olive, black are preferred, but in Europe, people were interested in more opulent colors, so from here, we intend to make colors our forte more. Also, I would like to present a runway show at Paris. I learned painfully that at overseas, people will not even give a brand a glance unless it has some brand value, so if there is a chance to present a runway show, I would love to challenge it. What I wish to try within the year is to open our atelier for a limited time, to have customers see our collection directly. There is much we can learn by coming face-to-face and speaking to our customers, and at the same time, it allows us to convey our feelings, thoughts as creators. It is my hope and intention to make such a space