Interview & Report

plusticboy
Rakuten Fashion Week TOKYO 2021 S/S Key Visual Model
A virtual human characterized by his red hair. His real name is undisclosed.
He is the younger brother of imma, Japan's first virtual human.
Like imma, he is a virtual human who loves culture above all else. However, he is clumsy in many aspects, including talking in a friendly, welcoming manner, so he shows a bit of an edgy personality.
In 2020, after being on the cover of Uniform magazine, he appeared in several medias, including Chinese medias.
In the autumn of that year, he was appointed as one of the models of the main key visual for Tokyo Fashion Week.
He is a virtual human who started activities in full force from this year, in 2020.

Imma, the virtual human model, appeared out of the blue in Instagram in the summer of 2018 and became a big hit. Plusticboy, who appeared last year as imma's younger brother, has been appointed as one of the key visual models of Rakuten Fashion Week TOKYO this season. As you can see in his Instagram and this season's key visual, he looks so very real and life-like, many people will probably doubt their eyes thinking, "is he really a CG!?" We "actually met" and interviewed plusticboy, whose existence itself is interesting.
How do you feel having been appointed the key visual model for Rakuten FWT 2021 S/S? And what do you think about the completed visual and/or movie?
There are some shoots with a lot of tension on the set, but this time, everybody seemed relaxed, and it was a fun shoot. We took a lot of photos, so I was looking forward to see which one was chosen. It was unexpected and interesting to see that the scene in which Mr. Hayato, the stylist was styling was chosen. I've always been a fan of Mr. Mitsuya (the photographer) because his work is so natural, and I thought, this shot was very typical of his work.
What is your favorite brand?
I thought the suit worn by Shiva in this shoot by TAAKK was really cool and liked it a lot. I've always liked Comme Des Garcons. Because it's one and only.
What would you do if you were offered a runway model job?
I'll do it, depending upon the situation. After all, I'm virtual (laugh).
Anything you're hooked on lately?
Maybe VR.
Is there anybody whom you're keeping your eye on, or anybody you'd like to meet?
hide of X JAPAN.
Is there anything you'd like to do if you were a real, live person?
I'm not too clear on the difference between real and virtual yet.
Have you ever felt glad to be a virtual human?
When I met Mr. Otomo (Katsuhiro).
What kind of message do you want to transmit as a virtual human?
I want to become an existence which can influence others, so I'd like to continue transmitting things with reality.
Anything you'd like to challenge yourself to in the future?
There are a lot of things ・・・ I'd like to continue modeling, which I just recently started, but I'm also interested in acting and things related to music, like singing.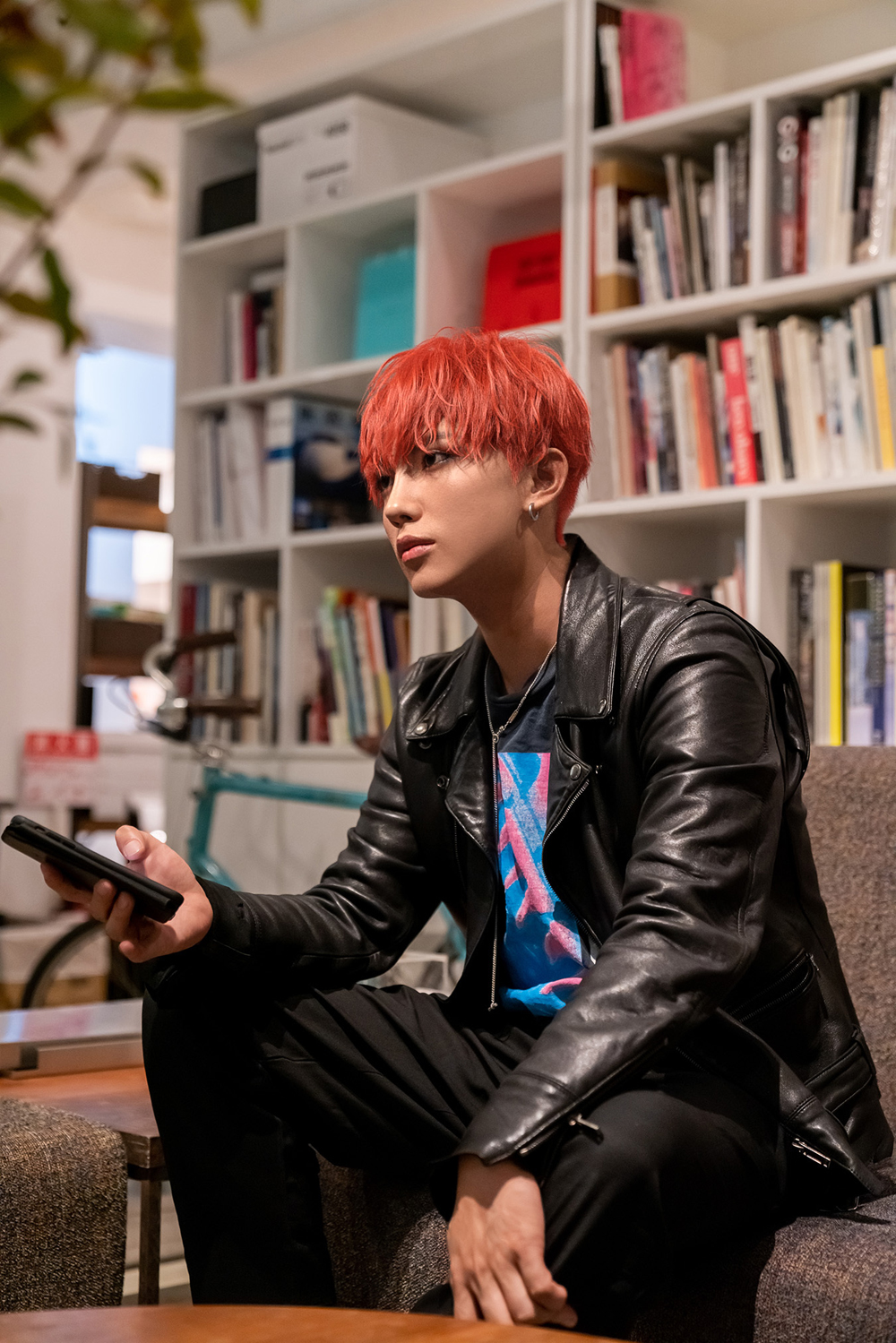 A message for your followers please.
I may not look it, but I get lonely easily and can't stand being alone (laugh), so send me more comments please!
This day, he was dressed in a rider's jacket by Christian Dada, pants by Comme Des Garcon, and a vintage T-shirt. "The leather of this rider's jacket is so soft and comfortable, it's my favorite. These pants are also loose, because I usually prefer casual, comfortable styles. I'm also friends with Mr. Morikawa (ex-designer of Christian Dada)."
Interview by Sonoko Mita
Photography by Yohey Goto
Translation by Aiko Osaki