Interview & Report

Shinpei Yamagishi
BED j.w. FORD Designer
Born in Ishikawa prefecture, Japan. After graduating from high school, he moved to Tokyo and entered the fashion industry. In 2010, he started BED j.w. FORD.
It has been a year and a half since BED j.w. FORD high-jacked the show venue of "MAISON MIHARA YASUHIRO" at Paris in January 2020. The brand which has switched their place of presentation to overseas since June 2018, after having won the TOKYO FASHION AWARD, is scheduled to present a runway show at Rakuten Fashion Week TOKYO this season, for the first time in three years. We interviewed their designer, Mr. Yamagishi, who says their creation has been greatly influenced by this global pandemic, about their highly expected 22SS collection and prospects of the brand.
After the guerrilla show you presented at Paris in January 2020, the global pandemic broke out. How has business been for BED j.w. FORD after that?
The show at Paris had become a fantastic opportunity for the brand to be widely acknowledged, but the pandemic broke out immediately after the show, leaving me with a feeling of incomplete combustion. Even if we receive an offer, it doesn't connect to actual business until we meet face-to-face to discuss details, so I'm hoping to go to Paris somehow next January, to discuss business. As for sales itself, although we feel a difficulty in remote sales and communication, sales are increasing. However, we have been increasingly hearing stories about shops closing, both nationally and internationally, so as a collection brand we are feeling a strong sense of crisis, and we cannot be optimistic about the situation.
Has the pandemic influenced your creations also?
When the pandemic broke out, my brain froze. I completely lost sight of why or for what I should aim towards in making clothes. I enjoy seeing people's reaction to the clothes I've made and value that moment, so I felt totally stressed out by the situation of not being able to show people. For a while, I came to the point that I didn't even want to make clothes, and as a result, in the season directly after the pandemic, I created a collection with much less pieces than usual. Rather than it being a creation following philosophy as a designer or brand, it felt more like simply following a production process, and during this time, I reevaluated my methods, building-up production aspect by strengthening cooperation with platforms. As time went by, I became able to shift change with my eyes fixed on post-pandemic times, and now I am feeling a sure response in continuing to create clothes.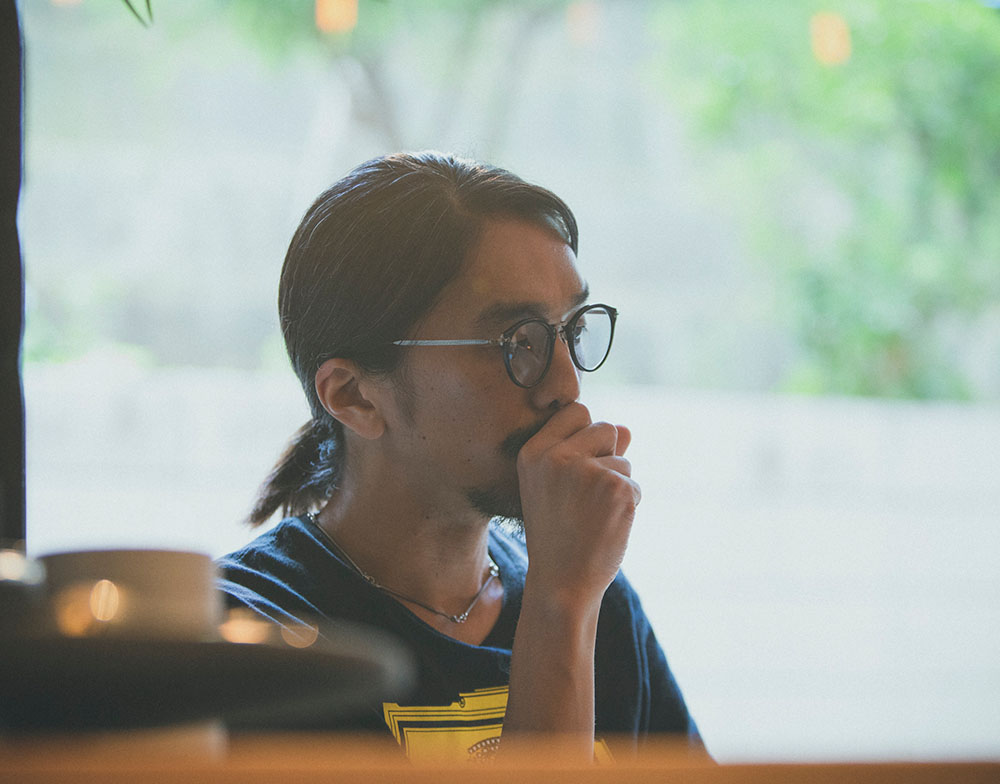 Please tell us the theme of your 22SS collection.
The theme is "epiphany", with a picture-diary-like image. Epiphany means a beautiful instant which rarely falls upon poets. Because of the difficulties of the present situation, there are regional towns at which people are turning away from clothing, so after our last exhibit, we sent a flower to our business partners with the thought of "let's get through this together". Then, those business partners who received a flower started uploading a photo of the flower in Instagram, one-after-another. That made me so happy, and I was so touched. It made me re-realize that it is small things such as this that makes the heart beat. Since then, I began to take memos or take photos of everyday ordinary things, thereby building up the collection theme. Things like loquat fruits in the yard growing daily, things that people did for me, being impressed at an individual exhibition. It is a collection conceived from beautiful instances born from day-to-day ordinary life, with eyes turned toward each and every such unchanging emotions, passion no matter what happens to the world or brand.
This term, you will be participating in Rakuten Fashion Week TOKYO for the first time in three years. Please tell us how you feel now.
My feelings haven't changed since the last time we did a runway show with Christian Dada, and I am very excited. It may be because of the corona virus outbreak, or perhaps it's simply because I've aged a bit, but my thoughts towards shows have begun to change a little, and instead of a tense, nerve-wrecking show, now I just want to have fun. I just want to make it a show in which the guests who came in the middle of the hot summer will feel satisfied that they came despite the heat, feel happy to be a part of and happy to have shared some fun time with us.
To you, what meaning does a show have?
To be honest, up to now, in some ways I was doing it to show off and parade my talents, but now, I've become confident enough not to put on a brave front, so I think of it as a place to have my guests have fun and enjoy themselves. I am confident that once seen, the clothes I've created will be highly praised, so in the show, rather than looking close at the details of each piece, I hope for guests to feel the mood, the comfortable air. Up to now, I had the tendency of appointing pretty, thin models, but my selection in models is changing too.
It appears the stage at which the brand is putting up a fight has changed. We are truly looking forward to your runway show at Tokyo. At Rakuten Fashion Week TOKYO, we are also paying attention to ways in which sustainable fashion can exist. How do you wrestle this theme?
It is an extremely difficult problem. To be honest, there is nothing we do especially as a brand. Growing up in an atmosphere of living within a five-minute walking distance from the Sea Japan, at my hometown, some of my classmates are passionately dealing with this problem. Because I know how serious they are in their efforts, there is a part of me that feels I shouldn't speak of it lightly, plus, doing it because SDGs is mainstream in European and U.S. fashion business today would be getting my priorities backwards, and there is even an infestation of fashion business utilizing the argument for SDGs against them, ignoring the inconvenient truth of decomposition techniques of water which arises during the recycling of textiles, which seems out of alignment to me. There are colors, textiles, various instances which cannot be expressed by organic materials only. And moreover, creating based on SDGs does not fit my philosophy. What I can do as a creator is, not carry excess stock, fix if it rips. The only things I can do are such simple, ordinary things, but to carry them out with care.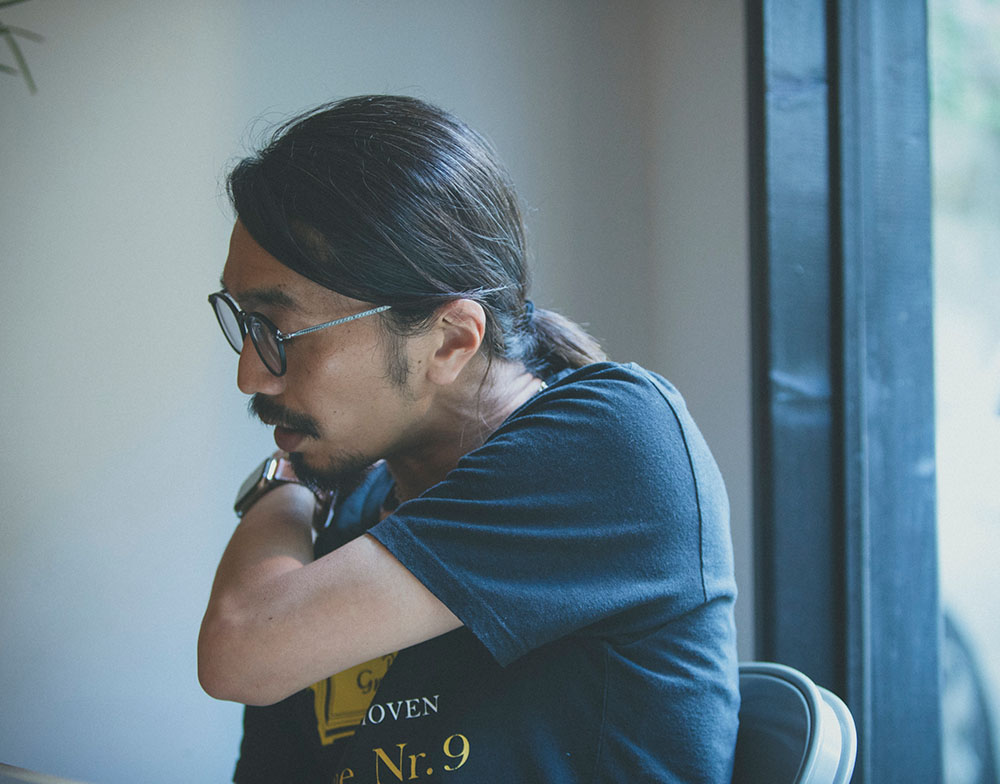 We feel your honest posture will be a powerful message as a brand. Finally, please tell us about your prospects for the future, as a brand and as a designer.
As a designer, I would like to continue honest, no-excuse, directly as I imagined activities. When I try to pursue my thoughts, at times there arises a dilemma as a business, but at such times, I hope to step back and ask myself the question, "why am I doing fashion", thereby remaining firm on my initial intention.