Interview & Report

Shunsuke Aoki (BODYSONG.)
TOKYO FASHION AWARD 2018, Award Winning Designer
After independence from the design studio, started the brand under the name "BODYSONG." Work on projects of art and design as well as clothes with "Improvisation" as the key word. We are actively doing costume fabrication and collaboration work for musicians, artists and others.
Holding up 'improvisation' as their concept since the establishment of their brand in 2010, BODYSONG. led by Mr. Shunsuke Aoki has expanded through independent activities. This brand, which has built its own unique standing with a hybrid sense reminiscent of influences from an internet culture and collaborative works with artists of various fields not limiting to fashion fields, was an award winner of the TOKYO FASHION AWARD, presenting exhibitions at Europe for the first time and a runway show in Tokyo. We've spoken to Mr. Aoki, whom is already proceeding towards the next step as a designer, on future aspirations while looking back at past activities.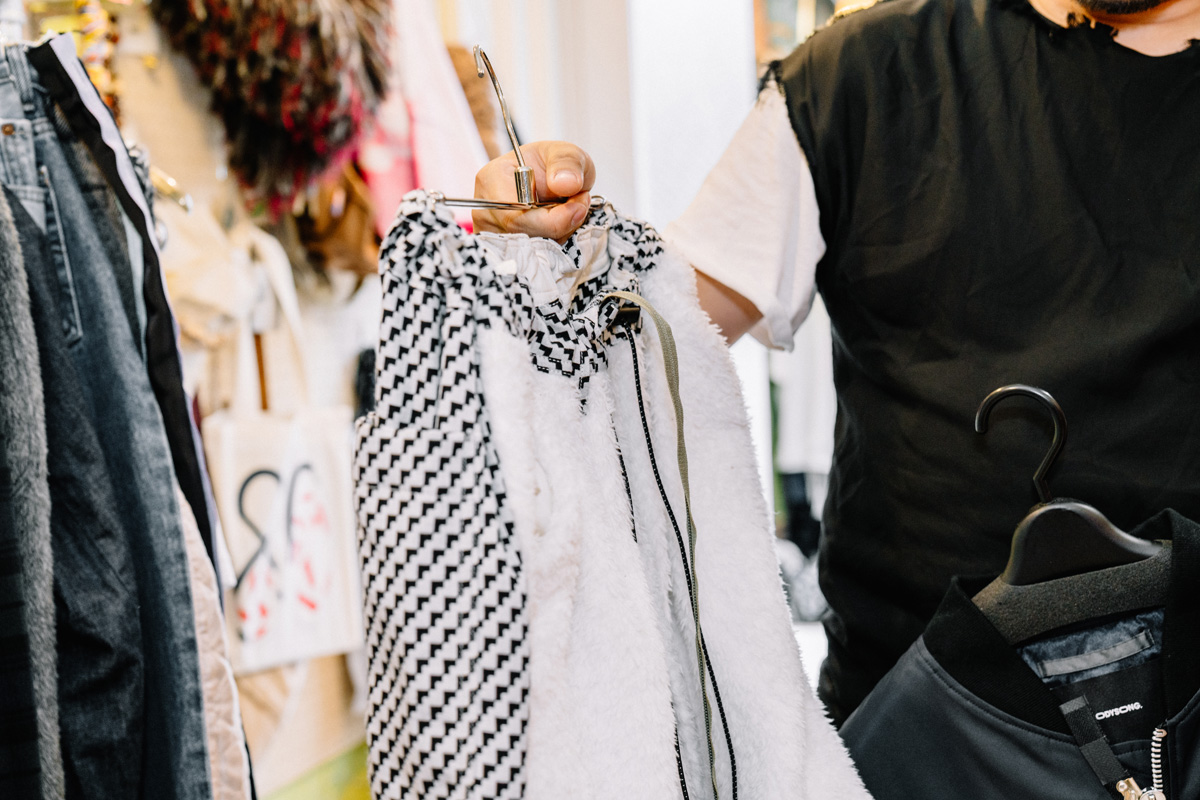 Please tell us of your personal history, before starting BODYSONG.
I had been interested in fashion since junior high school, so after studying at a fashion college, I joined a fashion company to work at. At this company, I was in a jack of all trades sort of position, so I was involved in all sorts of work, but gradually my interest in making something with my own hands grew and began to personally design clothing. A shop called CANDY in Shinjuku 2-chome back then, let me sell my items there, and thankfully, many people bought my items, so I began to think I want to do this as my career, and decided to start my own brand.
What kind of fashion were you yourself influenced by?
When I was a high school student, urahara (backstreet-Harajuku) style was in trend, and I've been greatly influenced by that. I also favored brands such as Comme Des Garcons, Issey Miyake, Antwerp. I'm a bit of a collection mania, and I have a collection of women's clothing which I can't wear, kept at my parent's house (laugh). I tend to like clothing themselves as a product. I get excited just looking at clothing with interesting designs and can't help myself from buying it. But I think the same can be said for all things in the design field, such as products or furniture, not just clothing.
What do you hold dear as a brand?
'Improvisation' which I hold up as the brand's concept, has always been important to me. For example, even when I'm designing a T-shirt, I try not to trap myself in stereotypes, and tend to grope for design ideas as I move my hands. I create ideas or design drawings at an early stage, but the directionality often changes from there, and at times, I even throw away the sample and turn it into something completely different. At the production stage I control myself so the factory can mass produce, but in the first few seasons, I stuck to making the products myself, instead of using a factory.
Every season, you seem to do unique trials with materials also.
That's true. I've always liked fabrics, so my atelier is overflowing with fabrics (laugh). We often develop our own fabrics and also use all sorts of fabrics which are usually not used for clothing.
You've actively done collaborations with creators of various fields, not limited to fashion, what are your thoughts behind this?
I want to see what comes out as the end result by collaborating with artists or designers with completely different ways of thinking from myself. For example, every season at BODYSONG, we create 2 completely different look-books made by 2 individual teams. Basically, I don't bud in, and entrust it completely to each team. One of the reasons for this is because directing has never been my forte, but I'm also interested in how people can interpret this brand called BODYSONG, and I think that's why I've made many opportunities to build up creations with all sorts of people.
As an award-winning brand of the TOKYO FASHON AWARD, you've done your first runway show this March. Please tell us about that.
Up to now, I was never interested in doing a show as a brand, but since I've been given this opportunity, I wanted to put my all into doing it. As I've mentioned, we've continued to make our look-books by 2 teams, so I was conscious of doing the show in the same way, as an extension along the expressions we've been showing, with the same 2 teams. Doing a show for the first time, I truly realized how difficult it is, and I'm really impressed by those brands whom continue to do this every season. But also, by doing this show, it gave us an opportunity to be seen by many people whom never had any contact with our brand, and I feel the reactions we received were generally positive.
As part of the TOKYO FASHION AWARD program, you've presented an exhibition in Europe for 2 consecutive seasons also. What are your thoughts on overseas developments?
Previously, we had an opportunity to participate in the fashion week in Shanghai, which lead to continuing exhibition presentations at Shanghai. This gave us stimulation not attainable in Tokyo, and so our aspiration towards overseas had been growing, year by year. Of course, we had our eye on presenting in Europe also, so I feel the showroom exhibitions of this time around has been an extremely valuable opportunity, and we intend to continue doing presentations in Europe.
Finally, please tell us of your future aspirations for the brand.
Above all, I strongly wish to put our overseas business on a firm orbit. For that, I need to probe further into how to get overseas buyers to pick-up our items more, and of course for this, creative aspects are important, but I think business aspects are also key. Our final goal is to have all sorts of overseas shops buy and carry our items, so I intend to keep working hard towards this goal.
Interview by Yuki Harada / Translation by Aiko Osaki
Photography by Yohey Goto (interview)