Information
AUG. 28, 2023
RakutenFWT 2024 S/S | Day 1 Report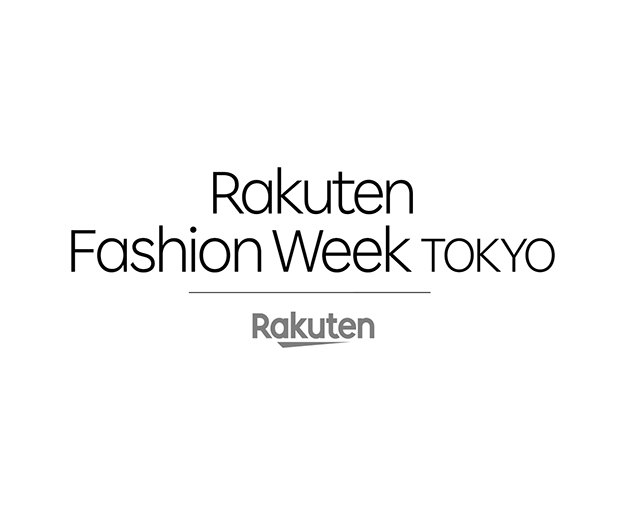 "Rakuten Fashion Week TOKYO (Rakuten FWT) 2024 S/S" (governing body: the Japan Fashion Week Organization (JFWO), welcomed its first day today, starting with an online presentation by "08sircus".
 
Presentation of very first show by JFW NEXT BRAND AWARD 2024
Grand Prix award-winning brand, "KANAKO SAKAI"
 
To open physical presentations, the very first show of "KANAKO SAKAI", the grand prix award-winning brand of "JFW NEXT BRAND AWARD 2024", the physical division of the brand support program hosted by JFWO, which started from the 2023 S/S season, was held at the official venue of Shibuya Hikarie, form 13:00.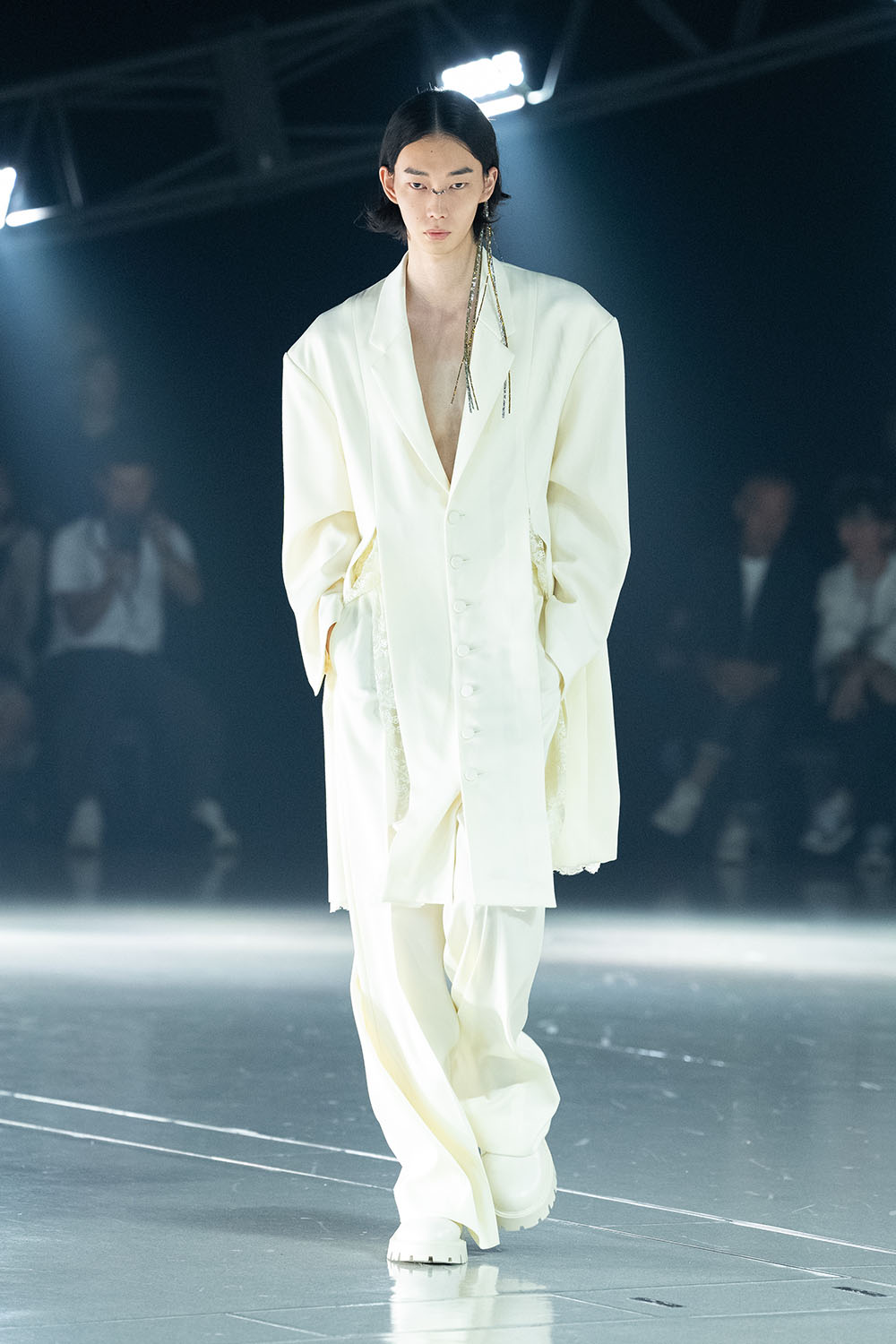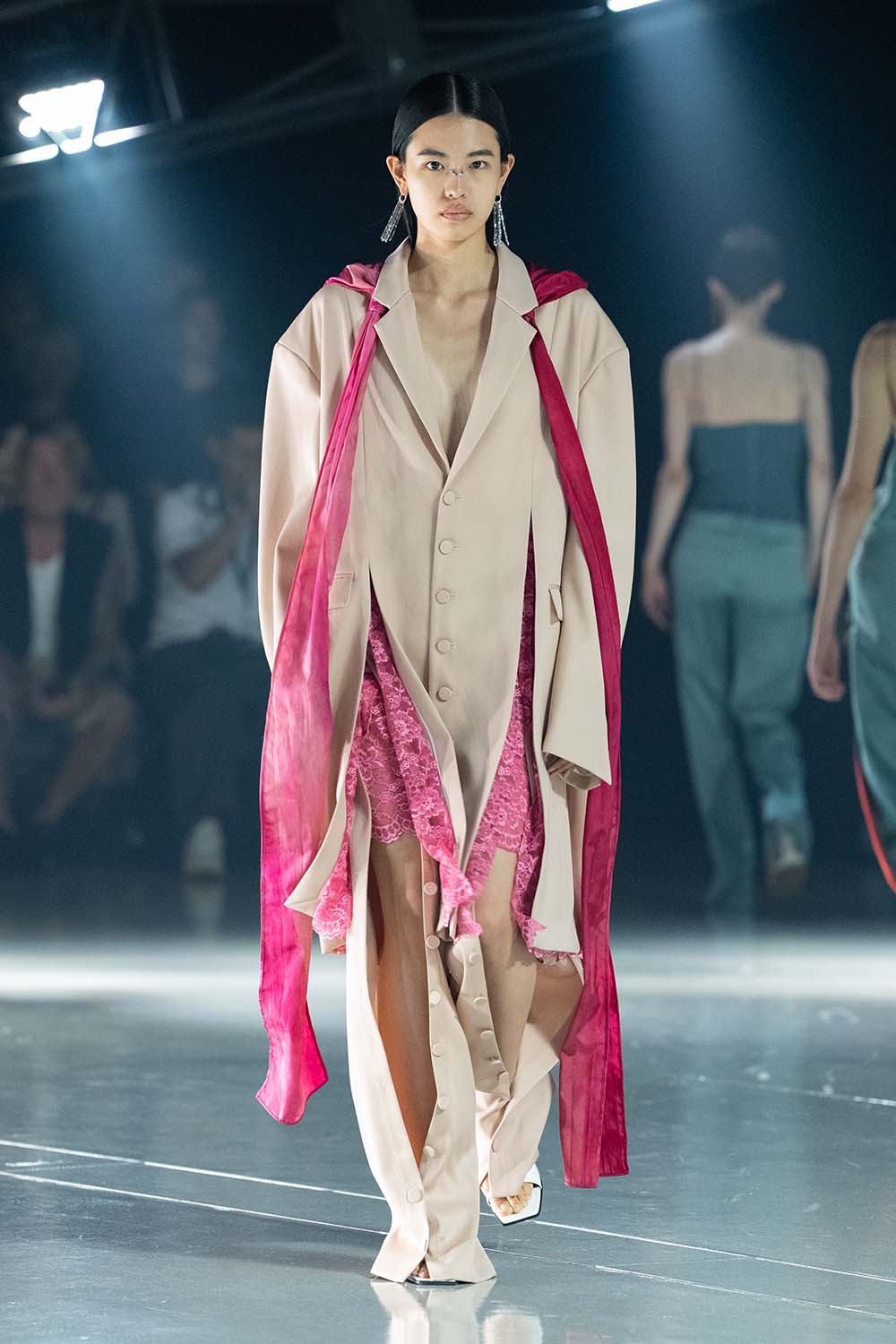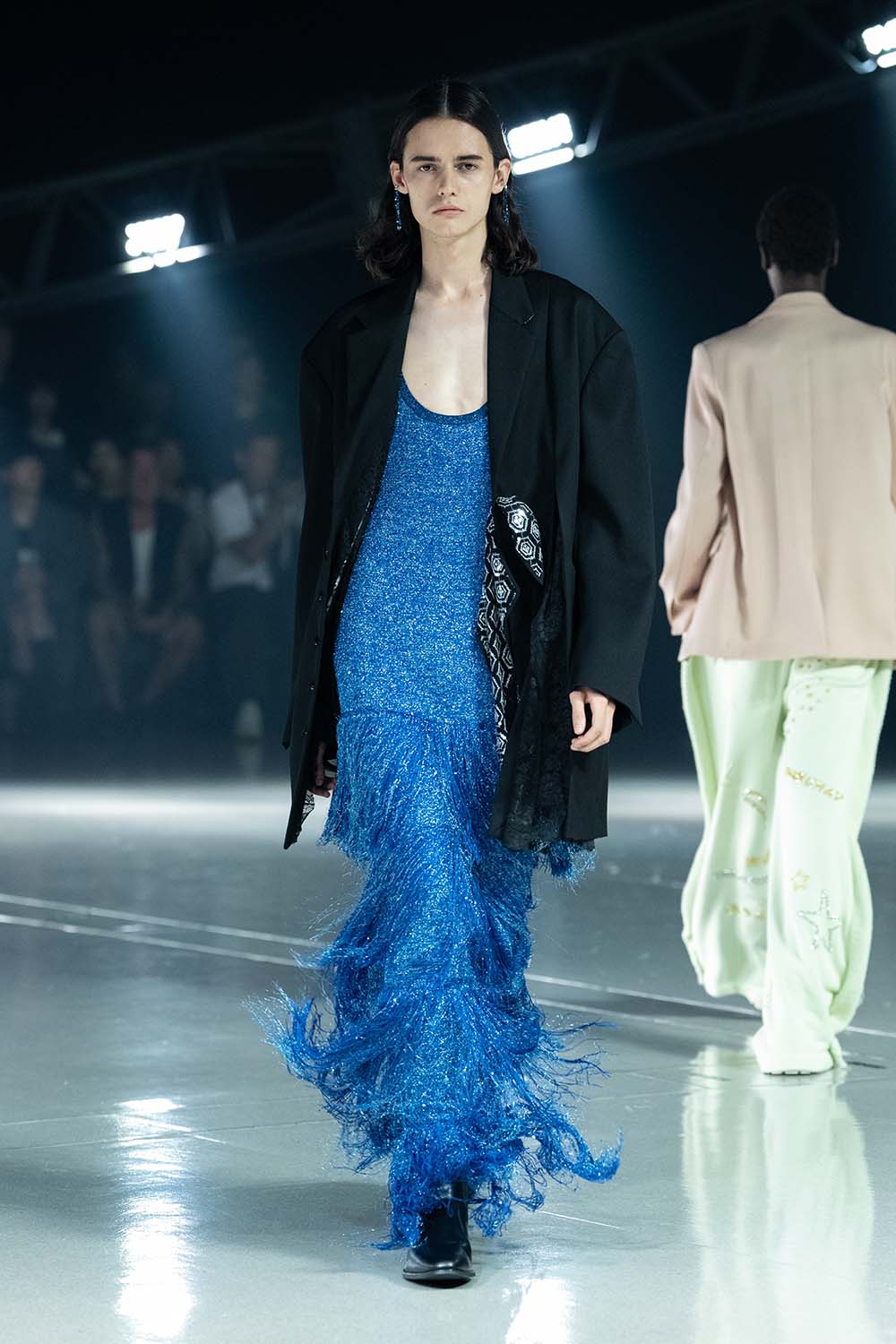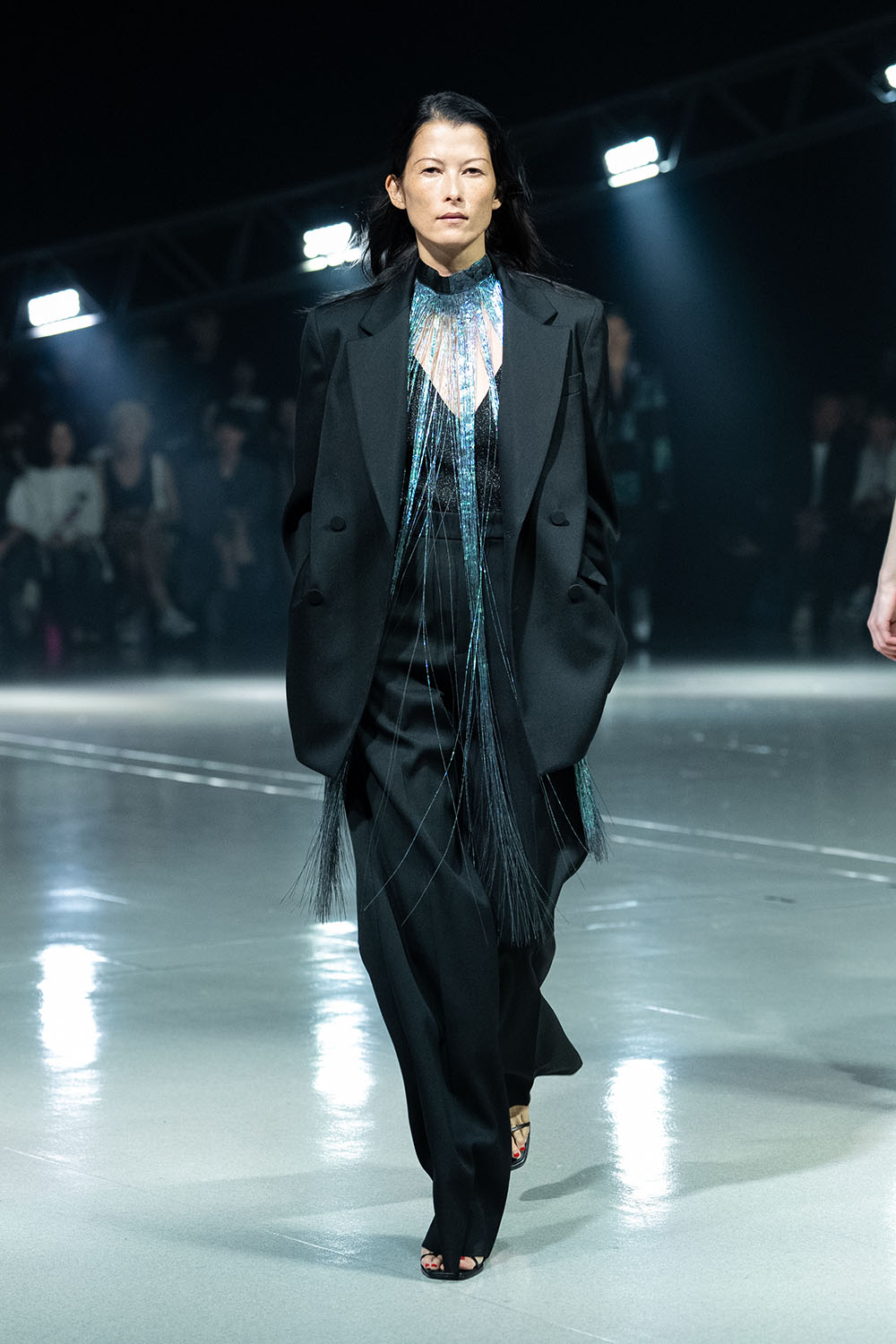 This program is aimed at nurturing and supporting new talents with the potential to excel in the global fashion industry, through JFWO's mission to "create designers from Japan to the world". Its physical division, the "JFW NEXT BRAND AWARD" provides a year long support to award-winning brands to broaden opportunities for brand growth and raise global recognition, aimed at being an opportunity for brands to advance forward into the next step.
 
"Freedom" is at the basis of the collections of KANAKO SAKAI . Rather than being restricted to frameworks such as women's/men's, they wish for wearers to choose items freely, and through their theme of "wear freely", they expressed the spirituality of the brand, their attitude towards the world, throughout the whole show. Furthermore, to express their way of being a creation which exists with "encounters", this season, they presented creations using mother-of-pearl work weave (woven fabric adorn with traditional decorative method of 'Raden' utilizing mother-of-pearl), befitting a brand which values encounters with materials.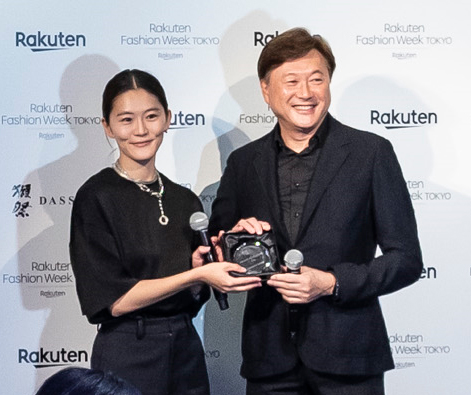 After the show, an opening ceremony was held, along with a prize awarding ceremony in which, the JFWO Secretary-General awarded the designer with a trophy. In addition, the grand prix award-winning brand, "KANAKO SAKAI" will continue to receive a year-long support through the upcoming 24 A/W season scheduled to be held next March, including prize money and venue cost. We thank you for your continued attention.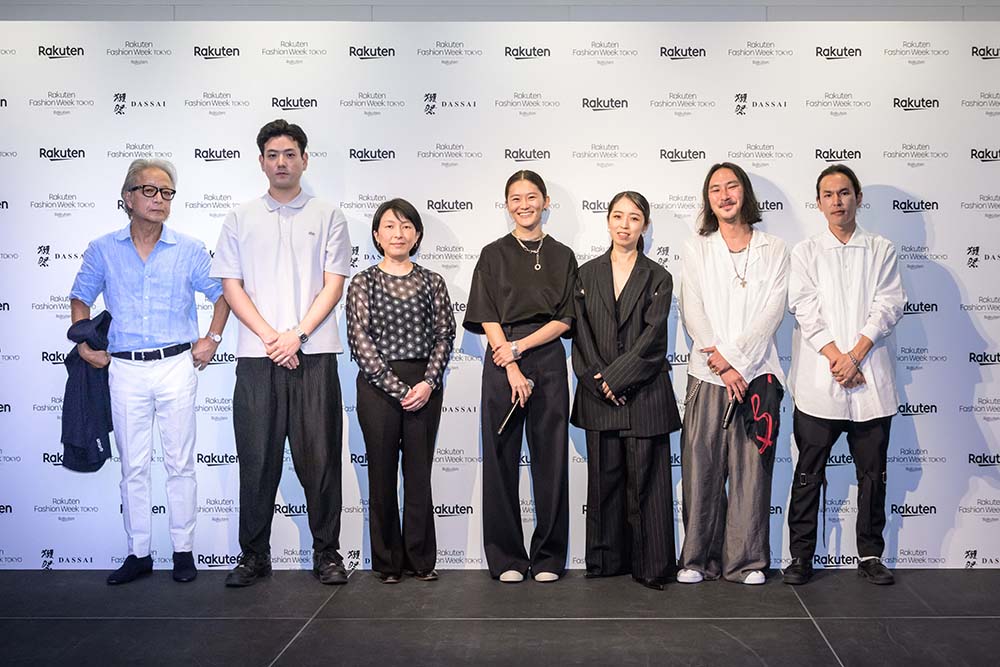 JFW NEXT BRAND AWARD 2024 Judges left to right: The Yomiuri Shimbun Tokyo Headquarters, marie claire division, marie claire Chief Editor, Katsuto Tai / INFAS PUBLICATION, INC. WWDJAPAN, Writer, Tasuku Minoshima / The Mainichi Newspaper Co., Ltd., Liberal Arts Department, Journalist, Yuri Hirabayashi / 『Chika Kisada』 Designer, Chika Kisada / 『SULVAM』 Designer, Teppei Fujita / MATOI PUBLISHING "QUOTATION", Editor, Kiwamu Sekiguchi
JFW NEXT BRAND AWARD 2024 Exhibition starts from today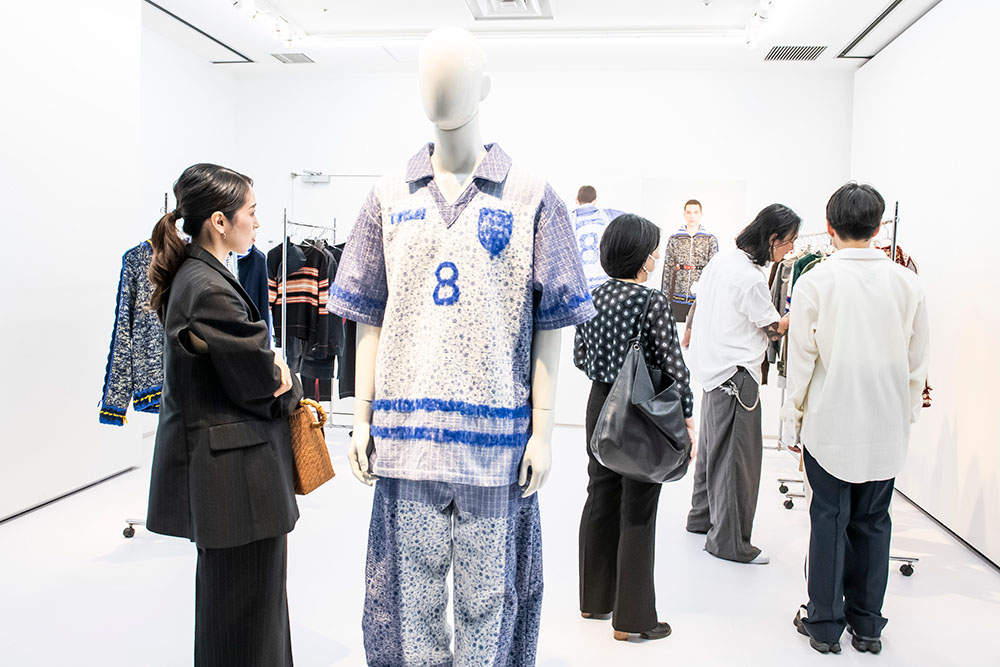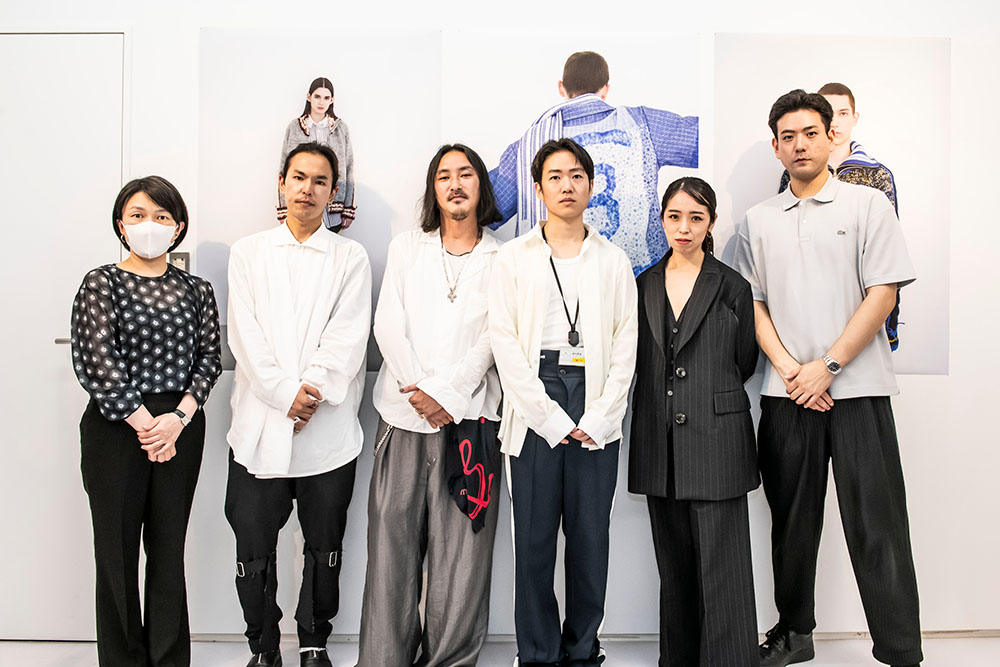 With regards to the brand support program, "JFW NEXT BRAND AWARD 2024" introduced in the previous page, an exhibition titled the "JFW NEXT BRAND AWARD 2024 EXHIBITION", introducing the grand prix winning brand, "KANAKO SAKAI", and "fluss", award-winner of the Special Recognition Award, will be held for 3 days, between August 28th (Mon.) ~ August 30th (Wed.), starting today.
Today being the first day, the judges visited the exhibition.
 

fluss
Designer: Hikaru Kodama
Started in 2022 S/S. Centering around knit wear, developing items reflecting the moods of today. A brand suggesting a new image for mankind.
 
【JFW NEXT BRAND AWARD 2024 EXHIBITION】
DATE: August 28th (Mon.) ~ August 30th (Wed.)
TIMES: August 28th (Mon.) 13:00-20:00 / August 29th (Tues.) 11:00-20:00 / August 30th (Wed.) 11:00-18:30
PLACE: Shibuya Hikarie 8F 8/CUBE
8F Shibuya Hikarie, 2-21-1 Shibuya, Shibuya-ku, Tokyo
※Open to all / admission free of charge
 
Online presentation by RAINMAKER 12:00〜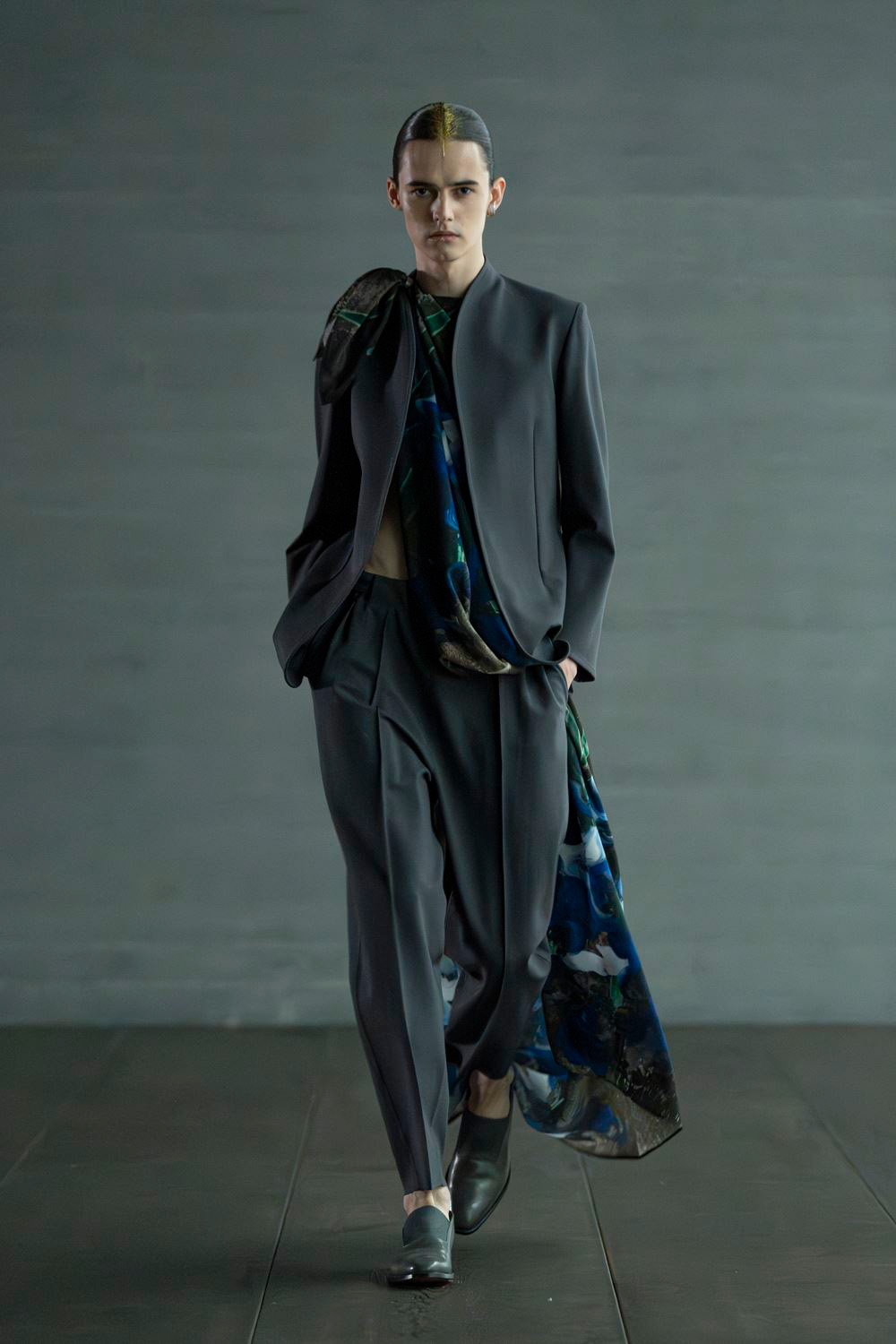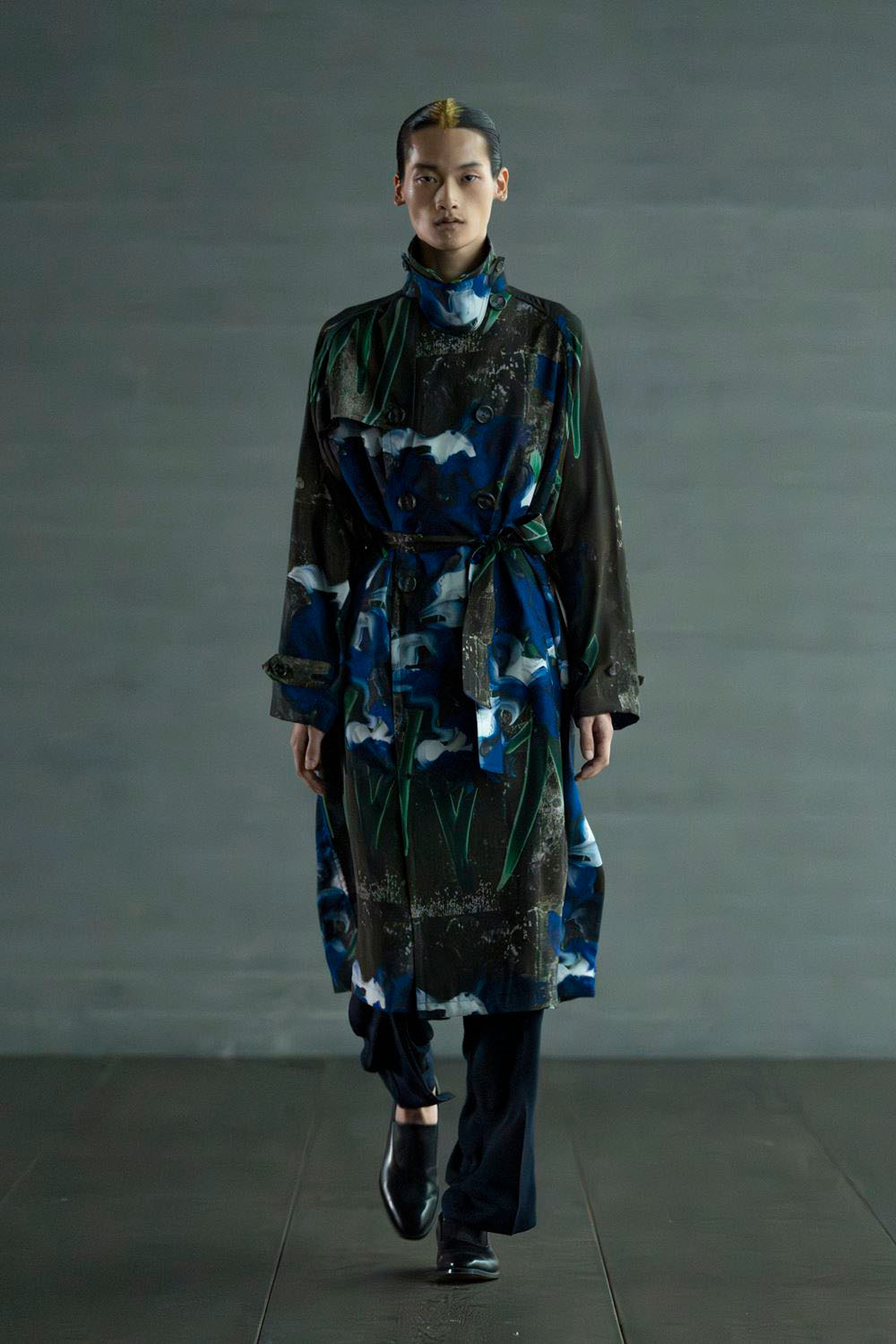 ©RAINMAKER
 
The RAINMAKER 2024 S/S collection which was shot at the Raku Kichizaemon Hall at the Sagawa Art Museum, overlooking the scenic beauty of Lake Biwa.
Presented was a collection with designs inspired by "Kakitsubata-zu (Iris flower painting)", a masterpiece by Korin Ogata, one of the painters representing the Rimpa school of art, especially proliferate in the mid-Edo period.
 
"NaNo Art" (15:00~) participating in Rakuten FWT for the first time, presented their collection at the Official venue of Omotesando Hills, main building B3F, Space O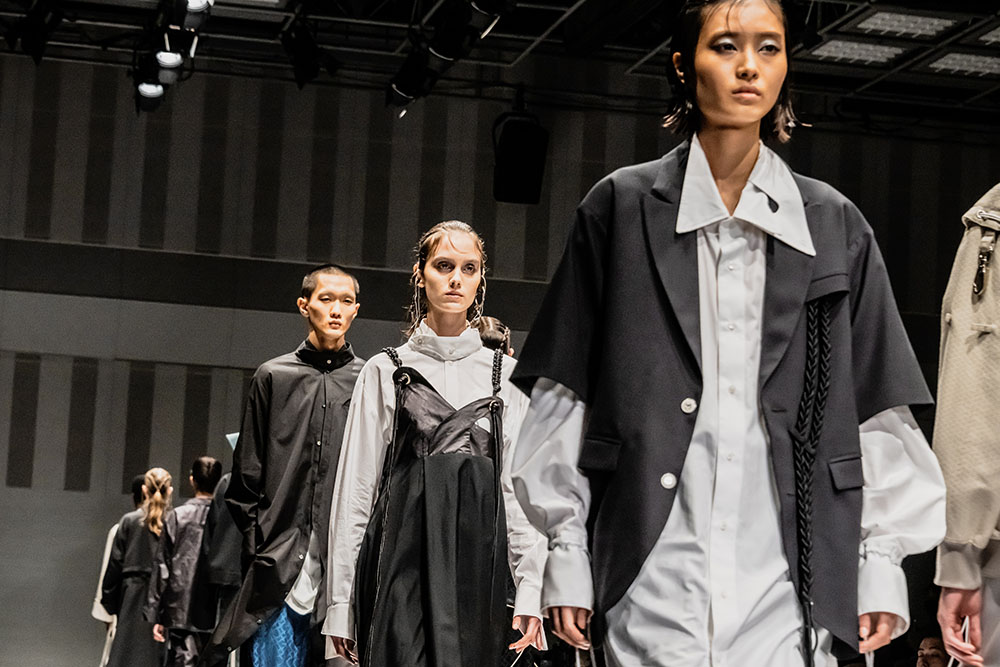 At "NaNo Art", a men's & women's brand by the two designers of Nagi Goto and Nobuhito Tanaka, expresses the assembly of surprises and inspirations stuffed in each and every item as [ NaNo size museums ]. This season, under the theme of 'Rest In Piece', a collection with impactful details, such as use of ropes and eyelets, characteristic collars and/or pockets, was presented.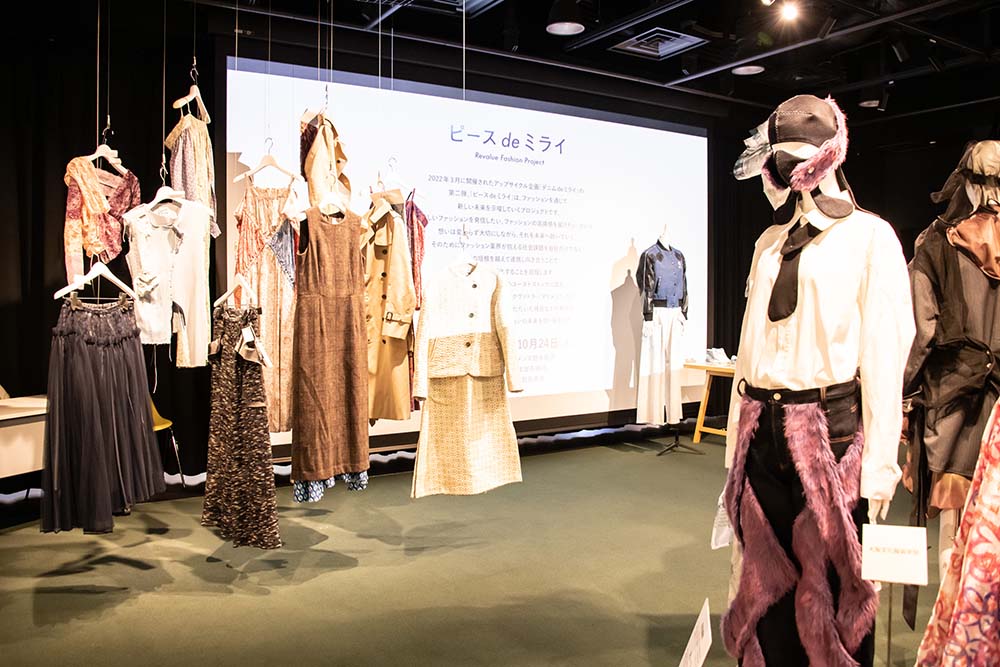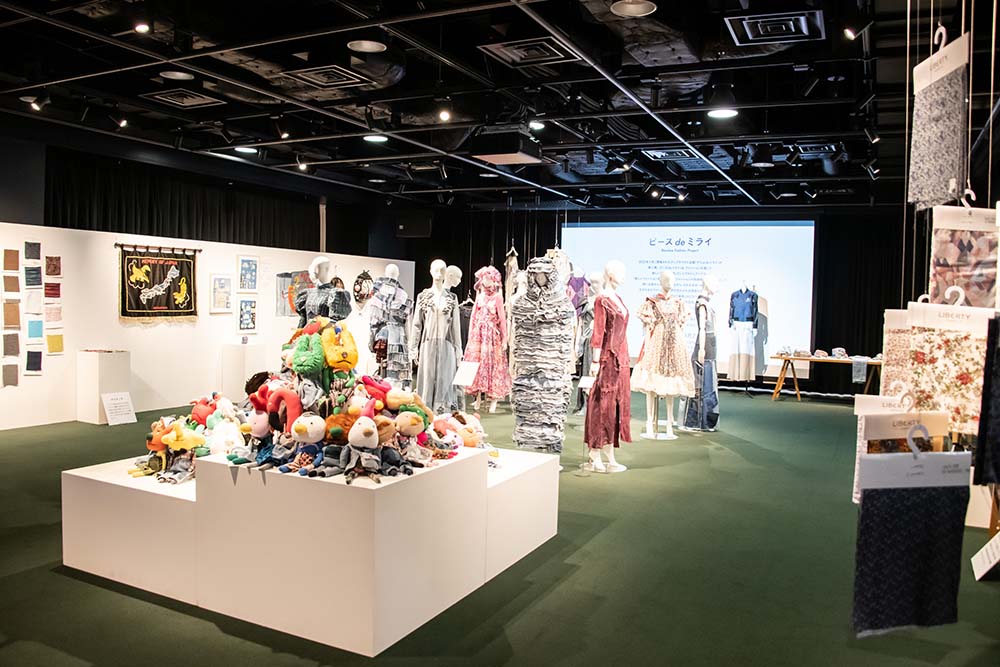 As a part 2 of the "Denim de mirai" held as a related event of Rakuten FWT in the 2022 S/S and A/W seasons, today, at the Official venue of Shibuya Hikarie, 8F, 8/COURT, "Piece de mirai –Revalue Fashion Project – " has started.
In this project, in addition to used-stock <Levi's® > denim, being exhibited are apparel and goods created by up-cycled fabrics of an assort of 5 textile brands, including the British textile brand <Liberty Fabrics>, the Danish textile brand <Kvadrat>, one of Japan's foremost woven textile producing centers Bishu produce fabrics, and the Finlander textile brand <Marimekko>.
 
Utilizing left-over "pieces" introduced from a variety of companies, a whole array of items brought to life with a new value by approximately 50 brands and artists are being displayed.
 
Furthermore, making the presentation even more impressive is the collection exhibited at the center of the venue, created utilizing "piece de mirai" fabrics, by students shouldering the future of fashion, whom were invited to participate from the 4 schools of Bunka Fashion College, ESMOD TOKYO, ESMOD PARIS, Tama Art University.
 
TERM: August 28th (Mon.)~30th (Wed.)
TIMES:
August 28th (Mon.) 14:00‐20:00
August 29th (Tues.) 11:00‐20:00
August 30th (Wed.) 11:00‐17:00
PLACE: Shibuya Hikarie 8F, 8/COURT
ADMISSIONS: Free of charge (open to all)
 


2 pre-events, Rakuten FWT 2024 S/S "OPEN"ING PARTY PART Ⅰ・PART Ⅱ, held on August 25th (Fri.)
Rakuten FWT 2024 S/S "OPEN"ING PARTY  PART Ⅰ
In collaboration with "FREUDE by BMW – THE GARDEN", a POP-UP exhibition of BMW presently being held at "OMOTESANDO CROSSING PART", an open-air outdoor space at the Omotesando crossing, befitting the 2024 S/S theme of "OPEN, FASHIONWEEK", a party open to all was held. At the venue, an award ceremony event announcing the award-winning designer of the "FASHION PRIZE OF TOKYO", a project to generate and promote fashion designers with the prospect to be globally active was held, in which Mr. Shinpei Goto (MASU) was chosen.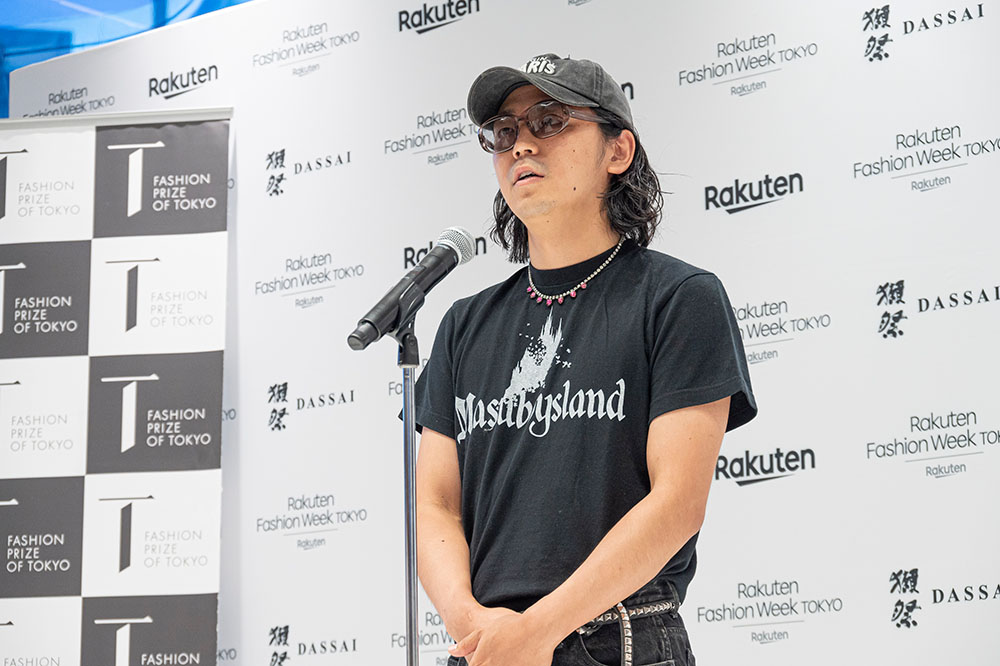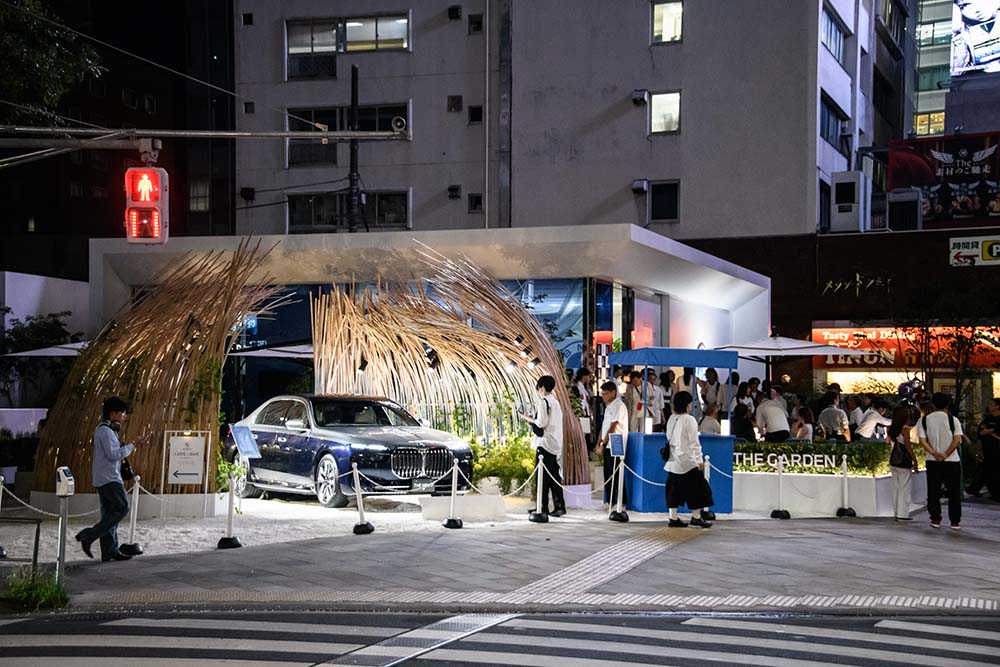 Rakuten FWT 2024 S/S "OPEN"INGPARTY PART Ⅱ
At the other venue of WALL&WALL, a variety of fun, including an activity corner at which guests could experience "AI PUBLIC ART" utilizing the recovery AI program to change a photograph of one's face into the 3DCG models of season key visual of "OPEN, FASHIONWEEK", and appearance/performances by next generation DJs blowing up the club scenes with their individuality, such as KatimiAI, nasthug, SAMO. Open to all, a heap of guests gathered to invigorate the pre-event.