Information
AUG. 30, 2023
RakutenFWT 2024 S/S | Day 3 Report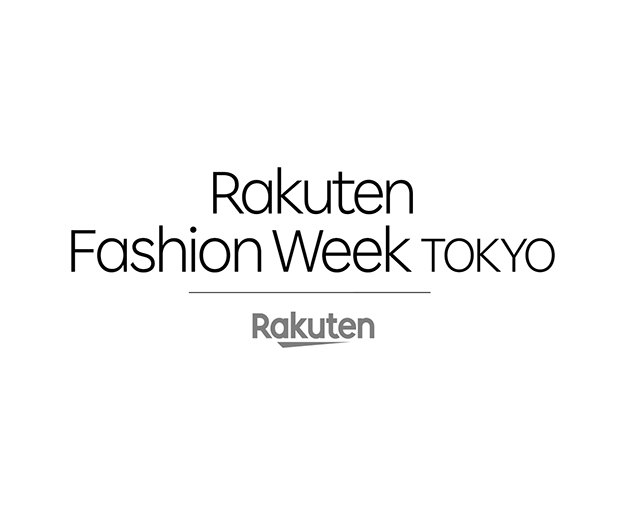 "Rakuten Fashion Week TOKYO (Rakuten FWT) 2024 S/S" (governing body: the Japan Fashion Week Organization(JFWO), welcomed its third day.
 
The last of yesterday's physical shows was "SHINYAKOZUKA" (20:00~)
Presenting a collection under the theme of "WONDERFUL WANDER", of scenes from walking home at night, scenes encountered by coincidence, by the designer who says enjoys taking walks as a time to contemplate and/or work out ideas.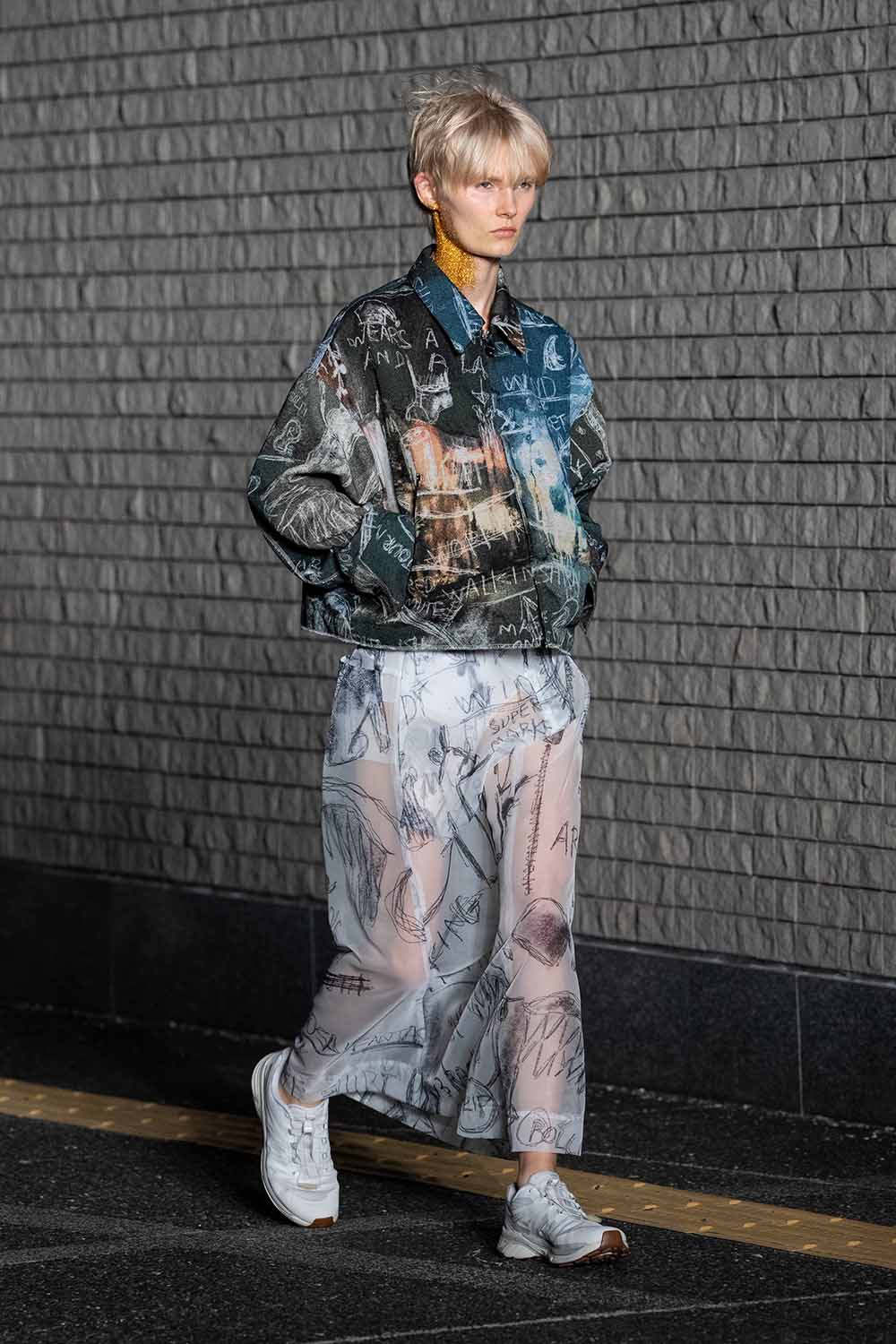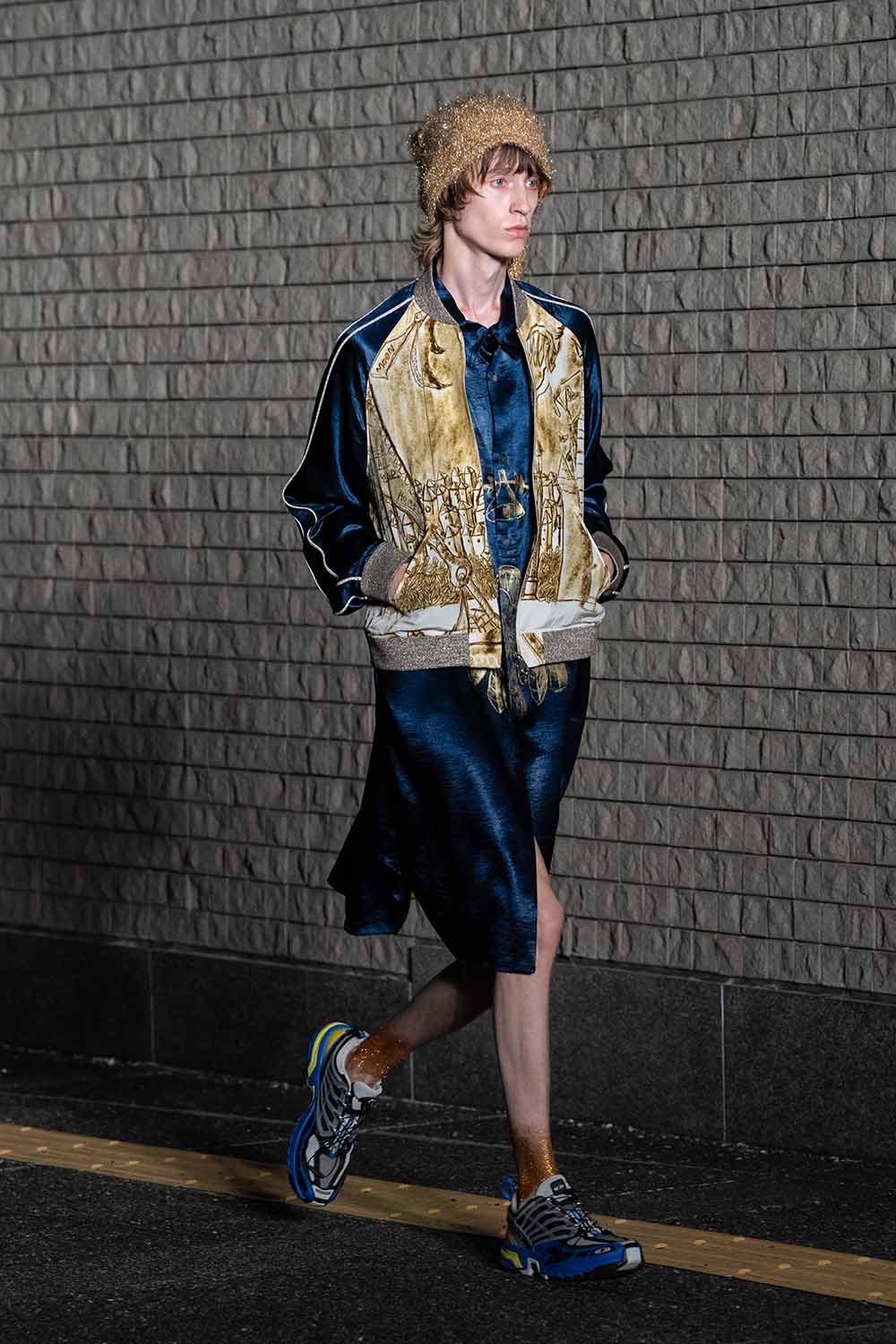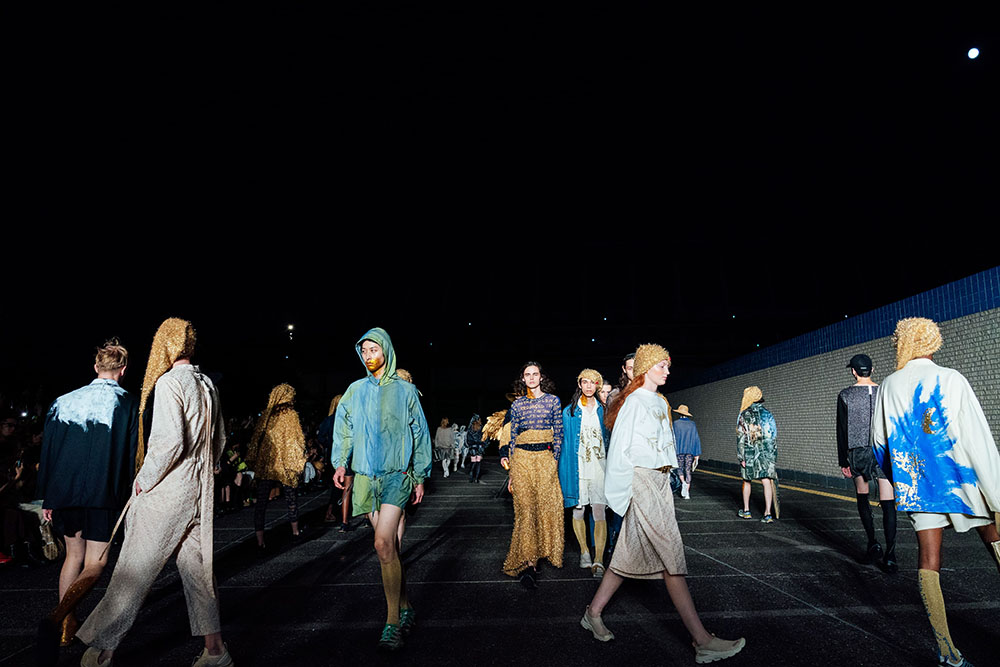 Courtesy of brand
TWEO (11:30~) ShibuyaHikarie,HikarieHallB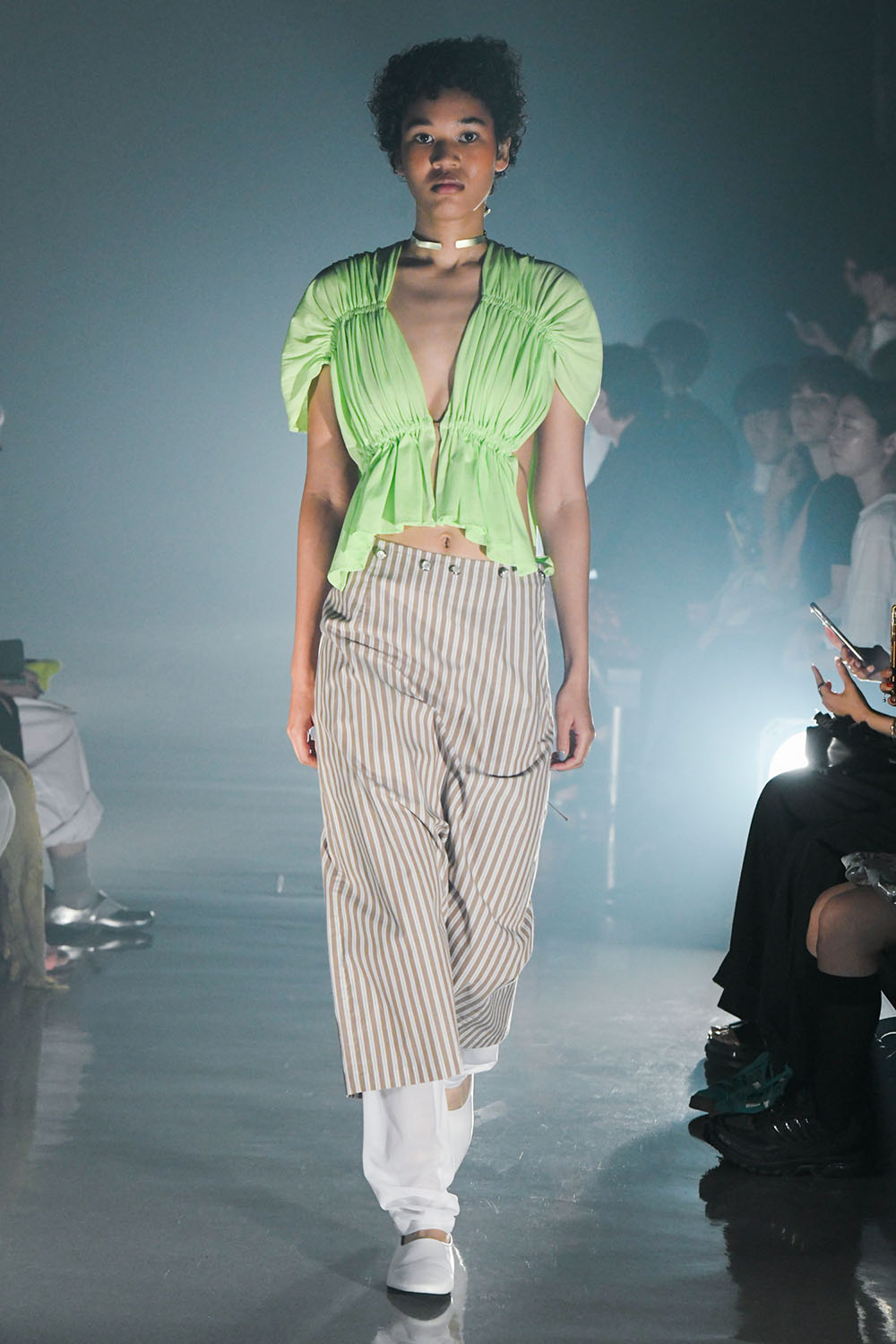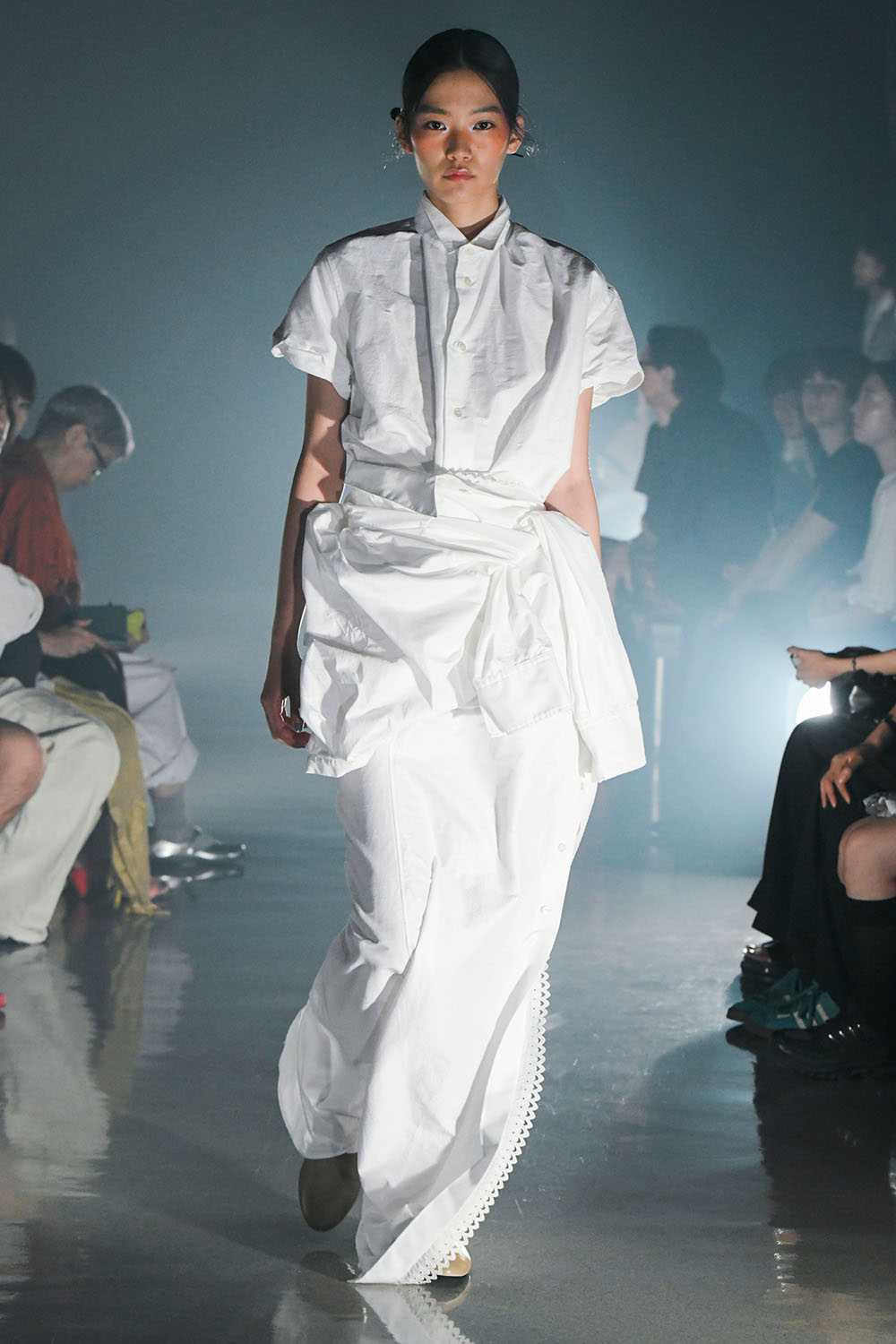 ©Ko Tsuchiya
TWEO, by the Taiwan born presently residing in Japan designer, Tan Yunszu, launching the brand from their 2021 A/W collection, participated in RFWT for the first time, to present their very first physical show. Under the theme of "the fracture of", presented in a romantic tone was a collection expressing self-reflection, the loneliness and bitter-sweet emotion of an individual feeling like an outsider from time to time.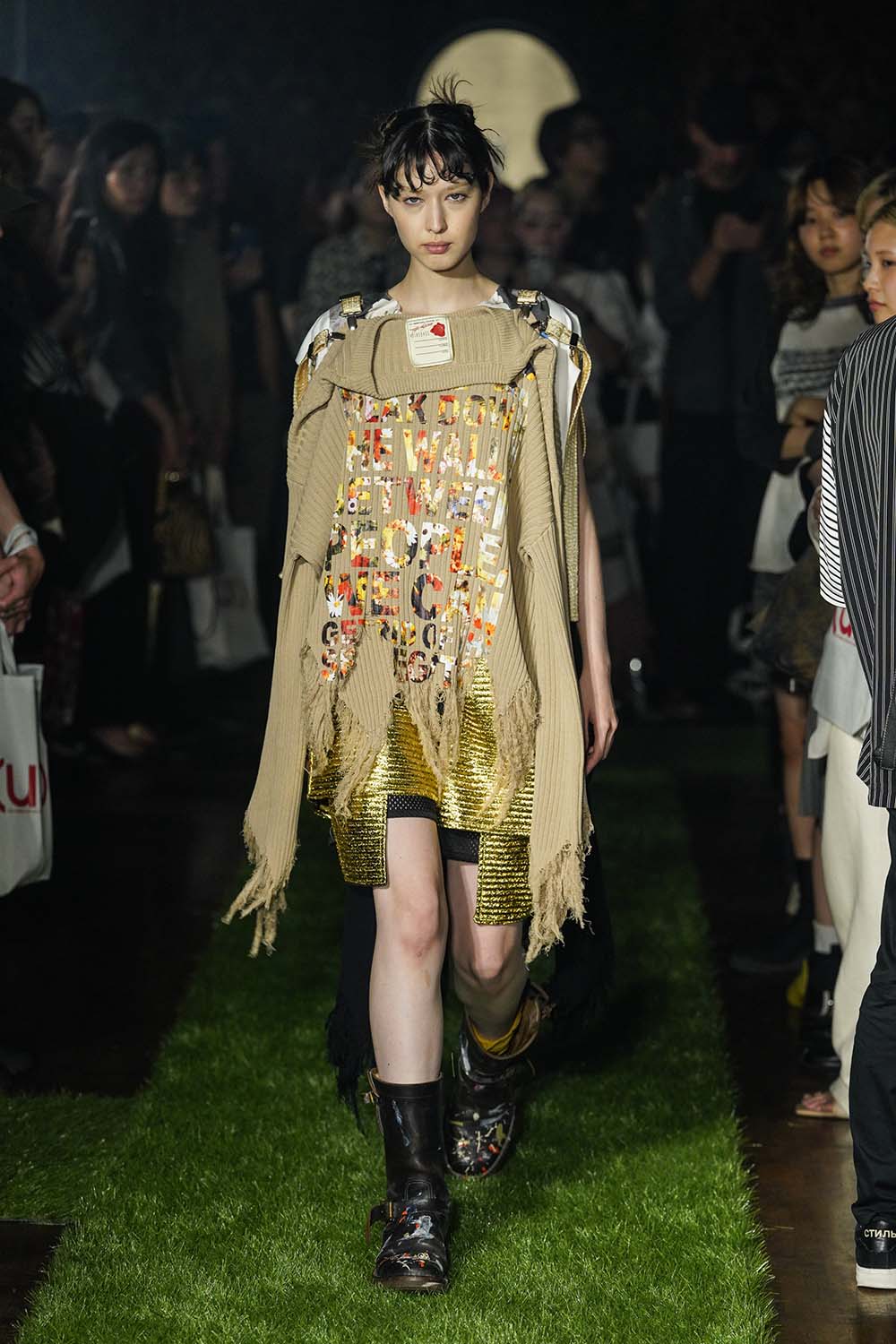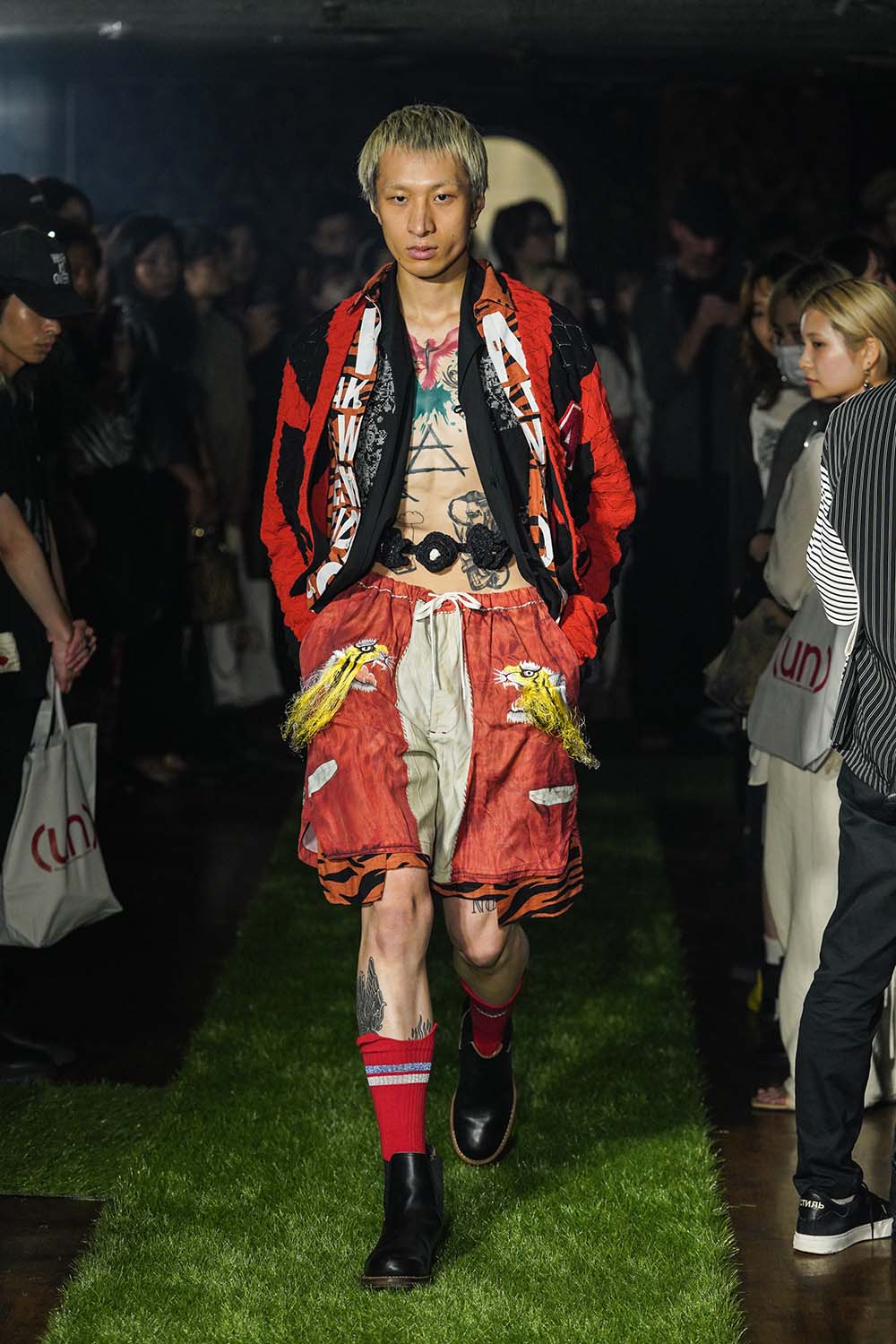 SEVESKIG / (un)decided presented a show at TOKYO KINEMA CLUB, under the theme of "IF WE BREAK DOWN THE WALLS". Presented were unique items with traditional native costume-like details, and items with the lettering "NO BORDER NO HUMAN". Collaboration items with the anime 'Neon Genesis EVANGELION' were also announced.
 
First-time participants from overseas presented their collection. The venues were enlivened with a good turnout of both national and international guests.
 
Global Fashion Collective 1&2(14:30~17:00~) OmotesandoHills,mainbuildingB3F,SpaceO
Runway shows produced by the "GLOBAL FASHION COLLECTIVE", a platform specializing in supporting designers deriving from Vancouver Fashion Week, presented a show divided into 2 parts shown at 14:30 and 17:00, at the Official venue of Omotesando Hills. The 6 brands that were selected this season, ALÇA / CEDIM / Couleurs d'Afrique / JUSMA / Karen Moriyama / Maxime Edward, each presented their collection.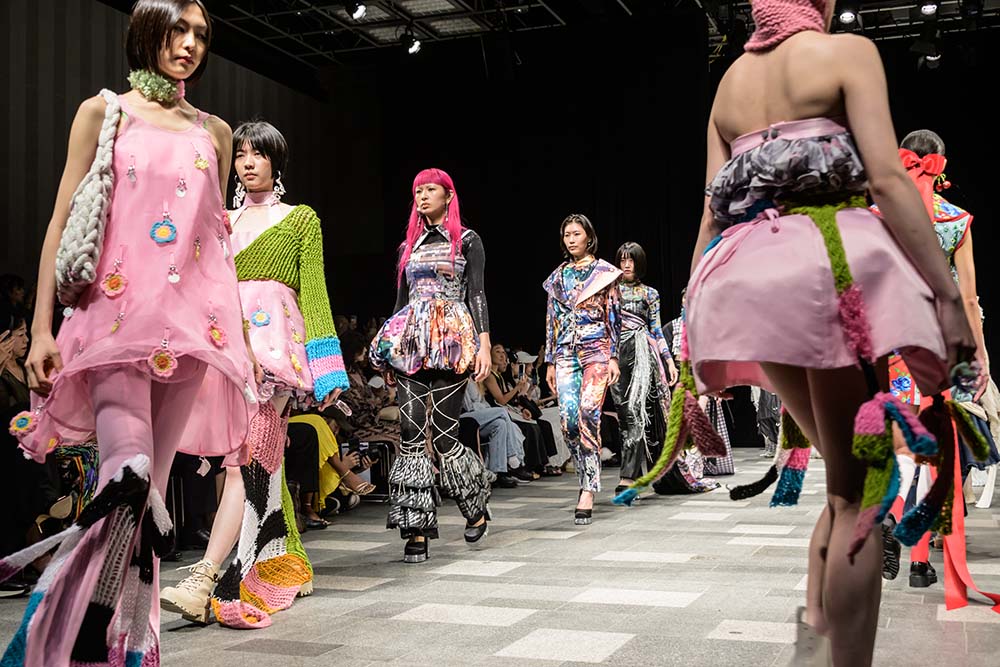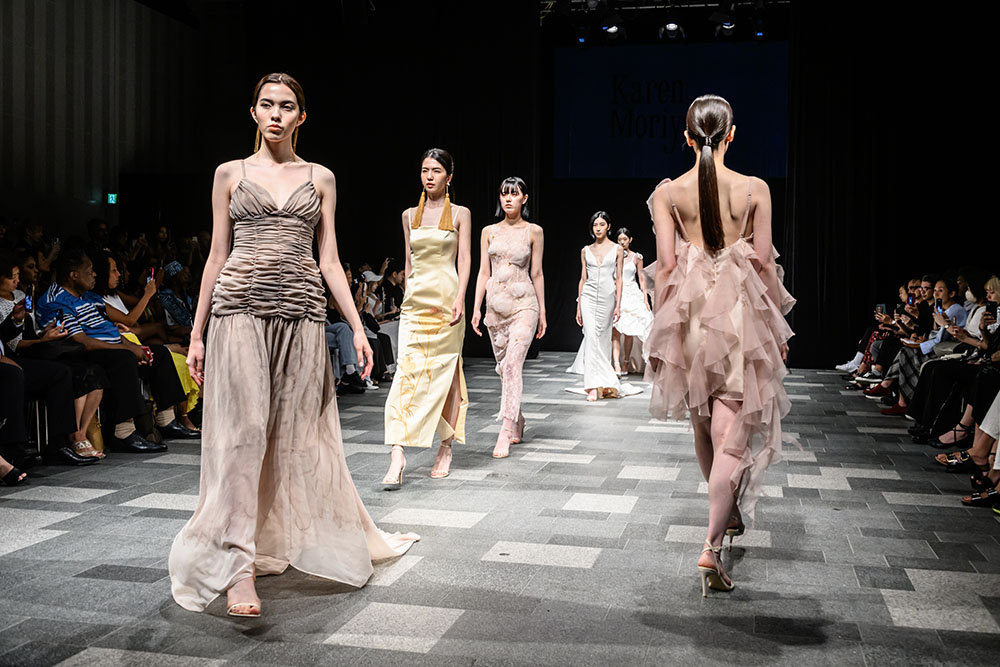 BENCH/ PRESENTS TERNOCON , the Philippine lifestyle apparel brand established in 1987 by Ben Chan, presented a show at the Official venue. This season, focusing on "balintawak", a local version of the women's traditional native costume, "terno", 3 designers, Dennis Lustico, Joey Samson, Chito Vijandre & Ricky Toledo, challenged drawing out the essence of native costumes by reinterpreting the "balintawak". Presented was a collection characterized by largely puffed "butterfly sleeves" that makes shoulders look like a butterfly, "alampay" scarves wrapped around the head, belt-like "tapis" fabrics wrapped around the waist.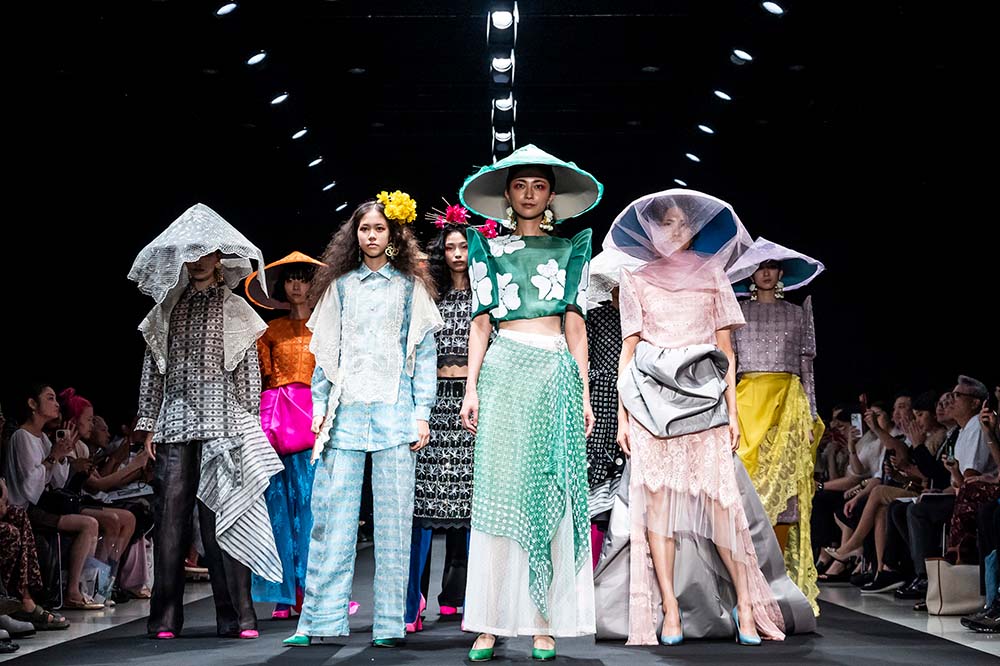 HEōS (18:00~) ShibuyaHikarie,HikarieHallB
HEōS, a brand inspired by everyday emotions, that brings about a unique air with a slightly artisan elegance. This season, inspired by a novel by Mr. Ryu Murakami, "Almost Transparent Blue", a collection redefining the roots of the designer himself was presented.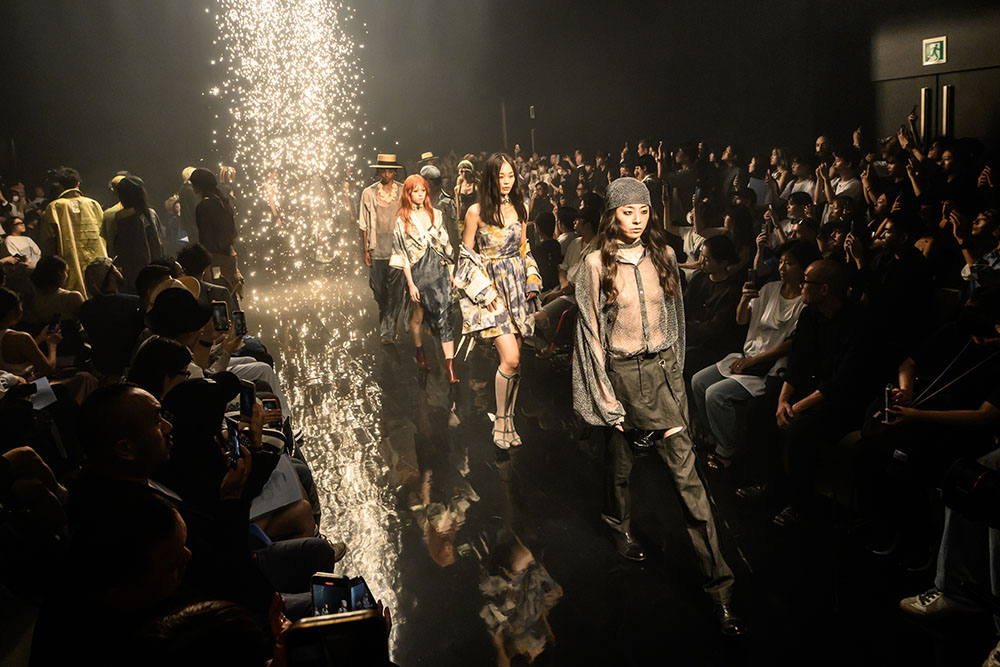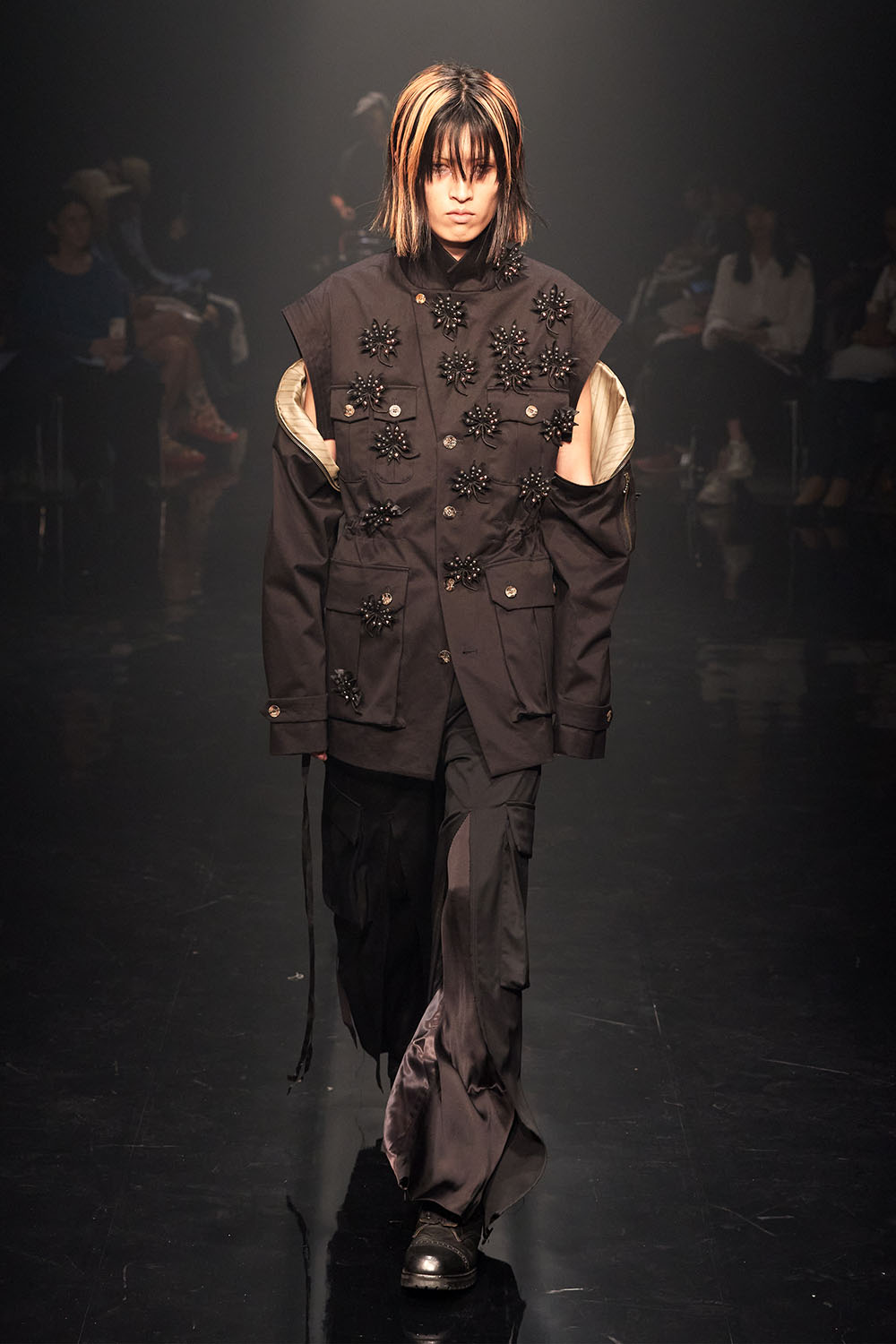 Sampling of the Official Sponsor "Dassai", and others, at Official venues (Shibuya Hikarie / Omotesando Hills)
The Official alcohol, "Dassai" and new carbonated water has been given out to be enjoyed by many guests at the opening ceremony on the first day of the term, along with post shows. In addition, other products are also being handed out, such as the heavily talked about Red Bull, the nano bubble Oxygen Water "NOW U", the plant drink of fermented tea "KOMBUCHA", the diet-support supplement "BLACK FIBER" which helps brings about elimination of constipation by the powers of activated carbon and sake lees.