Interview & Report

ARIA POLKEY
Rakuten Fashion Week TOKYO 2021 A/W Key Visual MODEL
Born May 16th, 2000. Raised in Tokyo, born between an American father and Japanese mother. Started her modeling career being scouted at Harajuku when she was 16 years old. Appearing in various mode fashion magazines such as 'VOGUE', 'ELLE JAPAN', 'GINZA', 'SPUR', 'NUMERO', along with advertisements of major apparel companies and commercial facilities. Next season, scheduled to appear in overseas collections including Paris and N.Y.
Ms. ARIA appointed as the main model of the Rakuten Fashion Week TOKYO 2021 A/W key visual.  We spoke to Ms. ARIA, who says it was one of her goals to be appointed as the main model in similar events, on her thoughts on fashion week, and Japanese fashion culture.
【Key Visual】 Expressing real and virtual worlds naturally
− Ms. ARIA, who stood on the fashion week Tokyo stage for the first time when she was 17 years old.  She says she had longed to be in the key vision since then.
"The first time I walked the runway, I had just become a model and was so nervous, I don't remember much of it (laugh).  I appeared in the show of ENHANCE, but was so nervous and stiff, it seemed to be all over in an instant.  Since then, I've been blessed with the opportunity to walk the runway every year, appearing in the shows of FACETASM, HARE, IHNN, SUPPORTSURFACE, and MINT DESIGN.  I've always wanted to be the main model, so I was genuinely happy to be given this opportunity this time."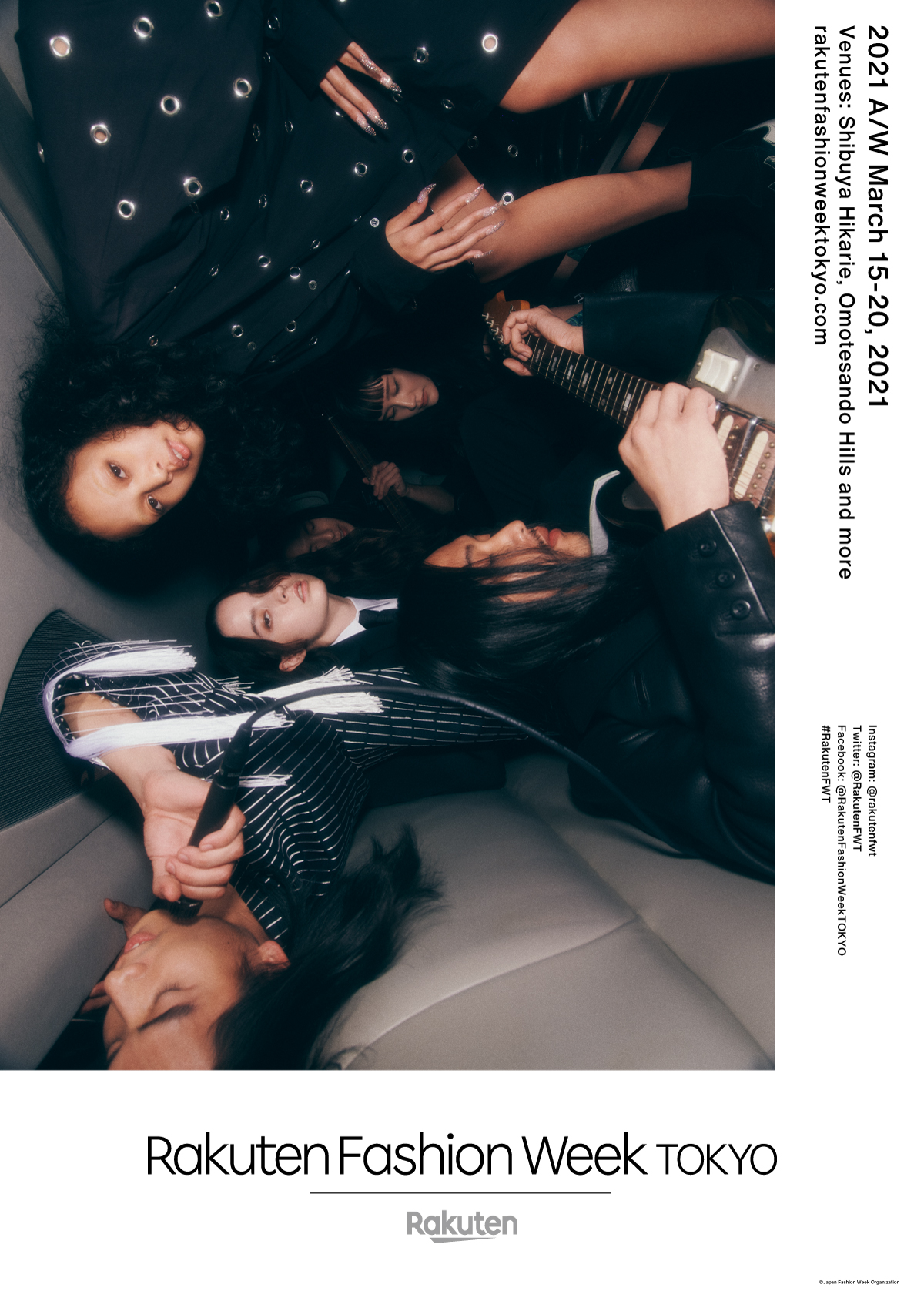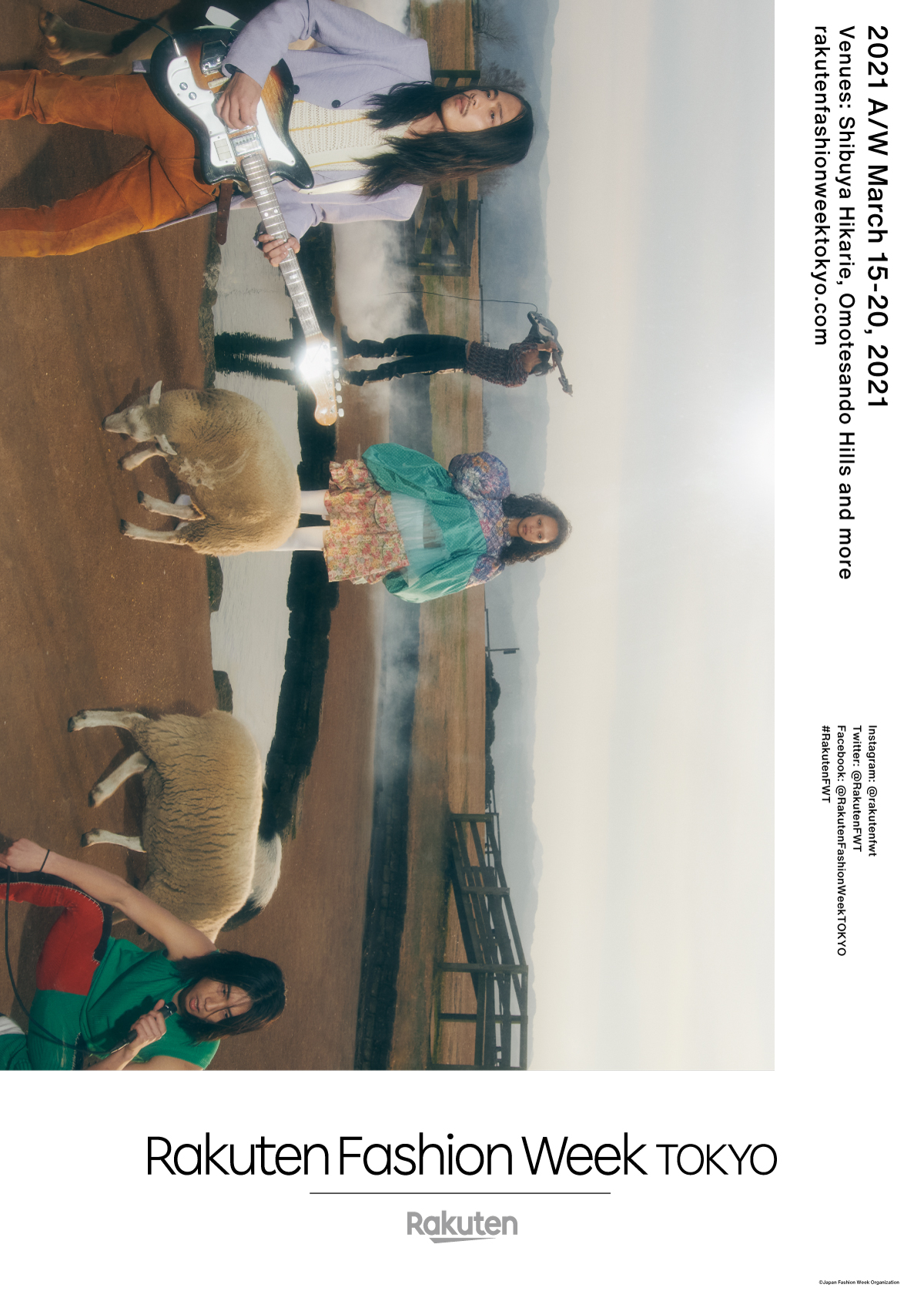 Rakuten Fashion Week TOKYO 2021 A/W Key Visual
− Ms. ARIA says she had known Mr. YUANN, the art director of this season's key visual, from before.
"I've worked with Mr. YUANN a few times before, so I was able to challenge this shoot relaxed.  He is a person who always creates a fun atmosphere at the shoot, and thanks to that, I think I was able to express a person who goes back and forth between a virtual and real world, naturally.  I was extremely moved when I saw the finished piece.  We shot all sorts of scenes, from that in nature or in the city, but in the scene in the car, he used the footage of us singing and dancing in the car as is, so I hope the people seeing the movie will feel the fun we had in creating it."
− Ms. ARIA says, she felt joy in seeing the Tokyo brand fashion she had worn match the world view of the movie perfectly.
"In the main visual in which I was surrounded by a herd of sheep, I wore a dress by ANREALAGE.  Its silhouette with volume and striking color was perfect for the ballottement image, and I think it turned out to be a photo with impact.  In work I tend to wear close that emphasize my body line, but in this shoot, I was able to experience the attraction of fashion which is different from what I am accustomed to."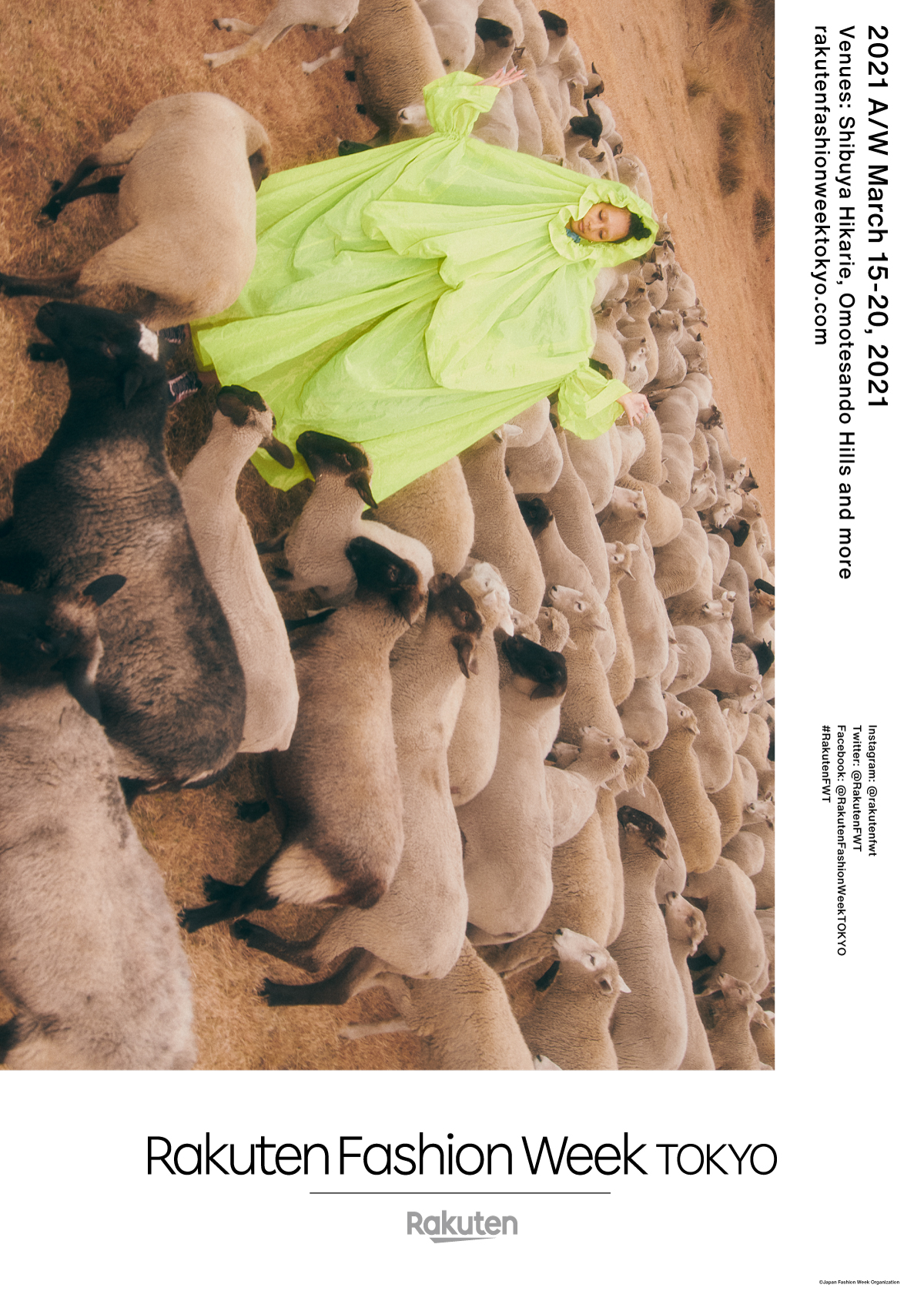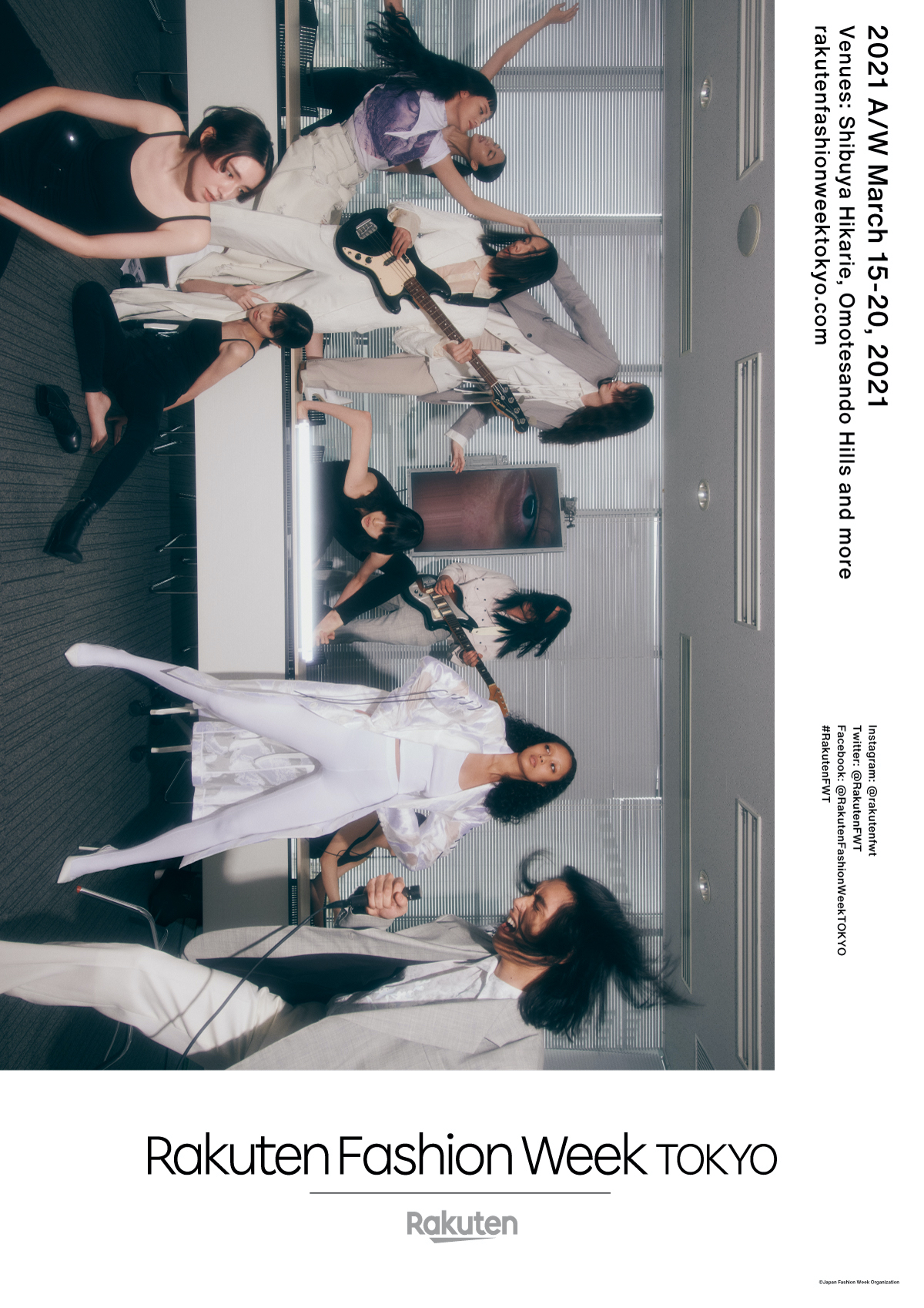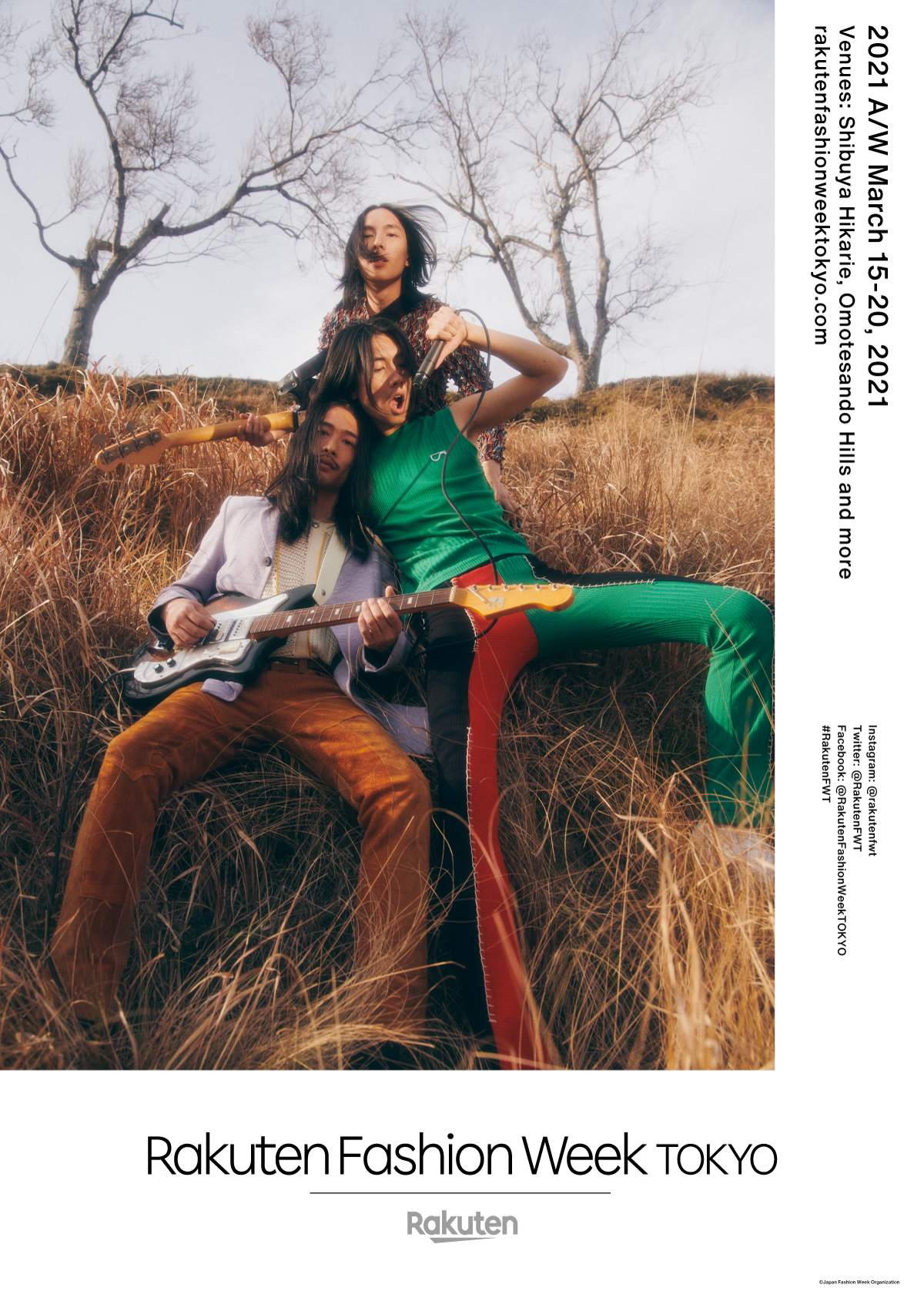 Rakuten Fashion Week TOKYO 2021 A/W Key Visual
【Fashion】 Prefer a feel of fitting my body rather than choosing by trend
− Ms. ARIA who is gather attention in fashion magazines and on the runway.  She who continues to be active at the forefront of the industry, we asked about her particularities in her daily selection of fashion.
"I usually wear simple fashion in my daily wear.  I feel I can't balance oversized close with my figure, so I wear clothes sizes that fit my body.  Rather than being conscious of brands or trends, I choose clothes which I feel comfortable wearing.  In work I have many opportunities to wear colorful things or things with unique details, so in private, I think my clothes may be extremely plain (laugh).  Color-wise also, I think I tend to choose basic colors, such as black, white, and beige."
− She says she discovered a new self from working as a model.
"When I was a student, I really only wore simple things, both color and style wise, but since I started working as a model, staffs and friends have told me 'that color looks good on you', or 'those clothes look good on you'.  Since I really only wear black and had be wearing T-shirt styles all the time, there was a 'oh, this color looks good on me' discovery for the first time through such comments.  I think I gradually began to be able choose styles that truly fit me."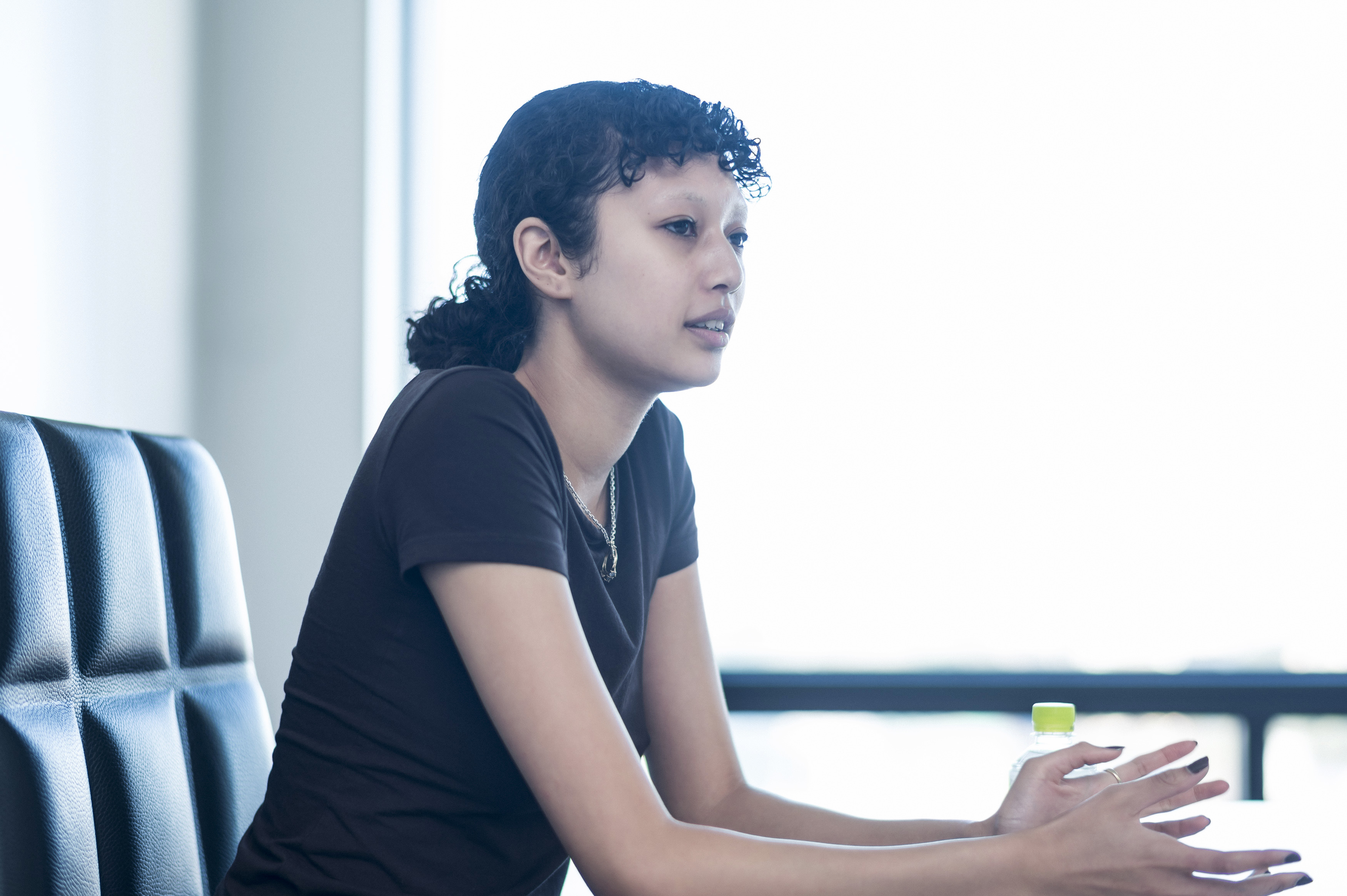 【Tokyo】 A place where one can meet people with high senses
− Ms. ARIA, who has started living alone in Tokyo from a year ago.  Tokyo, which is also a place of dispatch of culture.  In her eyes, how does it look, we wonder.
"It is simply full of stimulation.  When I see fashion I like in town, I often go around looking for something similar.  At times, I am stimulated by things I see.  As a model, Tokyo is a place which allows me to meet all sorts of people.  In modeling, I get to meet people of the same generation, younger people, and older people, allowing me to absorb information from people of a wide variety of generations.  There are all sorts of ways to look at fashion, and I get to learn so much.  Information on the latest fashion of course, but not only that, because there are so many people with high sensitivity to trends of other genres also, I'm receiving a lot of stimulation."
【Message】 A place to find fashion for a new self
− In continuance to last season, more participating brands of Rakuten Fashion Week TOKYO 2021 A/W will be publicly presenting their collection online as a movie transmission.  Finally, we asked Ms. ARIA for a message.
"There is an image that fashion has a high threshold.  I, myself, only recently started to buy high quality, highly designed clothes.  Up to now, I only bought reasonably priced moveable clothes.  Having movies of shows transmitted digitally online will allow people who are usually not interested or not particular about clothes to see the latest fashion developed by brands, and I would be happy if this becomes a chance for people to explore styles which are different from usual.  As for myself, I will be challenging overseas stages from next season.  I would appreciate it if everyone could support me with a warm cheer."
Interview by CRAING
Photography by Daichi Saito