Interview & Report

Tilda Swinton / Actress & Haider Ackermann / "Haider Ackermann" designer
Tilda Swinton / Actress
Tilda Swinton has wowed audiences in numerous films including Orlando and Only Lovers Left Alive since her debut in Derek Jarman's film Caravaggio (1985). And, she has as firmly established herself as an impressive and talented actress in many more recent works such as The Chronicles of Narnia series, Snowpiercer, and The Grand Budapest Hotel.

Haider Ackermann / "Haider Ackermann" designer
Since unveiling his namesake brand during the 2013 F/W collection, Haider Ackermann has become one of the newest and most respected shooting stars in the fashion industry. His unique drape-forms and complicated designs are widely acclaimed by fashionistas the world over. As a French designer born in Columbia his creations have transcended national and cultural borders to become a brand for the refined woman that was one of the most sought after during Paris Fashion Week.

In conjunction with Mercedes-Benz Fashion Week TOKYO 2015 S/S fashion designer Haider Ackermann came to Japan with his good friend and Mercedes-Benz global key visual model Tilda Swinton. Tilda Swinton has wowed world audiences with numerous memorable performances in movies such as The Chronicles of Narnia Series, and The Grand Budapest Hotel, and Haider Ackermann has gained attention worldwide as one of the premier designers of Paris Fashion Week. We asked them what they think of Japanese fashion and culture.
First tell us about the Mercedes-Benz global key visuals for which Ms. Swinton modeled.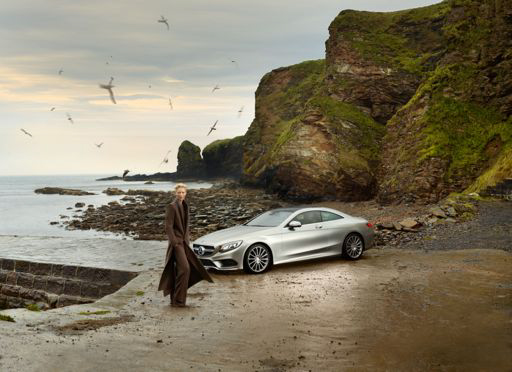 Mercedes-Benz global key visual
Tilda: The foundation for the visuals is a fashion film that was shot at the same time. Since the photos were taken in front of scenery that was the stage for the film they represent the vision of Haider and his creations. Many extremely talented creators helped bring the whole thing together and it turned out marvelously.
Haider: It turned out just as I had envisioned. The film set was very cold but you'd never guess that from Tilda's expressions in the outfits, she is quite the professional.
You've both been to Japan many times before, what's your impression of the country?
Tilda: I first came to Japan in 1981 with film director Derek Jarman. I've been to Japan seven or eight times since then and I like it because it's an island country like my homeland Scotland. I saw the film Twenty-Four Eyes set on Shodo Island and was taken aback by the gorgeous scenery and how much it resembled Scotland. Japan and Scotland are separated geographically by quite a distance but I feel there are cultural commonalities because both countries have such long histories, and that makes me feel very at home.
Haider: The world we live in today is so busy, but you come to Japan and see women walking around in traditional kimono; that contrast is very inspiring. Many Japanese walk around with pride in their sense of fashion, and that to me is extremely beautiful. Wherever I go in Japan I love to people-watch and I feel a sense of freedom from especially the young people in Tokyo. There are not many places in Europe where you can express yourself as freely as you can here, and I think the people of Tokyo have a wonderful ability to express themselves.
What you think about Tokyo Fashion Week and the street fashion here?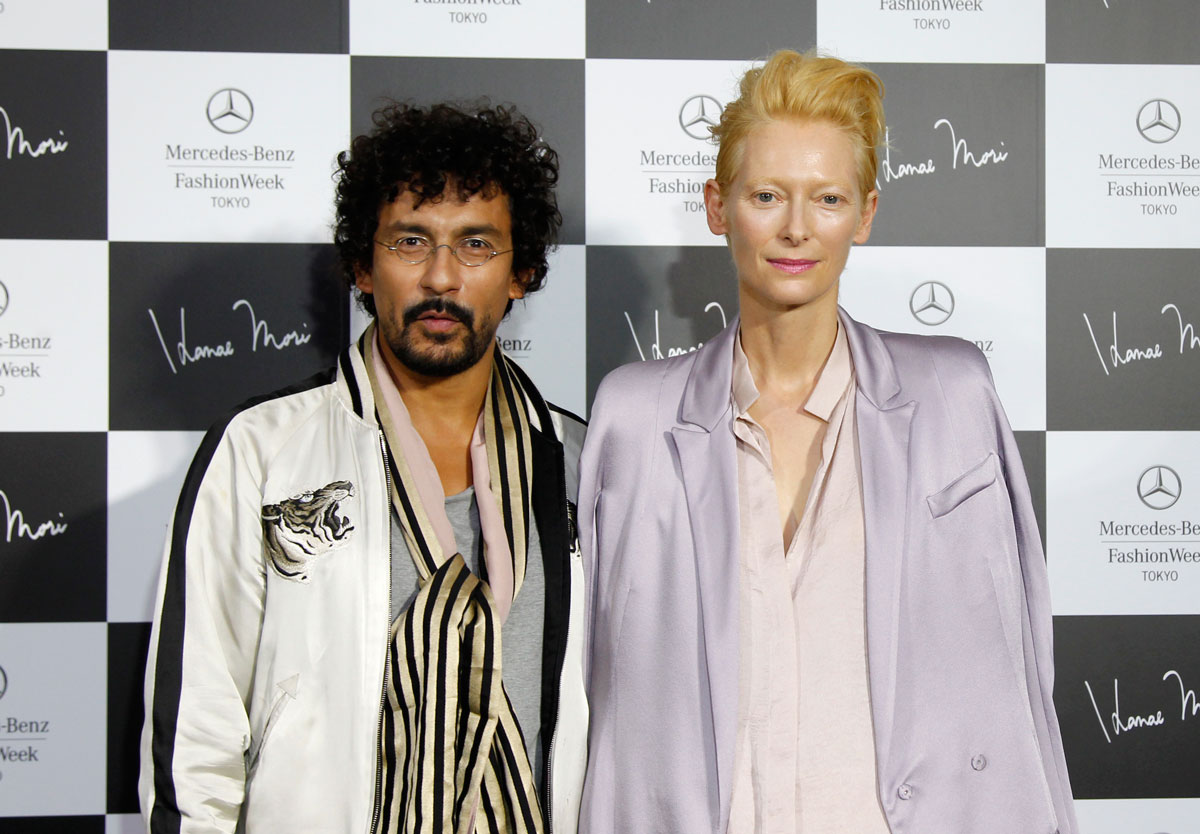 MBFWT 2015 S/S opening reseption (2014.10.13)
Haider: Japan has given birth to wonderful designers such as Rei Kawakubo and Jun Takahashi, and the country is just overflowing with creativity which makes me wonder just where all that energy is coming from on such a small island. I feel a connection between the fashion designers and the young people walking on the street, and I think it's wonderful that there are many marvelously talented creators in addition to fashion designers, such as hair and makeup artist Katsuya Kamo.
Tilda: This is the first time I've been to Tokyo Fashion Week. Every brand has a different atmosphere and it's all so fresh to me.
Haider: Compared to fashion week in Europe and in the United States, Tokyo has an extremely calm atmosphere; one of elegance. Paris and New York are just crazy (laugh), but Tokyo has everything in order.
You both are involved in fashion in different ways, what does fashion mean to each of you?
Tilda: To me fashion means connecting with people. Being able to befriend designers like Haider and build a special relationship is extremely important to me. I loved his clothes before I ever met him but I think I only learned to understand fashion after I got to get to know him. I'm like an ignorant child compared to professionals in the fashion industry which puts me in the extremely luxurious position of being able to remain ignorant of fashion in some sense.
Haider: I spent my childhood in Africa and I didn't know that you could make a living out of fashion until I was about 12. In Algeria where I lived the Islamic women wear a black shawl called a chador which was very mysterious to me and ultimately gave me inspiration. I would watch the women go by trying to imagine what they looked like beneath the shawl. The desire to understand what is beneath the clothing is the origin for my fashions and the reason why I became part of this world. Unfortunately, no matter how much time goes by I still don't come closer to understanding. (laugh).