Interview & Report

Heather Gramston / Costanza Lombardi (BROWNS)
RakutenFWT 2020 S/S Overseas guest
right:Heather Gramston/BROWNS Woman's Buying Manager
left:Costanza Lombardi/BROWNS Woman's RTW Buyer
During the Rakuten Fashion Week TOKYO 2020 S/S term, by invitation from JETRO, 2 buyers from a select shop which represents England, "BROWNS", the women's buying manager, Ms. Heather Gramston, and women's buyer, Ms. Costanza Lombardi, visited Japan. This being their first time to participate in Tokyo fashion week, we asked their impression of fashion week and other questions, such as the characteristics of Japanese brands.
How many times have you been to Japan?
Heather Gramston (hereinafter, Heather): This was the first time I have been to Japan for fashion week and was incredibly excited to visit as we feel there is so much talent coming from this market.
Constanza Lombardi (hereinafter, Constanza): This is my 2nd time. The last time I was here, I took a 10-day vacation and visited Tokyo, Kyoto, Naoshima, etc. I've always been very interested in Japan. The streets of Tokyo have similarities with the streets of London, and yet, the street fashion has many dissimilarities, so it was an extremely fresh experience.
How did you feel when the JETRO invitation was first decided?
Heather & Constanza: We felt extremely honored. Each Japanese brand has an individuality and uniqueness, and we have the image that they suggest new stylings, so we were very excited, and truly looked forward to encountering new brands.
Did you do research on Tokyo in preparation for this visit?
Heather & Constanza: Of course, we did. We gathered information from colleagues, friends, etc. on shop, restaurant recommendations, and made a list of places we should go to. We also did research on new brands through Instagram.
What sort of places have you visited since you arrived?
Heather & Constanza: We've gone around Aoyama and Roppongi, and visited extremely interesting buildings, museums, etc. We've also visited brand shops, select shops, etc.
What is your impression of Tokyo fashion week?
Constanza: I have a strong impression that in European fashion weeks, we see the same sort of array of brands participating every season and presenting shows, but I received the impression that in Tokyo fashion week, new brands are appearing, one after another.
Of the brands you've seen so far, if there are any that especially caught your eye, please let us know.
Heather & Constanza: We've started business withHYKEsince the 2019 S/S season, so we were very interested in seeing their show, and it was very impressive.
Please tell us about BROWNS, which the 2 of you work at.
Heather & Constanza: Presently, BROWNS operate 2 shops in London, and our on-line shop, which is simultaneously in operation, is visited by customers from approximately 170 countries around the world. We've continued to evolve while striving daily to fulfill our customer's needs, but in recent years, combining and providing services through the 2 sales channels of real shop and on-line, is becoming increasingly important.
In BROWNS, what kind of relationship is your real shop and on-line shop in?
Heather & Constanza: When looking at it from a global point of view, the number of customers whom visit our real shop is limited, but it's not rare that customers come to our shop after having seen our products for the first time in our on-line shop, and purchase after being waited on, or actually touching and trying on products. On the other hand, there are customers whom purchase costly products just by seeing it on-line. As we've explained here, the variation in how our customers purchase is wide, but basically, there is no large gap between best sellers in our real shop and on-line shop. As for product line-up, because there is a limit of space in our real shop, we are conscious of often replacing with new products, to always maintain a fresh presentation in our shop.
Please tell us which Japanese brands you presently carry.
Heather & Constanza: Presently we carry PLEATS PLEASE of Issey Miyake, and HYKE, as we mentioned earlier. We hope to carry more Japanese brands in the future.
How is the level of acknowledgement of Japanese brands in Europe?
Constanza: Brands such as Yohji Yamamoto or Comme Des Garcons are widely known in Europe, but I think the reality is, new generation brands are not very widely known. From this point too, I think we shoulder a large role of coming to Japan, actually touching such new Japanese brands, and conveying to European people what is actually happening in the Japanese fashion industry.
Heather: In the background of starting to carry brands such as HYKE, is this kind of thought exactly. Today, these are times in which information on young brands with much lower levels of acknowledgement compared to brands with history, can be found relatively easily on-line. However, introducing these in Europe with relatively easy access, and conveying their attractions is not something everybody can do, so this is also our mission.
What are your thoughts on the strengths and/or problems Japanese brands have when advancing overseas?
Constanza: I think, clothes making which makes one feel the traditional Japanese handcrafting suggestive of Kimonos, is a large strength. The men's workwear inspired by traditional production which we saw during this visit was extremely impressive, and we have been greatly stimulated by the uniquely Japanese handcraft and textile production techniques nurtured over the years. On the other hand, if there are any problems, I'd say, to raise the level of acknowledgement, which I've mentioned before, and to clear the hurdle of pricing and/or delivery.
Heather: To raise the existence of Japanese brands in Europe, I think, actively transmitting and conveying the brand's concept and/or strengths through tools such as SNS, is also extremely important.
Finally, if there are fashion industry topics you are keeping your eye on in recent years, or things BROWNS is hoping to gather strength into, please tell us.
Heather: In recent years, sustainable items made with consideration towards global environment is being released, even from luxury brands, and we are hopeful that such efforts will spread throughout the industry.
Constanza: I feel a consciousness towards such efforts is gradually rising among consumers too. Amidst such mentality, we too are hoping to put strength into such efforts, by editing sustainable brands or items and transmitting through our on-line shop.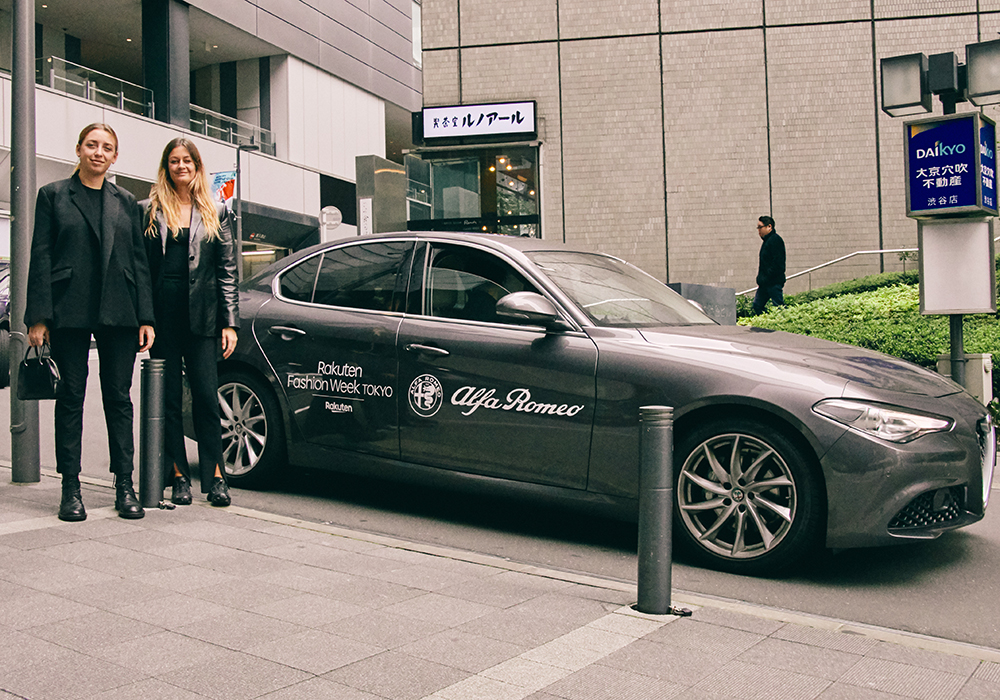 Interview by Yuki Harada
Translation by Aiko Osaki