Interview & Report

Kosuke Kawamura (Collage Artist / Graphic Designer / Art Director)
Rakuten Fashion Week TOKYO 2020 S/S & 2020 A/W Key Visual Creator
As a Graphic Designer, offering graphics to numerous apparel brands, and producing collaboration T-shirts. Other activities include the designing and/or direction of live/event flyers, DVD/CD jackets, book jackets, advertisements, etc.
As a Collage Artist, participation in collaborations with various artists, private exhibitions and group exhibitions, both in Japan and overseas.
Representative works include the main visual and goods design of the "Katsuhiro Otomo GENGA Exhibit" in 2012, production in collaboration with Mr. Katsuhiro Otomo in "INSIDE BABEL" (Bruegel "TOWER OF BABEL" Exhibit), housed at the Museum Boijmans Van Beuningen at Rotterdam, Netherland. In "AD 2019", the Art Wall Project of Shibuya PARCO, which is renewed irregularly until 2019, announced a collage piece with Mr. Katsuhiro Otomo, using AKIRA art works.
In charge of graphics in the 2018 S/S adidas Originals and United Arrows & Sons collaborative collection.
Shop design of the 2018 adidas Originals flagship store, Harajuku 3rd year anniversary.
Awarded the 2018 Good Design Award for the Shibuya PARCO Art Wall Project "AD 2019" in 2018.
In charge of shop design in collaboration with "adidas brand Core store Shibuya" in 2019.
Held the largest private exhibit at the PARCO MUSEUM (Ikebukuro) in 2019.
Held the "AKIRA ART WALL PROJECT x nana-nana KOSUKE KAWAMURA Exhibition" at Royale Projects (Los Angeles) in 2019. And many others.

Mr. Kosuke Kawamura, whom has been providing graphics to various apparel brands, creating collaboration T-shirts, along with undertaking a wide variety of designs, including books, DVD・CD jackets, etc., has been creating the key visual for Rakuten Fashion Week TOKYO for 2 consecutive seasons. Attracting global attention as a collage artist through his collaboration work with Mr. Katsuhiro Otomo, the creator of 'AKIRA', we interviewed Mr. Kawamura on his career up to now, the behind-the-scenes stories in challenging a new method of expression through the production of the key visuals, and others.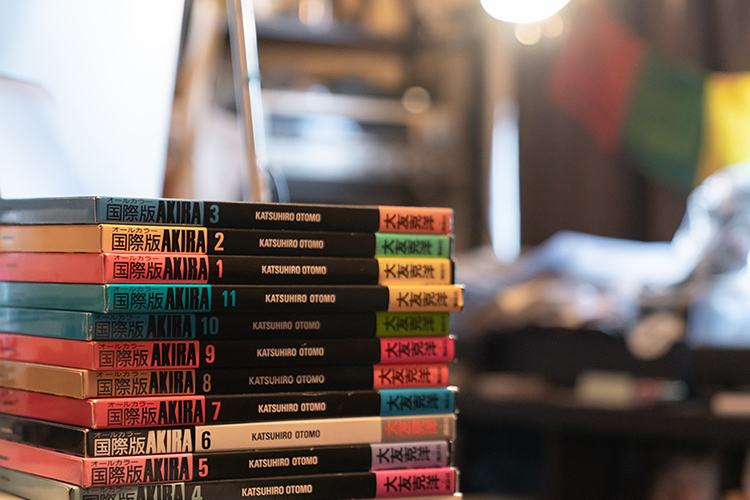 Please tell us how you became interested in graphic design.
When I was in high school, in a magazine, I read an interview between Hikaru, of "Bounty Hunter", a shop in Harajuku, and SKATE THING, whom had been handling the graphic of "A BATHING APE". Back then, for a small-town high school kid, grown-ups enjoying fashion as they please, talking about things they like looked really cool, which made me think I want to do work like this one day, and this was my first hook.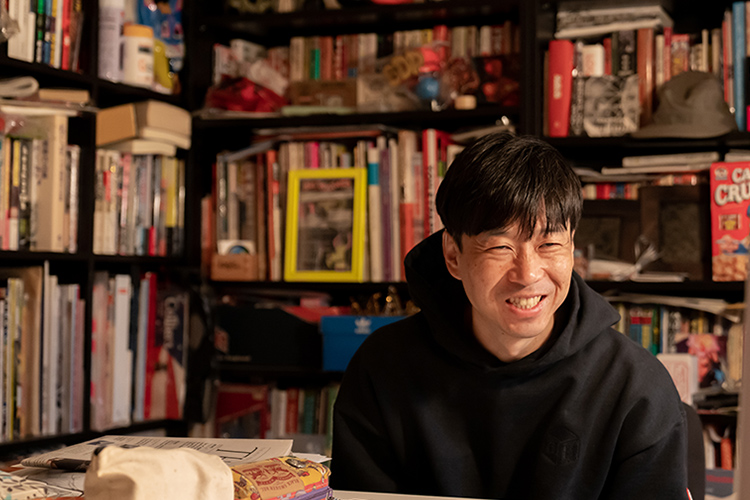 Were you interested in expressing yourself since early childhood?
Until around 4th grade, I had a complex of not being able to draw well, but my class teacher of 5th and 6th grade happened to be a famous Japanese painter, and I was awarded for the first time for a painting a drew, so from then on, I began to like drawing. When I visited my parents' house 2 years ago, I found a drawing I drew around when I was a 6th grader, of the Atom bomb dome at Hiroshima, my hometown. It was a piece completely showing essences of the collages I make today (laugh). Perhaps it's because I had been drawing pictures like that, but when graduating from elementary school, my class teacher advised me to continue drawing. But I didn't continue drawing at junior high school, didn't study at all and instead, I made a lot of things using copy-machines.
So that's your point of origin?
Yes. I think collage is an expressive method which creates illusional worlds as if they really exist, by combining all sorts of materials, and in this sense, it could be said that the pieces I create now and the things I made back then, are virtually the same to me.
When did you start to make collage pieces seriously?
I started making collages from around high school. After graduating from high school, I came to Tokyo, at which point, I was introduced to Mac and Photoshop at the house of a friend who had been studying at a design college. This got me started in digital collage, and I began designing things such as DVD packages, bit by bit. Back then, I got a lot of work creating packages of movies of around the 70's and new independent movies, but because they were low budget, I created visuals by combining capture photos from the movie and materials I collected on my own. An artist friend who had seen one of my works invited me to participate in a group exhibition, and starting with this chance, I began to present my work almost every year through one-man exhibitions, etc.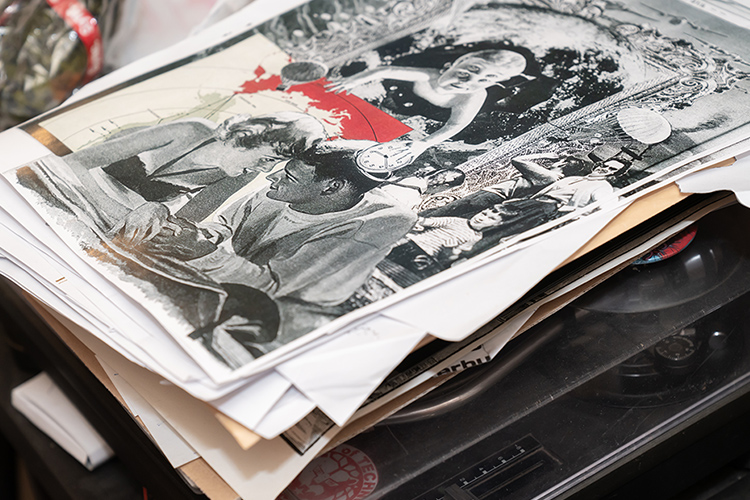 What got you started in using analogue methods, such as making collages using a shredder?
It was from working in collaboration with Mr. Winston Smith, a collage artist whom I had been a fan of from before, who created the artwork used in Green Day's CD jacket, Supreme T-shirts, etc. He resides in San Francisco and we first met in my early 20's. At one time we talked about doing a collaboration together, and one day, about 6 months later, a large cardboard carton arrived out of the blue. When I opened it, it was filled with his most famous motifs, and it seems, he meant for me to create a piece based on those pieces. The excitement and attachment I felt towards the piece when it was completed was beyond anything I felt with digital collages. Furthermore, there was a larger margin for coincidence to play a part than in digital, which I found interesting, and from there, I began to create using analogue skills more and more.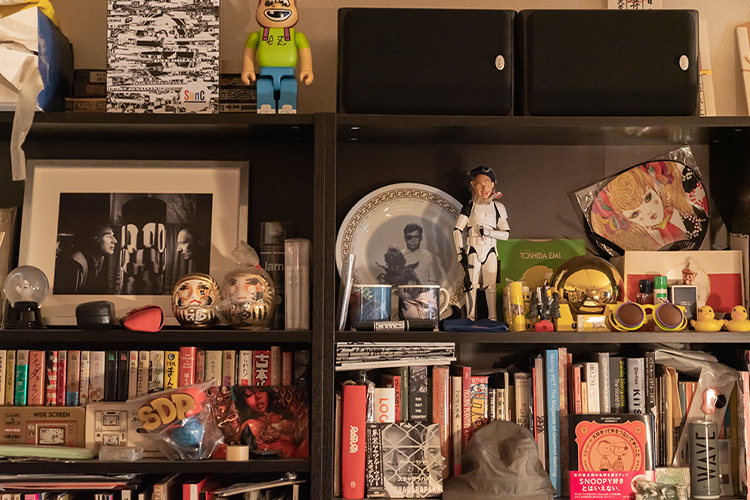 What kind of work do you do the most lately?
The most predominate is artwork for clothing. Because those people working at shops in ura-Harajuku had shown me how to have fun from my early 20's, for a long time I have been undertaking the graphics of textiles for my friend's brands and graphics to be used in T-shirts or products. And recently, increasingly, I've been receiving offers from brands I've had no connection with, along with requests from overseas.
Is it rare for you to do shooting like the one you did for fashion week?
Yes. I usually create my artwork with collage materials provided by the client, so even the way of thinking was completely different. Since they asked me to do this, I assumed they wanted a collage-like expression, but because I was told I would be doing 2 consecutive seasons, I felt this would be a great opportunity for me to try an expression which I've never done before. So, for the spring/summer season, which was the first, I decided to create a visual which was like a collage in space rather than a collage on paper.
Please tell us more about this "collage in space".
First, for this season I established a theme of "Virtual / Reality". When I was a child, I vaguely imagined that by the year 2000, it would become a world in which time machines were being used, but reality is, such a future has not come true. On the other hand, many unimaginable amazing new technologies have been born during these past 20 years, making it hard to determine whether evolution is proceeding rapidly or slowly, and whether people can catch up to this pace. To express this drastic transition in technology along with the gap between it and the speed of evolution of humans, I thought of placing objects which would play with and screw peoples' sense of time, in such a way as filling space with a collage, using old video tapes and CRT TV sets, with projections of my latest motion artworks projected by old technology, etc.
On the other hand, for this season's key visual, you've utilized analogue collage methods characteristic of you, haven't you?
Compared to last season in which I placed weight on the concept, this season I placed my principal objective on using the shredder collage method, so I talked to the photographer, Ms. Masami Sano, about the expressive method, told her the theme this time was Tokyo, and asked her to suggest visual ideas. Because Ms. Sano had an outer-space-like image of the visual, and because shredder collages is similar to the noise which transects across the screen when time-slips in special effects, this season, I decided on the theme "Space (Time) travel". Except for the model, both seasons were made by the same production staff. Starting with Ms. Sano and the stylist, Mr. Koji Oyamada, whom I was already familiar with, this was a team which quickly picked up on what I wanted to express, which allowed me to do this job in an extremely good, positive mode.
You mentioned the word Tokyo. What is the image you have of Tokyo as a place?
When I started high school, I came to Tokyo for the first time and went to all sorts of places, but the most impressive place was Cat Street at night, the street connecting Shibuya and Harajuku. The shops along the street close at around 20:00, and in a mere hour or so, the streets become stranded, with only the streetlights glowing. I liked that scene. Even now, Cat Street between dusk to dawn is my favorite place in Tokyo, which makes me feel as if I am inside a virtual nature. When I return to my hometown, there's still a lot of real nature left, but I feel more comfortable in the virtual nature of Tokyo, and in doing my artwork, my wish to express something like this played a substantial part in what I create.
Creating the key visual for 2 consecutive seasons. What kind of experience did that turn out to be?
When it was first decided that I would be creating the key visual for fashion week, it seems, those people familiar with my work naturally imagined an expression by collage, so I heard many voices of surprise when the first 2020 S/S key visual was publicized. I feel there is a part of me that has broadened thanks to challenging myself with an expression I've never tried before. In addition, I've also had the chance to show a collage expression characteristic of me, so I think I've been able to utilize these 2 opportunities well.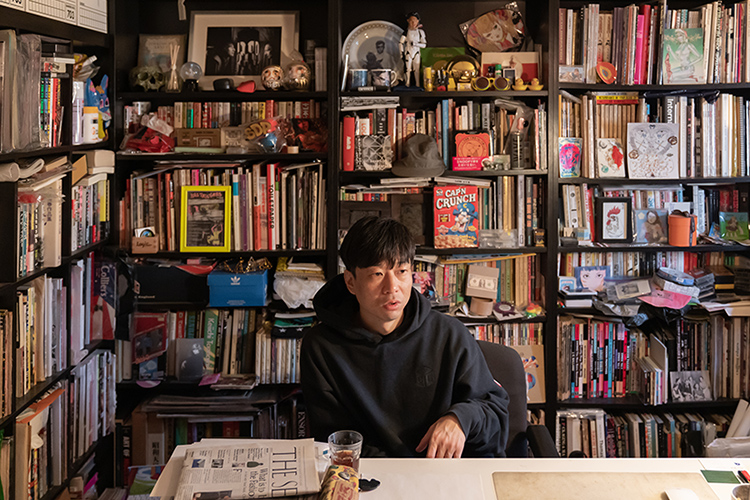 Finally, is there any new type of expression you wish to try in the future?
I've always wanted to try turning my collage works into a dimensional piece. By joining hands with a professional in molding and shaping, and turning my collage dimensional, I think it would be really fun if I could show parts which cannot be seen in a flat collage, such that would make people think, "what's this person's side profile look like?" or "what's the distance between these parts?", etc.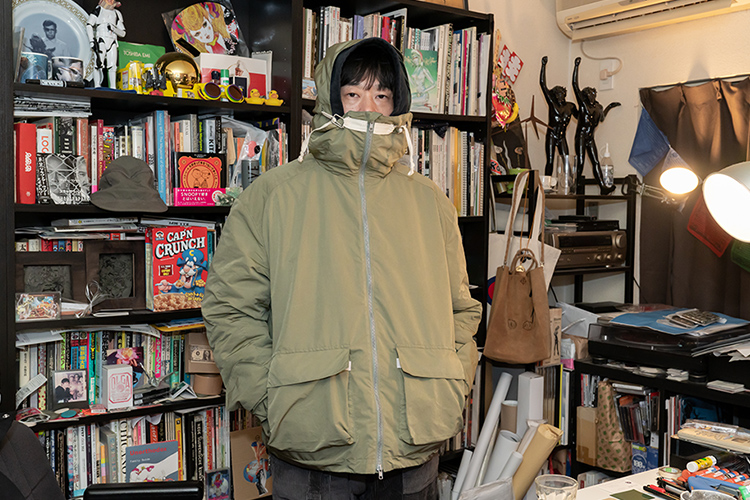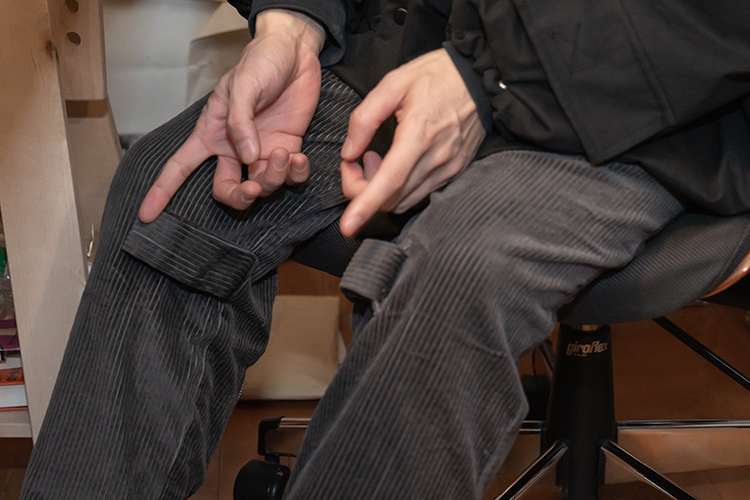 An item of PHINGERIN, a brand which he purchases a number of items from, every season. He favors the brand because of their playfulness and high functionality, such as outers which can be shouldered like a backpack when not worn, an outer with superior protection against the cold by hiding more than half of one's face, comfortable and easy to wear bondage wear, etc.
Interview by Yuki Harada
Photography by Yohey Goto
Translation by Aiko Osaki