Interview & Report

ATRIUM (Buyer for the men's line) / Eitan Braham
MBFWT 2014-15 A/W Invitation buyer interview vol.3
ATRIUM (Buyer for the men's line)
Eitan Braham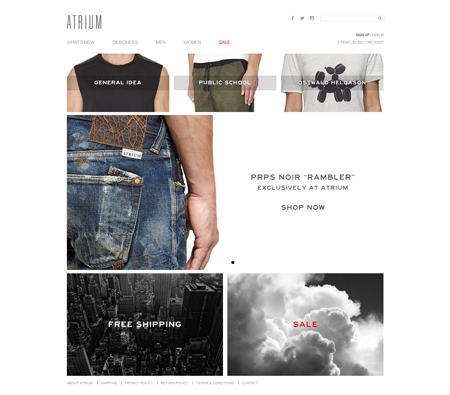 [ URL ] ATRIUM
Eitan Braham of "ATRIUM," a popular select shop in New York, visited Japan during the term of Mercedes-Benz Fashion Week TOKYO
2014-15 A/W. The shop actively handles brands of up-and-coming creators and is known for the best denim selections in New York. Eitan, who follows the trend of men's fashion as the buyer for men's fashion, was interviewed about the impression of Japanese brands and street fashion of Tokyo.
How many times have you been in Japan?
This is my second time in Japan, and my previous visit was 6 months ago. During this visit I encountered new brands that I did not know before, and I was able to look at various things as if I were on an exploration every day. Clothing from Japanese brands is extremely high quality
and has an exceptionally high level from design to styling. Japanese brands are also very popular among customers of ATRIUM. Since we are prepared to accept Japanese brands and the demand for Japanese brands is increasing in the US, I am very grateful to JETRO for giving me this opportunity as part of the overseas buyer invitation program.
Please introduce ATRIUM.
ATRIUM is a shop that was established in New York 20 years ago. Sometimes even regarded as a center for men's fashion, it is an
important shop in the industry. Focus is especially on denim, and we have a selection so excellent that there is a high chance that superb denim worn by people in the streets of New York was purchased at ATRIUM. We are constantly looking to evolve, and we travel around the world to go to almost all major exhibitions to find the latest and best fashion. An extremely broad connection is also ou strength as our partner companies organize "Liberty Fashion & Lifestyle Fairs"a large-scale exhibition held regularly in New York and Las Vegas.
What did you do before your current position?
I started working in the fashion industry in 2008. For a while, I worked at a company in New York specializing in exhibitions, where I mainly looked for and introduced new brands. It has been 2 years since I joined ATRIUM, and it is a great pleasure for me to be able to constantly follow the latest trends of men's fashion. Especially in the world of men's fashion, there are many new exciting brands and notable shops. In addition, due to the recovering American economy, sales have drastically increased these past few seasons and the market shows good performance.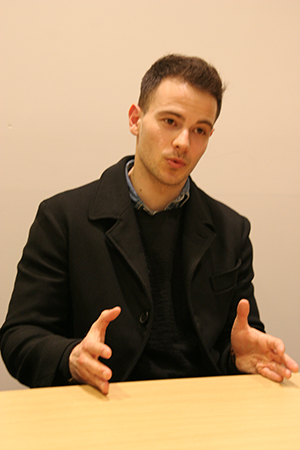 What kind of customers come to ATRIUM?
Our main customers range from ages 18 to 34. Our customers constantly seek hot and progressive things, which are also what we aim for. The thing that we lay most importance on is "differentiation," and we constantly have our minds on what is different from other brands, and what is interesting about that clothing. Of course, the entire collection of the brand is important, but we also take the needs of customers into consideration according to each piece of clothing when making a purchase. We want customers to say, "I've never seen this before!" when they enter the shop. To do so, it is important to see if there is a characteristic like no other in the buttons, zipper or any other minor details.
To what extent do you handle Japanese brands?
There were times in the past when we handled many brands, but since it was difficult to maintain a relationship, there were also times when we were distant from Japanese brands. Our current company policy encourages actively taking in Japanese brands. More than 10 Japanese brands participate in exhibitions organized by our group companies, and buyers have shown very positive responses. The demand for Japanese brands is undoubtedly increasing.
What do you think about street fashion in Japan?
I have been to Fashion Weeks around the world, but I think street fashion in Tokyo is the most fascinating in the world. I am inspired especially by the fashion of men as it is filled with energy from color and combinations to hairstyle and accessories. Each person has their own kind of fashion and it is very exciting to see them.
What do you think about the select shops and department stores?
When it comes to men's fashion, I think select shops and department stores in Tokyo are the best. I saw many shops, and I was amazed to see how each shop had their vision and identity. Large shops such as Isetan and United Arrows covered all items as if it were a perfect closet.
Did you see any shows in Japan?
Since I used my time for meetings, exhibitions, and research, I have not been to a show yet. Of course, shows are exciting and the quality of shows in Tokyo is high, but it is more important for me to see actual products.
Did you find new brands at exhibitions?
Yes. I was able to see many brands in a short period of time, and there were several brands that I would like to have at our shop right away. Each product was fascinating, but this visit was most valuable in that I was able to understand the concept behind the products.
What do you desire from Japanese brands?
The challenge in introducing Japanese brands to the US is always with size and delivery. It would also be helpful if a simple step of displaying the wholesale price in USD on the line sheet can be taken so that we would not have to do various calculations. This all depends on how much
commitment to the US market can be shown. For example, when having a show or exhibition overseas, it is necessary to find a venue for the show and think about assigning distributors and sales agents. They all show how serious you are about expanding overseas. The economy in the US is rising, and since there is a large demand for Japanese brands, I would like to see brands to seize this opportunity.