Interview & Report

Nick Wooster & Robb Young Interview
MBFWT 2014-15 A/W Invitation interview
Nick Wooster
After working as the fashion director for Neiman Marcus and Bergdorf Goodman, Nick Wooster currently works with Lardini(Italy), Il Cotso(Korea) and United Arrows(Japan). His posts on SNS such as Instagram and Twitter are popular among many people from the fashion industry and fashion-sensitive people.

Robb Young
Robb Young has been a contributing fashion journalist for the International Herald Tribune for 10 years alongside world-renowned fashion journalist Suzy Menkes for many years. He also wrote for Financial Times, BBC.com, and VOGUE.co.uk. He is also a consultant for global luxury clients like Walpole, the association representing British brands such as Jimmy Choo and Alexander McQueen.

Nick Wooster and Robb Young were invited to Japan by the Ministry of Economy, Trade and Industry during the Mercedes­Benz Fashion Week TOKYO 2014-15 A/W. Nick worked as the men's fashion director for "Neiman Marcus" and "Bergdorf Goodman," high-class department stores in New York, and after starting his own business, he has collaborated with various brands and shops as an icon of the men's fashion industry. Robb was the fashion editor for the International Herald Tribune for many years alongside famous journalist Suzy Menkes, and currently consults for luxury brands. These two globally prominent figures of the fashion industry were interviewed on their activities and impression of Japanese fashion.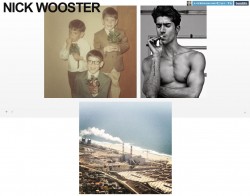 Please tell me about your career.
Nick: I liked to shop and I was always thinking about how I can buy clothes in a better way and at a better price than other people. At first, I did not see a business opportunity there. My career started as a buyer for Barneys New York, and after doing designs for several brands, I was appointed as the men's fashion director for Bergdorf Goodman. I started my own business in 2011, and as the final stage of my career, I mainly consult for brands and retail stores around the world, including United Arrows in Japan. I have enjoyed the many wonderful opportunities I had, but at the same time, due to the difficult nature of this industry, I constantly feel the necessity to go through various steps to become an expert of any occupation, such as designer, journalist and buyer.
Robb: I majored in politics and economics at university, and at that time, I was not particularly interested in creative fields, such as fashion and art. For an interview for an internship at the United Nations when I was a student, I wore something I would wear to a club. People usually wear a suit and a tie for interviews, but I did not like going by the rules. When I came to the point where I had to decide between working by the rules and finding a new way of life for myself, I decided to become a fashion journalist. As you can see, I started my career in an odd way, but I came to work as an editor for magazines and media, and for the past 10 years I have consulted for brands.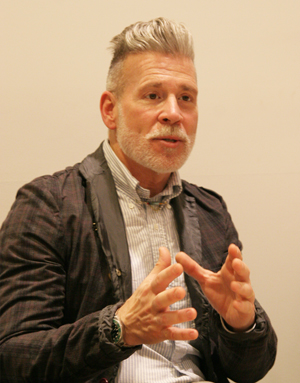 What motivates your current work?
Nick: My motivation is the clothing itself, as it always has been. The best part of my job is travelling to the US, Europe, and Asia through such clothing. You can say that the entire world is a single marketplace due to the emergence of computers and smartphones, and it is fascinating to be able go to the place where interesting action is taking place and share it through social media.
Robb: In my case, I do not go into details about a piece of clothing and do not put my focus on the product itself too much. My motivation comes from thinking about the story and narrative of the brand and financial aspects from a wider perspective.
How did you feel when you were officially invited to Japan by the Ministry of Economy, Trade and Industry?
Nick: I am very grateful for this opportunity. As I mentioned earlier, nowadays what you see or experience can be shared with many people with similar interests through social media such as Twitter, Instagram and Tumblr. This is my first visit in a year, and I would like to share my experience with the audience and give economic support by shopping in Japan.
Robb: I lived in Japan for 3 years, but since this is my first visit in 6 years, I would like to get an update on Japanese market trends, consumer trends and the current situation of the fashion business. Unlike Nick, I am a little behind on social media (laugh), so I often take time to analyze what I see and present it to the media as  longer feature articles. I would like to do the same for this visit as well.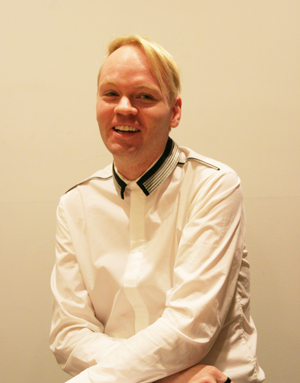 You are both familiar with Japan. What do you think about Japanese fashion?
Nick: In my case, I see fashion from the perspective of men's wear. Japan is a market that handles various types of men's fashion, and it is a country with the highest level of brands and consumers in the world. Men dress well in various genres, from a classic European style, to sportswear and street fashion. It is a perfect place to look at the entire image of men's fashion from a broad perspective.
Robb: When I lived in Japan many years ago, I liked going to various cities and watching the styles of people walking around. For example, it was extremely interesting to see how people near 109 in Shibuya were dressed and watch what kind of clothes they would buy. Japan is a place that provides unlimited inspirations. Japanese people's perspectives on fashion are diversified, and the freedom and chaos of such are very interesting.
Nick: Japan is a place to rediscover that which has ceased to exist in the US. For example, reappraisal of Levi's and Champion in Japan triggered vintage wear to be spotlighted in the US again. It is extremely interesting how traditional technologies and history are expressed together with new technologies, as seen with brands such as Kapital and visvim. This type of spirit and aesthetics of craftsmanship of Japanese people are very close to the way I think.
EN, an exhibition of collaborations of craftsmen and companies with traditional Japanese skills and fashion designers, took place during Fashion Week. Do you think unique traditional skills and aesthetics will be a strength for Japanese brands to expand overseas?
Nick: I think it is necessary to change the culture, history and traditional craftsmanship of that country into a new form instead of presenting them as it is. Kapital and visvim, mentioned earlier, and Okura, are examples of expressions of Japanese tradition with a modern interpretation that enable these brands to expand overseas. However, it is important to understand the global market.
Robb: Presenting traditional elements through fashion comes with some risks. As Nick said, globalizing traditional things in a new way will be a unique appeal point, but it is also certain that this is not easy.
Were there brands that left an impression in the shows and exhibitions you saw?
Nick: The brands I liked were 99%IS- and yoshio kubo. Their show and clothes were fascinating. I also liked MR.GENTLEMAN which mixed classic and avant-garde. The geometric design of ATUSHI NAKASHIMA was also beautiful.
Robb: I liked all the brands that Nick mentioned. I especially liked how 99%IS- has a clear intention of expanding gothic aspects to the luxury area instead of keeping it to the sub-cultural area. The show of matohu that I saw was very dignified and its degree of maturity was very high as it proposed clear visions to consumers.
What did you think about the current status of Japanese fashion through this visit?
Robb: A large change I saw in terms of the market was that the focus is on the Asian market. This is a global trend not limited to Japan. I think future concerns will be on how Japanese brands and designers will develop a relationship with consumers and create a market in Southeast Asian and East Asian countries. I learned from this visit that Japan has its attention on neighboring Asian nations, more than just Paris and Milan which have been known as the center of fashion.
Nick: As Robb said, the world has its attention on Asia. Japan had been in a position different from Western nations and other Asian countries. However, as the world is becoming one, it is currently in a phase for major change. It will become even more necessary for people in each country to understand the market of other countries. This has already been started to be practiced by young generations. If such a movement advances, it is likely that the economy will show an upward trend.