Interview & Report

MATCHES FASHION (Head of Fashion) / Natalie Kingham
MBFWT 2014-15 A/W Invitation buyer interview vol.2
MATCHES FASHION (Head of Fashion)
Natalie Kingham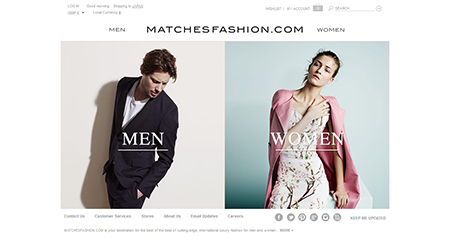 [ URL ] MATCHES FASHION
Natalie Kingham of "MATCHES FASHION," a popular select shop based in London, came to Japan around the timing of Mercedes-Benz Fashion Week TOKYO 2014-15 A/W. The shop has actively engaged in business operations from actual shops in London, as well as through e-commerce, and has steadily increased fans by creating various points of contact with customers such as operating events and pop-up stores around the world. We interviewed Natalie who is a core figure of the shop.
This is your first time in Japan. How did you feel when your visit was made official with invitation from JETRO?
I thought it was a good opportunity for me to directly interact with Japanese fashion as I had watched many Japanese brands expand to Europe with interest. The efficient arrangement of the schedule by JETRO allowed me to visit various places.
Please introduce MATCHES FASHION to Japanese readers.
We are a shop that handles high fashion, mainly luxury brands and cutting-edge brands, from around the world. Sales from the online shop accounts for 70% of our entire sales, but we also have shops in London and luxurious private houses which customers are invited to shop at. We also organize events and pop-up stores in New York, Hong Kong, Australia and other places around the world with designers. Our aim is to offer a personal shopping experience to customers from multifaceted channels.
You seem to have customers of various nationalities.
Yes. Before the Internet, what was desired in each country differed, but with the emergence of e-commerce, styles of fashion became common around the world. Since we can now appeal to the world through the Internet, we have a press team that actively transmits our shop. There are customers who learned about MATCHES FASHION through such activities, and we would like to further promote ourselves to the world. The main targets of MATCHES FASHION are those aged 35 to 45, but due to active collaboration with young designers in the past few years, there are an increasing number of customers in their early 20s.
What are the characteristics of the recent fashion scene in London, and which brands do you have your eyes on?
Fashion in London can be characterized as extremely creative and energetic. Brands that I have my eyes on lately are Christopher Kane, Roksanda Ilincic, Erdem and Marques' Almeida. Among these brands, Christopher Kane is most widely known. We have worked with the brand since it first started. Roksanda Ilincic has a feminist taste and sells well at our shops. Erdem is an extremely young brand, but it is already known for its original print design. Marques' Almeida is a novel brand, and it sold out in days in a trial sale online. As sneakers and flat shoes are favored over high heels recently, the trend of the fashion style shows a stronger sports taste in all generations. Judging from collections and shops around Europe, this is a global movement, not limited only to London.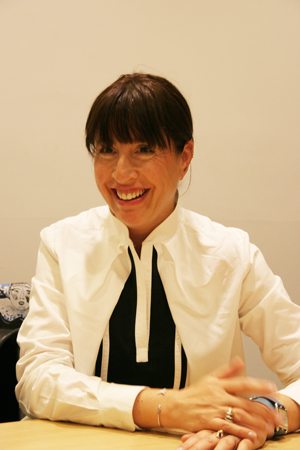 What kind of work do you do?
I am the Head of Fashion, and I am in charge of apparel overall, bags and sunglasses, and accessories such as jewelry. I accompany buyers to fashion shows and show rooms around the world to find new products. A large portion of my work is to watch fashion trends and lifestyles. It is my job to find clothes and items in advance by thinking about what kind of clothes women wear and what kind of style they seek.
What do you do to differentiate yourself from other shops?
Especially for online shops, it is important to present visually good products, but we focus more on selecting products with high quality. You often hear of customers who had purchased a product online being disappointed when they opened the package of the product they received. As we think this should never happen, more than anything we put value on delivering well-created high-quality products.
How many Japanese brands do you currently handle?
We currently handle TOGA, Julien David and Visvim, and there are also several other brands we are negotiating with. My major purpose of this visit is to find new brands, and I have already encountered several new discoveries.
What do you think about the creations of Japanese designers and street fashion of Tokyo?
I have a very good impression of Japanese brands, and I think they have great focus on details. I saw high-quality products of brands that I saw in the exhibition, and I think it is characteristic that several styles are mixed together. I am planning to go to Harajuku to see street fashion, and I hope to see people known as "Fashion Tribe" people, people with styles such as punk fashion who are no longer seen in London, in Tokyo.
What do you expect from Japanese brands?
Since Japanese brands have an extremely high level of creativity, I think they should have more confidence in their creations and aesthetics. We want them to appeal their unique Japanese taste instead of following the latest mode of Europe, and we seek such expressions. For example, I saw a scarf in an exhibition today, and I was amazed by its original style of tie-dye. "EN," which was held on the 8th floor of Shibuya Hikarie, was also fascinating. There are brilliant traditional technologies in Japan, and it is an effective approach to incorporate such technologies into modern expressions.