Interview & Report

Harry Sugiyama
AmazonFWT 2018 A/W Official Ambassador
Talent / MC
Born in Tokyo, in 1985. Moved to the UK when he was 11 years old. After graduating from high school, worked as a model while working at an investment bank, in Japan. He went on to study at London University, Beijing Normal University, and upon returning to Japan, resumed his activities as a talent. His father is the former Tokyo branch Head/Asia Bureau Chief of New York Times. Multi-lingual, fluent in Japanese, English, Chinese, and French. Presently active as a regular personality of TV programs such as CXTV 'Non-Stop', NHK 'Domo NHK', and radio programs such as J-WAVE 'POP OF THE WORLD'.
'TOKYO FASHION EXPRESS' (NHK WORLD JAPAN), NHK's fashion-information TV program geared towards overseas, is one of the official media partners of Amazon Fashion Week TOKYO. Starting as their new MC from this spring, Mr. Harry Sugiyama has also been appointed the Official Ambassador of AmazonFWT, to carry out interviews for the program and raise excitement towards AmazonFWT. Experiencing various cultures from living abroad, he has had a special interest towards fashion since childhood. During his years living in London, he says whenever he heard news of Japanese fashion or designers gathering attention overseas, he felt proud of Japanese fashion, and felt he wanted to do something to spread it wider out into the world. We are curious, how AmazonFWT reflected in his eyes. We've asked him on his impression of participating in AmazonFWT as the Official Ambassador, the attractions of Japanese brands he felt through seeing the shows, and his own views on fashion, etc.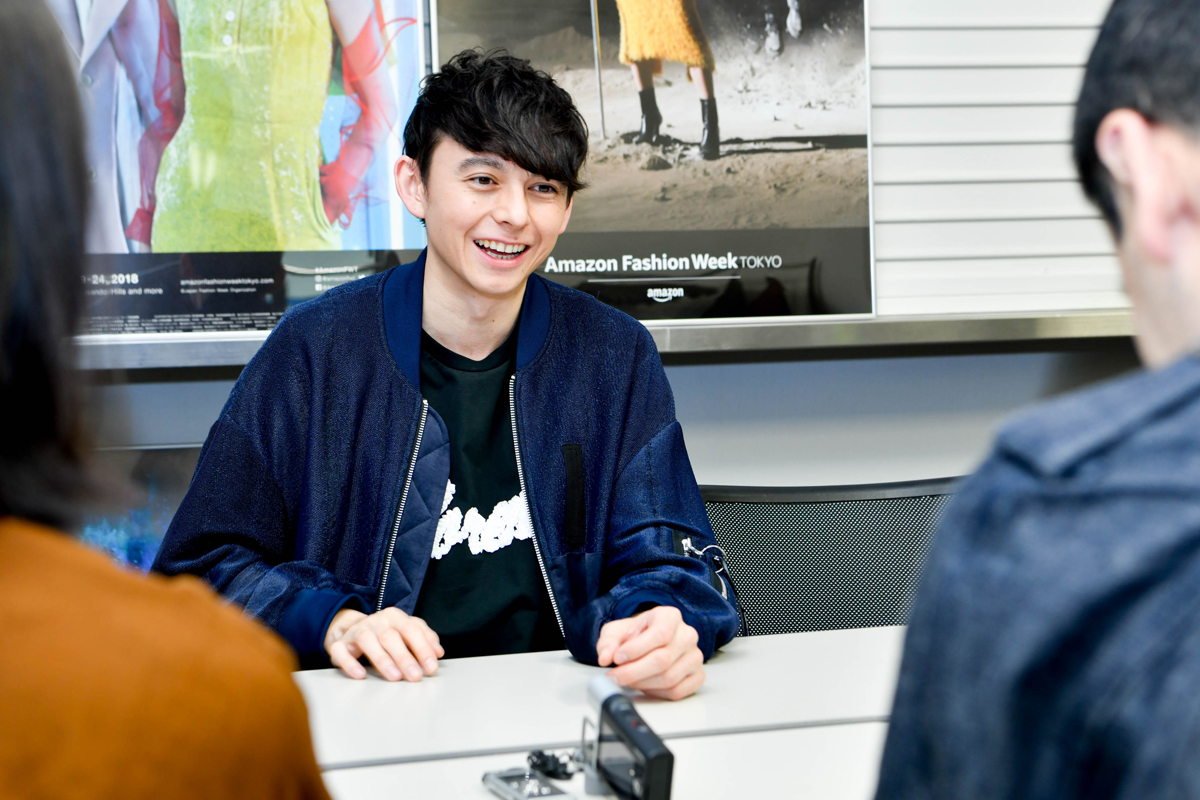 First, please tell us how you feel, being appointed the Official Ambassador of AmazonFWT.
Frankly, I was honored. For me, it's not an exaggeration to say that fashion is one of my purposes in life, so I'm very happy I can be of help to Japan fashion as the Ambassador and feel responsibility in surely spreading it.
Having participated in AmazonFWT, how was it?
Ms. Sarah (Andelman: Overseas guest/founder of 'JUST AN IDEA') spoke of this also, but I thought it was fun that the shows were held at all sorts of venues around Tokyo, and not just one venue. It has a sense of turning everyday mundane sights and air into something special. Actually, 13, 14 years ago, I have experience walking the runway. Perhaps because of that, I tended to check-out the walking and expression of models when seeing shows, but this time, I watched the shows from a different view as the MC of 'TOKYO FASHION EXPRESS' and Ambassador of AmazonFWT, focusing my attention to the clothing and production of the shows.
This time, you've viewed 10 shows. Which left the strongest impression?
When looking at shows, I place importance on how it affects emotions, in other words, how it moves me emotionally. The show of KUON was very impressive, and I felt history and warmth. Not only was it cool as fashion, from the materials, I felt the particularities and sensitivity of skills of the craftsmen. It had a power to pierce people's hearts, and I couldn't wait to convey this to overseas medias and my friends. The process of overlaying materials known as rags and handing it down to the next generation was deeply moving, linking with how I used to wear my grandfather's jacket when I was a student. In the KUON collection, sashiko quilted clothes (form of traditional Japanese needlepoint of stitching geometrical patterns in textiles using threads) made at a disaster-stricken area of the Tohoku earthquake and tsunami was used. I've been going to Kamaishi, Iwate-Prefecture in private from after the earthquake, and every time I speak to a local Japanese-style izakaya-bar owner whom I've befriended, I renew the feeling that we should never forget 3.11, but the same feeling swelled up from seeing the sashiko quilt of KUON.
Were there any other shows which were especially impressive?
In the installation of AKIKOAOKI, the presentation of having models dress right in front of my eyes was fresh. In the show of YOHEI OHNO, the sense of peaking at daily life from a keyhole was interesting, and the cutting of the clothing was also attractive. It was a venue with a big mirror set on the wall, allowing for close observation of details of the back style also. The SISE collection which used the roof-top of a building in Hibiya as its venue, had many slim silhouettes, with a feminine beauty despite being a men's collection, which I'd like to wear myself in private. The RYOTAMURAKAMI collection with its "middle-aged lady of Osaka" theme had such impact and I enjoyed it.
You've live in various cities overseas. From your point of view, how was Tokyo Fashion Week and/or the fashion scene?
From seeing the shows in this term, I felt Japanese designers have an absolute originality. So many shows were presented, but there weren't any brands with the same theme or production, and I felt the exploding energy of the young designers. During the AmazonFWT week, I felt, even the entrance of Shibuya Hikarie seems to be covered with a fantastic mood. There are many people acting cool in a good sense, I think they are all studied. Shibuya is a very familiar area for me. From 6 to 11 years old, I went to an international school in Shibuya, and during my time of residing in London, every time I came back to Japan for a visit, I would hang around Shibuya, but I think there is a unique youth fashion in Shibuya and Harajuku. I've seen their type of clothing or styles presented as a collection in runways of Paris or Milan a few years later, so I think Tokyo is a leading fashion city with a one-and-only truly unique individuality, no less than any fashion city in the world.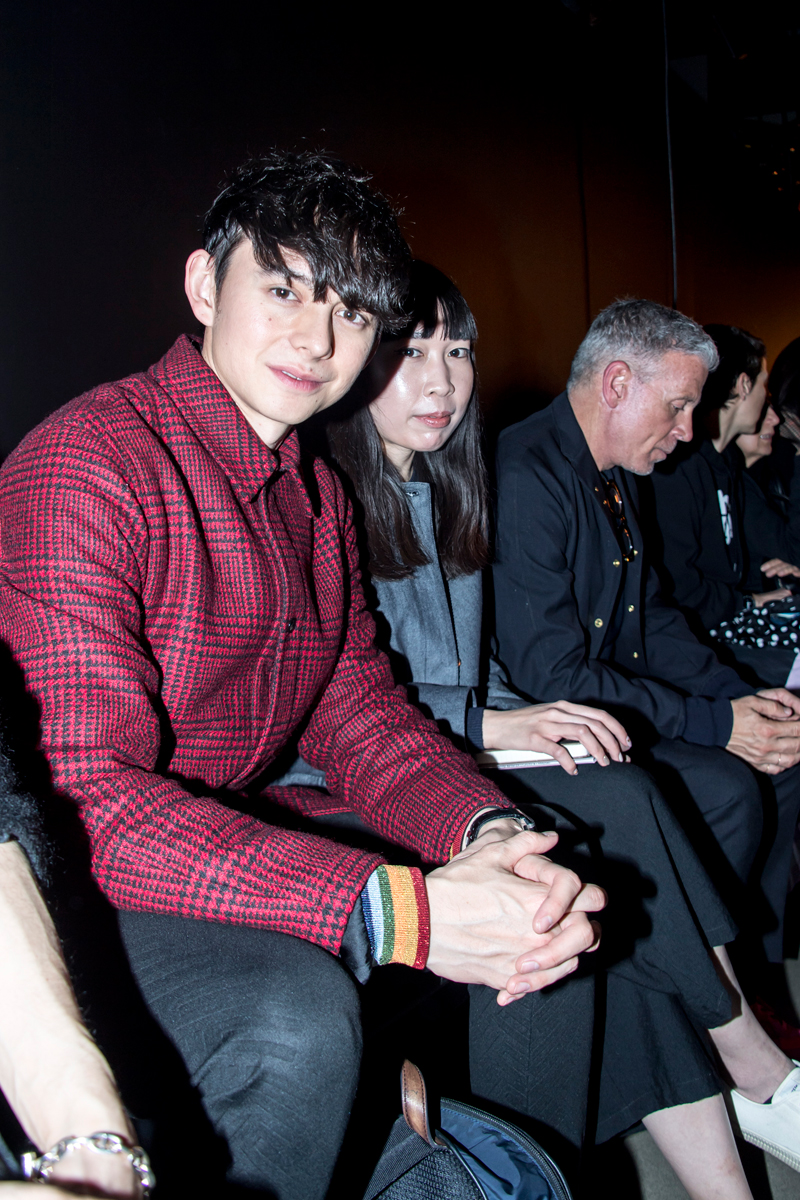 We'd also like to ask you about your own fashion. Is there anyone or any thing you've been influenced in fashion?
At 13, I got accepted to England's oldest public school, Winchester College, which is an all-boys boarding school with no uniform. There was a dress-code stating students must wear either a suit or jacket, but unless the design was too eccentric, we could wear any design we liked. I was in an environment in which I could express myself through clothing. I used to buy Paul Smith jackets at auction sites, and hand-down suits from my father and grandfather. There are times when a gloomy day becomes colorful and bright just by wearing my favorite clothing, so to me, clothing is a savior-like existence.
How do you choose your private wear?
I usually decide on the day before, but I usually do it by opening my wardrobe and spend 4, 5 seconds to choose a shirt from among the 60 or so shirts I have. I usually choose my clothing depending upon whom I'm seeing that day. My father is presently in a nursing home, so when I go visit him, I try to choose clothes which will stimulate his memory.
Do you have a favorite brand?
I like JOHN LAWRENCE SULLIVAN. Their outlaw taste with a sense of decadence, and their rock taste. It's as if 80's music comes flowing from it naturally, and I like that. I was also moved by the background of their designer, Mr. Yanagawa, how he turned from a boxer to a fashion designer. This is purely coincidental, but I used to belong to the same soccer team as Mr. Yanagawa's younger brother, so I feel sympathy. I think GAUFRAIT, which I introduced in 'TOKYO FASHION EXPRESS', is the most comfortable pants in the world. It's as if I'm not wearing anything and it doesn't wrinkle easily, so I wear it often on days when there is a lot of moving around. As for overseas brands, I like Stella McCartney because I sympathize with her ideas of sustainability in clothes making, the classic tailoring of the old established London brand Paul Costelloe, whom had designed clothing for the late Princess Diana for years, and AMI Alexandre Mattiussi of Paris.
Is there any style or taste you like in women's fashion?
If the style fits that person and expresses their personality, I like it. Before, I used to like typically British-like preppy looks, but now-a-days, I'm also attracted to boyish and mannish styles. When I run into a woman skillfully wearing men's pants and walking through town aggressively, sometime my heart skips a beat (laugh).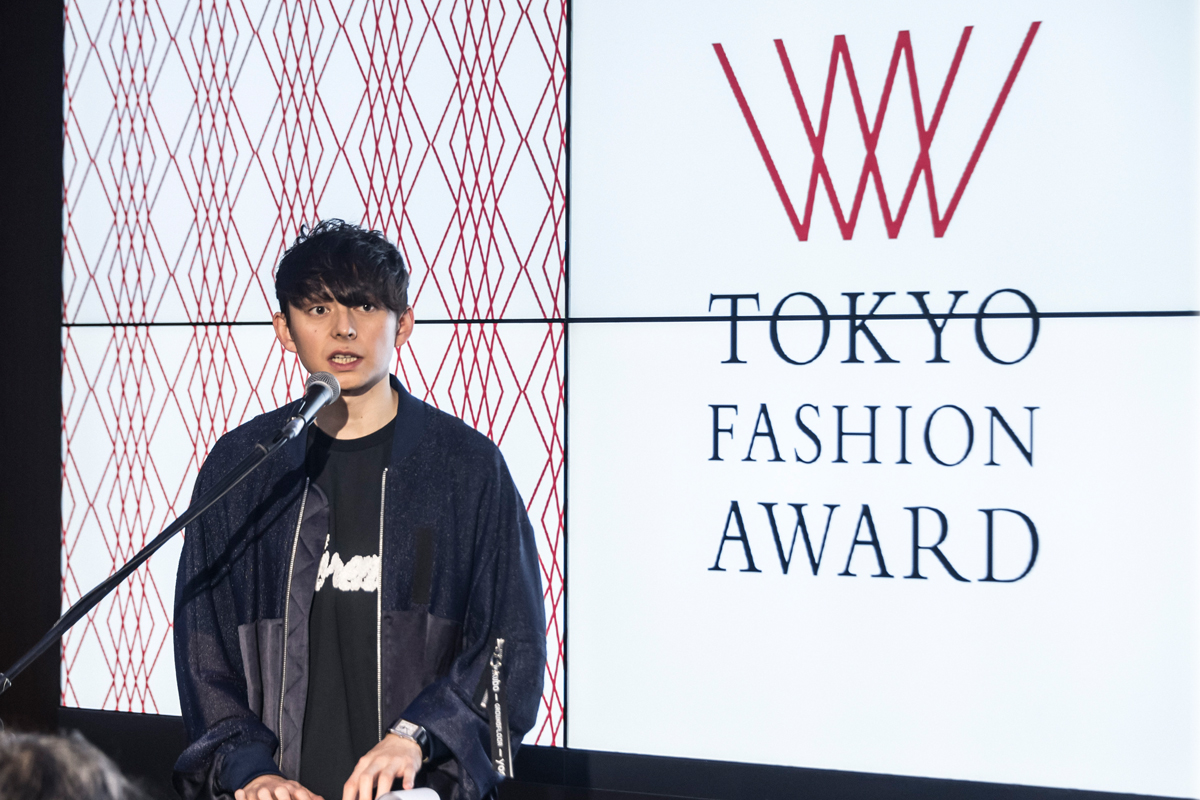 Mr. Sugiyama was presided over by TOKYO FASHION AWARD WINNER'S DAY press conference.
INTERVIEW by Akane Fujioka
INTERPRETATION by Aiko Osaki