Interview & Report

Hirofumi kurino
UNITED ARROWS LTD. Senior Advisor In charge of creative direction
Born in NY in 1953, grew up in Japan since 1 year old.
After graduating from university, experienced working in the fashion retail business as a salesperson, buyer, brand director, etc., and went on to participate in the starting up of UNITE ARROWS in 1989. After holding the posts of sales promotion director, creative director, executive director and concurrently CCO (Chief Creative Officer) successively, now at his present post.
In 2004, awarded an honorary fellow from the Royal College of Art (RCA) in the UK. External judging member of the LVMH Prize. Enjoys music and DJs on the side. Tweed-run Tokyo Executive Committee Chairperson since 2011. Mentor of 2020 master class graduates of POLIMODA Firenze in Italy.

The "FACE.A-J" project. Having participated in Rakuten Fashion Week TOKYO 2020 S/S for the first time, its participation in the 2021 S/S season has been the second time. "FACE.A-J" stands for "Fashion And Culture Exchange. Africa-Japan", Mr. Hirofumi Kurino is participating in this project which introduces fashion and culture of Africa and Japan, as its director. We asked him about the background on how this project got started, and this season's fashion show. We also asked for his honest opinion on the post-pandemic fashion industry, from his standing point of having led the industry of many years.
Well, this has been the second time for "FACE.A-J" to participate, but please tell us the background behind how/why you started this project.
Aimed at the active exchange of African and Japanese culture, thereby bringing about economic development to both, FACE.A-J was started in 2019, with events held at Tokyo and Lagos, Nigeria. Africa is one of the places I'm presently paying attention to, and since 2013, in collaboration with EFI of the United Nations, UNITED ARROWS has started "TEGE", a brand which introduces African craftwork. I was asked for advice from "Awa Tori", a 2-women unite of African roots residing in Tokyo, and this became the opportunity to start this project. I suggested it might be interesting to do fashion & cultural exchange by introducing young Japanese designers in Africa, and young African designers in Japan, which is how the project got started.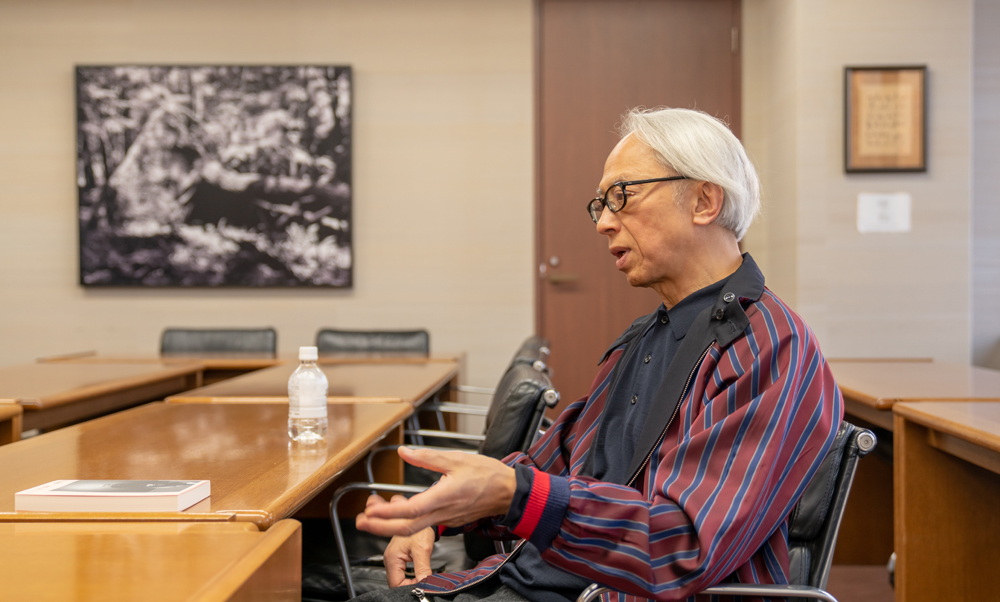 Last year, a show with an emphasis on culture, especially music, was held under the Tokyo Tower, wasn't it?
The main attraction of the Tokyo show was a stage production of having the members of "MINYO CRUSADERS" wear clothes of Japanese designers. The show at Lagos was held with a movie of scenes of their music performance and music in the background. The show at Lagos was held at a wonderful select shop called "ALARA", which impressed me the most in recent years. In this store at which world famous brands such as Saint-Laurent and Marni are displayed, the brand that especially caught my eye was a Nigerian brand called "WAFFLESNCREAM", and this year's collection was born through a collaboration with them. So, it is thanks to last year's first event that we were able to hold the event again this time in Tokyo. As the first and only skateboard shop in West Africa, WAFFLESNCREAM is a wonderful brand, aiming to build skateboard parks in Africa, in cooperation with local skate-borders and artists. Their products are so attractive, I bought some of their items at ALARA, and again at their shop when I went to observe.
In this year's presentation, the "skateboard" culture of both Tokyo and Nigeria was an important factor.
Because their physical ability and artistic sense is so high, Nigerian skateboards are the coolest. Furthermore, because skateboarding will become an official item from the 2020 Tokyo Olympics, it's an attention gathering sport in Japan, too. Skateboarding is a sport born in the city, with an aspect of being a multi-layered culture, producing various musicians, artists, actors, etc., and I think it adds depth to fashion. In my opinion, one of the attractions of Tokyo which should be transmitted out to the world is that the city is full of culture, and skateboarding is one element by which culture can by enjoyed in Tokyo.
The presentation was given amid the coronavirus pandemic, but having actually held the event, how was it?
From the previous year when we did the show at Lagos, we had already had the idea of doing the next using VR, so visual transmission becoming main was not a big deal, no influence in particular. Physically however, we had planned to do the presentation this time at the skateboard facility at MIYASHITA PARK, but due to rain, we had to make last minute changes, and carried it out by building a ramp at PIZZA SLICE, where the after-party was scheduled to be held. Because the space was so limited, the skaters we invited seemed to have a hard time at first, but at H BEAUTY&YOUTH located next door, a POP-UP shop of the collection was being held, creating a synergy effect with the event, so all-in-all in the end, I think everything worked out well.
The skaters wearing collection looks, all looked really cool.
We invited 12 top skateboarders presently active nationally and had them wear the collection. They were more real than models, and more model-like than models. I always think it is important to keep presentations close to the reality of customers, so in the past, when we held Koche's fashion show at Tonchan Street in Harajuku, we chose the models through street casting.
From your position as a buyer, what are your thoughts on fashion shows and events midst this corona pandemic?
Some brands convey the attraction of their items by having it worn, and there are some brands which need runway shows as an expression of their world view. However, buyers can place orders as long as they have a look-book, line-sheet and swatch samples, so business can be concluded. Although I didn't visit the venue, the 2021S/S presentation of JennyFax utilizing VR pursued interests which cannot be done in real shows, in which I felt tremendous possibilities. That it's not simply limited to the two selections of physical or digital. Also, in my opinion, I don't think a hierarchy needs to exist in fashion shows, and hope that it becomes so that many people can see and enjoy them. Unlike in the US and UA, in Japan, people who buy clothes with their hard-earned money are the ones supporting the fashion industry.
This August, your book, "The World After Mode" was published. Please tell us why you published amidst such times?
True, it ended up being published amidst the coronavirus pandemic, but its content is timeless, thoughts based on a series I'd been writing for Figaro Japon. In these past 10 years, health, food, communication has become the things which consumers prioritize, and now that the whole country is in a state of a national COVID-19 pandemic crisis, there exists a mood that it is not the time nor place for fashion. However, for consumers to become strong from hereon, fashion is an absolute must, and someone must come out and say so now. As COVID-19 continues to spread, many people are thinking "what is going to happen to fashion?", with growing voices of "the fashion industry is a dying one", it is a book which answers to such voices as fashion being something with value worth surviving post-pandemic times.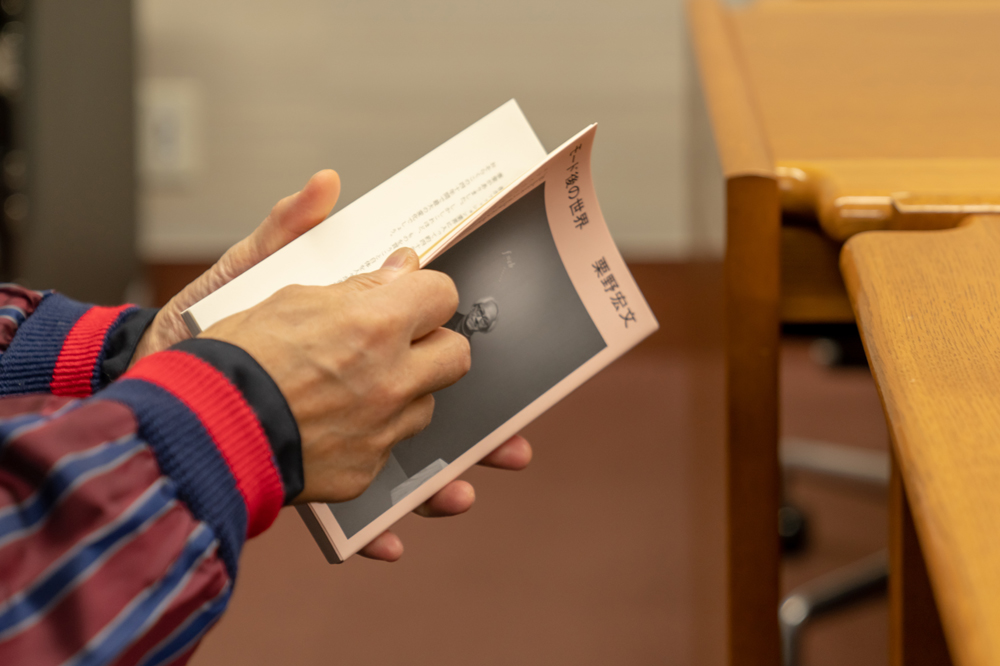 What is it that the fashion industry needs, facing post-pandemic times?
First, the fashion industry needs to realize and admit that it is too extra punitive. It is not collapsing because of corona, but rather, there existed a reason for the collapse long before corona. Before making a fuss about it being an apparel crisis, like the real estate industry and travel industry has transformed the services they provide through this opportunity, the fashion industry too must act befitting post-pandemic times. Japanese brands which produce domestically and can deliver without delay are doing well in UA, and so this is a positive chance for the Japanese fashion industry.
During such times when the priority of fashion is low and at a down fall, what kind of fashion do you think customers would be willing to pay money for?
"Sustainability", "diversity", and "deterioration of Western values" are important points. Furthermore, this is related to sustainability, but as a topic, I'm also paying attention to "farming". Clothes are by origin agricultural products, and raising domestic agricultural self-sufficiency is beneficial to the fashion industry also. At Premiere Vision also, there has been suggestions of edible sheep skin, wool, and traceability is related to fashion also. By creating common grounds between fashion and farming, I think new chemistry will be born, leading to new and interesting developments.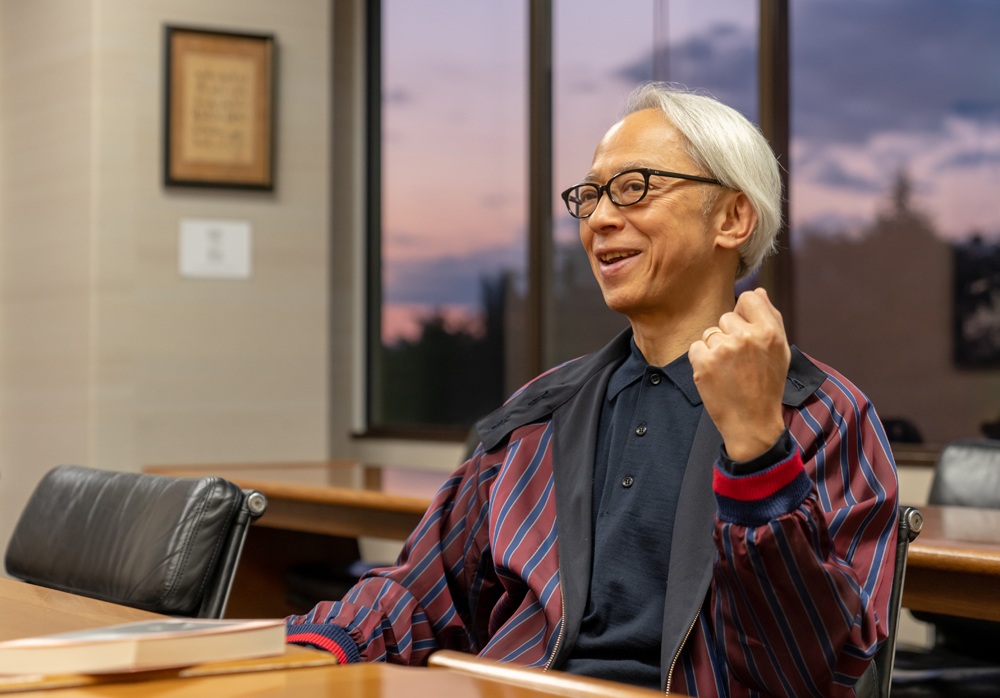 Interview by Tomoko Kawasaki
Photography by Yohey Goto
Translation by Aiko Osaki