Interview & Report

Ksenia Mamontova
Leform/Buyer
Leform is a highly-sensitive specialty boutique in Moscow operated by Brownwood Co, Ltd. There are three stores in Russia and one online store. It sells a broad range of mid to high-priced men's and ladies' wear and interior accessories, and mainly targets men and women in their 30s or above.
"Leform" opened in Moscow in 1997 as a specialty boutique that offers exclusive fashions unavailable elsewhere, such as "Antwerp 6," in the previously conservative Russian market. It has now achieved the status of being one of Moscow's greatest specialty boutiques, and is also known for the fact that Japanese brands such as COMME des GARÇONS, Yohji Yamamoto, AKIRA NAKA, suzuki takayuki, MUVEIL, etc., account for about 30 to 40% of the brands carried. We interviewed buyer Ksenia Mamontova of Leform, who visited Japan for Mercedes-Benz Fashion Week TOKYO 2014 S/S at the invitation of JETRO, about her impressions of Japanese fashion and current conditions in Russia, etc.
How many times have you visited Japan?
My first visit was for the previous fashion week in March, so this will be my second visit. We are always on the hunt for exclusive and exciting things made by new designers, and we already know that these things can be found in Japan. So I am very happy for this opportunity to visit Japan at the invitation of JETRO.
Where do you visit in Japan?
I mainly go to showrooms, but I also visit some shops that I am interested in. This was my first time attending a runway show, and it was a lot of fun as it was something that I had never experienced. However, in shows, you can only see the clothes worn by models. You have to touch the actual fabric to make decisions, so I feel that runway shows and showrooms are different things.
What kind of shop is "Leform," where you work as a buyer?
There were brands in Moscow that were known throughout the world before "Leform" opened, but there were no shops that carried brands which could not be found unless you looked carefully. We started by collecting Belgian brands known as "The Antwerp Six," such as Ann Demeulemeester and Dries Van Noten, but at first it was difficult to introduce new things in the closed Moscow market. Therefore, we initially started in the form of an underground store, but now our shop is accepted by more and more people, so rather than remaining underground, we feel like we are breaking new ground. Our belief is to provide exclusive items that are not available elsewhere and to provide high-quality and comfortable clothes that make you feel you were born to wear.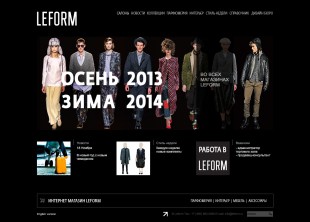 Leform http://www.leform.ru/
What are your impressions of the Japanese brands that currently account for a large proportion of the brands at "Leform"?
We started carrying COMME des GARÇONS about a year after the shop opened. I think that Japanese brands have extremely beautiful designs, with quality and new forms that cannot be seen in other brands. Initially, it was difficult to get the people of Moscow to understand Japanese clothes, and they were only supported by a minority of people such as artists and architects who enjoy wearing unique clothes, but recently more and more people are accepting Japanese brands.
In addition to world-famous brands such as COMME des GARÇONS and Yohji Yamamoto, you also carry up-and-coming brands; how do you obtain information on Japanese designers?
We obtain a lot of information from Parisians and other Europeans. The owner always liked clothes, and even before opening the shop, he was the type of person who would find unique shoes in Belgium and then track down the designer. The owner's social circle gradually expanded, and opportunities to learn about Japanese designers increased. In order to obtain such information, I think it is best to go to Paris, where you can find various people who gather from all over the world.
What kinds of brands other than Japanese brands are popular?
One of the brands that are popular among fashion-conscious people is Dries Van Noten. There are always new elements each season, there is a great variety of fabrics and colors, and I think the designs are very inspiring. Another great feature is that it covers a wide range of ages, sizes, and genders. In this respect, I would prefer that Japanese brands had a little more diversity in size. In addition, Japanese clothes have a lot of girly designs, but I wish that there will be more clothes with an elegant shape that can be worn by grown-ups.
When you are actually in Japan, have you made discoveries that you could not find in Paris?
Yes. When I came in March, I encountered new brands such as AKIRA NAKA and suzuki takayuki, etc. I think sacai, MUVEIL, LE GRAND BLEU, IF SIX WAS NINE are wonderful as well. When I come to Japan, I can see clothes made by young designers who have not yet made it to Paris, which I think is great. At "Leform," we essentially target people aged 25 and above, but recently young people in Russia have also become fashionable. In order to find clothes for these people, I think it is important to directly look at the clothes made by young designers on site.
What is your impression of Japanese street fashion?
I think the strength of Japanese fashion lies in its street fashion. In Japan, you can see symbolic street fashion in many places, and I feel that the fashion is extremely stylish, colorful, and strong. It is cool how the young people are expressing themselves without feeling intimidated. Meanwhile, Russia tends to be conservative, but I think that the fashion of Japanese youth sets a good example for us, and I want to introduce it more through our shop.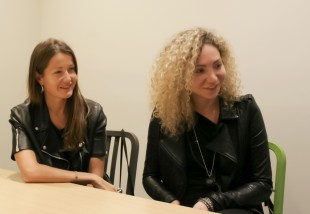 What kind of style is popular in Russia?
Feminine dresses are popular. I think Russian women often like sexy and luxurious fashion desired by men. However, this greatly differs from the concept of our shop.
Please tell us about the current condition of the Russian fashion industry.
I think it is still evolving. There aren't many good products or materials, and if you want something of good quality, you need to go to the exhibitions in Paris or Milan. However, some interesting designers are slowly emerging, such as Alexander Terekhov and Nina Donis. In particular, I feel that Nina Donis is a good fit for the Japanese market as well. In order to prevent such growing designers from being eliminated, I think that we need to support them by carrying their brands in our store bit by bit. I love my country, and I sincerely wish that Russian designers and the Russian fashion business will grow more.