Interview & Report

Masanori Sakamoto / Art Director, Designer
MBFWT 2016 S/S & 2016 A/W Key Visual Creator
Born in Shizuoka in 1972. Representative of design firm DELTRO. Art director / designer. Began freelance work in 1999, and was in charge art direction, design, and programming for various genres including companies, fashion, and anime. Established DELTRO Inc. together with technical director / programmer Ken Murayama in 2009. Traverses media and field with a central focus on expressions through design and technology. Continues working in order to convey the essence and impression of objects. Winner of multiple national and international advertising awards, such as Cannes International Advertising Awards, Clio Awards, D&AD Awards, and One Show. Actively produces original typefaces, regardless if the work is for clients or private.
Representative works include the "Intel® The Museum of Me" website, the "Honda Road Movies" app, and promotions for UNIQLO and Nike in the fashion / sports realm. Font development works include the "Roman font for the au INFOBAR iida UI," and website for anime include "Ghost in the Shell SAC," "Eureka Seven," and "Guilty Crown."
Mr. Masanori Sakamoto of "DELTRO," the design firm in charge of the Mercedes-Benz Fashion Week TOKYO 2016 S/S key visual, is an art director playing an active part primarily in the field of on-screen media, including website production. We sat down with Mr. Sakamoto, in charge of producing video and graphics visualizing a unique approach for the creation process in fashion, to talk about his intentions for the work, behind-the-scenes, and his past career.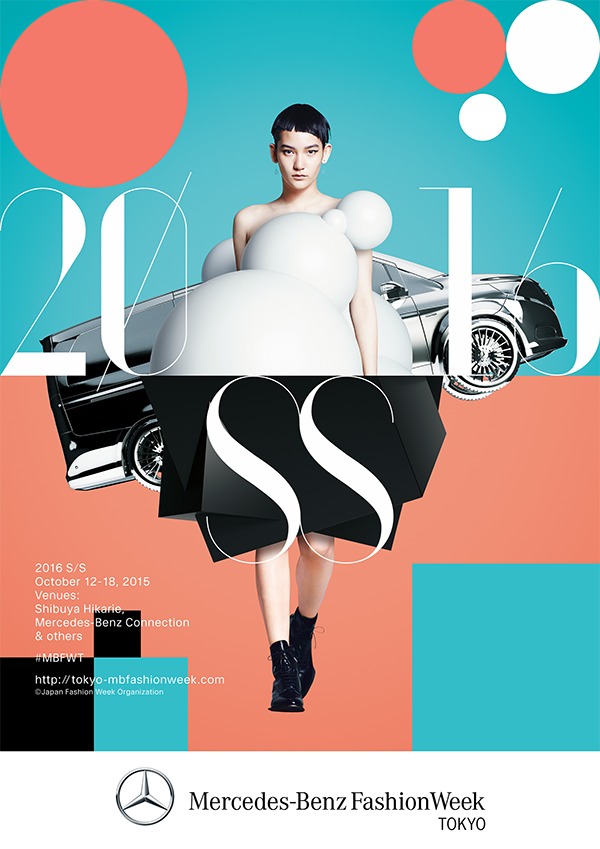 -Concept-
The Difference of Ideas
For those who engage in fashion design or manufacturing in a broad sense,
the "source of ideas" originates
from what the person has previously been through.
What one sees, what one touches, various plants and animals,
encounters with people, places, or experiences – ideas start to take
physical forms by finding an inspiration among these particulars.
The sources of these ideas are initially abstract,
primitive gemstones of images that are within one's mind.
But after going through several steps and being combined
with other elements,
they are cut and polished into a complete and beautifully functioning figure.
This process entails the original form, the texture and detail of the material,
a change of mindset, and the accepting and rejecting of ideas.
This key visual deals with an immense amount of idea sources
which have yet to either encounter or be anchored by any concept.
By diverging from orthodox fashion design approaches,
the visual materializes the concepts as objects that closely resemble
but differ from clothes,
and attempts to combine them with an image of a person.
Adding an ample amount of unreality,
which normally would not exist in the real world,
is resulting as unexpected outcomes and bringing new awareness.
Under the theme of fashion design,
this key visual allows to see many different phenomena
that are likely to take place in manufacturing processes.
Based on the standpoint that cars, just like fashion,
are items that represent and reflect one's lifestyles,
the entire exterior of the car portrayed in the key visual
is mirror-coated to make its presence strongly felt as a visual symbol.
-Staff-
■CREATIVE & ART DIRECTOR / DESIGNER
Masanori Sakamoto(DELTRO)
■PRODUCER
Yuki Tazaki(WOW)
Yasuaki Matsui(WOW)
■MODEL
Mona Matsuoka(IMAGE)
■PHOTOGRAPHER / DIRECTOR OF PHOTOGRAPHY
Minoru Kaburagi(SIGNO)
■STYLIST
Yoshi Miyamasu(SIGNO)
■HAIR ARTIST
CHINATSU(SIGNO)
■MAKE-UP ARTIST
Mariko Tagayashi(SIGNO)
■VISUAL ART DIRECTOR
Shota Oga(WOW)
■VISUAL ART DESIGNER
Hiroshi Takagishi(WOW)
■PRODUCTION
WOW
SIGNO
■CG / MOVIE EDIT
WOW
■MUSIC
dajistudio
-COSTUME COORDINATION-
Boots:Yohji Yamamoto
Pierce:flake
-HAIR PRODUCTS-
L'Oréal PROFESSIONNEL / Elnett pure
L'Oréal PROFESSIONNEL / VALENCE 3 MOUSSE Extra Hard
TAMARIS / HairFini GOLD SF
john masters organic / shine on
Please tell us about the design concept for the MBFWT key visual.
First of all, I'd like to apologize for the concept explanation being profusely long. (Laughing) To put things briefly, because Fashion Week is the place for announcing new clothing and concepts by brands, I decided to have the theme visualize the image prior to materializing as clothing, such as the transformations and selections made during the process of making clothing, as well as the combination of materials and colors, etc. Previously, I had the vague idea that I wanted to create a visual image which appeared to synthesize computer processed objects on the human body; I wanted to create a visual fusing objects that appeared to be clothing but weren't clothing with a human body, from a graphic designer's point of view.
You often engage in design for on-screen media. Were there any differences in this project and that sort of work?
On-screen media design involves creating a world-view throughout the total design. With the project this time around, the mission was to see exactly how much quality we can condense into a single visual, so it was necessary to face the work with a slightly different consciousness than other jobs. That being said, this project also started with an iconic concept – creating a video that expands on the basis of a single format. The image was to cut out a piece of that image to be used as the key visual.
We heard that the video edition of this time's key visual is to be released on the first day of Fashion Week. Can you tell us a little bit about that?
We started off by getting in touch with Mr. Yuki Tasaki, a producer at the visual design studio WOW. From there, we began casting the studio, model, photographer and stylist. Because CG was to be an important element in the key visual, we cooperated with WOW creators to represent a mysterious presence unique to video, in which objects wrap around the body of the walking model and transform into various objects. With the combination of music produced by Kenji Yoshida of daijistudio, I think that it became a vibrant and lively project to look forward to the MBFWT 2016 S/S opening.
Can you tell us about the process leading up to choosing Mona Matsuoka, active both nationally and internationally, as the model?
First of all, from the fact that Fashion Week is held in Japan (Tokyo), I had the feeling that I wanted to the model to have personality as an Asian. Also, when thinking of the concept of synthesizing objects, I had the vague thought that a model with slim and long arms and legs who looked appropriate in a slightly exhausted pose would fit nicely. When talking about this with WOW producer Yasuaki Matsui, he suggested Mona Matsuoka to me. She fit my image perfectly. Although there were difficulties with scheduling up until the very end, we were well-equipped with as good of a framework as one could hope for, with everything from the model to the staff being those I thought were the best. All that was left was the weight of the pressure of "the rest being up to my skill." (Laughing)
Were you conscious of "Tokyo" as a key word during development of the visual?
Although not much thought went into it, I kept in mind producing a pop image using key colors with a strong impression, while utilizing monotone and geometric objects and graphics for the key visual. As a result, I think that we were able to express a feeling of Japan (Tokyo) in some aspects.
To ask a question about your past career up until now, can you tell us about how you came to become interested in design?
I always enjoyed making things since I was a child. I learned about coolness through mecha-designs and packages of plastic models, various logo typography and lettered characters. However, actually having a job as a designer and realizing the path that I wanted to take was after the age of twenty years old. By the time I graduated high school, I was crazy about European vintage scooters, and went around attaching a scooter with all sorts of mod-like lights and mirrors. While becoming attracted to music and fashion of the time, the beauty of overseas products and advertising graphics, I became more aware of design.

Left: Ringo Sheena "FROM NIPPON TO THE WORLD" / App, Website / Art Direction, Design, Logotype, Typeface, Programming (Website)
Right: iida UI 3.0 for INFOBAR A03 / Typeface / Design
(http://deltro.jp)
Were you not impacted by fashion at that time?
The band boom was going on right around the time I was in high school. Thanks to this, I felt that fashion was something that was strongly associated with music. Whether it be punk, mod or rockers, I was a young person who would change their fashion and hairstyle all the time depending on the music I was listening to at the time. There were even times when I would dawn a mod coat over a suit and ride a Vespa, or throw on roll-up jeans with a pompadour hairstyle and drive a VW Beetle. (Laughing) On the other hand, recently I try to keep fashion to as minimalist of an impression as possible; I almost always wear a simple white shirt with pants. For brands, I enjoy Martin Margiela, Sakai, HYKE, and the brand launched by an acquaintance of mine, ALOYE. Although as a designer I was not affected in particular by any fashion designers, I do like the designs and photos of Hedi Slimane.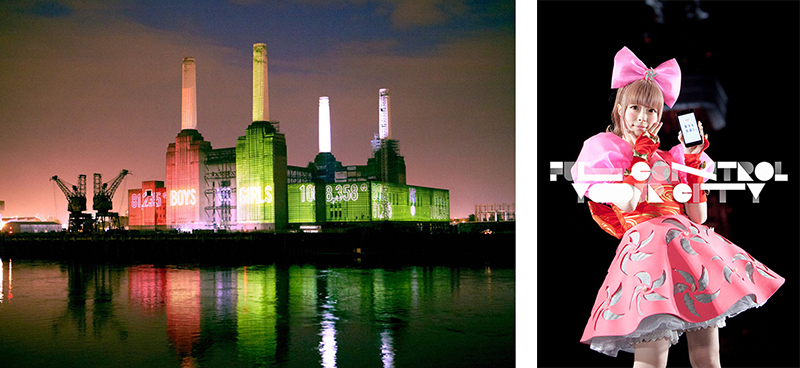 Left: NIKE+ FUELFEST – Battersea Power Station, UK / Event, Projection, Installation / Art Direction, Design, Programming (Projection)
Right: au ODOROKI No.1 "FULL CONTROL YOUR CITY" / TV commercial, Event, Website, App / Planning (Digital), Art Direction (Typography, Digital), Design, Logotype, Programming (Website)
(http://deltro.jp)
Please tell us about the history between beginning activities as a designer and starting DELTRO.
With the expectations of my father who worked at a mechanical design office, I moved on to a similar type of vocational school after graduating from the mechanical sector of a Technical High School. Becoming frustrated part-way through, I lost sight of the goal and began working at the optical shop of an acquaintance of mine. Although there was a period when I worked at a gas station after that, when asking myself once again what I liked, I finally came to see design. It was from that time that I started working at a printing shop introduced to me from an acquaintance. After learning the basics of how to use computer applications, I taught myself how to make and publish websites. Mr. Seiichi Hishikawa from Drawing and Manual saw my website, and asked me to create the promotional site for a major company. This was the opportunity in which I broke off to work independently as a designer in 1999. From there, I went on to produce corporate sites and official sites for animations as a freelancer, and later formed DELTRO Inc. together with Ken Murayama in 2009.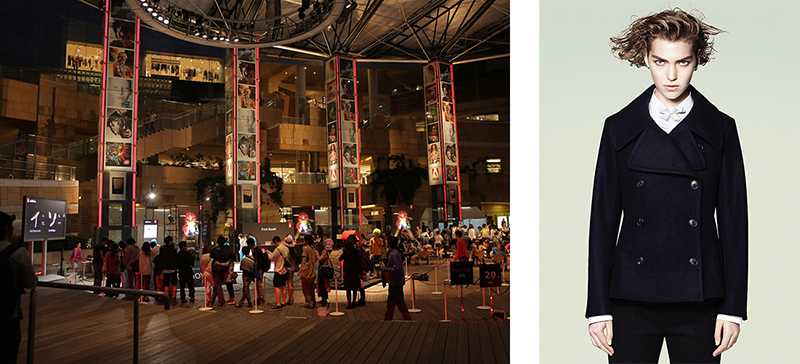 Left: Adobe & Creators Festival "Font Me" / Event, Installation, App, Website / Art Direction, Design, Typeface, Programming (Website, Typeface, Print Que)
Right: +J FALL/WINTER 2011 THE FINAL COLLECTION / Website / Planning, Art Direction, Design, Technical Direction, Programming
(http://deltro.jp)
Did your work change after becoming DELTRO?
Since the work we do is often involved with projects related to corporate promotion, work hasn't changed that much from when I was a freelancer. However, now we are able to be involved with projects from a higher position. With DELTRO, I am primarily in charge of the design side of things, while programming is the responsibility of Technical Director Murayama. Since we take on many cases as a set from design to implementation, we always make sure to discuss a direction together to move forward with.
Please tell us about the direction of recent work and future prospects.
In recent years, on-screen media for promotions has been diversifying at a dizzying pace, with jobs for creating installations or applications to link together with events increasing. While new projects born through the close cooperation of different industries are intensifying, I would like to become involved with projects to fully capitalize on the characteristics as DELTRO. Also, ambitions as a creator for services, products, and videos as our own company's projects are limitless. I would also like to continue actively working on these ambitions.
MBFWT 2016 S/S Key Visual Movie
Interview by Yuki Harada
Photography by Yohey Goto