Interview & Report

Rikako Nagashima / Graphic Designer, Art Director
MBFWT 2014 S/S & 2014-15 A/W Key Visual Creator
Born in November 11, 1980. Graduated department of Visual Communication Design of Musashi Art University in 2003. She has Her major works include: graphics for "Laforet Harajuku"'s annual advertising campaign, design for YCAM10th anniversary concert of Ryuichi Sakamoto, packaging design for private chocolate brand "YVAN VALENTIN",branding for HAND MADE ART STORE "BOMDO" etc, she works on branding, CI, VI, fashion and product design, advertising based on graphic design. And also she is engaged in "PEACE SHADOW PROJECT" as a personal work with contemporary artist Tatsuo Miyajima. Personal exhibition is held at the Ginza Graphic Gallery from October 3 to October 28, 2013.

Awards received; Mainichi Advertising Design Award(2005), Tokyo ADC Award(2006、2011), New York ADC Silver Award(2004), Cannes Design Silver Award(2011), Asia Pacific Gran Prix Advertising Festiva(2011), JAGDA Newcomer Award(2010), London D & AD Silver award(2012), Warsaw Biennale Silver Award(2012), Japan Packaging Design Gold Award(2013), Minister of Economy(2013) etc. She received variety of awards inside and outside the country. And she was in charge of the international judgement of New York ADC award.
Rikako Nagashima, the art director of Hakuhodo, has worked on producing various fashion-related visuals, including the annual advertisement for Laforet Harajuku. Ms. Nagashima will be in charge of the key visuals for Mercedes-Benz Fashion Week TOKYO 2014 S/S.
What kind of image did Ms. Nagashima, whose creations are characterized by delicate female expressiveness and conceptual messages, have for these visuals? We explore the creative source of the most prominent female creator of today.
Please tell us the concept for fashion week's key visuals.
When a fashion designer designs clothes, I assume that they draw the image that they have in their mind, but I felt that there was tremendous potential in the act of "drawing an image." I think that the power of "drawing" an image is not something special that only designers have, but something that people normally use, such as waking up and thinking about what to wear that day, and going to a store and buying clothes while imagining the image that you want to have for yourself. I feel that changing your image or changing something bit by bit starts from the power of "drawing" an image that you have. I produced the visuals based on this concept.
Dressing up is a drawing.
I guess what people feel when they wear a clothing is either comfort from suitableness, or a desire of becoming something more than what they are.
The desire is to draw how you want to be in your mind.
Something new, something you've never seen.
Your future, those whom you'll meet in the future.
New places, pathless roads.
I believe that the power to draw your image in your mind can be an energy to make yourself who you want to be.
Draw your life. Draw it with colour.
■GRAPHIC DESIGNER & ART DIRECTOR
Rikako Nagashima
■PHOTOGRAPHER
Kazuhiro Fujita
■HAIR & MAKE-UP ARTIST
Katsuya Kamo(mod's hair)
■STYLIST
Mana Yamamoto
■MODEL
Nastya Siten(BRAVO MODELS)
How did you move forward with the shoot?
I requested Kazuhiro Fujita for the photography, Mana Yamamoto for the styling, and Katsuya Kamo for the hair and makeup. For the shoot, I showed them the rough sketches that we had prepared, and then had Kamo-san create head accessories that went with the graphics on site later on. Kamo-san and the others all worked really fast, and the photo shoot went very smoothly.
The colorful pop graphics are wonderful.
I was conscious of creating colorful graphics as it was on the spring/summer season. I also wanted to portray a sort of innocence and airiness that is associated with the fashion show and had in mind the pop-ness of "Tokyo," so perhaps this is also reflected in the colors.
You have worked on several apparel-related projects in the past, but is there something that you are conscious of when working on these projects?
For small-scale brands, for instance, the exchanges are often rather sensory, but rather than focusing disproportionately on this, I try to organize and convey the information to a certain degree. Conversely, for a large firm, the expressions tend to become stiff, so I am conscious of how much sensuousness can be incorporated as needed, but I try to adjust the balance depending on the client.
What kind of image do you yourself have towards fashion?
There is an expression "don't judge a book by its cover," but even so, a person's tastes and hobbies are revealed quite a lot by his or her appearance. In that sense, I believe that fashion is an attractive tool for conveying what kind of person you are. On the other hand, fashion is actually something that is not necessary; clothes require only the minimum functions of keeping warm and protecting the body. However, even an old woman living in the countryside instinctively desires to dress up and look pretty. I think what is wonderful and interesting about fashion is that it is not something that is fundamentally required, but having it makes you more humanly. Also, from the aspect of creation, the approach of creating an overall world view through clothing as a product, as well as visuals such as photos and graphic designs and music, space, and the production in shows, is immensely fun to look at and also inspiring.
Why did you become interested in design?
I always liked using my hands to make things from when I was a child, but since I was raised in the countryside, I didn't have access to much information and I started being aware of design much later. A while after enrolling in Art University, I started noticing foreign advertisements and found the riddle-like visual communication interesting. This prompted my interest in advertisements, and later, I joined Hakuhodo.
What do you value in your everyday work?
I have done various types of work centered on advertisements in the past, and in doing so, I started to think about the significance of creating advertisements. As I worked more, I would increasingly ask myself, "Is this advertisement really a good thing for the world?" but eventually I understood that to do a good job, I had to share the client's vision and face the same direction. Recently, I've been hoping to be involved in advertising as an approach to work on projects with people with whom I can share an underlying awareness, regardless of the scale of the project.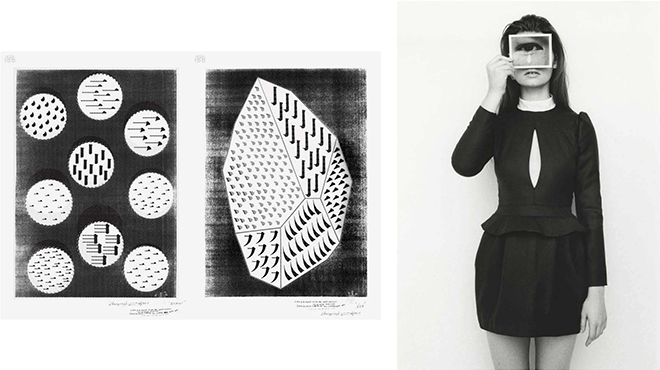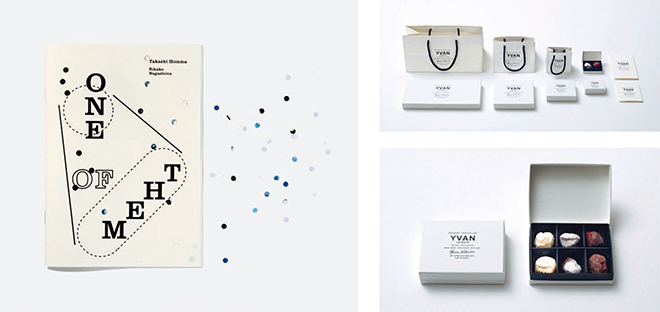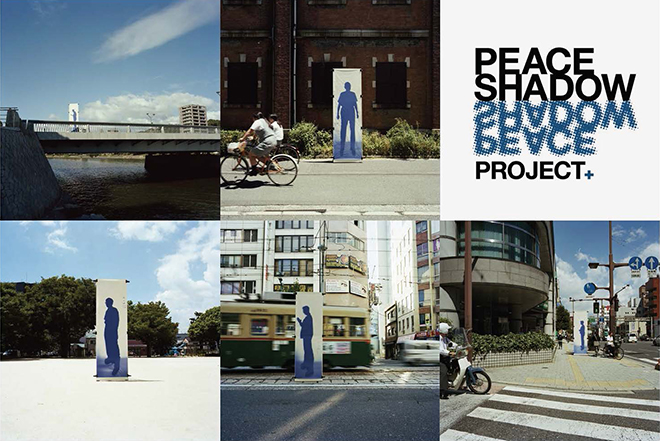 So your attitude towards advertisements has changed a lot.
Yes, it has. About six years ago, I had the opportunity to work with the modern artist, Tatsuo Miyajima. He is someone whose work as well as his words and actions are all messages. Up until then, my work always involved creating something after it was requested by someone, but for the first time, I saw someone who was creating things with the attitude of wanting to change the world on his own—if only a little— and I felt that this kind of person was truly an artist. Of course, my profession as a designer is a different domain from that of an artist, but I hope to be able to create things where my own messages and ideas fit with the company and allow us to head in a good direction.
It seems that you will be able to create such a relationship with your work at Laforet Harajuku which you are currently working on.
I've had lots of discussions with Laforet during my long period of working with them, so perhaps we are recently getting closer to achieving such a relationship. I feel that when companies bring something into the world, it comes with a certain degree of responsibility, and so they should transmit their messages with a solid objective. Therefore, I also make many suggestions and try to share a common awareness. Right now, I'm working on the annual advertisement, so in some areas I'm also involved in Laforet's future directionality, but even so, advertisements are only a single "point." You need to have points in various other places before you finally have a shape, so I think that it's still insufficient. I hope to be able to be involved not just in the visual area but in generating the total "aspect" and "space," for Laforet as well as other clients.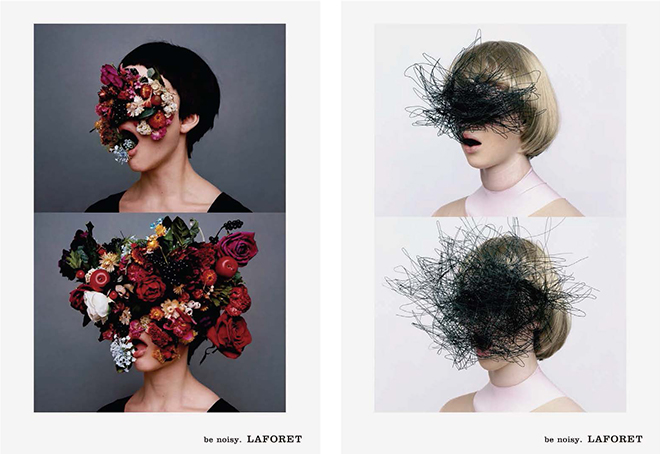 You recently launched your own product brand, "human_nature."
Yes. For the advertisements that I usually work on, there is first a product or message that the companies want to put out into the world, and I help convey their message, but recently I have a greater interest in what I would leave behind if I were a manufacturer. Therefore, I decided to design the products themselves, and am creating accessories, etc. Because I was born and raised in the countryside, there are some things that I feel are odd about living in the city. For "human_nature," I hope to express what I feel on a daily basis, while being aware of what is "between human and nature." Actually, I am also currently creating clothes for this brand, and I am thinking of exhibiting and selling them at the exhibition that will be held at the Ginza Graphic Gallery in October.
That should be exciting.
Are you aware of your background as a graphic designer when managing your own brand?
Yes, I am. I am not a fashion designer or jewelry designer, but a graphic designer, and that will always be at the foundation of my work. I've always wanted to make clothes, and it is in fact very enjoyable, but when I'm making them, I always feel like I'm offending the professional fashion designers (laughs). Still, I'm interested in the extent to which I can leave behind my own message, so it would be great if I can express this from various angles.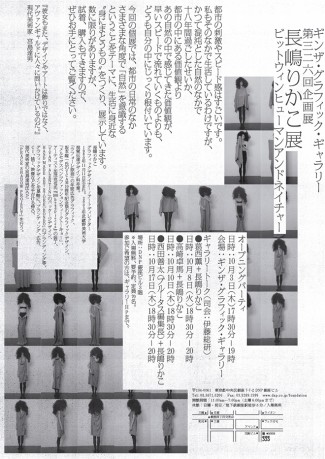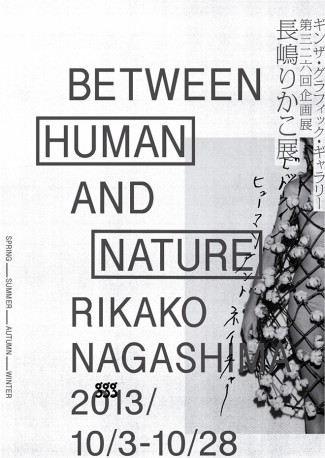 Rikako Nagashima exhibit "Between Human and Nature"
October 3-28 at the Ginza Graphic Gallery All clothing designed by Nagashima can be tried on and purchased, and her other graphic design work will also be on exhibit.
A gallery talk will also be held.
〈Opening Party〉
15:30-19:00 October 3 (Thu)
〈Talk Session〉
Kaoru Kasai (Art Director) + Rikako Nagashima
18:30-20:00 October 8 (Tue)
Zenta Nishida (Brutus Editor in chief) + Rikako Nagashima
18:30-20:00 October 10 (Thu)
Takuma Takasaki (Creative Director) + Rikako Nagashima
18:30-20:00 October 17 (Thu)