Interview & Report

Hideaki Shikama
Children of the discordance DESIGNER
Started Select shop Acycle in Harajuku starting in 2005.
At the same time, planning and production of store brands and career start. I will act as a store director and designer for six years.
We launched a label with designers Kido and Inogawa in 2011,
Continuing the brand with Shikama 1 person regime from 2013 and announcing the collection.
Children of the discordance has been enjoying an increase in overseas accounts, along with an increase in fans around the world, since being awarded the TOKYO FASHION AWARD 2018. In the 2021AW season, they carried out a digital presentation of their collection at Milan Men's Fashion Week, followed by a physical runway show at Rakuten Fashion Week TOKYO, by which they enthralled the audience and business partners alike, with their overwhelming worldview. This brand which further progress is being looked forward to, both nationally and internationally, we talked to their designer, Mr. Shikama, on the present situation of the brand, and its future.
The runway show at the Tokyo National Museum was amazing! Please tell us the background behind how you came to do a show-form presentation at Rakuten Fashion Week TOKYO this time.
I've wanted to do a presentation in show-form since last March, so this time, my wish finally came true, and we were able to do a physical presentation. Because of COVID-19, shows cannot be held overseas, and there is no telling when it will become possible, but no matter when it becomes OK, I want to be ready. With that in mind, I wanted to do the presentation at a location equivalent to overseas, so I chose the 'Hyokeikan' of the Tokyo National Museum as the venue. We haven't been able to present any show for the past year and a half, so I desperately wanted to show the now of the brand, and since these are times in which we are stuck in such situations, I faced it with a strong will because I don't want to waste any opportunity.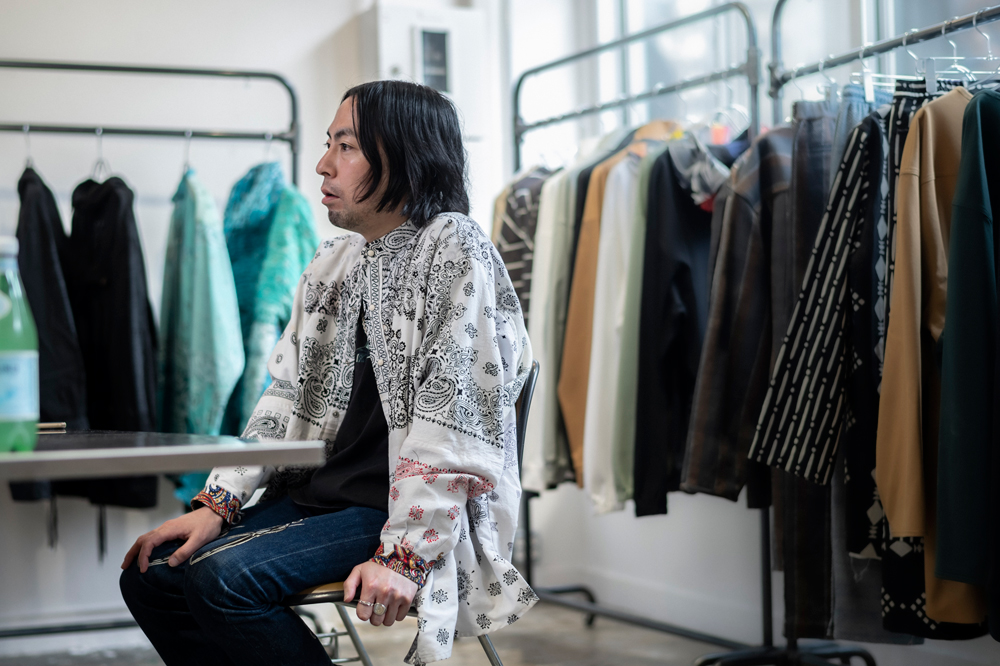 Please tell us the theme of the collection you presented.
I did the presentation under the theme "dawn", with my hope that the present situation will dawn soon. My central pillar in production hasn't changed, but I've made a sort of collection of a gradation of faded colors, by reducing waste, scraping off aspects. There's also black and white, which I haven't used before. I've also limited the colors used in the mandala, regulating the colors used as a whole, thereby expressing a unity. As for the show itself, both the venue and music were excellent, and with the exception of the way I retired (laugh), I think I was able to show 99% of my full ability at this point.
Children of the discordance + FACE A-J 2021 A/W collection runway show
How was the reaction to your show presentation?
The reaction was enormous. Although the show was held in Tokyo, the reaction from overseas was especially great, connecting into the acquiring of new accounts. However, among all the brands participating in Fashion Week TOKYO, I think the acknowledgement level of our brand is probably around 10th place, so I feel we still have a long way to go.
Your collaboration with FACE A-J, what was that like?
Mr. Kurino of UNITED ARROWS, who is the director of FACE A-J, gave us the opportunity, and we produced items using textiles of Mali and Burkina Faso. There are items inspired by Ethiopian cloth also. We've created a set-up using organic woodblock printing, a textile highly regarded worldwide, which I am very satisfied with, so this is a project I plan to continue.
Children of the discordance + FACE A-J 2021 A/W Collection
This term, you also presented a collaboration with TOKYO KNIT, didn't you?
The collaboration with TOKYO KNIT started through an introduction from Mr. Imajo, the director of JFW. We produced 6 knits and 20 cut-sews. We have a team specializing in knits in our own company, so we've never worked with other companies in knits before, but TOKYO KNIT had the skills I wanted, the textiles I imagined, so as soon as I visited their factory, my switch was turned on. Seeing the textiles there, I felt, this might become an opportunity to change the brand's method of production or how the brand is seen. But moreover, the people at the factory involved with the project were all so nice, I fell in love with their personality, and that was the major reason in my participating.
I have the impression that the digital presentation movie you presented at Milan was extremely cool on a completely different vector from the presentation you gave this time.
In the movie we presented at Milan, we utilized the Hip-Hop culture, which is in our background, creating it so that it will pique the interest in Milan, will have meaning to present in Milan. It is a MV in which 2 rappers, Hideyoshi and Ralph, who have many followers in EU also, skillfully performing Hip-Hop genres of drill and grime which are also popular in the UK, give a performance. Overseas fashion-fans seemed to enjoy it too, and despite present situations, we've had an increase in new accounts. We also improved our remote sales structure, such as disclosing a lookbook focused on items worn in the movie and collection items immediately after the movie was publicized, holding online MTGs, utilizing the digital sales platform JOOR, etc., which I think also played a part in getting positive results.
AW21 Children of the discordance MILANO DIGITAL FASHION WEEK dawn
It's exciting to think of what kind of overseas developments you will be showing us hereon. We have the impression that you are steadily increasing fans both nationally and internationally, but through the brand's growing process, has there been a turning point?
That would be Paris, 4 years ago. Because people had been advising me to do so, we held a solo exhibition at Paris instead of N.Y., which we had been doing for years. We had regular customers at N.Y., but at Paris, nobody came, which was a great shock, as if everything we had done up to then had be denied. On the other hand, around the same time at Paris, doublet had high-jacked all the windows and 1st floor space at Colette, with people walking around the streets of Paris wearing doublet. Seeing this situation, I thought that maybe I hadn't put my all into the brand, hadn't risked my life. From then, we became frantic about spreading the brand with our own power. After that, we were awarded the TOKYO FASHION AWARD, did an exhibit at Paris and Pitti consecutively, and have reached the place of receiving orders from customers, despite the difficult social situation we are presently under.
Please tell us your plans for the future, as a brand and as a designer.
I hope to improve our production of clothes, while increasing our staff in footsteps befitting our situation and improve our system. Furthermore, although Tokyo seems like a huge stage to us, when looked at from a global point of view, it is merely a city of a small island nation. I don't think the brand will grow unless we act with a global point of view. I feel, the atmosphere surrounding the brand will change largely by presenting a runway show overseas, so I'm sort of excited how things will change in the future. As a designer, for now all I wish is the growth of this brand, so I hope to strengthen our ability as a brand through experiencing collaboration projects.