Interview & Report

Seiran Tsuno
Fashion Designer
Born in 1990, at Nagano Prefecture. After graduating from a nursing college, worked at a psychiatric hospital for approximately 5 years. As a university student, started making and announcing accessories for herself and others. While working at the hospital, she studied at the fashion school 'coconogacco', to deepen her creations from a fashion design point of view. In 2018, she was nominated as the only Japanese finalist in Europe's largest fashion competition, ITS.
Ms. Seiran Tsuno, known for her colorful dresses produced with a 3D pen, was nominated as the only Japanese finalist in "ITS 2018", a global contest held in Italy. She became somewhat of a known existence while still a student at nursing college, walking around the streets of Harajuku with white-plastered make-up, and started her career as a head-piece designer. Her talents blossomed at the fashion school "coconogacco" and is now one of the most attention gathering young Japanese artists, both nationally and internationally. We've spoken to Ms. Tsuno, whom has created the costume for the key visual of Amazon Fashion Week TOKYO 2019 S/S.
Please tell us how you came to design the costume for the key visual of this season's fashion week.
It seems this season, among Mr. Keiichiro Oshima, the Art Director and his production staff, they had an image of a florescent colored costume with volume, and the Stylist, Ms. Kumiko Iijima, having seen the piece I presented to ITS, contacted me. At first, they said they wanted to use the florescent pink dress I presented to ITS, but because it was made of a stiff material, it wasn't fit for the model to wear in this time's shooting, climbing up and down the jungle-gym, so it was decided to create a completely new costume, using soft material.
Did the costume-making proceed smoothly?
In this production, a huge challenge was using a rubber material often used in smart-phone cases, which is softer than the plastic resin which I normally use. It was a material I had had my eye on from before, but I started making it without any trials, close to no preparations, and it was completed at 7 A.M., on the day of the shooting. Plus, once worn, unlike my previous works, it had difficulty maintaining its figurative form, and to be honest, I was in a panic. I couldn't be at the shoot, but I remember feeling very relieved when my assistant at the shoot, sent me a wonderful photo of Ms. Kiko Arai wearing the costume.
Looking back on the production of this season's key visual costume, what are your thoughts?
The completed piece turned out a bit different from what I had imagined, but the softness of the material created a unique hang, and difference in how it looked when worn was refreshing, along with being a big discovery. I was also surprised at how different it looks, how the impression of the piece changes, depending on whom does the direction or shooting. And when I saw the key visual largely displayed at Shibuya Hikarie and Omotesando Hills, I was deeply moved.
How did your unique creative method of using a 3D pen to create costumes come to be?
The start was finding a 3D pen material, when I was doing research for materials. At "coconogacco" where I had studied, they place importance on suggesting a new image of people without limiting oneself to existing clothes making techniques or methodology, so before the 3D pen, I had made all sorts of clothing, including clothing made of gummed tape or garbage, without stitching. When I was contemplating how a person like myself, with no knowledge or skills in clothes making could do this, I encountered the 3D pen, and when I dressed my father in a trial piece, it looked as if he was having an out-of-body experience, and hence came the piece concept of an "out-of-body necklace".
Can you explain this "out-of-body necklace" concept a bit further?
As I researched into the origins of an out-of-body experience, I found that the Japanese have a unique view on how they think about spirits. Traditionally, Japanese have thought that spirits are not always inside the body, and something that floats around at times. This idea of a spirit being something which pops out without knowing, an insecure existence, linked with my pieces, and turned into this concept.
Please tell us of the process of making clothing using a 3D pen.
The 3D pen was originally developed as a tool to add minor adjustments to 3D printer out-puts. It melts plastic resin materials by heat, allowing to shape as one wishes, like drawing a painting. Presently, its main use is as a children's toy, but I use this pen to make costumes, by overlaying one line over another. I put flesh to a torso to create the form, then use the 3D pen along the curves to create the form. This is the general flow of how I create.
Your pieces are also highly praised overseas, but are there times at which you feel a difference in reaction in Japan and overseas?
In Japan, medias such as the news, tend to be interested in the new idea of creating dresses using a 3D pen, but overseas, I tend to receive praise as an expression of fashion, from fashion-related medias. I have pursued a career in fashion design because I strongly idolize mode expressions, so I am very happy when praised in such ways. I'm often asked what my title is, but I think people should just call as they see fit.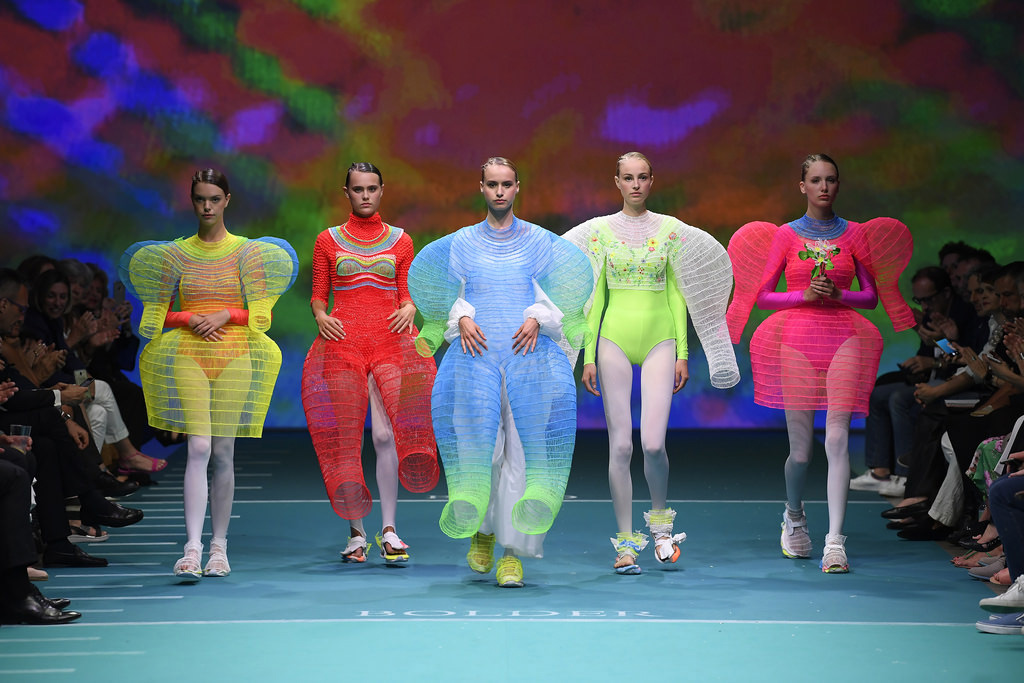 International Talents Support
Please tell us of your career up to now.
I had always been hoping for a life expressing something, but because my parents were very conservative, I went on to study at a nursing college to gain a profession. At first, I had no interest in the medical field, but when I went to a psychiatric hospital for on-the-job training, I came in touch with a schizophrenia patient. I was deeply moved by their facial expressions, the way they talk, their appearance in totality, and decided to work at a psychiatric hospital. Because of my creative activities, it is has become difficult to maintain my job at the hospital, so I have resigned, but as part of my work with the local community, I am involved in mental health welfare activities.
Does your experience as a nurse have any influence on your creations?
I don't think it has any direct influence, but I think I was attracted to the psychiatric patients because there is a part of me which resonates with them. Psychiatric hospitals are often hidden away from society, but I have always been largely influenced by minority expressions deviating from society and can only pour my abilities into such things. I receive a lot of energy from psychiatric patients and feel very calm when I am in their world, so maybe it is because I want to express such senses and feelings that I continue to make my pieces.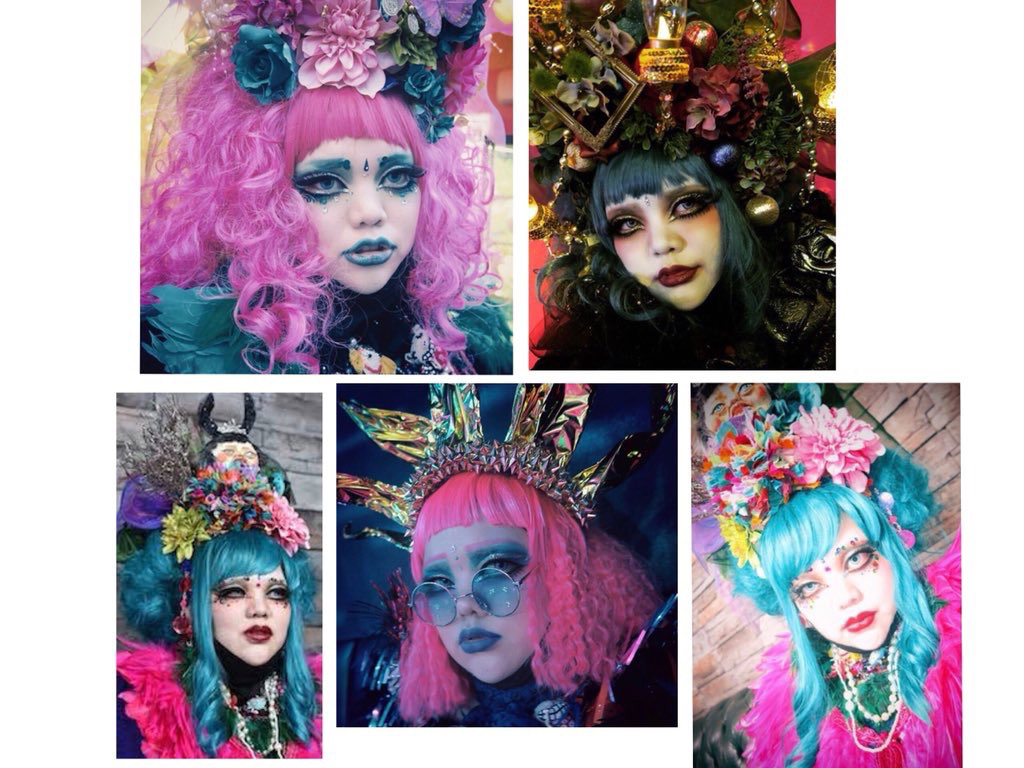 We've heard you began your creative activities by making head-pieces, but did you have an interest in fashion to begin with?
Because of my figure, I had always had the same seamstress as my grandmother sew my clothing, so choosing or buying ready-to-wear market sold clothing never had a sense of reality to me, but I became totally absorbed by the haute-couture shows of John Galliano and Alexander McQueen. So even among my peers, I had little interest in casual fashion brands, and a tendency for my interest to go towards more extreme fashions. Perhaps this is why I began walking around the streets of Harajuku with white-plastered make-up when I was a student. I had been feeling a sense of conflict in going to nursing college where future roads are fixed, while holding a dream to be involved in expression, so I felt pleasure in walking around dressed like something from out of this world and gathering attention from all sorts of people. Creating head-pieces was along the extension of this, and during my groping for a road to become a professional, I encountered "coconogacco", and there, one of the teachers said I am more fit to make clothing than head-pieces, so, I decided to go in the direction of fashion.
What sort of activities do you wish to do in the future?
I receive many suggestions from the people around me on ideas to make my pieces more marketable, but I don't think people are demanding that of me to begin with, and I don't think I could even if I tried. Many things have changed largely in this past year, and at the moment, I am at a stage where I'm hoping for some time to deepen my creation. As for aspects of expression, I'm hoping to pursue a wider variety of possibilities by mixing various materials to the 3D pen. In the future, I'd also like to grope into expressions fusing modern materials with excelling traditional Japanese skills, such as "shibori (tie-dye)".
Interview by Yuki Harada
Translation by Aiko Osaki