Interview & Report

RakutenFWT 2020 S/S & A/W Key visual production staff roundtable talk
Masami Sano / photographer Koji Oyamada / stylist Ikuko Shindo (SHISEIDO) / hair & make-up artist
Masami Sano / photographer
2000 New Cosmos of Photography Excellence Award. Start working as photographer. She specializes in portraits and fashions, and also works on editorial and advertising, and in recent years video such as Music Video. A photo book "slash" is released from Getsuyo-sha in 2017, focusing on landscapes and snapshots taken by myself. She is also actively developing expression activities such as holding an exhibition. She attached herself to KiKi inc.

Koji Oyamada / stylist
Born at Saitama Prefecture, in 1985. Graduated from Dressmaker Gakuin, Fashion business department.
Studied under fashion director, Mr. Sota Yamaguchi, while still a student. Upon graduating, started up the shop, "Hayatochiri" with Yoshimitsu Goto, at Koenji Kitakore building. Presently widely active, centered around the styling of national and international ads/catalogues, styling of artists, etc. Attached to The VOICE MANAGEMENT

Ikuko Shindo (SHISEIDO) / hair & make-up artist
Joined Shiseido in 2007. A Shiseido Top Hair & Makeup Artist. Graduated from SABFA, the Shiseido Academy of Beauty and Fashion.
Widely active, not only in doing the hair/makeup of fashion and/or beauty magazines, look-book photo shoots, N.Y./Paris/Tokyo Collections, but also seminars for salon stylists. Of the SHISEIDO brand products, oversees "Majorica Majorca", in the hair/makeup of its advertisements and product development.
Known for her hair/makeup of Tokyo street fashion, etc., supported by highly sensitive millennials, with many actresses and TV personalities naming her personally to do their hair/makeup. Award winner of various hair/makeup contests, including the Japan Hair Dressing Award (JHA), participating in various hair shows, nationally and internationally.
The key visual of Rakuten Fashion Week TOKYO, created by the same member for 2 consecutive seasons, under the direction of Mr. Kosuke Kawamura. Following Mr. Kawamura's interview, this time we spoke to 3 of its production members, the Photographer, Ms. Masami Sano, the Stylist, Mr. Koji Oyamada, the Hair & Makeup Artist, Ms. Ikuko Shindo, on the background behind the production of the key visual, communication between the staff during the shooting, and role of stylists or hair/makeup artist in a runway show. [Roundtable talk held: February 21st, 2020]
The three of you have worked together on the key visual for the 2020 S/S and 2020 A/W season. First, we'd like to ask you about this season (2020 A/W), appointing Ms. Lala Takahashi as the visual model.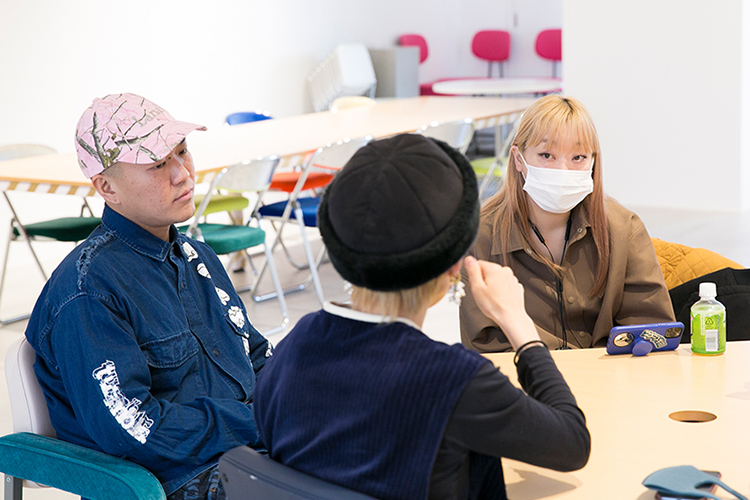 Sano: This time, the offer was for a cheerful picture, along with the premise that an analogue collage by Mr. Kawamura would be added later, so the idea started from doing a location shoot at some place with a nice opening, in broad daylight. Through broadening the idea, I established a story of an alien from some unknown planet landing on earth, and conveyed the key word, "a too beautiful alien", to Mr. Oyamada and Ms. Shindo.
Oyamada: As for the styling, under the supposition that the key visual would be decorated all over Shibuya, I wanted some symbolic item with impact, so I decided to use a headpiece by writtenafterwards, which sort of looks like Tokyo Tower.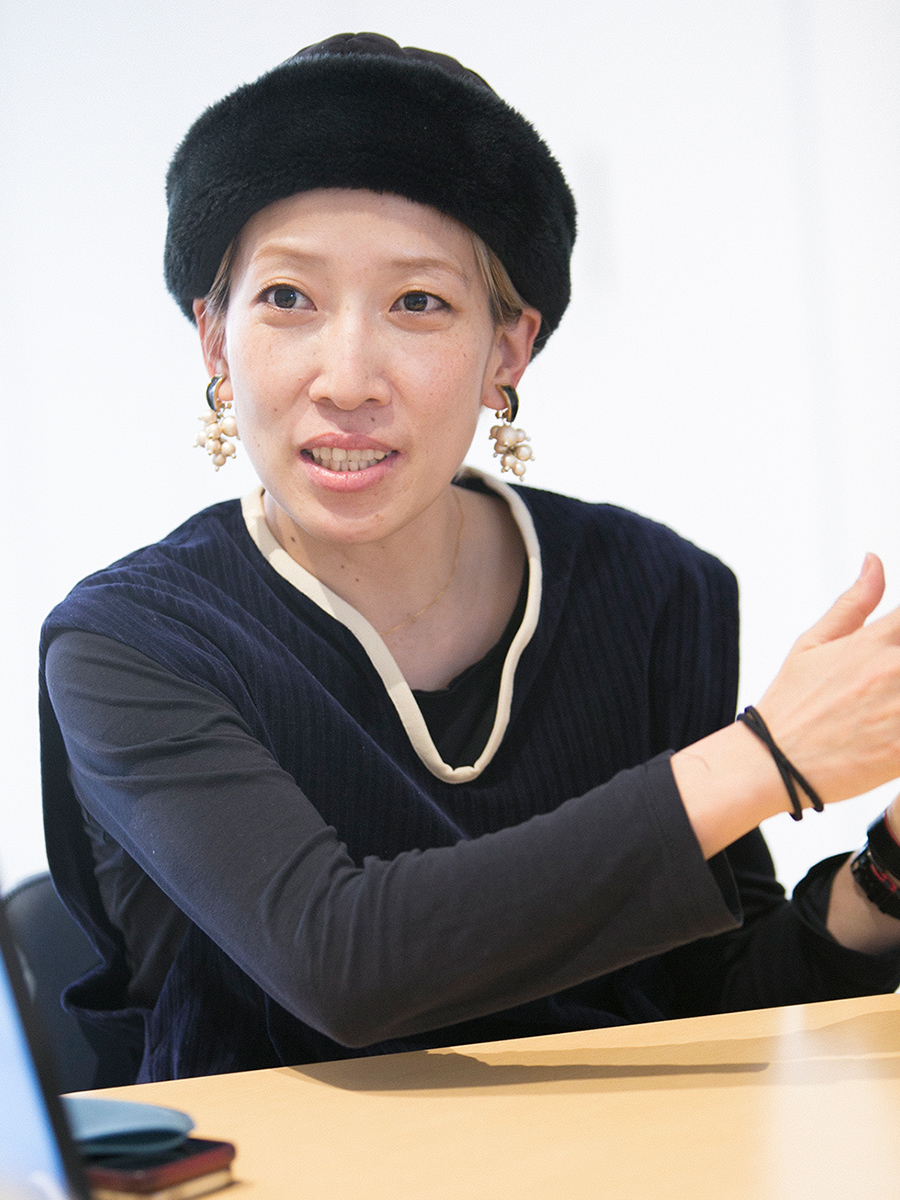 Shindo: This headpiece had a really strong impact. Also, at the early stages, we had no idea how Mr. Kawamura's collage would be added, so I was a bit uncertain on the point of compromise for the hair/makeup. We talked about whether to go for an avant-garde direction similar to the headpiece, or a more elegant direction, and in the end, we decided on using red points as effects around her eyes.
Oyamada: As for the movie, there was a second character, so we thought of making it more spacious, and here, we combined items from BALMUNG and href="https://rakutenfashionweektokyo.com/jp/brands/detail/balmung/">バルムングとDRESSEDUNDRESSED.
Sano: In last season's visual also, analogue video tapes and such were used as props, but in this time's movie, I wanted to express a VHS sort of texture, which I was accustomed to growing up, and for the first time ever, I shot using Hi8. Ms. Shindo's makeup is powerful, so it works even with low resolution images like this time.
Shindo: Thank you. I was a bit surprised that a close-up cut was used for the main visual, but I was totally taken by that headpiece, so I figure, all in all it looked good, and I think the movie turned out to be very interesting and very characteristic of Ms. Sano.
Oyamada: I agree. This time, I couldn't imagine how Mr. Kawamura's collage would fit in, which made it all the more interesting, but the fact that how such a structured items' look changed so drastically by the collage, was very fresh to me.
How about last season's visual, appointing Ms. Nico Ando for the key visual model?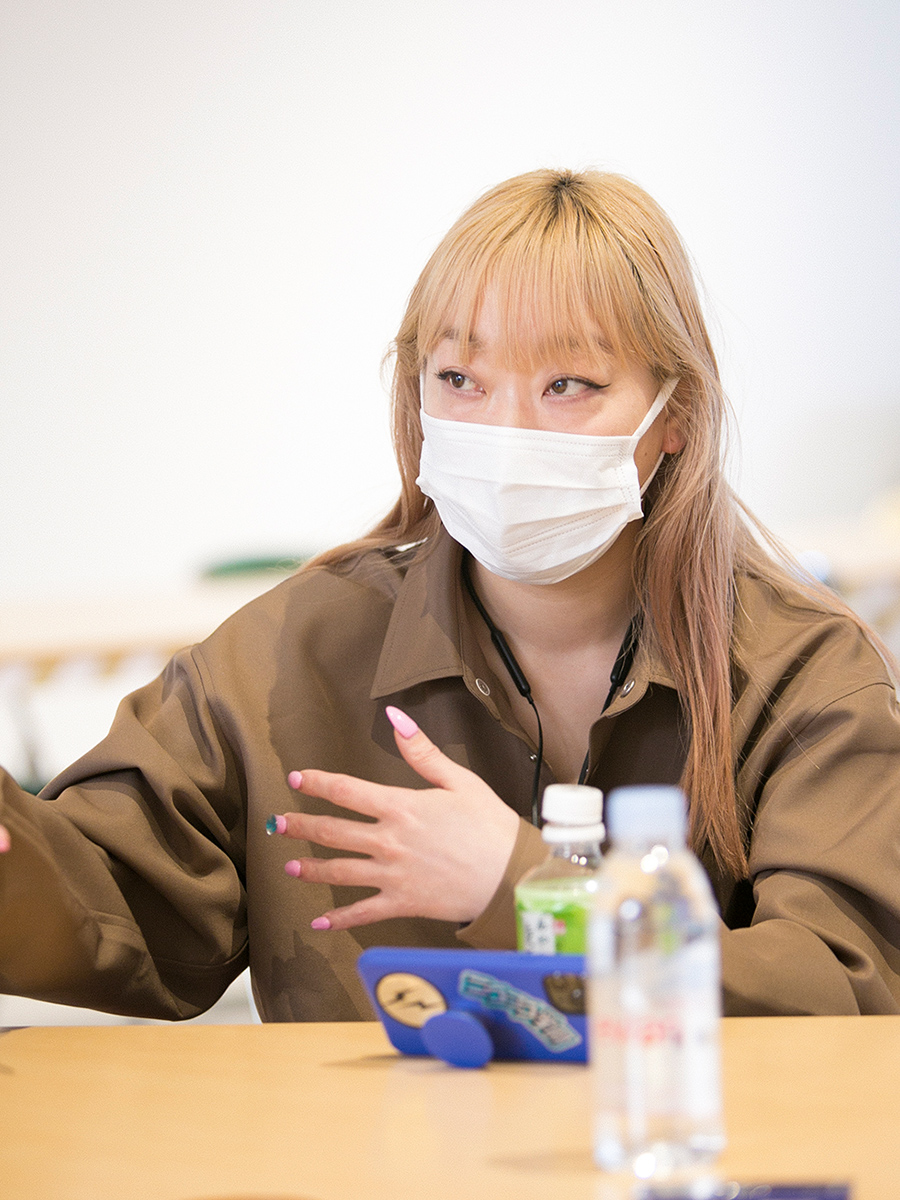 Sano: That time, Mr. Kawamura had the idea that he wanted to do a space collage rather than a collage on a flat surface like he usual does. And based on that, we ended up shooting in an atmosphere surrounded by VHS video tapes, a CRT television set and projections of Mr. Kawamura's video works.
Shindo: Yes, I remember that. The point for the makeup was how the model's face would look when projections from the projector were projected on her face. It was difficult to imagine the color tone, so we decided to adjust on the spot as we go along, and at the pre-shoot meeting, we talked about placing importance on expressing an amorous texture, rather than color tone.
Oyamada: In the styling also, keeping in mind the fact that video projections will be projected, prior to the shoot, we decided on using white-ish clothes or reflective materials. As for brands, we mainly used BODYSONG., combined with a bodysuit by SOMARTA, but in reality, I don't think many people would wear these two brands together. In my styling, I hold a concept of always mixing contradictory things, which I felt coincided perfectly with this times' shooting theme of mixing old and new medias.
Sano: For both seasons, I think there was an aspect of the whole production team working on trying to grasp the image inside Mr. Kawamura's mind. I feel it all worked out well because we had worked together before, and already had a sense of security in our relationship of being able to predict how he would react to my suggestions.
This time's key visual shooting was done under the creative direction of Mr. Kawamura, but could you please tell us your usual flow of shooting, or things which you value in the communication with your staff.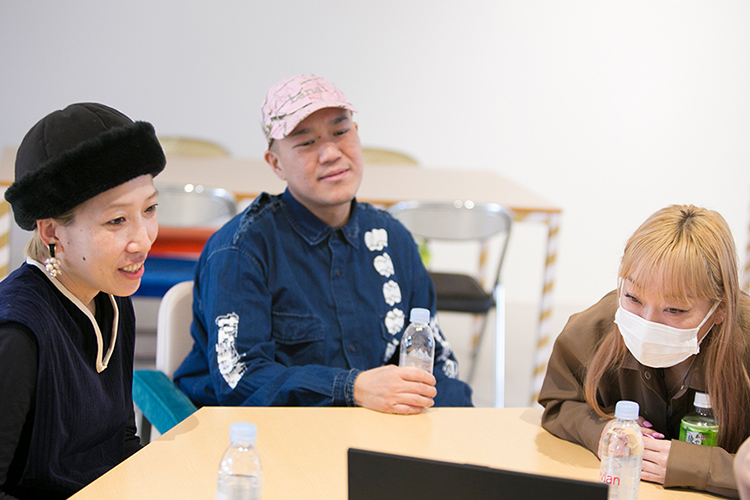 Oyamada: It depends on the aim of the shoot. For example, in the case of fashion magazines, the main aim is to show the clothing, so in most cases, it is assigned to the style at the beginning. From there, the flow is to discuss the general direction with the photographer and share that with hair and makeup.
Shindo: If special effects makeup is needed, we participate from earlier stages of discussions, but normally, the image is shared with us either on the day of the shoot or a few days in advance, and we adjust on the spot.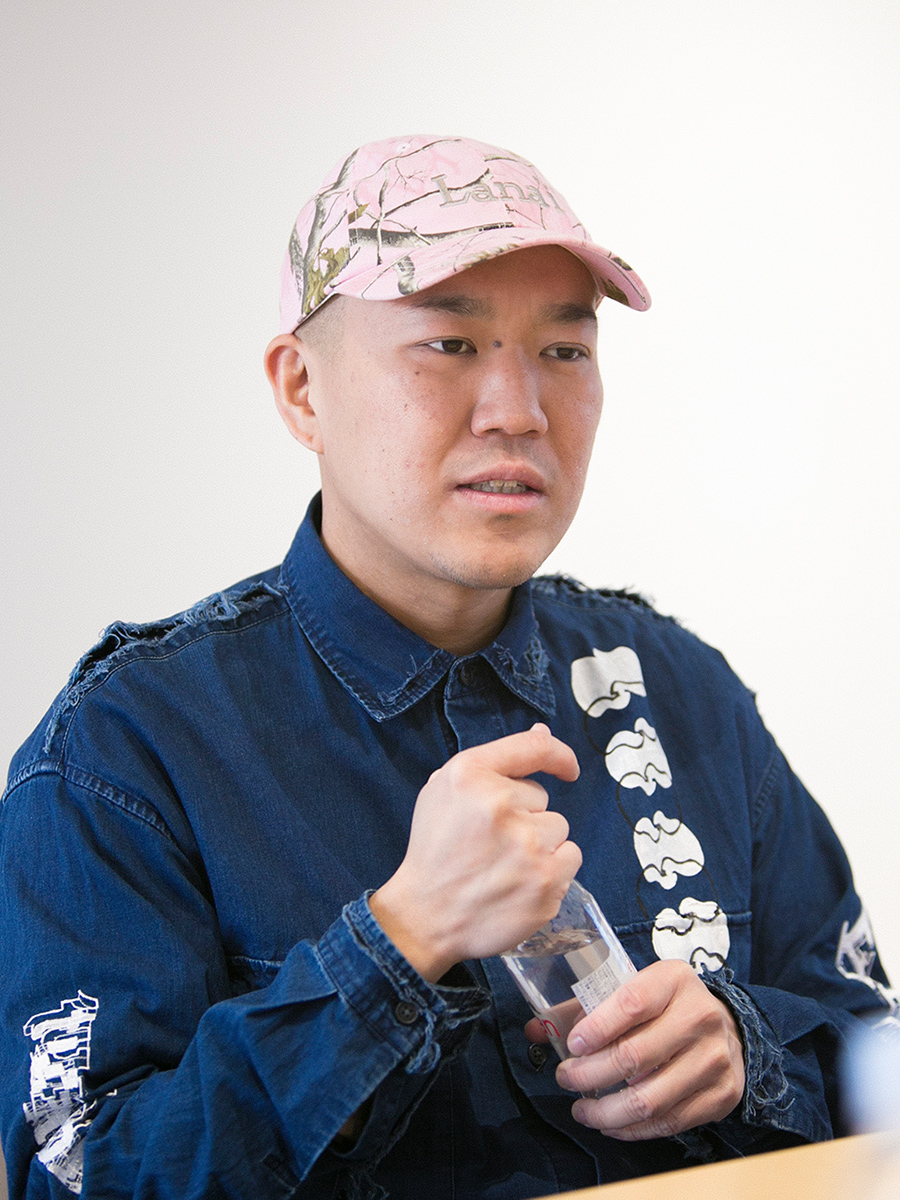 Oyamada: In my mind, I think of the shooting staff as my partners in crime. For example, if there is some aspect I absolutely want to have seen and the photographer notices or puts a focus on that, I get really excited. Of the 6, 7 cuts I've done before with Ms. Sano in the past, I inserted a funny look on purpose as the 4th cut, but she sank her teeth into it right away (laugh).
Sano: That time, I got excited, too (laugh). Clothing or not, regardless of what it is, when there's something that clicks between the staff, shoots become more fun, so at the shoots, I always try to shoot while probing into how the stylist wants to show the clothing.
Shooting is not only limited to fashion. It involves a whole variety of fields, from fashion, music, to advertisement, but when doing a fashion shoot, what points become important?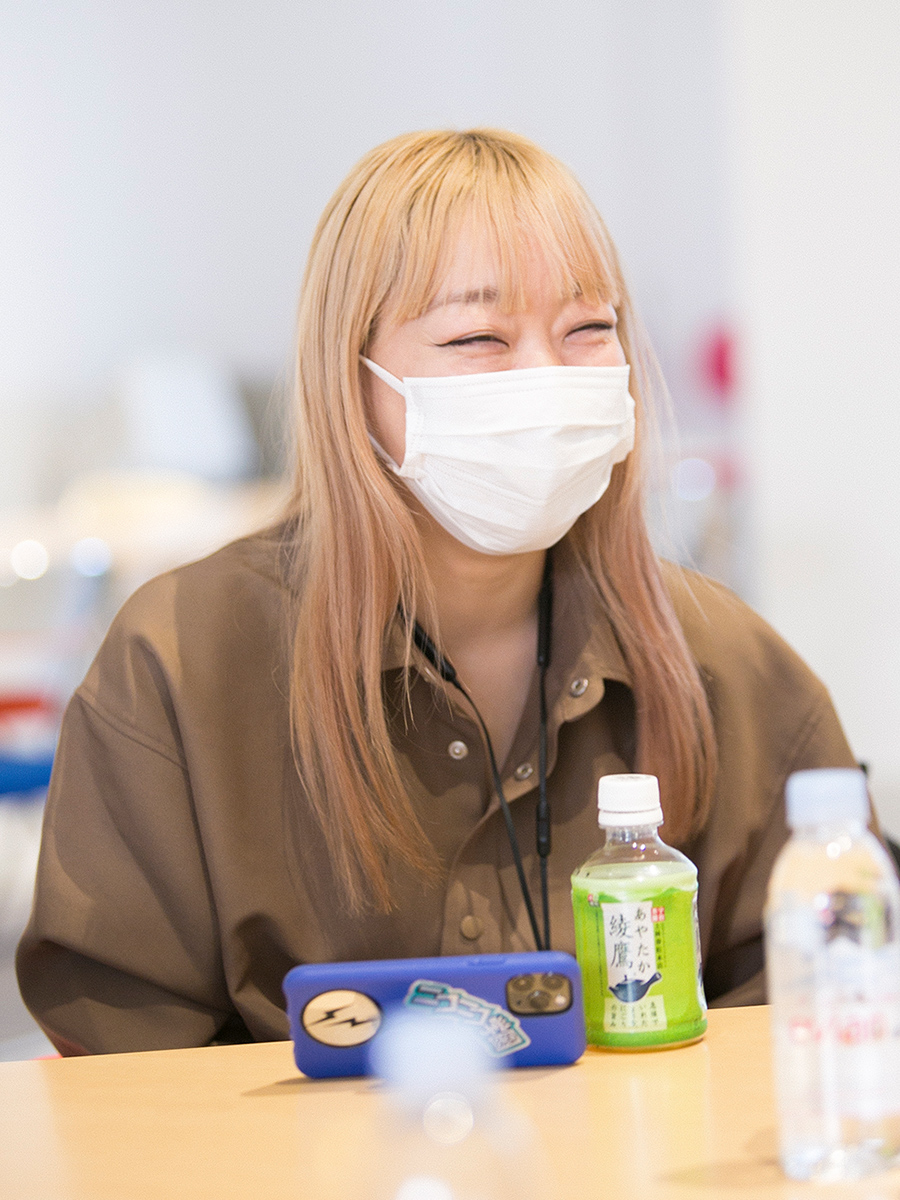 Sano: For me, there are no large differences in mindset for any type of shoot. I think about what I need to do to fulfill the order and how I can include the things I want to do. For example, in shooting the look-books of fashion brands, the designers' image or seasonal theme comes first, and to that, I consciously reconcile my ideas to create new visuals.
Shindo: In fashion shoots, I always try to first confirm whether the client is looking for a harmonic relationship between the clothes and hair-makeup, or whether they want a contrasting expression. In opportunities such as this one, there is a part of me that wants to challenge myself rather than go for a safe, pretty hair-makeup, but if it's not being asked for, it's not good for the hair-makeup to be too edgy and stand out.
Sano: This is a bit off track, but the first time I worked with Ms. Shindo was a shoot of Ms. Miliyah Kato. I've always been a big fan of her past makeup works, but this first endeavor together turned out to be extremely stirring. Whether it's look-book shoots like I mentioned earlier, or shooting of a musician, I usually create while discussing with the team and rarely decide on my own. Lots of great ideas are born from such discussions, and I think, jobs working with brands, artist, staff I like, gives birth to better ideas.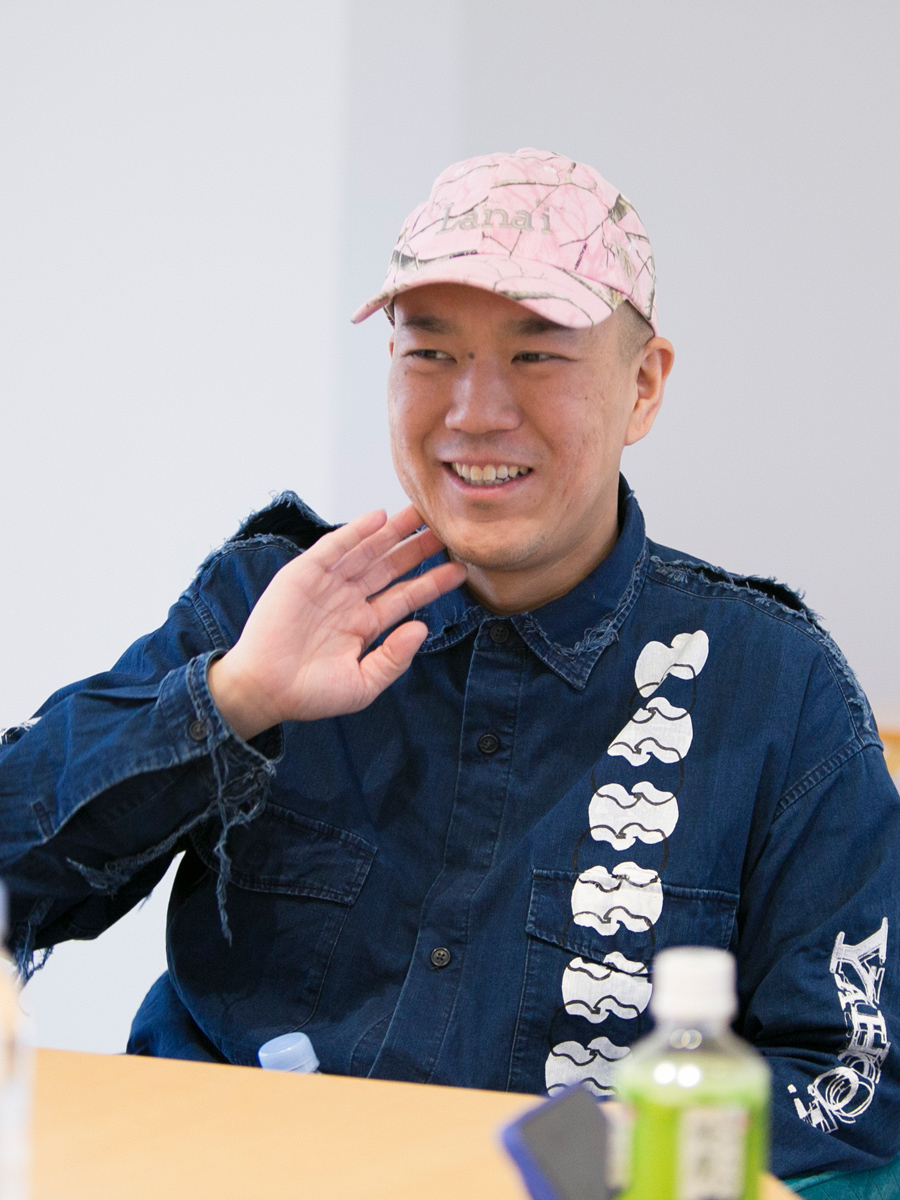 Oyamada: This is related to what Ms. Sano said about discussions among staff, but I think stylist shoulder a translator-like role also. For example, in look-book shoots, at times we grasp what the designer wants to express and convey that image to hair-makeup, and at runway show auditions, we sometimes suggest models who fit the brand's worldview.
Shindo: Recently, there has been an increase in designers who plan their show together with a stylist they trust. In determining the direction of the hair-makeup also, we often search for a point of compromise while making various suggestions, depending upon the worldview built up by the designer and stylist, or theme they want to express.
What is the flow in deciding the hair-makeup of a show?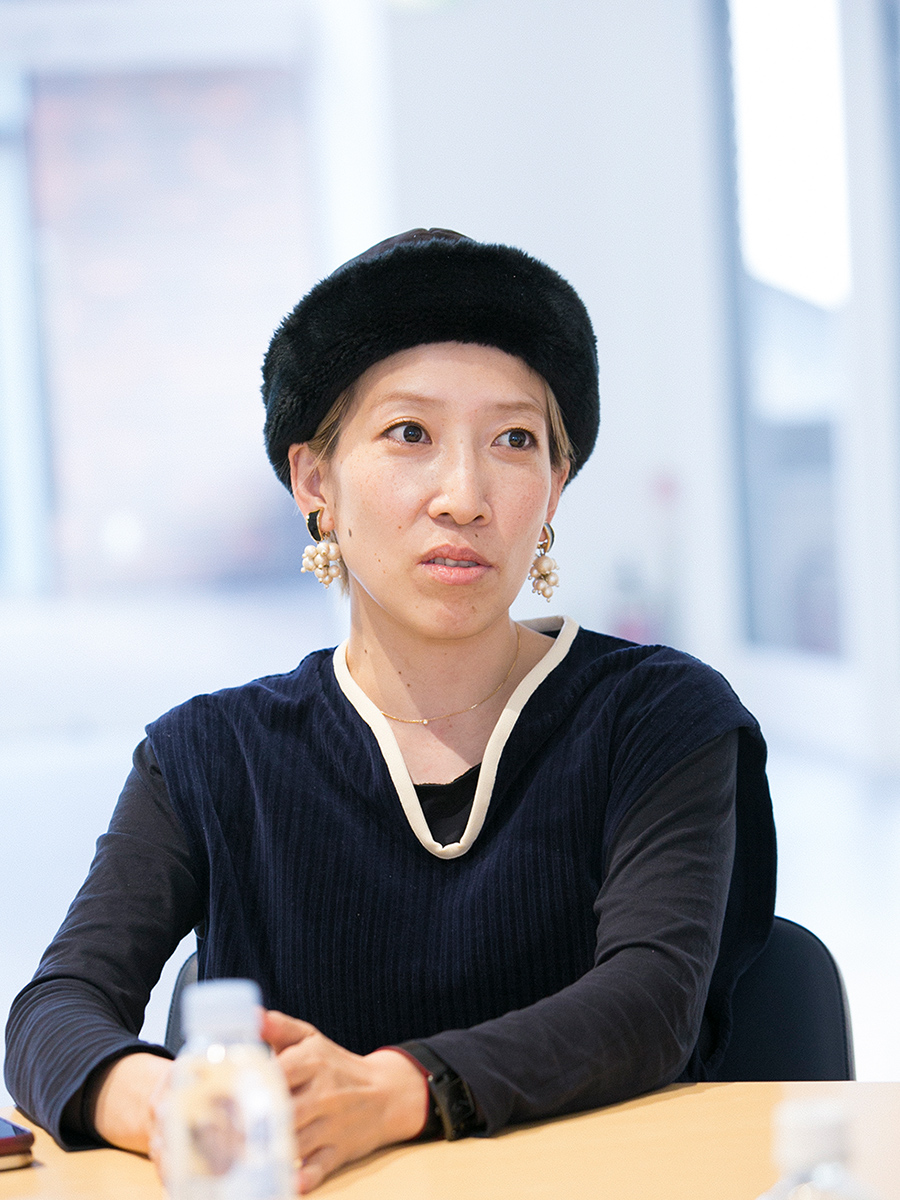 Shindo: In the case of Shiseido, there are approximately 40 artists registered, and each of us usually work separately, but in the case of shows, we team up. In the team, the person appointed as the chief decides on the direction of the design, and along with the direction of the hair-makeup image, the chief needs to decide on the role of each team member, manage the mood of the team, etc., so it's a role which challenges that person's ability in totality.
Oyamada: In the hair-makeup of runways in Tokyo, I have the impression that elaborate things, such as a hairpiece, is often used. For example, in kimono shows, there is a tendency of showing the head big, by attaching large hair ornaments, but is this an influence from kimonos?
Shindo: Statistically speaking, natural hair styles are predominant in Japanese runway shows also, but at the same time, there are people such as Mr. Katsuya Kamo who use imaginative expressions, so perhaps there's a strong impression of that. This can be said for the styling of clothes also, but, while elegant and cool styles are preferred in Europe, in Japan, people are skillful in layered or mix styles, which, I personally think is influenced by characteristic cultures, such as anime. Especially in generations younger than us, because their admiration towards European culture or fashion is not as strong as us, in the future, we may be seeing more of such hair-makeup characteristic to Japan being born.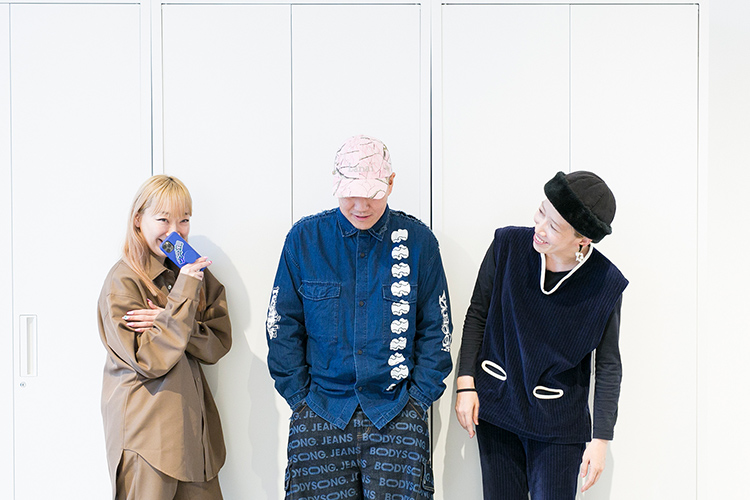 Interview by Yuki Harada
Photography by Kenji Kaido
Translation by Aiko Osaki