Interview & Report

Monica Kim
AmazonFWT 2019 S/S Overseas guest interview vol.1
VOGUE US (Vogue.com) Editor
Working at U.S. VOGUE since 2014. In the past, has written for Wired、New York Magazine, The Atlantic, etc.
During the Amazon Fashion Week TOKYO 2019 S/S term, Ms. Monica Kim, Editor of "U.S. VOGUE", came to Japan for the first time in 3 seasons. Having seen many run-way shows and visited many showrooms, shops, etc., we've asked her impression of this season's fashion week, changes since her last visit, episodes in Tokyo, etc.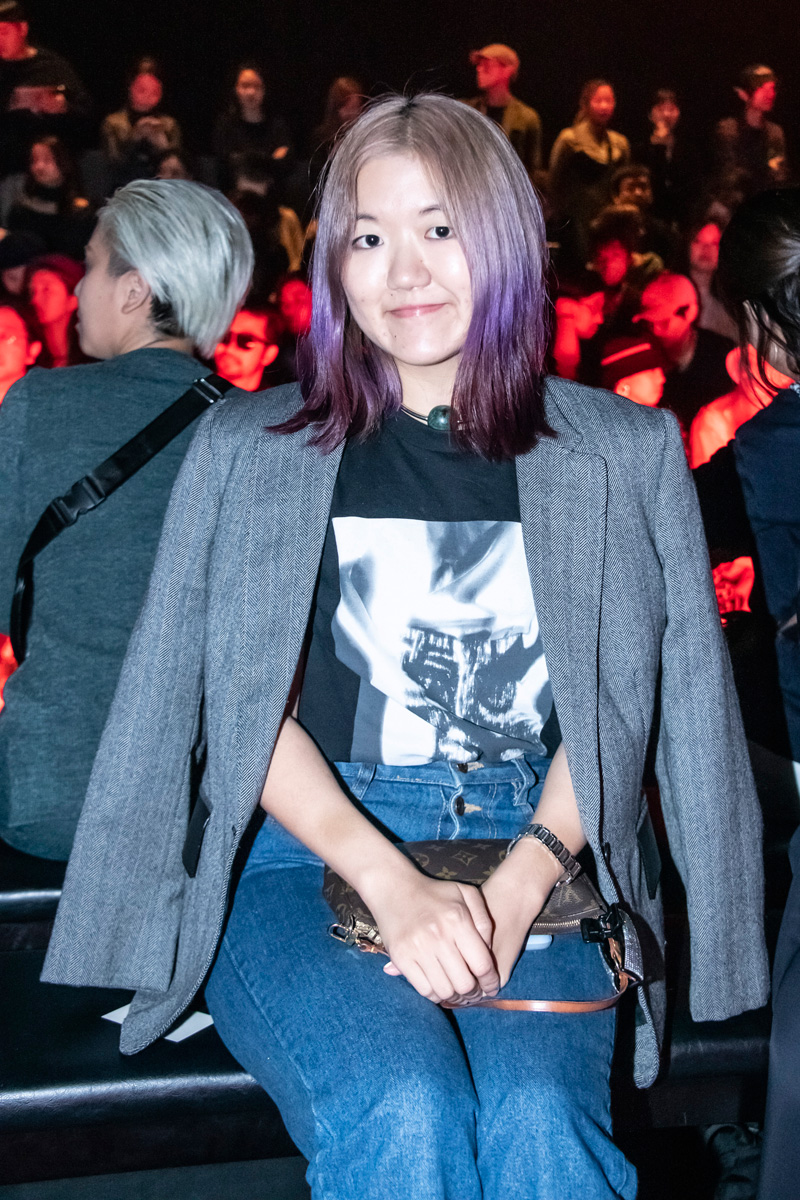 So, it's been 3 seasons since you last visit to Tokyo fashion week in March 2017, to the 2017 A/W season, but do you feel any changes or differences, for example, in the mood of the whole event, roster of participating brands, etc.?
I don't think the mood of the whole or atmosphere itself has changed largely, but I have the impression there were more shows with large production than the last time. I felt that tendency to be stronger in brands which are already succeeding in overseas markets, such as ANREALAGE, N.HOOLYWOOD, but I think, it's a good thing for such brands to return to Japan and participate in fashion week. Also, as a whole, I felt a focus on the next generation, and a flow in efforts to nurture young designers.
What do you think is the significance of such brands already doing well overseas, returning to their country of origin to do a show?
First, it is important to return to your point of origin, and especially since fashion week has an aspect of being a gateway to success for up-and-coming designers, I think it is extremely meaningful to show young designers their attitudes or ways of doing things. Also, having designers already doing well overseas participate, I'm sure, makes a great opportunity to attract the eyes of overseas people to the fashion week in Japan.
Were there any shows you've seen this time which were especially impressive?
The collaborative show of BED j.w. FORD and CHRISTIAN DADA was very impressive. The combining of 2 differing aesthetics was fresh, and extremely interesting. I was also impressed by the malamute. The knit wear which is her forte was great, of course, but I was impressed by her vision. Also the debut show of Fumiku, they had a powerful collection, and I felt, they are a brand I'd like to keep my eye on.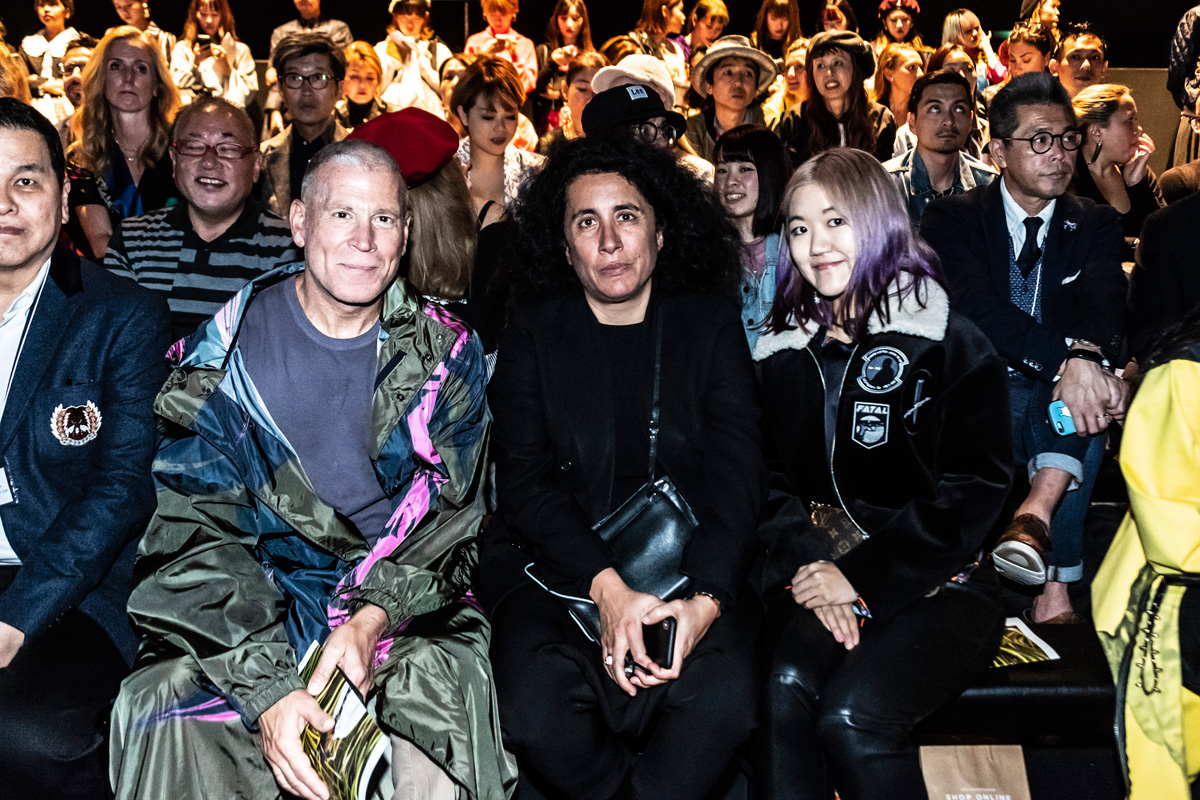 From left to right, Mr. Nick Wooster, Ms. Sara Maino, Ms. Monica Kim
When looking at the shows of young brands, what points do you especially pay attention to?
First is of course quality. I pay attention to whether their clothing is produced well, the quality of the fabric they have chosen, things like that. I understand, using good quality fabrics is costly, which is a heavy burden on young brands, but I think it is important for them to have an eye for good things. There is a strong tendency for young brands to just put out anything they can at first, but I think it is also important to condense aspects, and express a clear message, unique point of view, or world view. Of course, this is easier said than done (laugh).
Today, we are in an environment in which the general public can see shows in real-time through the internet, but, what direction do you think fashion shows will go in the future?
To do a show, it costs time and money, so it's a big deal for any brand. As digital technology advances, it is obvious the number of brands that do shows will decrease, but when done properly, in the right style, right production, shows can be extremely beautiful, and there is no expression which can fully replace it. I hope it remains as an art form, plus, the excitement, mood of the venue when seeing a live show, the beauty of how the fabrics move as the models move, are all things you can see and feel by actually going to a show.
In what way will you inform your readers about the Tokyo fashion week in VOGUE?
I update collection reviews on "VOGUE RUNWAY" as soon as I can after seeing a show. Especially for young brands, I think there are cases in which they can become acknowledged by being introduced in a media such as VOGUE with high appeal, so during my stay in Japan, I am concentrating my efforts on transmitting reviews. In this visit, I've been thoroughly impressed by young energy, so later, including that, I think I'll be writing about my impression of the fashion week as a whole, and the future directionality of Japanese fashion.
How is the reaction of your readers to articles on Japanese brands and/or designers, and what is the level of acknowledgement of Japanese brands in the U.S.?
Compared to the days of designers such as Yoji Yamamoto, Rei Kawakubo, I think the level of acknowledgement has decreased, but by brands such as Undercover and Saccai coming out, it has recovered somewhat, and now-a-days, next generation designers are coming up too. Especially in the U.S., there are groups of very passionate Japanese fashion fans, and the number of such people are gradually increasing. Although it's not quite what is was at its peak, I think interests towards Japan and Tokyo is at a rise.
Seeing the fashion of the people walking down the street, do you feel any changes from the last time you were here?
I didn't feel any major change but compared to last time when I thought there were many basic and minimal styles, I felt street styles have increase a bit. Also, compared to other cities around the world, I think one of the large characteristics of Tokyo is that you see a variety of styles, from punk fashion to colorful looks, all existing in one place, and I feel that the strength of this contrast is what makes Tokyo interesting.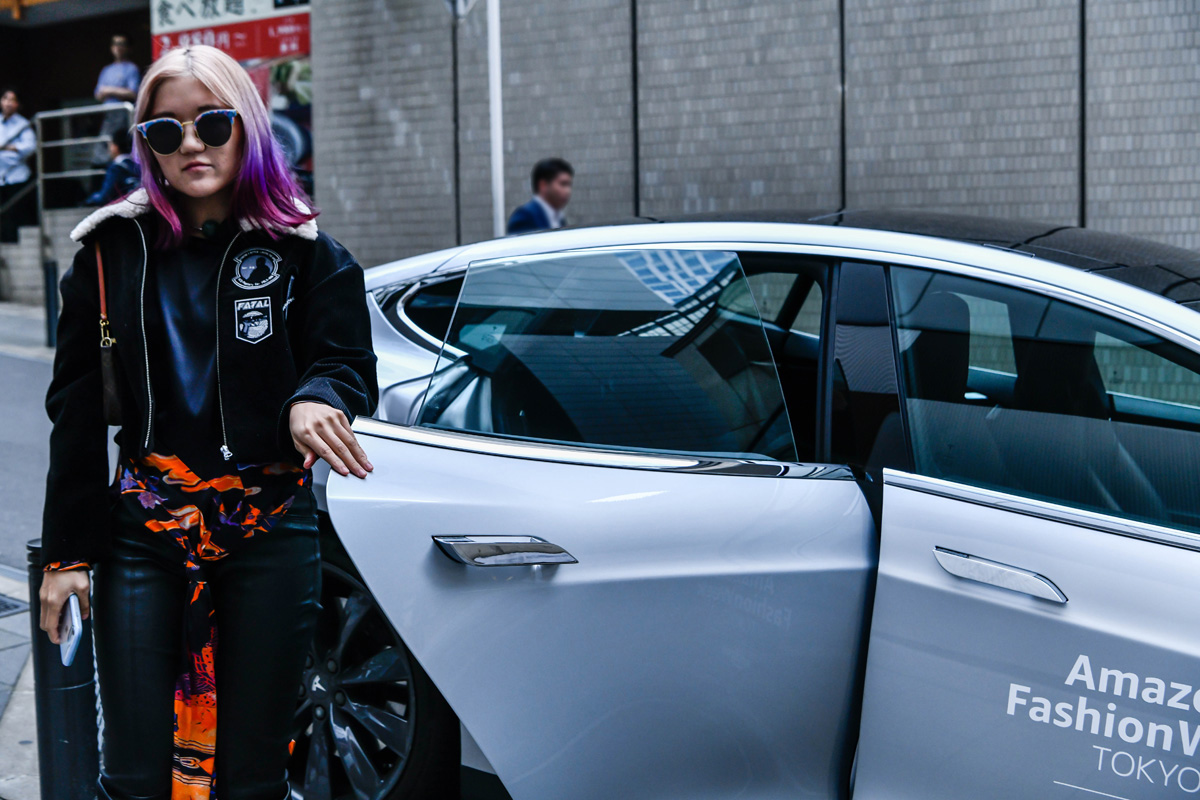 Is there any area or shop in particular which you like in Tokyo?
Well, first of all, Tokyo is one of my most favorite cities in the world. When I'm in Japan, I spend a lot of time in Shibuya, but I like the Daikanyama area, too. I like going shopping at vintage shops, and one of my favorite stores is LAILA, which carries a wonderful line-up of beautiful vintage wear. To be honest, I love it so much, I don't want to tell you the name of the store (laugh). I also love to eat as much as I love to shop, and for these two, I think Tokyo is one of the top-class cities in the world.
Finally, if there was anything in particular which you were personally looking forward to in this visit, or anything your hoping to do after this, please tell us.
I don't really want to say (laugh), but one of the things I'd been looking forward to is going to this new vintage shop in Shibuya, called Archive Store. I went already, and it was a wonderful place, with rare items of Comme des Garcon and Maison Margiela beautifully displayed like art pieces. This time, I plan to stay in Japan a bit longer than usual, so I'm hoping to visit the shops in Daikanyama, Ebisu, Nakameguro, etc., which I've been interested in but never had the chance to go. Also, a friend recommended teamlab museum to me as a type of museum you rarely see in the U.S. so I'm very interested in seeing that, and I'm also thinking of going to Hakone, to try an onsen (hot spring bath).
Interview by Yuki Harada
Interpretation by Aiko Osaki