Interview & Report

Harry Sugiyama
AmazonFWT 2019 S/S Official Ambassador
Talent / MC
Born in Tokyo, in 1985. Moved to the UK when he was 11 years old. After graduating from high school, worked as a model while working at an investment bank, in Japan. He went on to study at London University, Beijing Normal University, and upon returning to Japan, resumed his activities as a talent. His father is the former Tokyo branch Head/Asia Bureau Chief of New York Times. Multi-lingual, fluent in Japanese, English, Chinese, and French. Presently active as a regular personality of TV programs such as CXTV 'Non-Stop', NHK 'Domo NHK', and radio programs such as J-WAVE 'POP OF THE WORLD'.
Mr. Harry Sugiyama, whom was appointed the AmazonFWT Official Ambassador last season, enlivened AmazonFWT again this season as the Ambassador, interviewing shows and events as the MC of "TOKYO FASHION EXPRESS" (NHK WORLD – JAPAN), and MC of related events.  We've asked Mr. Sugiyama, to look back upon this season's AmazonFWT.
Last term was the collections of the Autumn/Winter season, this term, Spring/Summer.  Did it feel different?
Compared to autumn/winter, in spring/summer, it's only natural that the number of items consisted in a coordination are few, so I felt it is difficult to show.  It can't be faked, and sometimes even looks fragile.  Therefore, I thoroughly looked at each item, and have a positive impression of every brand's show I've seen.  Some brands showed a very standard production which completely fulfilled my expectations and stereotype towards the brand, and some surprised me in a "didn't expect that!" way, and the variety was interesting. From an aspect of diversity, I visited many women's wear shows this time, and found many clothes I'd like to wear myself, which renewed my thoughts on how borderless and genderless fashion can be enjoyed.
Could you tell us about any shows which were especially impressive?
First is the 15th year archive show of ANREALAGE .  It was totally composed of all past collections, and although they did not show any new items, I was extremely moved.  I was, of course, glad to be able to see items I had been interested in in past collections, but the production itself was fabulous, and in the finale, when the Ms. Hiroko Sebu's cover version of Sakanaction's "Eureka" was played, there was such a delicate fragility which almost brought tears to my eyes, it made me renew my thoughts on how important Tokyo is to the brand.  Because the show was 45 minutes long, which is longer than usual, I think they were able to put in a lot of emotion into the production.  This show had such waves of emotions, I felt a tingling enjoyment, like riding a roller-coaster. BED j.w. FORD & CHRISTIAN DADA was, in a way, exactly as I hoped it would be.  From the closed and inorganic mood of the parking lot which was the venue to the details of the production, it was a show which made me feel a collapsed romanticism or decadence. WEWILL's show also, was a simple production but I felt a sensitive story, which was very impressive.  They used a wide age range of the models, casting young boys to fine, mature gentlemen with silver-gray hair, making me feel their them of "life".
There were also many first-time participating brands this time.  Were there any shows or installations of young designers which left an impression?
I can understand why the pleats jersey of kotohayokozawa is selling so well.  It has a feminine elegance mixed with an adorable pop taste and was very impressive. Speaking of feminine loveliness, I felt something similar also in AOIWANAKA.  There were just enough mannish aspects within a feminine world, and I thought their comprehensiveness was good too.  Items made using a shiny fabric called ultra-suede was impressive, showing a comfortable wave and swirl as the models walked.  Furthermore, traditional Japanese craftsmanship and techniques were used in needlepoints and dye, which made me feel her pride as a Japanese woman. Lautashi by Ms. Emi Suzuki was also wonderful.  She has a long career as a model, and knows exactly what she likes, but without being partial to that, I felt she creates clothes which make the figure of Japanese women look beautiful, real clothes which grabs the hearts of women.  The space production by Mr. Yoichi Ochiai was really cool, too.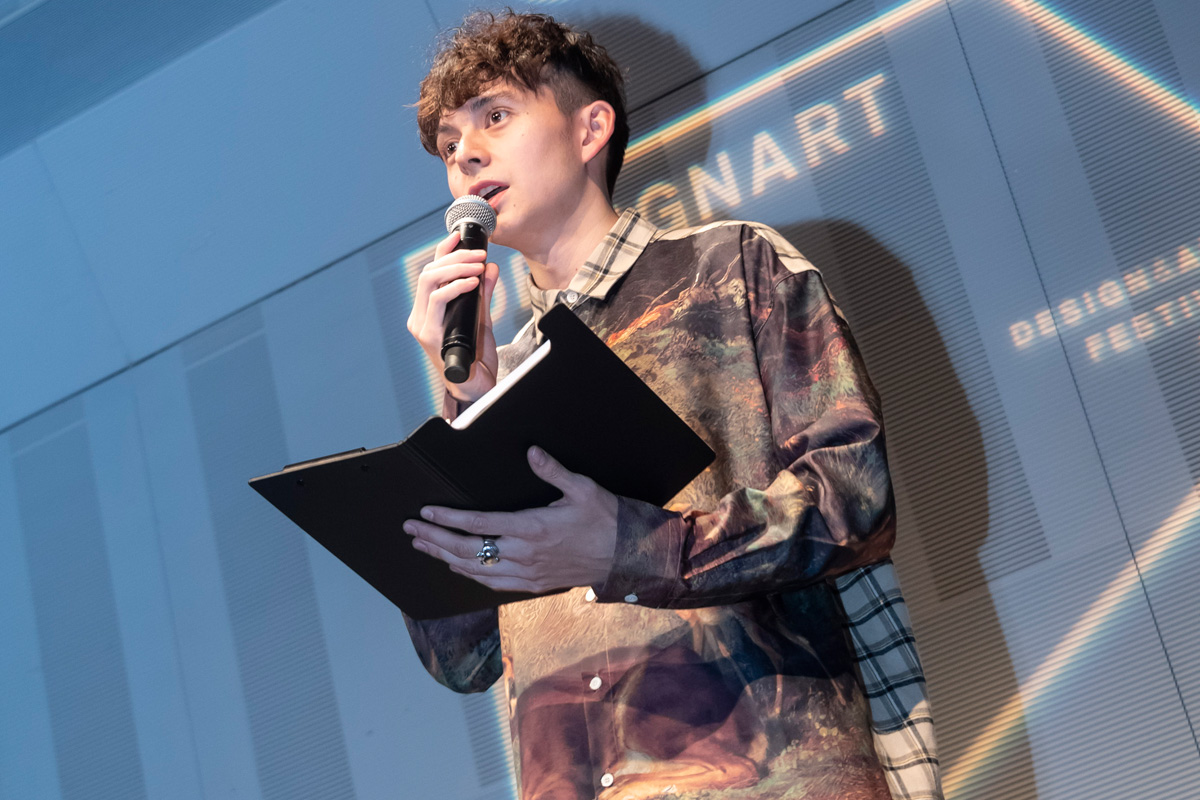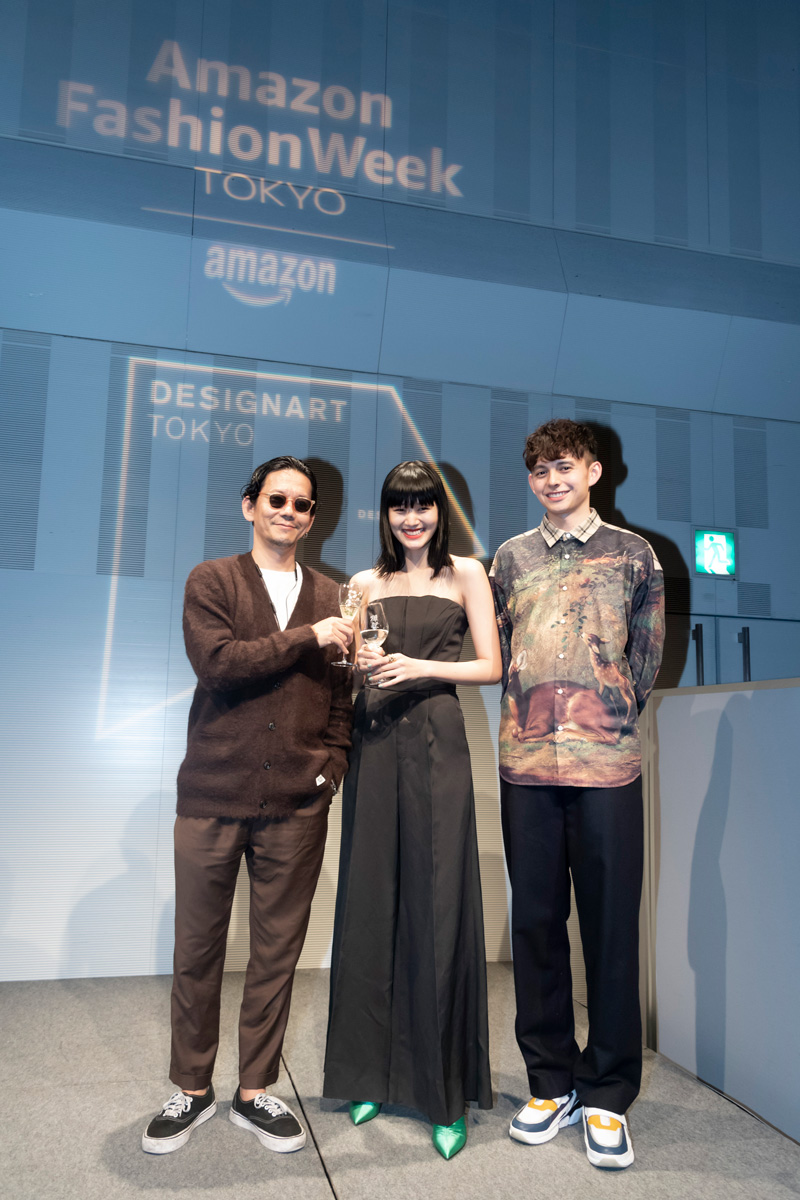 From left to rightt, Mr. Kunichi Nomura, AmazonFWT 2019 S/S key visual model, Ms. Kiko Asai, AmazonFWT Official Ambassador, Mr. Harry Sugiyama
Are there any brands which have been added to your wardrobe due to being involved with AmazonFWT as the Ambassador?
Actually, when I went to the ANREALAGE show I mentioned earlier, I was wearing an outfit by KEISUKEYOSHIDA from my  private wardrobe.  We became acquainted through an interview last season.  On the day before the show, I went to his atelier and asked him to choose for me.  On a separate day, I wore SISE which I gravely praised in last season's interview.  Also, around the end of the term, I did the MC for "PARTY NIGHT Amazon Fashion Week TOKYO x DESIGNART TOKYO 2018" held at Omotesando Hills, and at that time, I wore a shirt by MISTERGENTLEMAN.  But another JFW staff was wearing the same shirt (laugh). In this season, ANREALAGE, N.HOOLYWOOD, and WEWILL really caught my eye, so that may be adding to my wardrobe also.
Speaking of the party MC, this term you've participated in several events, in addition to visiting shows.
I was the MC for the talk event held on the first day, at Shibuya Hikarie's 8/COURT, and talked to Mr. Keiichiro Oshima, the Creator of this season's AmazonFWT key visual, about the key visual, movie, and theme of "Don't be ashamed of your desires."  I think, "Don't be ashamed of your desires." is a good theme.  People are such animals, and life is no fun without desires.  The key visual was wild, and I thought it was extremely cool.  In the movie, one's eyes tend to be sucked into that visual because of its strong impact, but I think it is the music which is actually supporting the key visual, and I think that use of sound is cutting-edge. I also participated in the "Kering 'E P&L' (Environment Profit & Loss statement) workshop", and learned quite a lot.  "Sustainability" was the theme and utilizing an application to investigate into all the processes involved in the production of clothing we normally wear in a game style was extremely beneficial.  Mr. Yasuhiro Miyahara, the designer of MIHARA YASUHIRO had also participated in this event, and a debate started from the last question he raised, which became very heated.  At first glance, sustainability seems like a difficulty problem, but actually, it is a very simple problem, which I hope more people will have the opportunity to learn about and think about.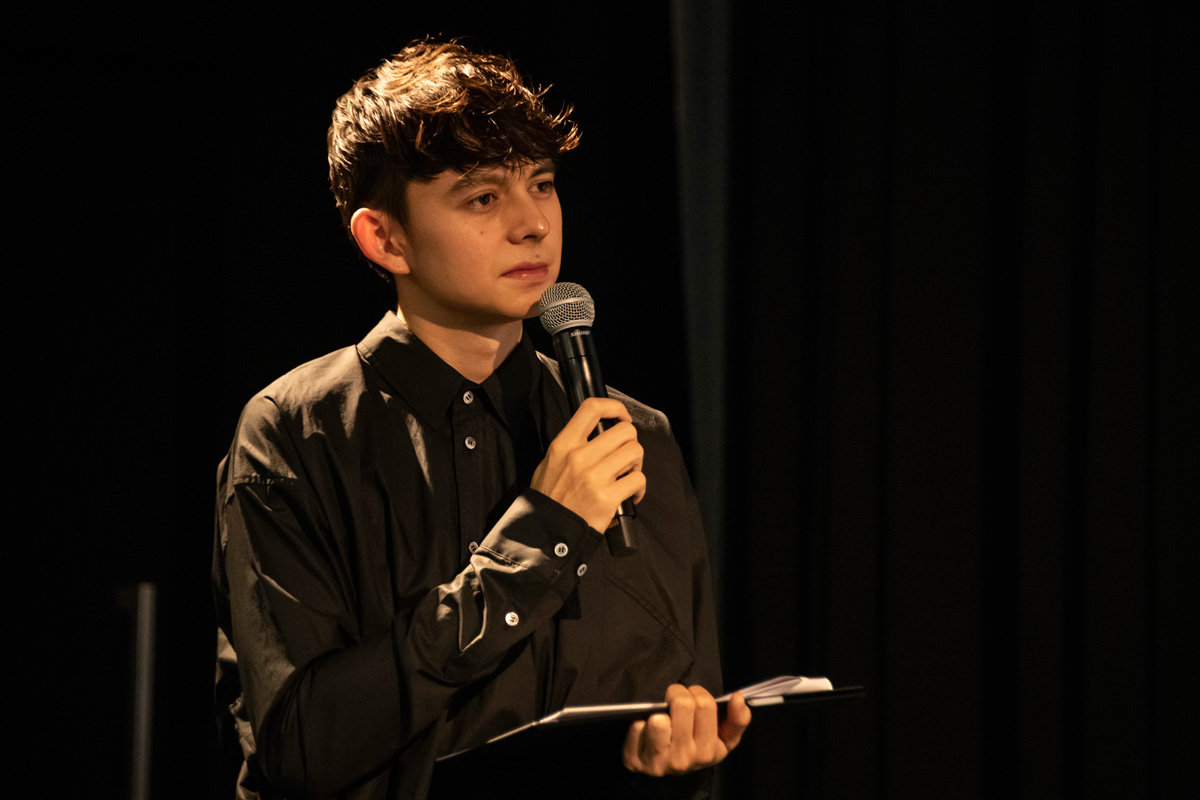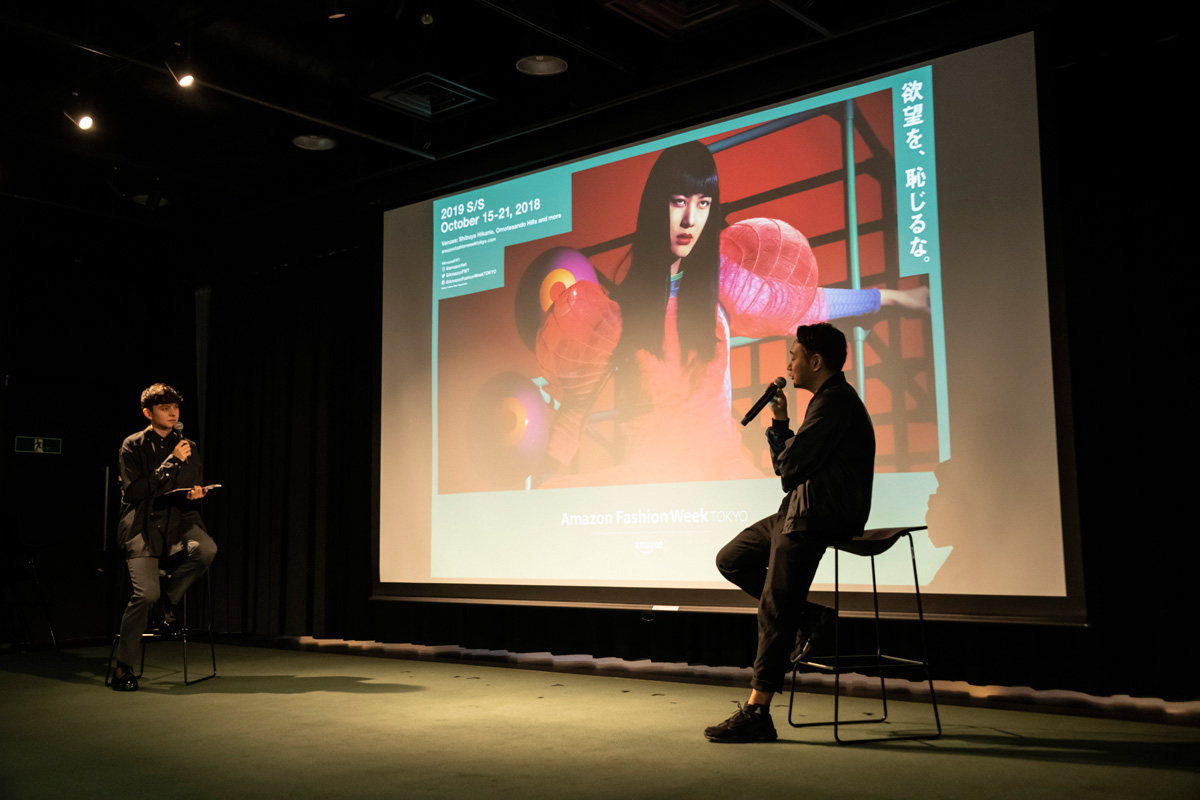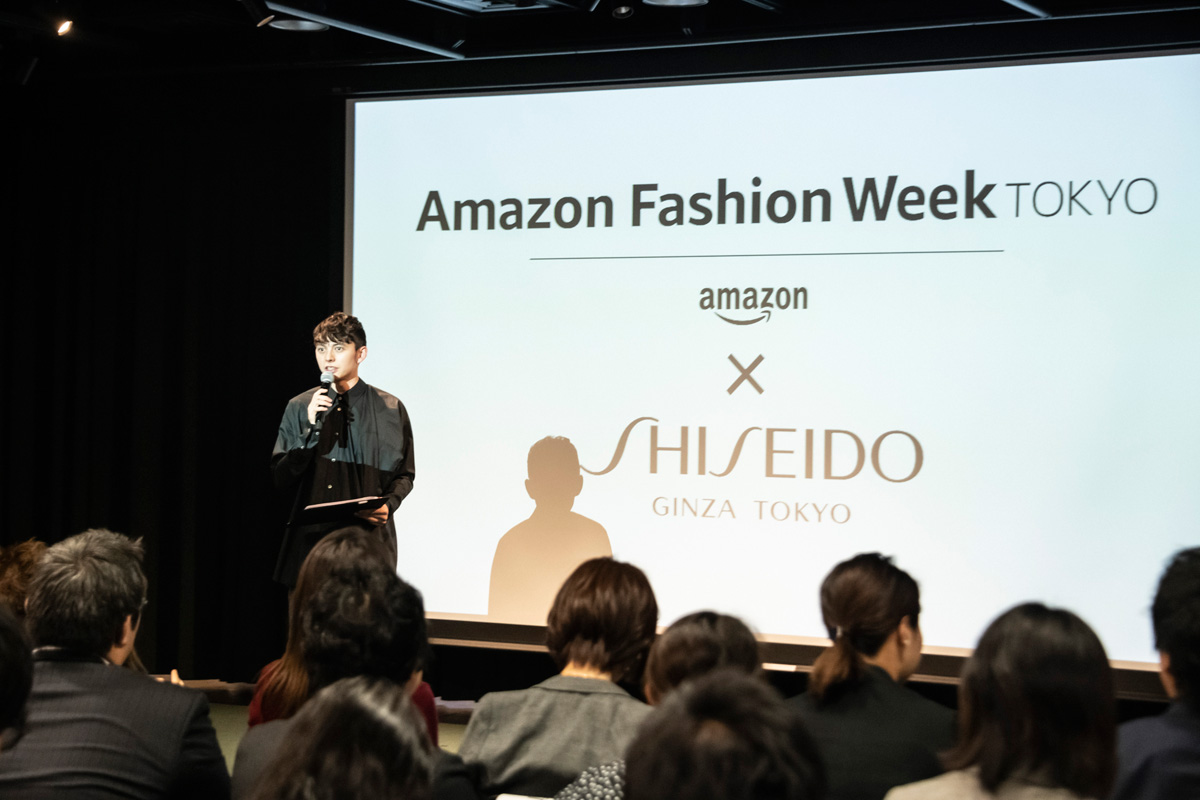 Left&middle: A talk session with Keiichiro Oshima, AmazonFWT 2019 S/S key visual creator / Right: An unveiling event of the movie "THE PARTY BUS", created by the brand "SHISEIDO".
As the Ambassador of AmazonFWT, what kind of activities would you like to do in the future?
This time, during the term, I experienced several amazing connections.  I decided to think of it as something created by fashion week, which is, in a sense, a different dimension of space, and once again felt the magical powers which AmazonFWT possess.    I think it is my mission to unerringly transmit such attractions of AmazonFWT to as many people as possible and enliven it. Also, I wish more people could experience and feel this celebration of fashion.  I need to think about what I can and should do to accomplish this, but by having people not just see shows but also experiencing them, I think will spread talks, and a larger synergistic effect will be born.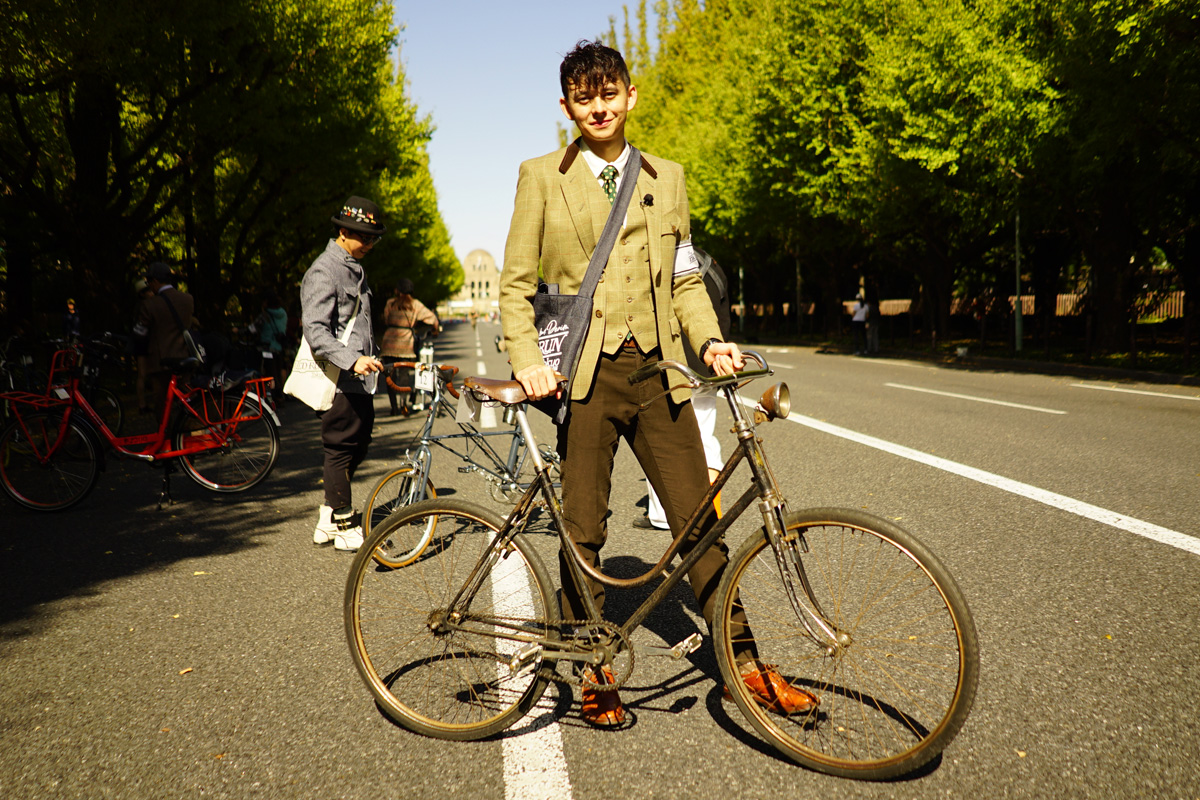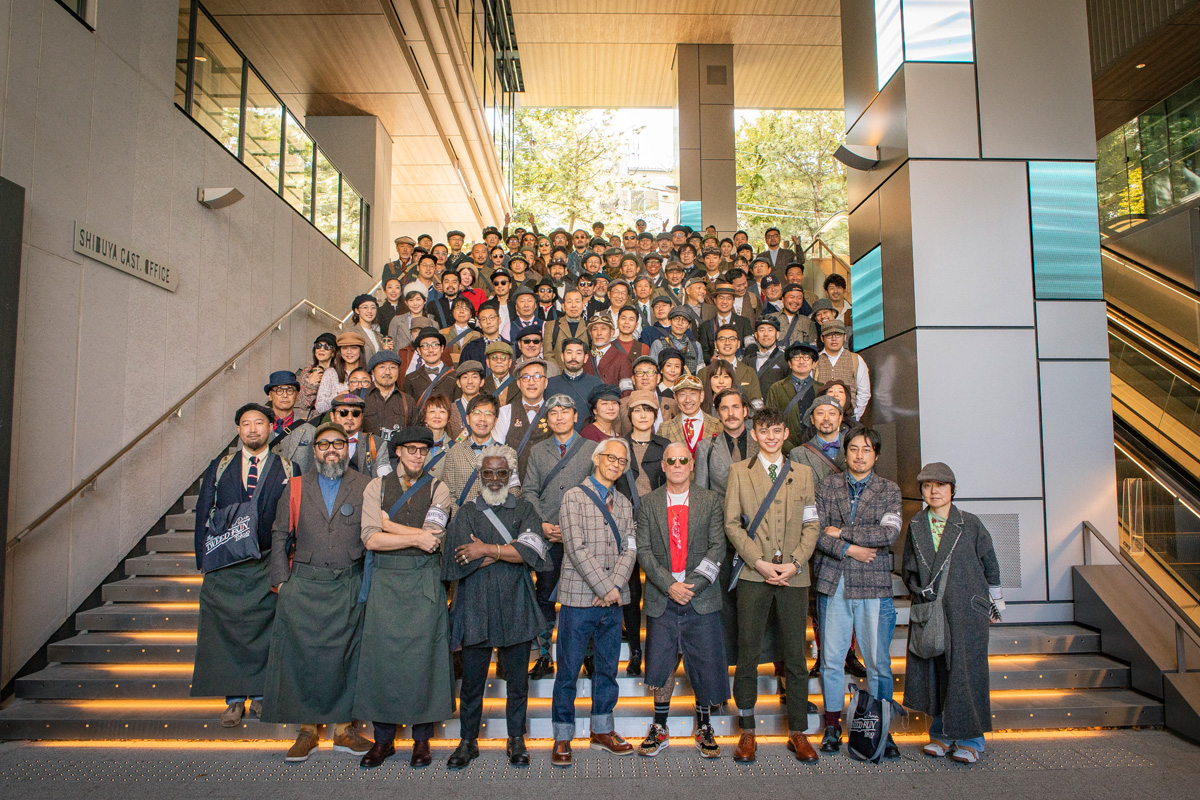 Tweed Run Tokyo 2018 ©LOOP Magazine
Interview by JFWO
Translation by Aiko Osaki